How to use the GeniePoint charging network- a complete guide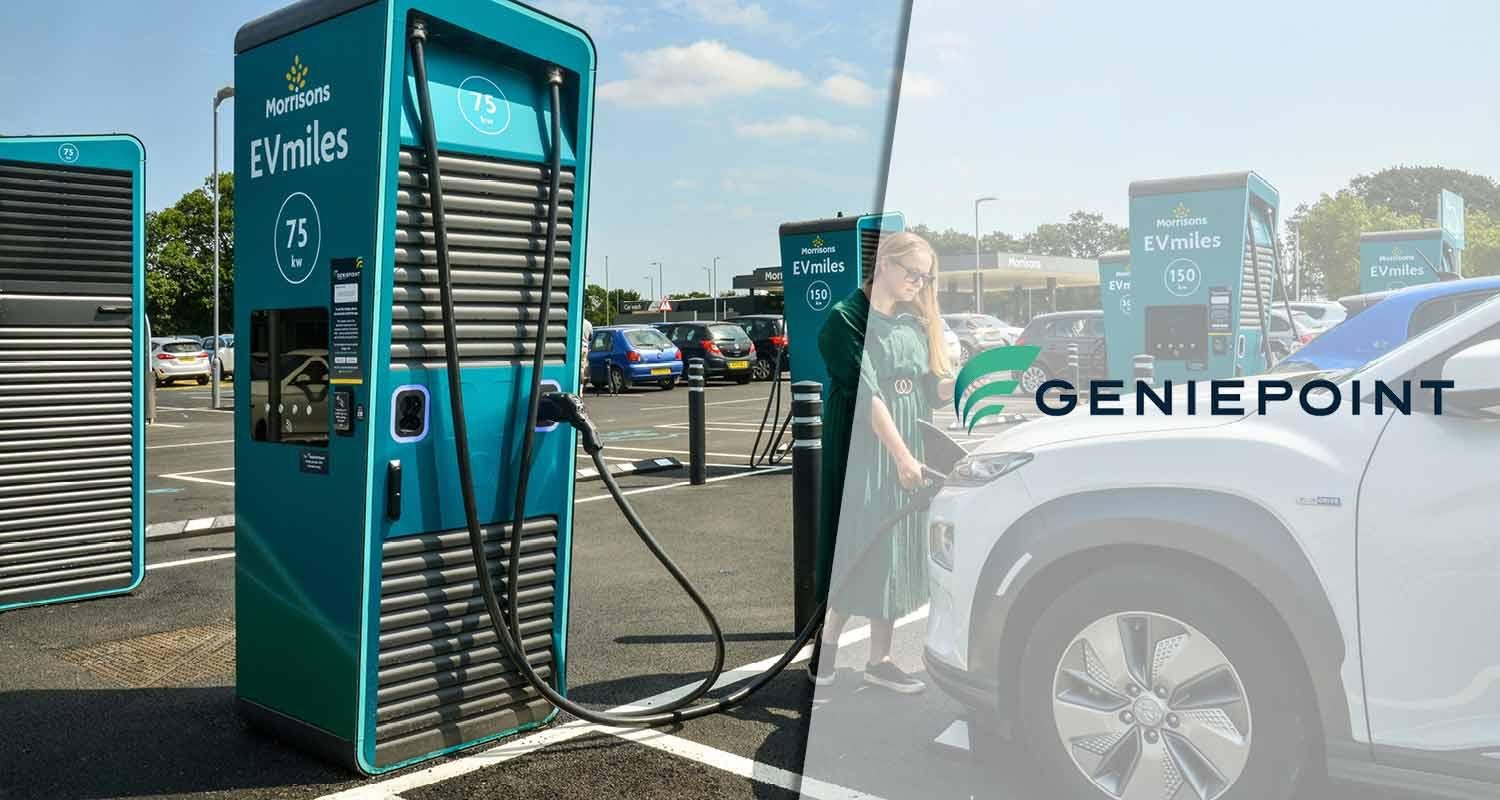 With more than 500 chargers around the country, GeniePoint is one of the largest charging networks in the country.
The team behind the network is French utility company Engie EV Solutions, who have partnered with Asda and Morrisons supermarkets to provide EV drivers a place to charge their vehicle whilst they shop. All the energy provided for your electric vehicle is 100% renewable.
Get £5 free charging
Get £5 worth of free charging at Electric Universe supported charging networks when you sign-up using our link.
Where are GeniePoint chargers located?

In addition to Asda and Morrisons supermarkets, you can expect to find GeniePoint charge points at businesses such as hotels, fuel forecourts, retail and leisure centres. One such example is Premier Inn, which has contracted the firm to install 600 50kW GeniePoint units at 300 Premier Inn sites across the country. Local authority car parks also provide GeniePoint network access.
GeniePoint services also offers drivers access to the Revive charging network in the west of England, as well as the Dragon charging network in Wales, and as each network is part of the wider GeniePoint network, EV drivers can use all of them with the dedicated GeniePoint app.
How to spot a GeniePoint charge point
GeniePoint offers both destination (charging up to 22kW on AC power) and rapid (charging from 22kW and above using DC power) charging with their units ranging in different shapes and sizes. To help their network to stand out from the crowd, GeniePoint uses a bright blue and white colour scheme which they apply to both their charge points and signage.
There are exceptions to GeniePoint's colour scheme however; an example of which can be found at the network's first charging hub located at Mossisons in Little Clacton, Essex, which have teal coloured chargers to match the supermarket's branding.
Compare rapid charging costs
Compare the charging costs of the UK's most popular rapid charging networks using our rapid charging cost comparison tool,
How to use the GeniePoint charging network and app?

More and more GeniePoint chargers will now take contactless as a payment option which for most drivers will be the easiest method of paying for their charging sessions.
To use GeniePoint chargers that don't accept contactless, you'll need to download the GeniePoint app, which you can find on the Apple App Store and the Google Play store. Once you've registered your details with the GeniePoint app and entered your credit card details, you can pay as you go on a price per kiloWatt-hour basis. However, you can also charge as a guest user without the requirement to register.
Drivers can also link an RFID card to their GeniePoint account, which can then be used on a GeniePoint charger's RFID reader. You either register your own card or buy a GeniePoint card for £9.
How much does GeniePoint cost to use?
As of September 2022, you can expect to pay 57p per kWh to use one of GeniePoint's charge points, whether drivers are registered or not. There are no connection fees or subscriptions to pay.
Does GeniePoint support charging cards such as Electric Juice or Bonnet?

GeniePoint supports a range of charge card services such as Electric Universe, Zap-Pay, Bonnet, Paua and Shell Recharge.
GeniePoint has also become part of the Ford BlueOval charging service, which provides a network of 16,000 chargers across the United Kingdom to Ford drivers.
One card, thousands of chargers
Find out which charge card service is right for you as we compare the UK's largest charge card services side-by-side.
How fast can a GeniePoint charge point charge my EV?

The majority of the GeniePoint network consists of charge points with 50kW rapid charging capabilities however there are plans to roll out higher speeds in the future.
All of GeniePoint's destination charge points charge at a rate of up to 22kW.