Best home EV charger UK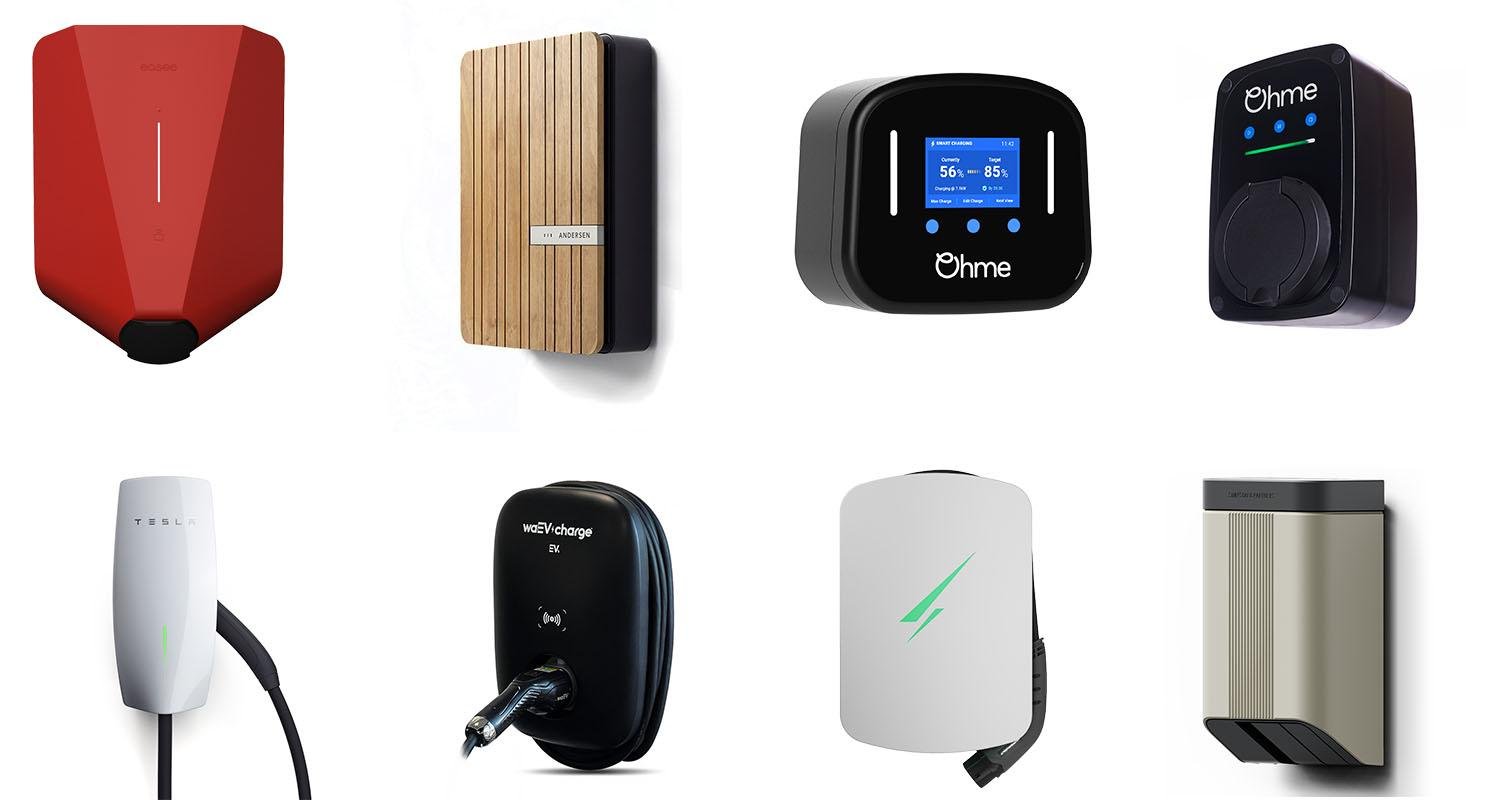 Test driving and selecting your brand new electric car is undoubtedly exciting, but after you've chosen your dream EV comes the "admin" of choosing one of the best home EV chargers for your home.
But where do you start? We have some expert advice and tips when it comes to selecting the best home EV charger, but to make things even easier we have included our favourite EV chargers. They all have their merits, so read on to find out which car charge point is best to fully charge your car.
Benefits of a dedicated home EV charger for electric car charging

You can use a regular domestic socket for EV charging, but it's very slow which is why most EV owners want a dedicated home EV charger installation (sometimes known as a wallbox charger).
A full home EV charge point installation will result in a faster charging speed, plus it will have additional safety features built in.
Another benefit is that smart home chargers, like those we list below, allow you to set up scheduled charging for added convenience as well as helping you to track the running costs of your electric car.
A major advantage of the faster charging speed and scheduling features combined, means you can access EV friendly energy tariffs which often have cheaper electricity rates at off peak times, helping you save money on electric car home charging costs.
Smart EV chargers allows you to squeeze as much charging as possible into the cheaper electricity "window", potentially saving you hundreds of pounds per year on EV charging.
Find the best energy tariff deals for charging your electric vehicle using our Cost to Charge an EV tool.
How much does it cost to install an electric car charger?
A home EV charger installation cost will vary depending on the charge point you select and the complexity of the installation itself.
Typically, you'll want to budget upwards of £900 for the installation process including for the home EV chargers.
We offer a range of payment options to help spread the cost of installation including finance, so you can charge now and pay later or pay in monthly instalments.
Learn more about the installation process and the costs in our EV charger installation cost guide.
Best home EV charger UK 2023 - our favourites
So, which electric vehicle charger should you choose? We've picked a handful of the best home EV chargers in order of preference based on our own experience, features, and customer feedback.
We'll highlight the pros and cons of the smart chargers listed here and you'll also find a link to our in-depth reviews where we have them.
1. Easee One - best all-rounder

Starting Price: £984 with installation; £587 without - Buy
Full Review: Read our Easee One review
Our Rating: 5/5
Customer Rating: 4.8/5
Pros: Use as tethered or untethered; Built-in PEN fault detection and no need for an earth rod; Stylish design; Simple app; Solar integration via Equalizer accessory
Cons: Lacks some advanced app features; Solar functions require Equalizer accessory
The Easee One is our recommendation for most electric car drivers wanting a home EV charger. It is quite simply one of the best EV home chargers on the market today.
As well as being a market leader, the Easee One looks super stylish and is available in a range of colours, so it will fit in with any home - plus the colours are easily changed if you fancy buying a new Easee One faceplate
It works as tethered or untethered too, so it's ideal for those who want the convenience of a tethered EV charger which has the charging cable permanently attached or for those who like the discretion of untethered where the EV charging cable is stored elsewhere when not in use.
This has the added benefit of being able to charge all electric vehicles, so long as you use the relevant charging cable
The Easee app is also one of the easiest we've used. It's ideal for those who want a simple-to-use charge point, but it includes enough smart charger features to please most drivers.
Plus, Easee launched the Equalizer accessory in 2023 allowing Easee One owners to fully integrate with their home solar setup and direct any surplus solar energy into their EV.
2. Ohme Home Pro - best for energy tariff integration

Starting Price: £1006 with installation; £612 without - Buy
Full Review: Read our Ohme Home Pro review
Our Rating: 5/5
Customer Rating: 4.7/5
Pros: Excellent energy tariff integration; Built-in LCD screen for direct charger control; smart and intuitive app; Built-in PEN fault detection and no earth rod required; Best for Octopus Energy integration
Cons: Some vehicles not compatible with all features; not solar compatible currently
While it isn't as good looking as some rivals, the Ohme Home Pro is one of the best tethered chargers available on the UK market today.
This Ohme charger comes with a 5-metre cable as standard, though you can upgrade to an 8-metre cable, and will provide a max charging speed of 7.4kW or around 30 miles of range per hour depending on your electric vehicle.
The Ohme chargers are best known for the unique software which can integrate directly with your home energy tariff to automatically charge your car at the optimum time. Instead of setting a rudimentary start and stop charge time to coincide with your cheaper electricity rates, the Ohme software will work out the best charging schedule for you.
Simply state the percentage charge you would like to reach and by what time (80% by 7am for example) and the Ohme Home Pro will optimise the charging schedule to meet the target while also charging at the cheapest rates as much as possible.
All smart EV chargers allow you to take advantage of cheaper overnight electricity rates, potentially saving hundreds of pounds per year, but the Ohme essentially does the working out for you.
Furthermore, the screen of the Home Pro is an attractive alternative to those who don't want to fiddle around with an app. All the same features and controls are available via the Ohme Home Pro screen.
The main downside to this approach is Ohme requires an API connection to the vehicle in order for these clever features to work. Don't worry about the jargon too much - simply put, some vehicles cannot make full use of the software although the Ohme can physically charge any vehicle. There's a full list of compatible vehicles on our Ohme product page and on the Ohme website.
3. Tesla Wall Connector - best for Tesla owners

Starting Price: £1080 with installation; £528 without - Buy
Full Review: Read our Tesla Wall Connector review
Our Rating: 4/5
Customer Rating: 4.7/5
Pros: Slick looks; built-in cable tidy; remote unlock charge port (Tesla vehicles only); works with all EVs
Cons: No cost tracking for non-Tesla vehicles; Some vehicles not compatible with all features; no solar functionality; PEN-fault detection device or earth rod must be installed at additional cost
The Tesla Wall Connector electric vehicle charger is now on its third generation, having received a visual overhaul and some hardware tweaks.
The Tesla charger can actually be used for all electric cars and the app has received some updates to make it more user-friendly for non-Tesla drivers.
It looks really nice, thanks to the gloss silver finish, is of a high quality build, and includes a neat built-in area to wrap your cable around.
But there's no getting away from the fact the best experience is reserved for Tesla vehicle drivers. Case in point - the plug includes a button to remotely open the Tesla charge port. It's sounds like a small thing, but it's very handy.
The Tesla charger is capable of operating on three-phase power at 22kW out of the box, resulting in faster charge speeds although most residential homes do not have a three-phase supply to make use of this.
4. Ohme ePod - best untethered alternative to Ohme Home Pro

Starting Price: £971 with installation; £575 without - Buy
Full Review: Read our Ohme ePod review
Our Rating: 5/5
Customer Rating: 4.7/5
Pros: Excellent energy tariff integration; Compact looks and size; smart and intuitive app; Built-in PEN fault detection and no earth rod required; Best for Octopus Energy integration
Cons: Some vehicles not compatible with all features; not solar compatible currently
In terms of software, everything we've said about the Ohme Home Pro applies the ePod making it one of the best best EV chargers today.
Where the Ohme ePod stands out is its improved looks and the fact it's an untethered EV charger as standard. Whereas many other EV drivers will prefer a tethered charger with the cable attached, there are benefits from going untethered.
Firstly, it results in an overall more compact charger and many will prefer the discreet look it offers.
Secondly, you can choose any length charging cable you like offering a lot of flexibility if you have a long or wide drive. Having an untethered charger, and therefore not being limited to a default cable length, means it's much easier to unplug one vehicle and plug in another if you're using a 10-metre EV charging cable for instance.
There is no screen like that of the Home Pro, but the ePod is still one of the few EV chargers today that has physical buttons on the unit itself. Most home chargers rely solely on their companion app for charge point control, but some drivers will find the buttons of the ePod helpful.
Tethered or untethered, the Ohme range of electric car chargers are reliable, built well and offer some of the best charging features available on the market.
5. Hypervolt Home 3.0 - best alternative looks

Starting Price: £1080 with installation; £750 without - Buy
Full Review: Read our Hypervolt EV charger review
Our Rating: 4/5
Customer Rating: 4.7/5
Pros: "Cool" aesthetic; Built-in cable tidy for neat storage; Easy-to-use app; Solar integration built in
Cons: Design may be too "unique" for some; quite large
Hypervolt is fast becoming one of the more established players in the EV home charging market. It already had somewhat of a cult following, but now others are cottoning on to the slick looks, slick smartphone app interface and raft of features.
The design of this electric vehicle charger certainly stands out from the front thanks to the size, bold colours, and LED lighting. We love it for that reason, but some customers will want a more discreet option even though you can turn the lights off and the side profile is actually quite slim.
The built-in cable tidy helps keep things neat when not charging, while solar compatible features will be a big selling point to some allowing those with a solar array to charge their vehicle with excess renewable energy.
The app delivers all the features you'd expect, such as scheduling and cost tracking, and has one of the most polished user interfaces we've used.
6. waEV-Charge EV1i - best for price

Starting Price: £922 with installation; £539 without - Buy
Full Review: Read our waEV-Charge review
Our Rating: 4/5
Customer Rating: 4.7/5
Pros: Built-in solar integration for a great price; ev.energy app very accomplished; excellent customer service; built-in cable tidy " aesthetic;
Cons: Not as cool or compact as some rivals
The range of waEV-charge home charger products may be relatively new to the industry but they are making a splash (sorry) in the market thanks to their low price points and range of features usually reserved for higher-end products.
The EV1i is our preference over the older EV1 due to the smarter and cleaner design.
Although the EV1i offers an entry-level price, it's far from an entry-level offering in terms of features boasting a cable tidy, built-in functionality to make the most of your solar and energy usage and a very slick app experience provided by ev.energy which includes smart scheduling, cost tracking and much more.
The looks and build quality may not match that of some premium chargers on this list, but many customers will not be too bothered about this so long as it reliably tops up the battery in their EV, which it most certainly does.
7. Andersen A2 - best for finish options

Starting Price: £1589 with installation - Buy
Full Review: Read our Andersen A2 review
Our Rating: 4/5
Customer Rating: 4.6/5
Pros: Superb design with numerous finishes to choose from; Hidden cable tidy keeps cables out of sight; Easy-to-use app
Cons: Premium looks attract premium price;
If you asked Kevin McCloud of Grand Designs to design an EV charge point, he might well end up with the Andersen A2.
It's pricey, of course, but for the cost you get a super premium finish and a choice of finishes to suit any property or design preference, including Accoya Wood which looks very smart indeed. Not to mention you can get the Andersen A2 on finance from just £21 per month, which helps spread the cost.
The Andersen A2 hands down has the best cable storage solution on the market for a tethered charger. The neat built-in cable tidy is actually within the body of the unit, ensuring the attached charging cable is hidden away when your electric vehicle isn't charging.
This gives the Andersen A2 a noticeable edge against other tethered EV chargers which at best will offer a cable hook and holster to keep things together, but all the cable gubbins are still on show. With the Andersen A2, you get the benefits of a charging lead being permanently attached to the unit without the "mess".
Plus, there are even brushes lining the recess of the cable storage area, meaning the cable gets cleaned and dried up as you put it away.
The Andersen A2's Konnect App also allows you to make the most of your solar panels, if you have them, by diverting surplus energy into your EV.
You can also upgrade to the 22kW version of this charge point provided you have three phase power at your property.
Aside from this, it's a high quality, beautiful looking charge point. If it's a premium finish you're after, then the Andersen A2 should be on your shortlist along with the Simpson and Partners Home 7 series.
8. Simpson & Partners Home 7 series - best for style at lower cost

Starting Price: £1079 with installation; £649.20 without - Buy
Full Review: Read our Simpson & Partners Home 7 review
Our Rating: 4/5
Customer Rating: 4.6/5
Pros: Range of finishes; untethered and tethered options; solar integration; smart and simple app
Cons: Not as expensive-looking as Andersen A2 (but not as expensive either)
Simpson & Partners may be a relatively new name in the sector, but it's one with bags of experience at the helm.
The company and its first home EV charger, the Home 7 series, was co-founded by David Simpson who originally designed the Andersen A2 (you knew you recognised it for a reason).
There is an incredible range of finishes available, with numerous colours to choose from as well as wood and metal surfaces. The range and quality is reflected in the price, but if you're after a specific look and a premium design to fit in with your home then the Home 7 Series is an excellent choice.
Available as a tethered EV charger with the cable permanently attached or as an untethered unit, which can also operate in tethered mode by locking the cable in place via the app, there's an impressive amount of functionality for all types of EV owners here. Furthermore, it has built-in earthing protection so there is no need for earth rods to be installed at your property.
On top of the usual smart charging features found in the smartphone app, you can add in solar EV charging functionality when you buy the Energy Manager and Solar Monitor.
Just like other smart home EV chargers, the Home 7 app allows you to set start and stop charging times to take advantage of cheaper rates of electricity.
You can also upgrade to the 22kW Home 7 Plus if you have a three phase electricity supply at home.
Honourable mentions
Here are some of the most-popular EV chargers on the market that we don't currently install at Smart Home Charge but are worth a mention.
Pod Point Solo 3

Starting Price: £660 without installation - Buy
Our Rating: 3/5
Customer Rating: 5/5
Pros: Simple design; established brand
Cons: Limited feature set on smartphone app; expensive; poor customer service
Pod Point is arguably the most well-known EV charging brand to EV owners. It was one of the first ever home chargers for electric cars to market and it also operates a range of public charging points.
The Solo 3 is the successor to the original Solo from Pod Point. This Pod Point home charger brings with it a refreshed design, built-in PEN fault detection and improved build quality.
It includes a 4.8m cable as standard if you go for the tethered Solo 3, but you can opt for the untethered version which will work with all electric cars as you can plug in both Type 1 and Type 2 charging cables.
Like other chargers it has a power output of 7.4kW, which will offer around 30 miles of range per hour depending on the max limit of your own electric vehicle.
The app allows you to set up schedules for charging to coincide with cheaper electricity rates (tariff dependent) and therefore lower your car charging energy bills. Aside from this, though, the Pod Point app is pretty basic and lacks the features that some other chargers like the Ohme Home Pro offer.
Myenergi Zappi charger

Starting Price: Not available with Smart Home Charge
Our Rating: 4/5
Customer Rating: n/a
Pros: Known for solar integration; built-in cable tidy; tethered and untethered options
Cons: Expensive; Bulky design
The myenergi Zappi EV charge point from myenergi was synonymous with solar EV charging in the early days of home car charging. However, now there are a range of solar EV chargers available that offer solar compatibility such as the Easee One (with Equalizer) Hypervolt Home 3.0, Simpson and Partners Home 7, waEV EV1 to name a few.
Arguably, the Zappi is still a great choice if you want to buy into the full myenergi ecosystem, but it is pricier than other chargers that offer solar compatibility and the option to make the most of solar power.
You can read what we thought of the Zappi overall when we tested it a few years ago, but it's the solar features that elevate both the product itself and its installation cost.
Charging your EV with solar
Thinking about getting solar panels to charge your electric vehicle? It might not be the sunny situation you think it is. Learn more about solar EV charging and if it's right for you i our solar EV charging guide.