Charging your electric vehicle with solar panels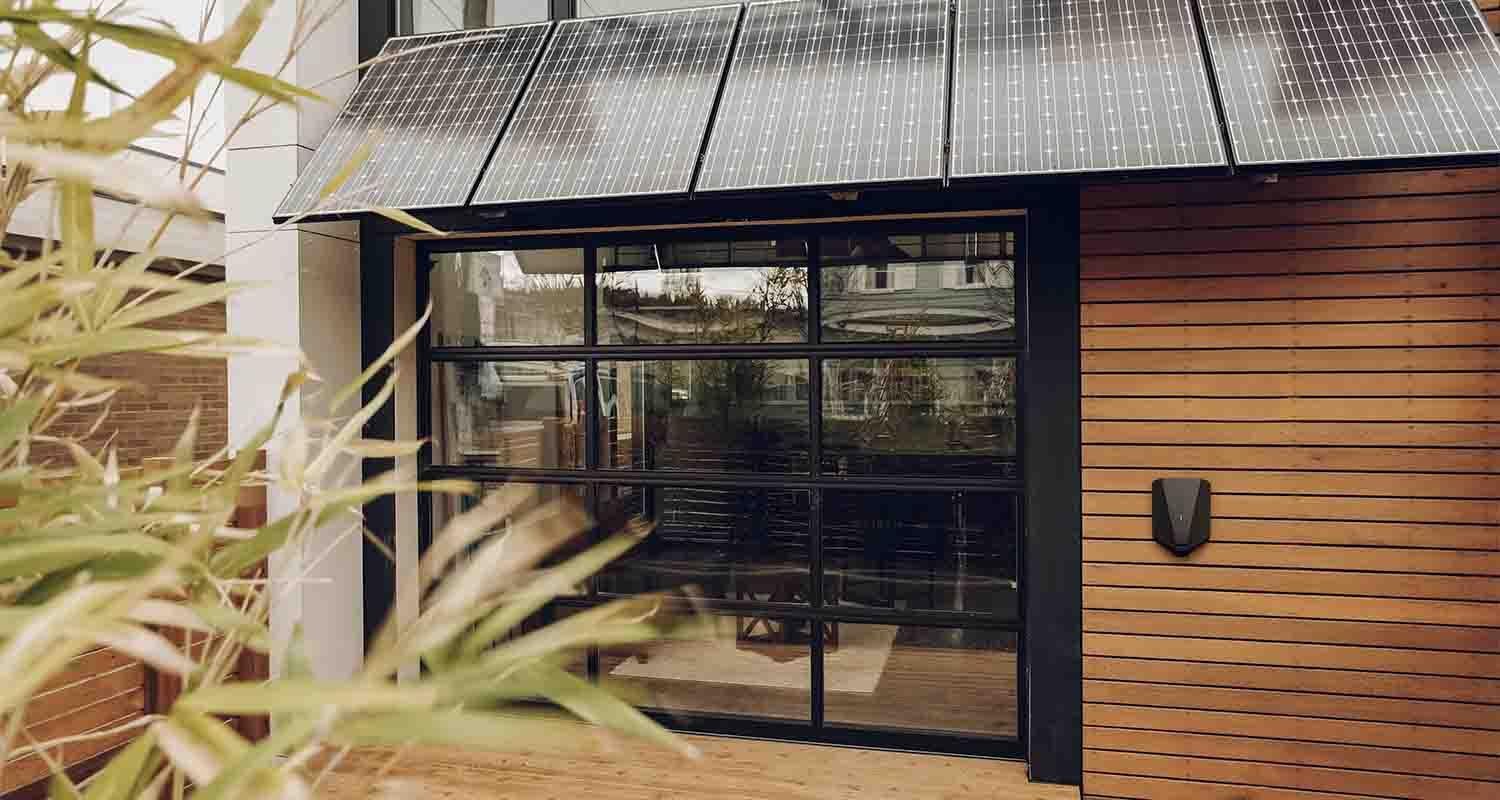 Energy gained from a solar PV (photovoltaic) array can certainly be used to charge an electric vehicle (EV), but there are a few elements that need to join up to start running your car entirely on sunshine.
How can I charge my electric vehicle with my solar PV system?

The solar system will need a PV inverter unit, which converts solar energy into electricity and then the system will also need to be able to link in with the EV's home charging point.
It's worth checking when you're browsing for smart home chargers to see if solar compatibility comes as standard (see examples below).
A domestic battery storage system would also help with managing how energy is gained from the solar PV array during the day.
This storage system could then intelligently distribute off-grid energy to power things like an EV from solar while it's plugged in at home overnight.
How many solar panels do I need to charge my electric vehicle?

The size of the array needed will depend on how big the size of the EV's battery is.
Battery sizes can range from 30kWh to 65kWh and above. The bigger the battery is, the more energy will be needed to charge it.
An average solar PV array is around 10 panels, but more panels may be needed to figure out the best set-up for a specific EV or home set-up.
How long will it take to charge my EV on solar energy alone?

Home solar PV systems generate an average capacity of 4kW and this would mean an EV with a battery capacity of 40kWh would take around eight hours to fully charge from solar alone.
There are some caveats to that though. The amount of solar energy will always vary depending on the direction the solar panels are facing on a house, as well as weather conditions.
Those homeowners that have a South facing home which is unshaded are in luck, as this is the ideal set-up to reach maximum electrical output.
Houses that are East or West facing can still produce a good level of performance, but North facing homes are not recommended for solar panel installation.
The Energy Savings Trust says East and West facing homeowners should expect to yield up to 20% less energy compared to a house facing directly South.
While it's true that solar panels will generate more power on a sunny day, as long as there is light, the panels will still be generating energy.
This means solar panels can generate power all year round, including in the autumn and winter.
Having said that, shorter days in winter are going to produce less green energy due to fewer daylight hours, but a bright and cloudless winter day will still produce a good level of power.
What should I consider before getting a solar EV charger?

There are a few things to think about before investing and installing solar panels and a solar smart EV charger.
The time of day do you charge your EV?
All home charging points are now automatically set to charge at the lowest demand for electricity, which is later at night past 10pm.
If you have solar panels that aren't connected to a domestic battery system, this will make it impossible to charge an EV using solar at night.
Solar arrays that aren't linked with a home battery can still be used to charge an EV, but solar energy will obviously only be generating during the daytime.
For those that work from home full time or multiple days a week, this might give enough of an opportunity to charge an EV during the day just using the sun, without having the need to install a home battery system.
If you're more likely to be charging the vehicle overnight the majority of the time, a domestic battery system is worth thinking about.
Do you have or are planning to get a battery storage system?
A domestic battery is an additional investment, but it will help smartly manage all the energy generated from solar so it can be used at night to top up an EV.
That means if an EV is plugged-in at a time of peak electricity demand between 4pm and 10pm, the home battery unit can use that stored solar power, even if the sun has gone down.
Energy suppliers are now offering new types of tariffs that offer real-time pricing for electricity.
The price of energy fluctuates throughout the day and home battery systems can smartly take advantage of this to distribute energy from the battery when prices are at their highest and then conversely draw from the electricity grid when prices are at their lowest.
The battery storage system is going to be an additional cost with 4kWh capacity examples costing between £3,300 and £6,500.
This kind of investment is a long-term play, but the greater the ability to generate and store solar energy, the quicker the return on investment will be.
How big is your array and how much of the energy generated by your solar panels do you want going to your EV as opposed to your house?
As previously mentioned, the size of the array, the slope of the panels, the direction of the house and the time of year are all variables in terms of how much energy can be drawn from solar.
Smart chargers with solar compatibility can be configured to only charge an EV from the sun, or they can use a combination of solar and grid energy.
Is it worth getting solar PV to charge my EV?

While the idea of charging your car using free electricity generated from your solar panels might seem great in theory, it's important to consider where your car is going to be parked when the solar panels are generating the most electricity.
You should also consider how much electricity your household typically uses, as most solar-compatible EV chargers will only charge your vehicle using surplus solar energy.
With the above in mind, it's hard to recommend purchasing a solar array for the sole purpose of charging electric vehicles unless your car is at home on charge during the day and your household energy usage is low.
If however you already have a solar panel system and are looking for alternatives to exporting any excess solar to the grid, then a solar-compatible EV charger could be a great bonus that could reduce your car charging costs even further.
Which EV chargers are compatible with solar panels?
If you fit the criteria above or still want a solar compatible EV charger, here are some recommendations.
Easee One

On it's own the Easee One EV charger is not solar panel system compatible.
If you have the newly launched Easee Equalizer installed however, you can tell your Easee One to only charge using excess solar energy or a combination of grid and solar energy if your excess solar is not that high.
Simpson and Partners Home 7 plus

Like the Easee One, the Simpson and Partners Home 7 plus is not solar-compatible straight out of the box.
But if you have either the wired or wireless energy manager installed, you can choose which power source your Simpson and Partners Home 7 Plus uses to charge vehicles with.
This includes excess solar generation if you have a solar PV system installed.
HyperVolt Home 3.0

The Hypervolt Home 3.0 features clever solar panel integration with three charging modes for added flexibility:
Super Eco Mode - Uses only solar energy to charge your EV (Minimum of 1.4kW / 6amps power/current needed)
Eco Mode - Prioritises solar energy but if the sun goes in or energy production from your solar panels drops below 1.4kW, the HyperVolt Home 3.0 will revert back to a 1.4kW trickle charge from the grid & solar or just the grid.
Boost Mode - Charges at max current (7kW) using any available (solar and grid) power source.
Andersen A2

If you're looking for a solar EV charger with unrivalled looks and build quality, then Andersen A2 should definitely be on your shortlist.
You can charge via solar in two ways, these are:
Full solar mode - Only uses surplus solar energy to charge your vehicle
Solar and grid mode - Uses a combination of solar and grid energy to bring the charging rate to 7.4kW or 22kW if using the three-phase version of the A2
WaEV

The WaEV is another charger that comes as standard with solar integration.
These units are aimed at house builders, property developers and landlords, but can also be ordered by retail customers too.
WaEV uses a combination of hardware integrations and local solar forecasts to automatically schedule EV charging.
EV drivers can review their charging to see how much is through solar and how much is through the grid.
WaEV owners that have solar can also choose to charge their vehicles 100% through solar, or use a "Solar Smart" mode to top up the battery from the grid only if necessary to make sure the car is ready when needed.
Myenergi Zappi charger

The Zappi is able to monitor solar generation and the energy coming from the grid (through the use of two CT clamps (current transformer) and will automatically start charging an EV at the point it detects there is surplus solar.
There is also the functionality to have more direct control, so if a full charge is needed by 7am and there's not enough solar energy to get the job done, the Zappi will use its "normal" Eco mode to use a combination or solar and grid energy to top up the battery.