Tethered vs untethered chargers - Is it better to have a tethered or untethered charger?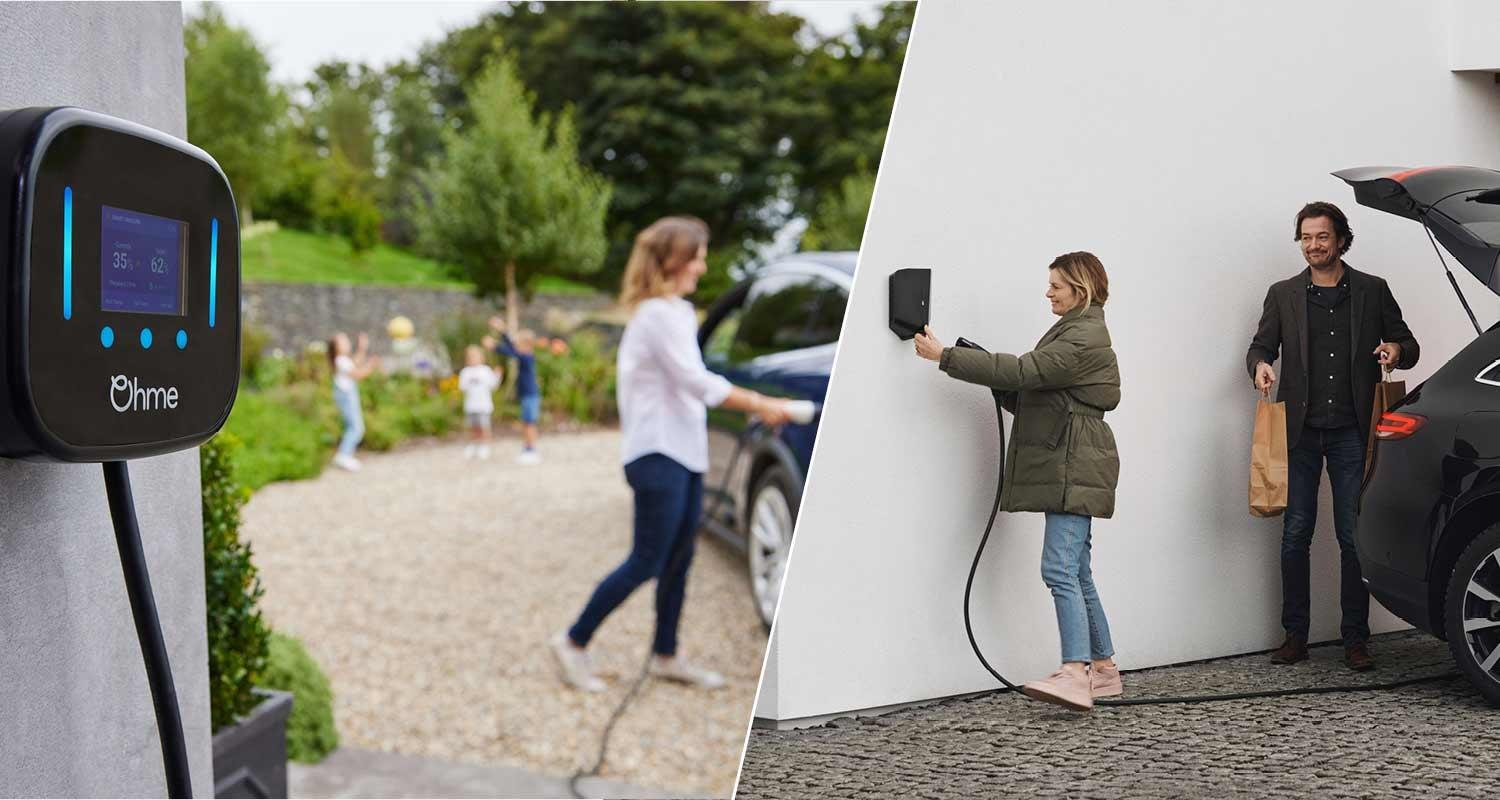 Most home EV chargers come in two forms, tethered or untethered. Both of which come with their own pros and cons.
With an estimated 80% of electric car charging taking place at home, it's important to make sure you choose the right charger for you and your vehicle. This guide will look at the two styles of home charging points, tethered and untethered. If you've just brought or are planning to buy a new plug-in electric car and want to charge it at home, you will need to decide which charger is suited best to you.
What is a Tethered Charger?

A tethered electric vehicle charger means that the charging cable is permanently attached to the charging unit. Many customers prefer the design of a tethered charger as it's a similar experience to that of filling up at a petrol pump. You can just pull up, uncoil the cable from the charger box plug it in and you're charging. You don't need to have a cable in the boot of your car, however, it is still best to carry one as many public charging points are untethered and require the use of your own cable. And if you don't have a cable, we've got plenty to choose from in our range of charging cables
Tethered unit cables vary in length depending on the unit and brand, and in some cases, you can upgrade to a longer cable for an extra cost. With this in mind, you would need to consider where the charger would be located for easy access to the car. Tethered chargers come in a range of two power outputs (Single phase and three-phase) and a choice of either a Type 1 or Type 2 charging cable.
Currently, all vehicles use one of these cable types, so it's important that you select the correct type for your vehicle as a Type 1 will not fit a car that uses a Type 2 cable. The main issue you would find with this is that when you come to purchasing a new vehicle you would need to ensure it is the same type of cable as your previous car or you would have to purchase a new home charger.
Luckily almost all modern electric cars are Type 2 and most tethered units are also this. You would need to keep in mind that with a tethered unit you can only have one cable installed so other household members or visitors who use the EV charger would need to have a compatible EV for it to work for them as well. Now you know a bit more about Tethered chargers let's look at the pros and cons to help you in your decision.
Advantages of a tethered charger:
Convenience - similar to the petrol station experience, the cable is permanently attached so you can just plug and go.

Security - the cable is part of the unit and it's not possible to remove it. Meaning no worries about it becoming disconnected or stolen.

Cable included - as the cable is part of the unit you don't have to purchase a cable separately.
Disadvantages of a tethered charger:
Charging Type restriction - you have to select Type 1 or Type 2 and have the relevant vehicle to fit this, you cannot mix and match. Also, there could be a worry that the industry create other Types in the future and you would have to keep upgrading chargers to fit this.

The choice of cable length is also limited.

Lacks flexibility - you can only use this charger at home. You would want to purchase a charging cable or have one handy if you wanted to use an untethered public charging point or someone's untethered home charger.
Get an Tesla Wall Connector quote
Got a Tesla? The Tesla Wall Connector (pictured above) is built to go hand-in-hand with Tesla vehicles.
Order your Tesla Wall Connector today.
What is an Untethered Charger?

Moving onto the second option for home chargers is an untethered charge point. This simply means there is just a socket for you to insert a cable into. They are also referred to as 'socket-only' EV chargers. Again these chargers come in a variety of power output options but the socket is universal, meaning you can plug both Type 1 and 2 charging cables into them.
As this charger only has a socket you would need to purchase the correct charging cable for your vehicle and also find a suitable place to store it, most people choose to keep it in their boot to be used when out and about or in the house. You also want to check the amps of the cable as this would impact how much power the charging point can provide.
If the amps aren't high enough for the charging point this would result in your car not charging at the full potential of the charging point. Again there are pros and cons to untethered charging.
Advantages of an untethered charger:
Flexible - as it's just a socket you have the choice of charging both Types of electric cars so when you come to changing vehicles you don't have so much of a worry about your charging point too.

Looks tidier aesthetically - as you remove the cable completely after charging, some people prefer the cleaner look of no cables.
Choice of cables - you have a free reign of cables to buy for your vehicle including which length is best for you. We have a range of cables on sale.
Disadvantages of an untethered charger:
Security worries - as the cable can be removed there is a possibility of the cable getting disconnected or stolen.

Supplying a cable - you would have to purchase a cable and you would need to ensure the specs of the cable match both the car and charging point to reach the maximum potential of the limitations of the charging point.

Storing the cable - you would need to put the charging cable away after each charge which could take up space but also if the weather isn't great it means you need to store a wet and dirty cable.
Get an Easee One quote
Whether you need a full installation or just want to buy the charger on its own, order your Easee One (pictured above) today.
The best of both worlds

If you're stuck for a choice the excellent news is that more brands, such as Easee and Simpson and Partners, are starting to create the option of having both options in one charge point. This means that you would still have to buy the charging cable for your vehicle, however, you can lock the charging cable into the charger via the app on your phone and use it in the same manner as a tethered charging point.
The choice is yours, switch between tethered and untethered chargers at your leisure!
Simpson and Partner Home 7
Whether you need a full installation or just want to buy the charger on its own, order your Simpson and Partners Home 7 (pictured above) today.
To summarise...

Overall, the choice between a tethered or untethered charging point is mostly down to what you prefer but once you look at the pros and cons of each and your needs, the choice should become easier. Smart Home Charge are here to help take the stress out of choosing a home EV charger, browse our range or use our handy charge point comparison tool and find the right charging point for you.