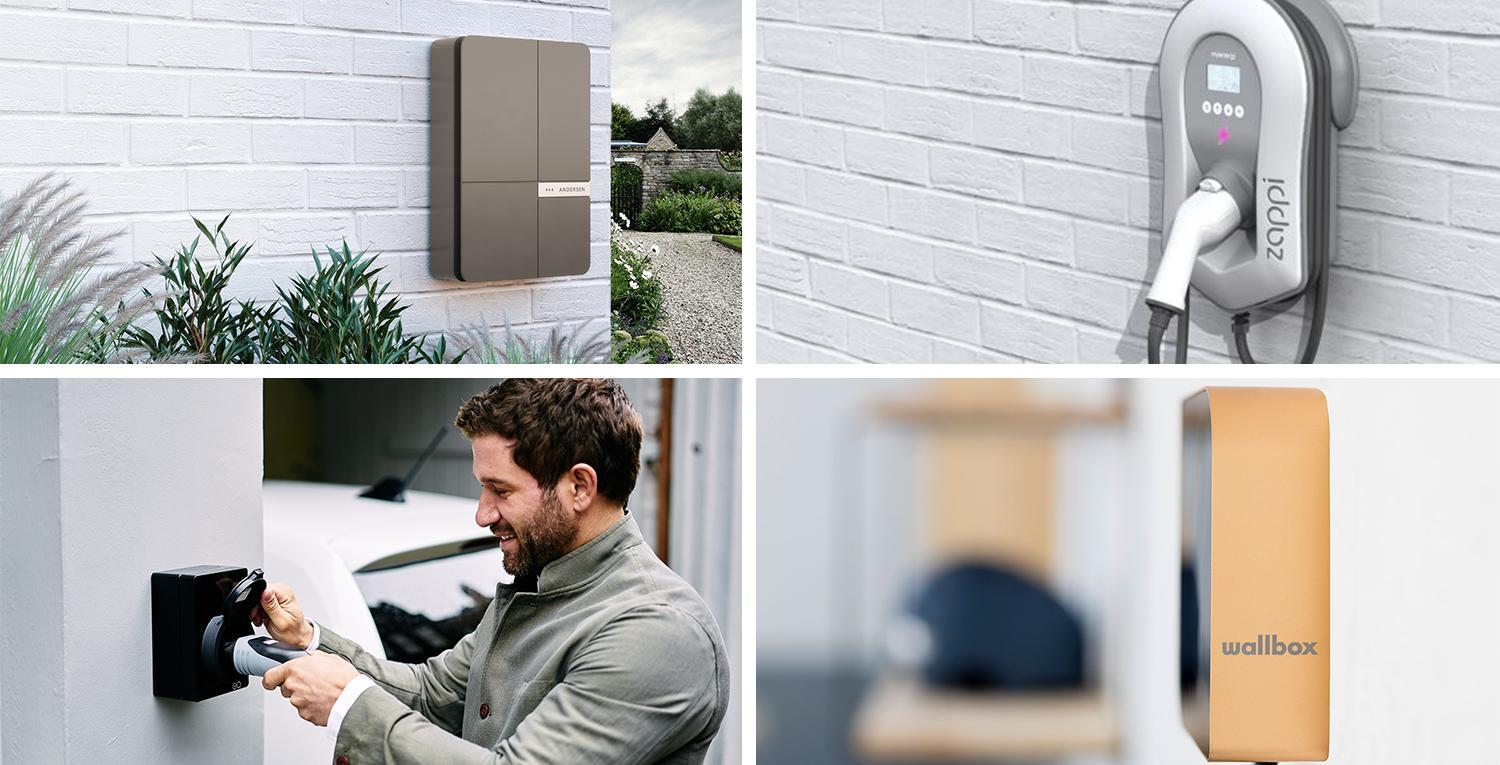 How do I choose a charger for my electric car?
9th Apr 2019 Smart Home Charge
---
Are you ready to choose a home charge point for your EV or plug-in hybrid, but have no idea where to start? This guide will offer some tips.
Here at Smart Home Charge, we only sell chargers that we ourselves would be happy having installed at our homes and most of them are capable of scheduled charging so you can charge your car when the electricity rate is at its cheapest.
Even though we've carefully selected a handful of chargers to suit different budgets and needs, there are still a few to choose from. This guide will look at four key considerations you should think about when choosing your home charge point:
Considering price
Whether to choose tethered or untethered
Style and looks of the charger
Killer features
1. Considering Price
Budget will be key for most people. There are a wide range of price points to suit every budget and currently the OLEV Grant means you can buy an excellent quality charger with a hefty discount from the Government.
Our chargers start from as little as £382 including installation, although the website prices are a guide only. The best way to get an accurate price for your installation is to click "Request a Quote" on your chosen charger.
If you're just interested in keeping costs low, then the following chargers are a great choice:
Project EV EVA-07S - fantastic value for money and one of our most popular chargers. It is an untethered unit, which we explain in more detail below.
Ohme Intelligent Wall Charger - for a small price increase you can get one of the most advanced chargers available and our best-selling unit. It will sync with your energy tariff so it can automatically charge your car when your electricity is at its cheapest. It's also a tethered charger which a lot of customers prefer.
We also sell and install more premium chargers that have brilliant designs and build quality. One popular charger in this category is:
Andersen A2 - this is our best-selling premium charger. It's available with a range of finishes including wood.
2. Should I get a tethered or untethered charger?
There are two types of charger - tethered and untethered - and there are pros and cons to each.
Advantages of a tethered charger
More convenient - simply uncoil the cable and plug in.

More secure - the cable is part of the unit so it's not possible to remove it.

Cable included - which may mean you do not need to purchase a charging cable separately.
The main disadvantages of a tethered centre around its lack of flexibility. Because the cable is part of the unit, you cannot change it. For example if you wanted to get a longer cable, then you'd likely need to get a new charger.
You also need to choose whether you want a Type 1 or Type 2 charger to match your vehicle. This means you are effectively stuck with a Type 1 or Type 2 charger.
If you have a Type 2 car and charger, then this is unlikely to be an issue as most new cars are now Type 2, but if you have a Type 1 vehicle and you think you might change it in future then it may be worth considering an untethered charger and here is why...
Advantages of an untethered charger
Flexibility because it is just a socket.

Works with Type 1 and Type 2 cars.

No Cables permanently on display.

Option to change your charging cable length.
The primary disadvantages of an untethered charger are to do with security and storage. In theory it is much easier to remove the charging cable. In addition you will need coil up the cable each time its not in use and store it in your boot or garage when not in use. A point to consider here is that the cable could be wet or dirty. We therefore recommend choosing a tethered charger if either of these are a concern for you.
You will also need to supply your own charging cable if your vehicle does not come with one, although we advise always having an additional charging cable anyway so you can use it with public chargers.
Ultimately it depends on which you think will benefit you most. If convenience is your main concern, then go for a tethered charger like the Ohme or Wallbox Pulsar Plus. But if you want something that is a bit more flexible, then an untethered device such as the Sync EV or Project EV may be your best bet.
3. Style and looks of the charger
Although the charger is a functional device first, some people also want it to also look nice – it is attached to your home after all!
EV chargers come in all sorts of shapes and sizes, ranging from the positively tiny and discreet Sync EV to the Andersen A2 which has sleek lines that even Kevin McCloud would be proud of, and everything in between.
When choosing a charger to suit you and your home, consider:
The style – which types of chargers do you just like the look of?
The location – think about where you'd like your charger to be located. This might affect your choice – if it's out of sight, then perhaps you won't be so bothered by the looks, but if it's on the front of your house for all to see then maybe you'll want something a bit more stylish.
Dimensions – some chargers are larger than others, so consider this alongside the charger location.

4. Killer Features
Think whether there are any specific features you must have, as this could supercede the previous three considerations.
For example, if your property has or if you are considering getting solar in the future and you are able to charge your vehicle in the day time with surplus solar energy then the Zappi is probably your best option.
If you want to save money on charging, see accurate costs, sync "automatically" with your energy tariff, whilst taking advantage of the cheapest electricity rates such as those offered by Octopus Energy. You can save up to £300 a year compared to a standard tariff with the Ohme Intelligent Wall Charger. This charger is currently the only one in the UK with these type of smart features.
If reliability of the data connection is important The Ohme uses a built-in 2G/3G and 4G Sim card for its connection, which can be more reliable than a WiFi signal depending on the location of your charger and router.
Or perhaps you really despise the idea of having an earth rod installed, which some chargers require? If so, then you should consider the Zappi or the Andersen A2 as both have built-in protection which means an earth stake is not needed.
For most of us, it will be a combination of all the above factors that will help whittle your choice down to the ideal charger that best suits your needs.
We carry out Online Site Surveys before you pay us anything. This means you get an honest quote upfront without any hidden costs on the day of installation. To get started, simply select your charger and click "Request A Quote".