Top five most attractive home EV chargers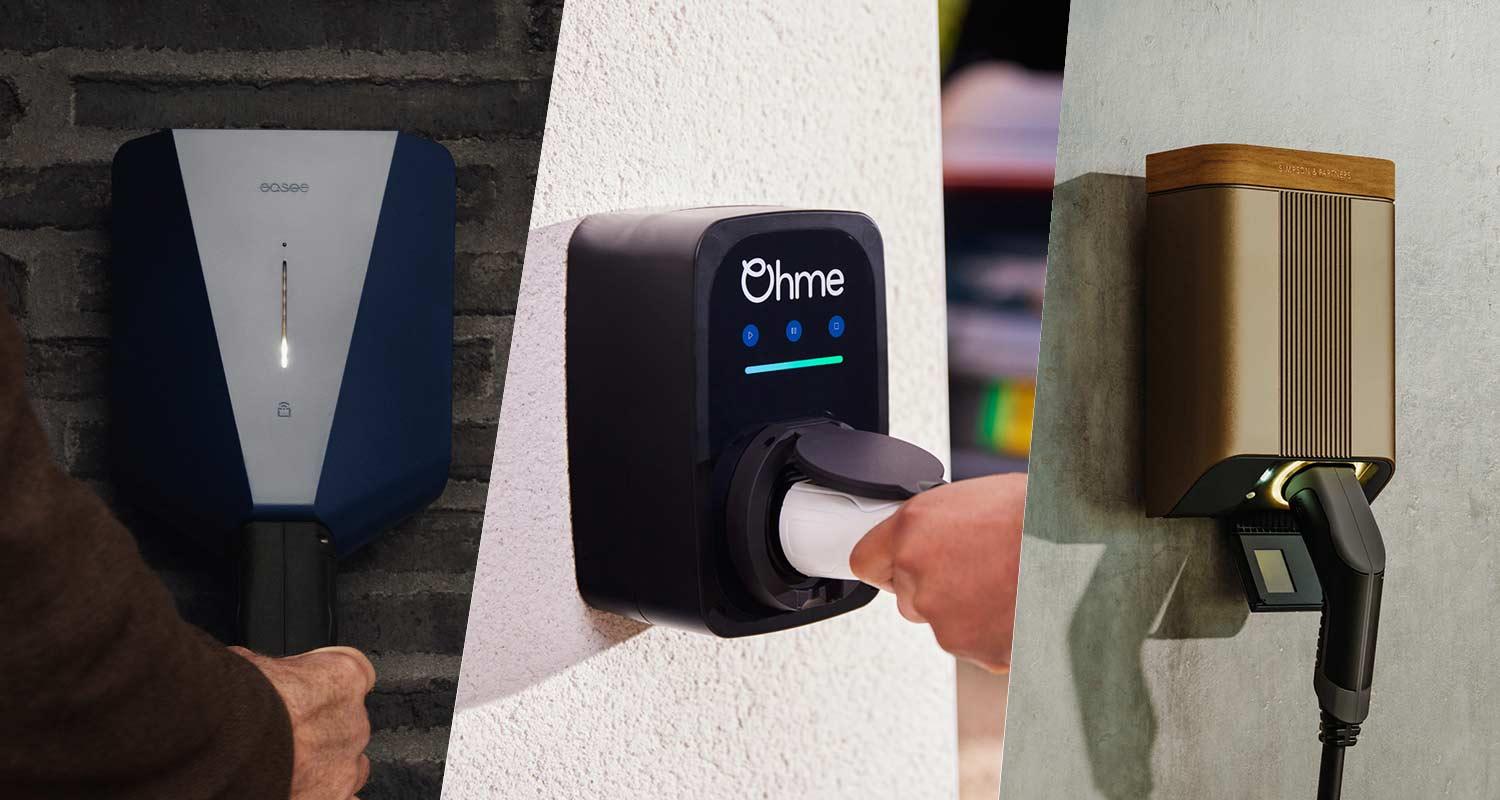 Home electric vehicle chargers come in a range of sizes and are built out of many different materials including plastic, metal and sometimes even wood.
Some charge point manufacturers will even let you customise your charger for that added personal touch.
How much should I prioritise looks when choosing a home EV charging point?

Style and looks might not be as high of a priority if you plan to have your charging point installed on a part of your house that is hidden away from view.
If your home EV charger is on show however, you might want to think about how the charge point will look once it's mounted on your wall, after all, it is designed to be there for a long while.
Design styles can range widely from more utilitarian in nature, to something much more stylish that can be customised with different colours and finishes.
For example, the Simpson & Partners Home 7 comes in a range of styles and finishes to suit many homes.
What are the best-looking home charging points?

Which electric vehicle charger looks the nicest will be mostly down to your own personal preference but to help you find your perfect charge point, we've listed our favourites.
Simpson & Partners Home 7 series

Built using high-quality materials and finishes, the Home 7 plus is a universal charge point that works with all electric vehicles and features a neat locking mechanism so you can decide whether to enable tethered or untethered mode.
Simpson & Partners is based in the Cotswolds and was established in 2021 to fill what they saw as a gap in the market for electric car chargers that have "great build quality and aesthetic appeal".
The business hand finishes their EV chargers and it runs its own factory for maximum control of manufacturing.
Thanks to a metal front faceplate covering a body made out of high quality composite plastics, the Home 7 Plus is one of the most well-made and robust home charge points you can buy.
With over a hundred different colours and materials to choose from, the Home 7 plus is easily one of the most customisable EV chargers on the market.
The Home 7 Plus uses WiFi to receive over-the-air updates and allow drivers control over functions such as charge scheduling.
What's more, the Home 7 can connect to your smart device using bluetooth for times when WiFi is temporarily unavailable.
The Home 7 Plus pairs with an easy-to-use app where you can view charge session data, schedule charge sessions, monitor charges in real-time and download over-the-air updates.
Easee One

The Easee One home charge point, designed in Norway, is Smart Home Charge's best-seller and for good reason.
The Easee One is a looker. In keeping with the Scandi design, it isn't overly fussy, but it stands out thanks to the inverted angles and bold colour options. It's simple, but seductive all the same.
There are multiple colour options to choose from to suit your style, or even match with your electric car, including black, white, grey, blue and red.
The black faceplate comes as standard but the other colour options can be chosen for an additional £35.
It uses both a 4G mobile data connection and WiFi to enable smart functionality and communication with the smartphone app.
Having both data connection options is ideal too, as those without a good WiFi connection where the charger will be located can make use of the 4G mobile connection or vice versa.
Tesla Wall Connector

Tesla owners don't have to go with the Tesla Wall Connector, but it certainly completes the look.
Tesla's home charger continues with the minimalist and sleek styling of the American EV brand's design philosophy, but it only comes in white.
The Wall Connector comes with a premium gloss finish and features a light bar that doubles up as a status indicator showing you at a glance whether it's ready to charge or charging.
It's also worth pointing out that you'll need to buy the Wall Connector directly from Tesla and to do that you need to own a Tesla vehicle.
This somewhat limits who can buy the product, although it can charge vehicles other than Teslas.
Ohme ePod
The Ohme ePod is Ohme's third home electric vehicle charging point and in our eyes, it's their best looking charge point yet.
Unlike the Ohme Home and Ohme Home Pro that came before, the ePod is an untethered charging point, which means you will need your own charging cable before you can charge.
While this does mean that you lose the convenience of having a charging cable permanently attached, it does make the ePod look a lot cleaner as there's no visible wires coming out of the charging point.
We have a range of charging cables on our accessories page all of which will be compatible with the Ohme ePod.
Aside from being untethered, the Epod is very compact, measuring just 14cm wide, 23cm tall and 10cm deep. The ePod feels well made too thanks to it's high quality matt plastic that surrounds the glossy black face of the unit. Speaking of the front, the backlit touch-sensitive buttons and led light strip complement the black casing beautifully.
Hypervolt Home 3

If you are looking for an electric car charging point that wants to be noticed, look no further than the Hypervolt Home 3.
One of the first things you'll notice about the Hypervolt Home 3 is the big LED lightning bolt on the front and LED strip that encircles the sides that glow different colours to indicate various charging statuses.
There's even a "party" mode which makes the LED lights cycle through colours.
Where can you get some of these charging points installed?

Have a look through Smart Home Charge's installer locations section to find out if one of our installers can install a charging point in your area.
At Smart Home Charge, we have local, OZEV-approved installers across the UK ready to help you with your home EV charge point installation.