Plugged In - Csilla Heim, Country Director Easee UK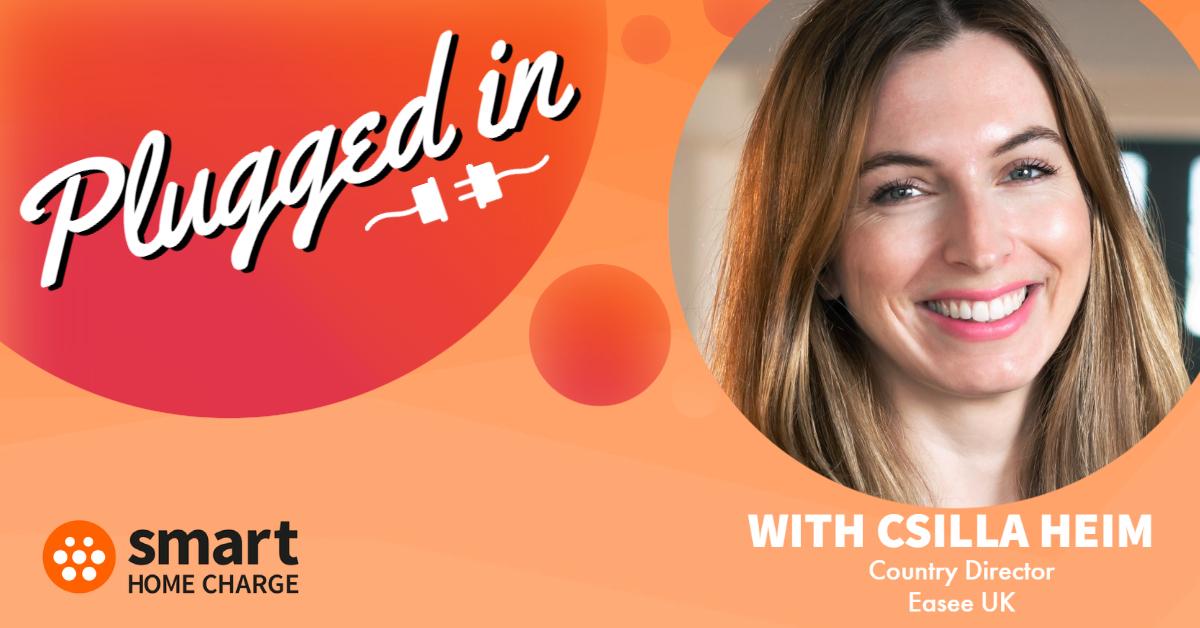 Norway-based Easee is quickly establishing itself as one of the fastest-growing home charge and domestic energy management companies in the UK.
The company is an established name in Norway, which is one of the leading electric vehicle markets in the world where the majority of all new vehicle sales are EVs.
Easee has sold over 500,000 chargers globally so far, but the UK is still a relatively new market.
It started sales of its Easee One charger in the UK in summer of 2021 and it has already seen 400% growth year-on-year after a successful 2022.
Csilla Heim, Easee UK country director, is confident the business can double its numbers in 2023 as more drivers make the switch to EV.
Heim worked in the marketing and telecoms industries, before switching her focus to the e-mobility industry with Berlin-based start-up Plugsurfing in 2017.
This move to e-mobility was driven by Heim's own interest to work somewhere that was going to make a difference to help improve global sustainability.
Heim said: "I relocated to London to work for a Munich-based EV charging start-up called EcoG. They provide solutions to help manufacturers build DC rapid charging stations.
"As much as I loved EcoG, I realised that remote working just wasn't for me. I wanted to work with a team local to me and I was amazed by Easee's products and the business culture itself.
"Easee has a vision that I agree with. It's not just about chargers, but about building an entire energy ecosystem that will fit with how society will be in the future."
Easee has around 500 employees globally and the UK has a team of 50 based in London, Glasgow and Surrey.
The Easee One

The Easee One is the best-selling home charger at Smart Home Charge and for good reason.
The One has an unfussy and elegant Scandinavian design combined with an ability to work in tethered or untethered mode. It means customers can choose to lock the cable in place for ease of access or unplug it for a cleaner look when not in use.
It comes in five colours and while that means customers can customise the look of their charger, the most popular option in the UK is the standard black.
Heim said: "I think black just fits with most houses really.
"Before I was working at Easee one of my biggest questions when looking at product design was asking why the chargers have to be so big. Why does the industry build fridges? Can we make something smaller, sleek and stylish that fits people's homes?"
Easee aims to create products that are distinctive enough that customers recognise the brand just through the design alone.
The Easee One was developed specifically for the UK market to be compatible with a single-phase energy supply and it is compliant with the latest Electric Vehicles (Smart Charge Points) Regulations.
These are the new minimum standards for home chargers in the UK which means they all feature smart functionality for managing charges, as well as standards for cyber security, software updates, tamper protection, passwords and more.
Get an Easee One installation
Whether you need a full installation or just want to buy the charger on its own, order your Easee One today.
The Equalizer and solar

Easee has also provided its Equalizer product to other markets but it is now also available to buy and install for UK customers through Smart Home Charge.
The Equalizer is a small smart device designed to optimise energy loads and home charging. It's a small separate piece of hardware that is installed inside or next to the fuse cabinet.
It connects the power metre and balances the charging level between the charger and the home.
Heim said: "We know customers have been waiting for this in the UK. It builds a much smarter, safer and faster charging experience.
"It will help customers save money and will help overloading and tripping any fuses. Instead of upgrading the grid itself, the Equalizer can balance the capacity to work for the customer with the current grid."
The Equalizer is also able to manage solar and this added functionality will be rolled out later this year.
It means Easee One customers that also have a solar PV array can use the Equalizer to use their own renewable solar energy to charge their cars, either running their EVs totally with the power of the sun, or a mixture of solar and the grid.
Heim said: "These new launches are all built around creating an Easee product ecosystem.
"We want to give control back to the customers around usage, renewable energy and to balance out peaks and make sure the grid is not overloaded.
"Paying and sharing energy is also something we'll be developing and launching new products for."
Learning from Norway

One of Easee's biggest advantages is that it can take what it has learnt in more developed EV markets like Norway, the Netherlands and Germany and use this knowledge to provide the best solutions possible for UK customers.
Heim said: "Norway's transition to EVs is much further along than the UK. They started a lot sooner after moving towards greener transport systems back in the 90s.
"I think governments have a really big role to play in the speed of adaptation to new technologies like EV."
Norway provided access to bus and taxi lanes for EVs, exemption from road tolls, parking exemptions and one of the biggest benefits was removing VAT on new car sales.
This lowered the price point so there was greater parity between EVs and petrol or diesel equivalents.
Heim said: "Any kind of benefit that is provided by governments has to be a long-term vision. Providing something for one or two years isn't going to work.
"We have to turn 33 million cars in the UK to zero emissions and so we need long-term support. It's such a long journey that we can't just have one-offs."
While Heim acknowledges there are more and more EVs available that aren't just targeting the premium end of the market, she still believes the government should lend more support to help lower the price point of EVs.
Heim said: "I was sad to see the home charger support stop in March 2022. I understand the UK government is looking to support the rental and commercial market with the grant money now.
"However, I think we were previously in a position where early adopters may have invested in getting a home charger anyway. Now we're at the point of mass market adoption with EVs, this is the time when more customers at home need support."
Heim also said the expanding market for used EVs in the UK will also help with affordability and will help to continue ramping up EV adoption up to 2030.