Weekly EV News Round-up 27.04.2023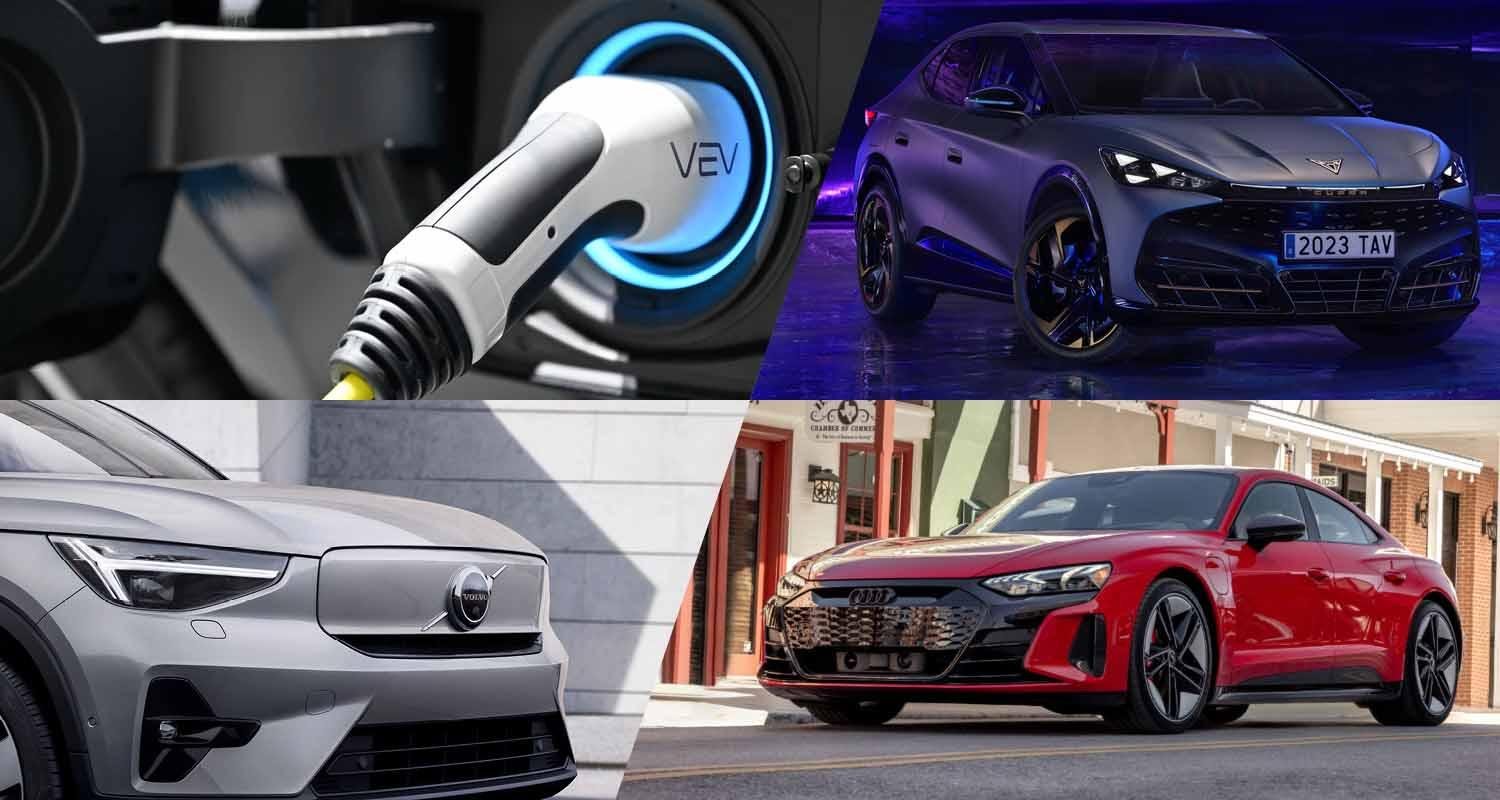 In other news, Volvo invests in AI technology and Connected Kerb joins the growing number of charging networks accepting Zap-Pay.
Want to get our news alongside other exciting updates emailed straight to your inbox? Then be sure to subscribe to our newsletter!
Smart has unleashed the pricing strategy for its #1 compact SUV.

Launched in three trims – Pro+, Premium and BRABUS, as well as the limited Launch Edition – it will cost from £35,950.
That's for the Pro+, which offers a range of 260 miles and a 0-62mpg time of 6.7 seconds.
The Premium is priced from £38,950 and ups the range to 273 and bundles in a 22kW three-phase onboard charger for 10-80% AC charging in less than three hours.
The Launch Edition features bespoke trim and Premium-level features and is limited to 100 UK examples, and costs £39,450.
The Brabus version costs £43,450 and features more aggressive styling, more power and torque (315kW and 584Nm respectively) and a 0-62mph time of 3.9 seconds. It has a range of 248 miles, and can DC charge at 150kW.
The Pro+ and Premium are single-motor rear-wheel drive, while the Brabus is dual-motor all-wheel drive.
Fully charge the Smart #1 from as little as £4.95
Getting a home charge point installed and switching to an EV friendly energy tariff could save £100s on your home charging costs. Click below to get started on your home charging journey!
More than a million EVs on the road


SMMT: Motoparc 2022 data
The Society of Motor Manufacturers and Traders (SMMT) has announced that more than a million EVs are on the road now.
Despite an overall increase in vehicles on the road – the first time since 2019 – average car and van CO2 emissions have fallen by -1.6 per cent.
This is thanks to the influx of new lower and zero-emission models. One in 32 cars driving in Britain now comes with a plug, amounting to 1,089,241 vehicles – a rise of more than half over the last year, to reach 3.1% of all cars sold.
Electric commercial sales have also grown, with vans up some 67.3% and buses and coaches increasing by 34.9%, while the number of zero-emission trucks has almost trebled since last year – although they still account for fewer than one in 600 in use.
However, public charge point rollout continues to lag behind EV uptake, with one standard public charger for every 36 plug-in cars on the road, down from 31 in 2021.
Cupra reveals Tavascan

Say hello to the Cupra Tavascan, the Spanish brand's first all-electric SUV coupe.
A concept version was first shown in 2019, and the final design remains faithful to that.
It features DCC Sport dynamic chassis technology and two power outputs: 286PS (210kW) and 340PS (250kW); the higher power output version has dual-motor all-wheel drive.
It can do 0-62mph in 5.6 seconds and has a range of 341 miles, with an extra 62 miles of range added in seven minutes.
It takes just under half an hour to go from 10 per cent to 80 per cent using a 135kW charge point.
Volvo invests in AI start-up

Volvo has made a strategic investment in CorrActions, an Israeli deep-tech brain monitoring AI start-up, which has developed a technology that it believes will disrupt brain activity monitoring and improve the understanding of drivers.
The AI-powered software can detect abnormalities in the cognitive state of drivers and passengers, based on micro muscle movements that reflect brain activity.
By using existing sensors in, for example, the steering wheel, such movements can hint at a variety of cognitive symptoms, including a driver being distracted, intoxicated or overly tired.
Connected Kerb embraces Zap-Pay

Connected Kerb has become the latest network to go live on Zap-Pay.
The network is the ninth to go live on the cross-network payment system, along with Osprey, ESB Energy, char.gy, GeniePoint, Mer, MFG EV Power, Fastned and Alfa Power.
This means that 7000 charging points across the UK can be paid for using the Zap-Pay system.
Check out our Zap-Pay review
Find out how we got on with Zap-Pay and how it compares to its competitors in our written review
Concours on Savile Row to highlight Quattro culture

Concours on Savile Row, a free-to-attend event in the heart of London's tailoring district, is to showcase the Audi RS e-tron GT in the context of performance Quattro cars in Audi's past.
As well as seeing the car itself, which has between 590bhp and 771bhp, you can see rally and road versions of the Sport Quattro.
It takes place between May 24 and 25.
Volkswagen increases EV sales

Volkswagen has revealed that 141,000 all-electric vehicles have been delivered worldwide, up from 99,200 in the period last year.
European sales are behind this, with a 68 per cent increase in sales (98,300), with 260,000 on order.
The Volkswagen ID.4/ID.5 sold 41,900, while the ID.3 sold 23,600. Audi sold 21,300 Q4 e-trons, while Skoda sold 12,400 Enyaqs.
6.9 million plan to reduce car journeys

According to research carried out on behalf of Kwik-Fit, studies show that of the 20 million drivers who regularly use their car for journeys of between one to two miles, some 6.9 million (34 per cent) want to switch to other travel methods.
When asked about their travel over journeys of less than 1.5 miles, almost one in seven car owners (13 per cent) said they want to cycle on more of these trips, while 6 per cent want to make more use of an electric bike.
Kwik-Fit has announced a partnership with Fettle, a fast-growing bike repair network.
Other data from the study revealed that the cost of fuel has been the biggest factor in making the shift, cited by two in five (39 per cent), 30 per cent of drivers switching from a car for short trips say they are doing so to improve their fitness, 26 per cent say the environmental impact of a short car journey is the stimulus, while 17 per cent say it's because other travel modes are just as fast as taking the car.
Mercedes-Benz reveals electrified E-Classes

The latest Mercedes-Benz E-Class has been launched – and there are three plug-in hybrid models to choose from at launch.
The electric output is 95kW (129hp) and can deliver an all-electric range of 100km.
It's allied to a four-cylinder petrol engine with between 230kw and 280kw combined power and torque of between 550Nm and 650Nm. 0-62mph ranges from 5.3 seconds to 6.3.
Other features include a compact turning circle thanks to the rear-axle steering, distraction detection, automated AI comfort routines and third-party app integration into the entertainment system, including a selfie camera.
Vitol launches e-fleet solutions

VEV, an e-fleet company backed by Vitol, has launched an end-to-end solution to the UK fleet and commercial vehicle sector.
It offers strategies for making fleets transition to EV power, such as the planning and delivery of the electrification of the fleet, as well as ongoing fleet management services.
Factors include the building of charging infrastructure, supply of electric vehicles, software and data platforms, flexible charging solutions, energy and storage and flexible payment options.