Electric Vehicle News Round-up: November 2023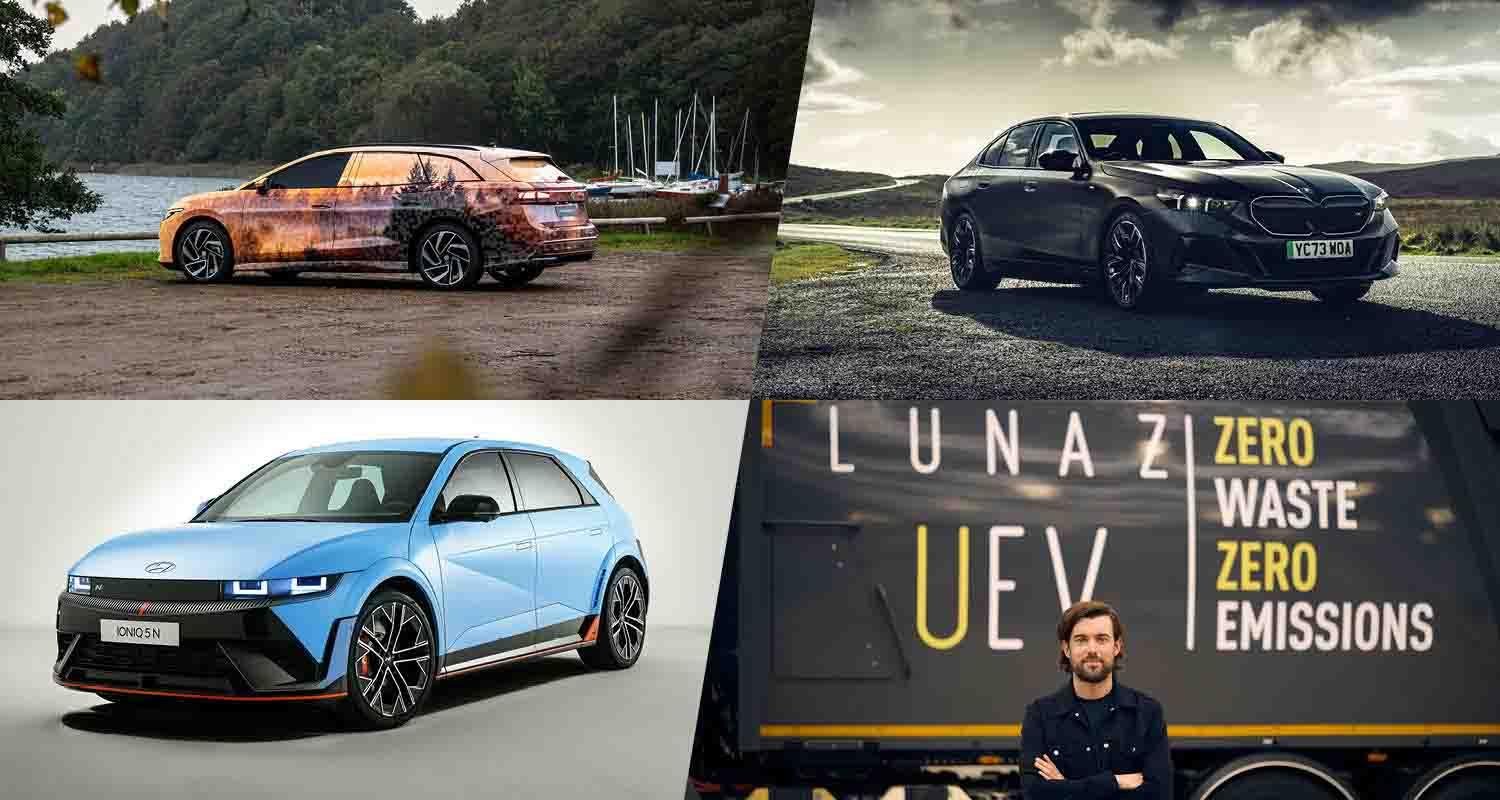 Hyundai reveals more details on the new IONIQ 5N hot hatch and Vital installs the UK's first 400kW rapid chargers.
Want to have all our latest news about electric cars alongside other exciting content sent straight to your email inbox? Then be sure to subscribe to our newsletter!
BMW electrifies the 5 series

The electrification of BMW's lineup shows no sign of slowing as the car manufacturer announces that the 5 series will be the next to get the electric treatment.
When released the BMW i5 will be offered in two trim levels, the eDrive40 which offers a WLTP range of up to 356 miles and the M60 xDrive which has a lower range of up to 315 miles in exchange for a blisteringly fast 0-62mph time of 3.8 seconds.
The car will also be the first in the UK to be launched with BMW's latest leather-free interior called "Veganza".
Prices for the eDrive40 are set to start from just over £74,000 with the M60 xDrive set to start at just over £97,000.
Government puts new laws in place to make Public EV charging easier

EV drivers will soon be able to charge at public EV chargers even easier thanks to the new laws that have been passed by the government on the 24th of October.
The new regulations will ensure that public EV chargers are more transparent with their pricing and that a large proportion of new charge points installed are equipped with contactless payment options.
Charge point networks will also be required to open up their data, meaning that drivers will be able to find available charge points using mapping software like Electroverse even easier as well as allowing them to check the charge point's charging speed and determine whether they are working and available to use.
This measure is welcomed as the country's public charging infrastructure grows by 42% year on year.
Latest prices for the UK's most popular charging networks in one place
Our Switch and Save tool isn't just for saving you money on home charging, it can help you find the cheapest charging network too.
Hyundai unveils pricing and further details on the IONIQ 5N

After teaser after teaser, Hyundai has finally given fans who have been lusting after the IONIQ 5N what they are wanting: pricing and specs.
Announced earlier this year, the Hyundai IONIQ 5N will mark the Korean car maker's iconic N badging's debut on an electric car.
Differences between the regular IONIQ 5 and the 5N include a sportier looking interior and exterior, N e shift which simulates the feel of an eight-speed dual-clutch transmission, N Active Sound which Hyundai says will add to the driving experience and a 0-62mph time of 3.4 seconds.
Orders have already begun with prices starting at an eye-watering £65,000
Vital EV installs the UK's fastest rapid chargers

Public charge point installer Vital EV have commissioned the UK's first liquid-cooled 400kW at the famous UTAC Millbrook Proving Ground.
The new ultra-fast chargers, along with the two additional 260kW chargers, will be used to top up prototype and production vehicles that come onto the ground for testing.
Chris Polmear, Principal Engineer at UTAC, explained: "Vital EV have enabled us to deliver class-leading temporary charging solutions for our largest automotive events and we have always been impressed by their engineering expertise and resolve, which is why – when the requirement for a permanent solution arose – Vital EV was the company that we could trust".
"At 400kW, our new charging hub deploys the fastest charge in the UK and the whole process – right the way from the initial conversations to putting it into operation – has been seamless, and their engineering teams have kept us in close communication with all the updates".
VW previews its first electric estate car

Last month, Volkswagen teased fans with a sneak peek at their upcoming all-electric estate car the ID.7 Tourer.
Based on the saloon version of the ID.7 which is set to be released later this year, the Tourer will have a boot space of 545 litres with the rear seats up and a whopping 1714 litres with the rear seats folded down – That's 347 litres more than it's closest rival, the MG5 EV.
Prices and specs have yet to be announced however we can expect more to be revealed in early 2024.
Jack Whitehall showcases how Lunez upcycles old EV batteries
Jack Whitehall and EV battery upcycling firm, Lunaz, join forces to showcase the company's vehicle upcycling process which Lunaz says will save millions of tonnes in embedded carbon and reclaim billions of pounds in lost economic value.
Lunaz's upcycling process is simple; save passenger and industrial vehicles that have reached the end of their life from the scrap yard, swap their internal combustion engines with a clean air electric powertrain, and perform several technological and well-being enhancements before pressing them back into service – These are known as upcycled electric vehicles or UEV's.
Lunaz says that its UEV's can save up to 80% of the carbon embedded in the production of the vehicle's raw materials and the emissions spent on its initial construction with upcycled vehicles being warrantied as new and priced lower than an all-new equivalent.
Vehicles to get the UEV treatment range from industrial vehicles such as busses and bin lorries to classic cars including the Aston Martin DB6, Bentley Continental and Jaguar XK range.
Electroverse, the one-stop app for all your charging needs
Sign-up to Electroverse and get £5 free charging on us to get you started.
Volta Trucks declares Bankruptcy

Volta Trucks, the company behind the zero (pictured above), files for bankruptcy in Sweden and administration in the UK.
The decision came about after Volta's battery supplier, Proterra, filed for chapter 11 bankruptcy early this year.
The board of directors of Volta have gone onto state that the decision was not taken easily or lightly and is fully aware of the significant impact the decision will have on the manufacturer's dedicated workforce.
BYD's Seal and Dolphin score top marks in Euro NCAP's safety tests

Euro NCAP awards Chinese car maker BYD a full five star safety rating for both their Dolphin family hatchback and Seal saloon.
The two cars will join the Atto 3, which also won a full five stars in the safety tests earlier this year.
The results for both vehicles include a score of 89% for adult occupant protection and 87% for child occupant protection.
Michael Shu, Managing Director BYD Europe, said: "We are excited to witness the exceptional performance of all BYD models under the rigorous European safety test conditions.
The BYD SEAL and the BYD DOLPHIN now join the BYD ATTO 3 in achieving the highest safety test ratings.
That is something to be proud of.
It underlines how hard BYD relentlessly works in the field of eco-friendly technological development.
Customers have the reassurance that safety is always at the forefront of all our innovations."
Gridserve opens Electric Freightway

Gridserve are set to embark on a government-backed project that aims to decarbonise the UK's road freight sector by offering rapid charging to electric heavy goods vehicles (eHGVs).
Aptly called the Electric Freightway, the project aims to develop a bespoke network of rapid EV chargers strategically placed in locations where HGV drivers typically take their 45 minute break for minimal disruption to their driving behaviours.
Accompanying Gridserve on the project are big hauliers like Amazon, motorway service areas like Moto and manufacturers like Volvo Trucks.