How to use the GRIDSERVE charging network- a Complete guide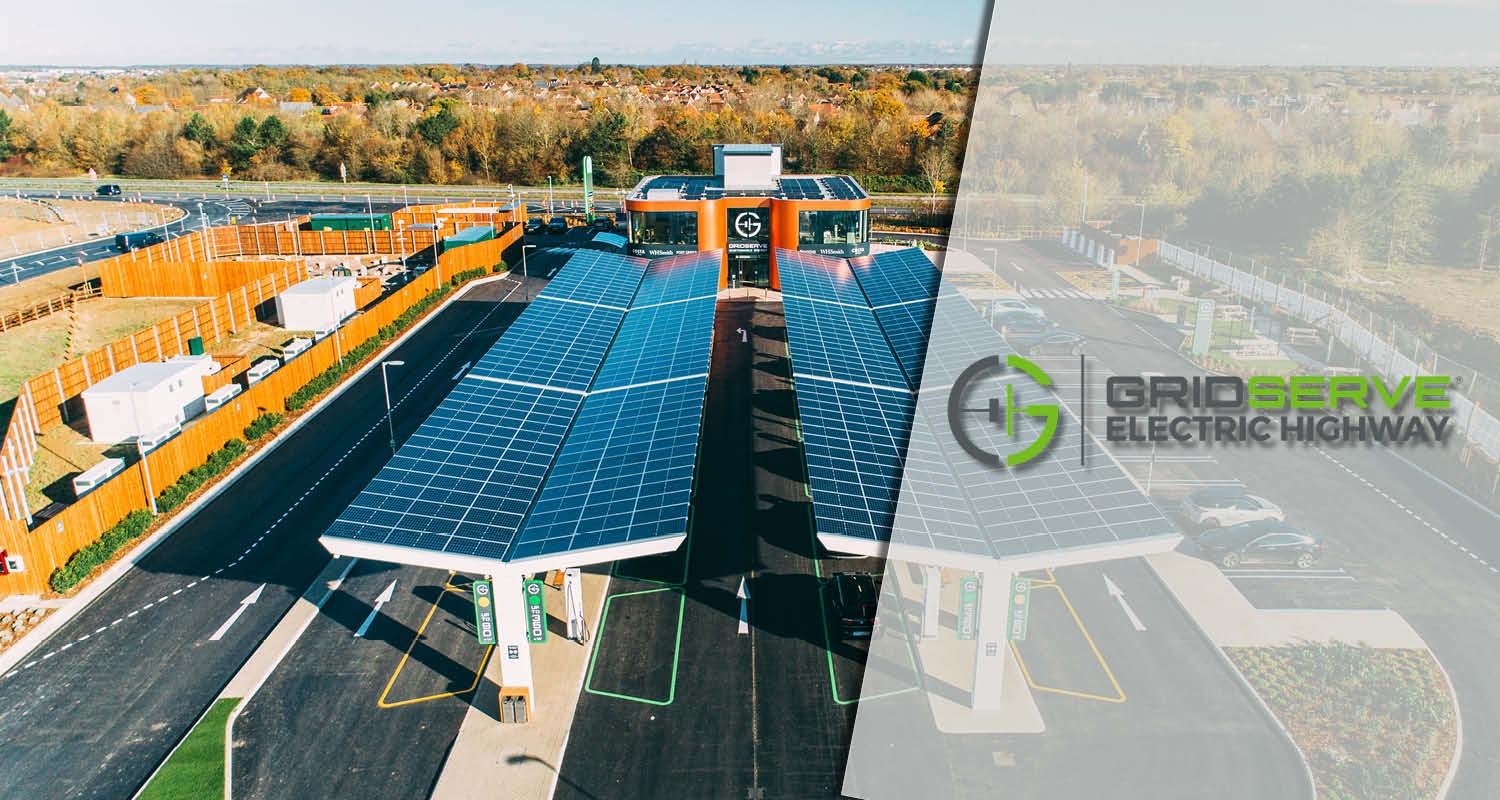 Founded in 2017, GRIDSERVE is probably most well known for its electric charging forecourts where drivers can grab a coffee and a bite to eat whilst their car gets a battery top-up.
Alongside their forecourts, GRIDSERVE also owns the Electric Highway, which is a nationwide network of rapid and destination charge points. All the energy GRIDERVE uses comes from renewable sources with the company stating that its "mission is to deliver sustainable power and transport, from Sun-to-Wheel".
Who and what is GRIDSERVE?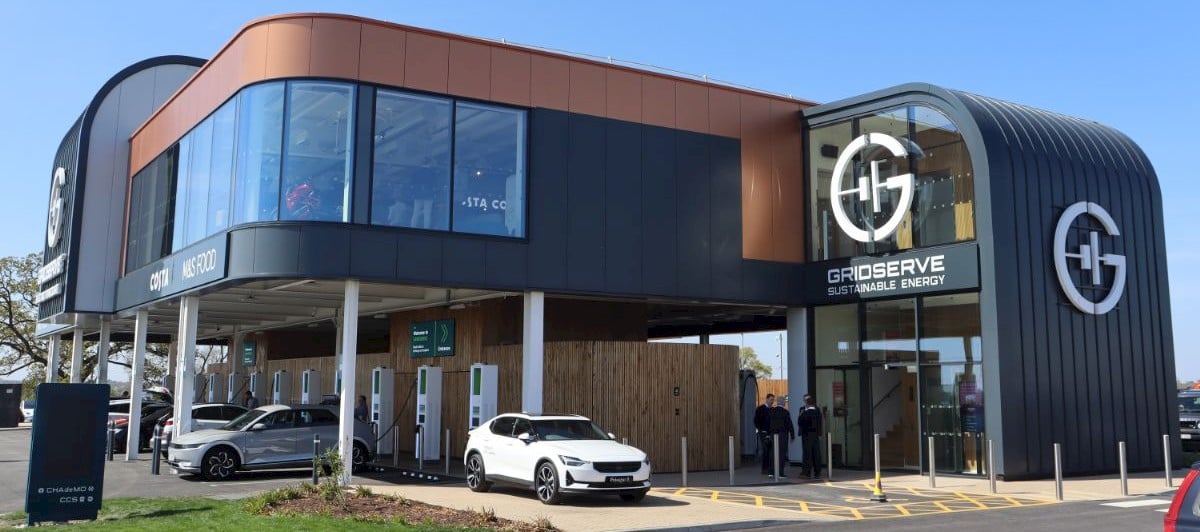 GRIDSERVE describes itself as a tech-enabled sustainable energy business that develops, builds, owns and operates "dependable, low-cost, clean energy solutions". It says that in order to reduce greenhouse gas emissions as quickly as possible, it delivers "net zero carbon solutions for power and transport which are designed to be better and less expensive than legacy solutions".
"We're building the future today and creating an experience that is fundamentally better than the one it replaces," says CEO Toddington Harper.
In mid-2021, GRIDSERVE took over the Electric Highway network from Ecotricity and has embarked on a multimillion-pound programme to improve dependability, ease of use, and availability of the network's chargers in a bid to make access and living with electric cars much easier.
For those who have been into the electric car movement for a long time, the Electric Highway was well known for being pretty poor, but GRIDSERVE has undertaken a rapid and extensive series of improvements to the network with the intention of improving user experience.
This has included upgrading more than 160 charging locations with new chargers, providing an additional seven High Power Electric Super Hubs across the motorway network – each featuring a bank of between six and twelve 350kW-capable chargers – and opening electric forecourts in Braintree and Norwich.
Dozens of additional sites are also under development and in construction in a bid to further widen the UK's rapid charging infrastructure. The GRIDSERVE Electric Highway is now estimated to be one of the most highly utilised charging networks in the UK, with the company claiming to be charging more than 100,000 EVs every month with net zero energy.
Compare rapid charging costs
Compare the charging costs of GRIDSERVE Electric Highway against the UK's most popular rapid charging networks using our rapid charging cost comparison tool,
Where are GRIDSERVE chargers located?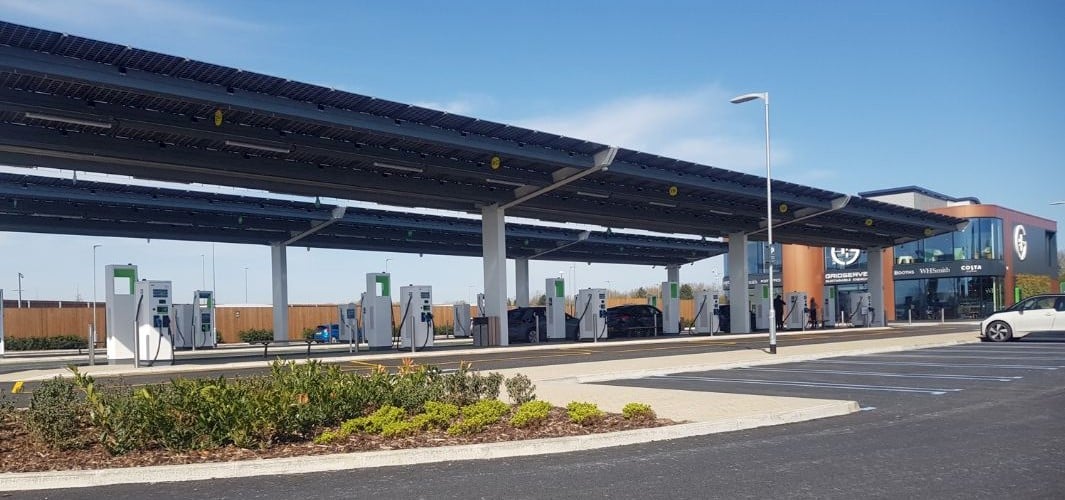 GRIDSERVE says its public charging provision now covers 80% of the UK's major motorways, all of which are conveniently located on their map.
Electric forecourts

GRIDSERVE opened its first electric forecourt in Braintree, Essex in 2020, which houses 12 350kW ultra-rapid chargers, 12 90kW rapid chargers, six Tesla Superchargers and six 22kW destination chargers. Whilst charging, drivers can use the lavatory, grab a Costa Coffee, pick up essentials groceries at Booths or WHSmiths or get some work done in one of four of their specialised office pods.
As well as EV charging, forecourt visitors can speak with representatives of GRIDSERVE's leasing service and garner general advice on EV charging. GRIDSERVE opened a second Electric Forecourt in Norwich as part of a £1 billion UK-wide investment into electric infrastructure. The Norwich forecourt has 36 chargers with 22 being rapid chargers capable of 350kW charging speeds.
Another Electric Forecourt is being built at Gatwick Airport, while planning permission has been approved for sites at Uckfield, Gateshead, Plymouth and Stevenage, with 30 more locations planned. All of GRISERVE's forecourts are powered by 100% renewable energy.
Charging hubs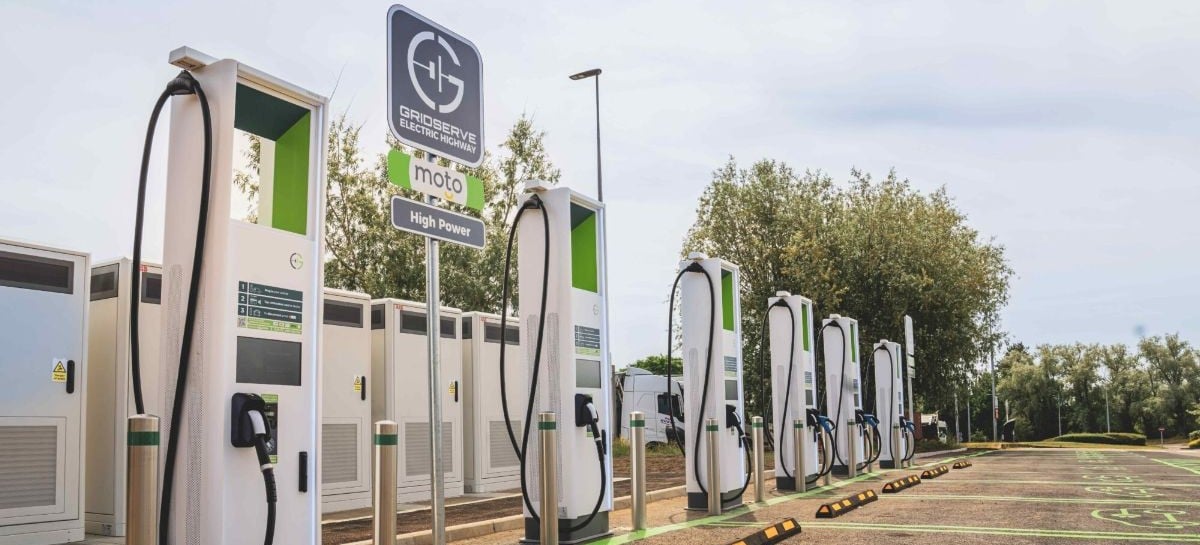 GRIDSERVE charging hubs are usually made up of six, 12 or 18 high-power charging stations around the UK, largely based around the motorway network. You can also find GRIDSERVE charging points at the likes of Ikea.
How to spot a GRIDSERVE charging point

A GRIDSERVE charging point can be found with a large white G on a blue background, plus white chargers with green highlights.
How to use the GRIDSERVE charging network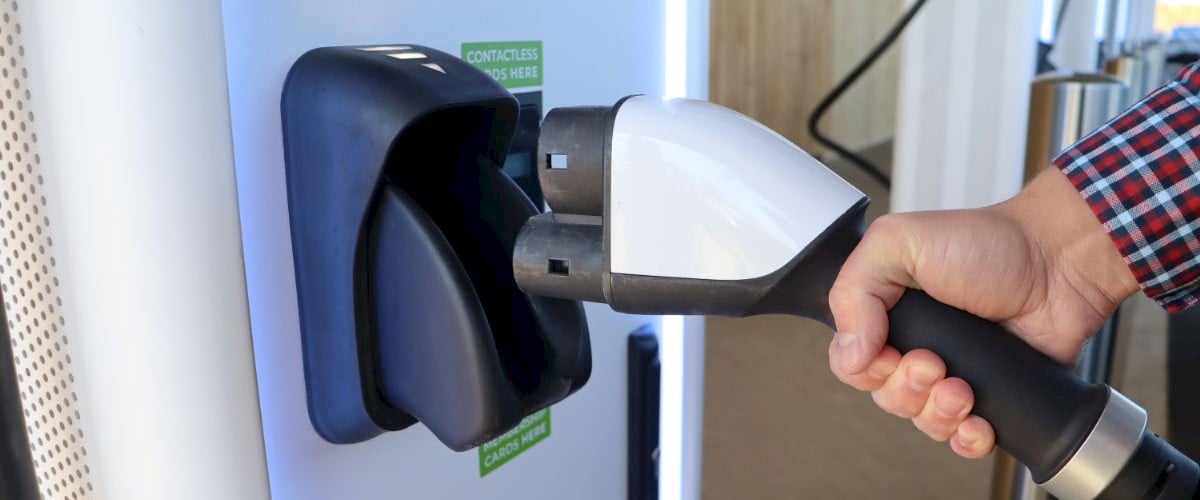 The first steps are to find where the charging port on your electric vehicle is, and then the connector type. We're presuming if you've made it this far onto our pages you'll know what these are, but GRIDSERVE says it can cater for CCS charging, CHAdeMO and Type 2 AC. As for Tesla owners: "In the larger sites on our Electric Highway, such as our Electric Forecourts or Electric Hubs, you will see banks of Superchargers to use," says GRIDSERVE.
Upgraded GRIDSERVE Electric Highway charging points need only contactless debit/credit card payment. GRIDSERVE Electric Highway charging points that are yet to be replaced require users to register their account details via a smartphone app, which is then used to control the charging process. WiFi is free at each charge point, meaning you should be able to connect to the app.
The next step is to plug the car into the charging station, which will begin the process of the charger talking to the vehicle about the maximum charging speed and charge needed.
Once the charger has finished communicating with your electric car, you'll be asked to tap your contactless debit or credit card, Apple or Google Pay app on the charge point's card reader to begin a charging session for your electric vehicle.
Next, you'll hear a beep, after which your electric car will begin charging and the screen will show charging speeds and time needed to charge, the real-time status of your car's battery and the amount of energy your electric car's battery is receiving.
For contactless payment, GRIDSERVE temporarily reserves a fee from your bank account, which is known as a 'pre-authorisation' or 'holding fee'. This fee is £1 along the Electric Highway or £25 at Rugby MOTO services and is returned after your charging session has finished. A reimbursement can sometimes take up to 24 hours to show up on your mobile banking app, but the most up-to-date information on your statement will be viewable on a computer.
When you're finished, press the stop button on the charger and disconnect the charging connector from your electric vehicle and return it to its holster. Only press the emergency stop button to stop the charging session if there is a genuine emergency.
How much does GRIDSERVE cost to use?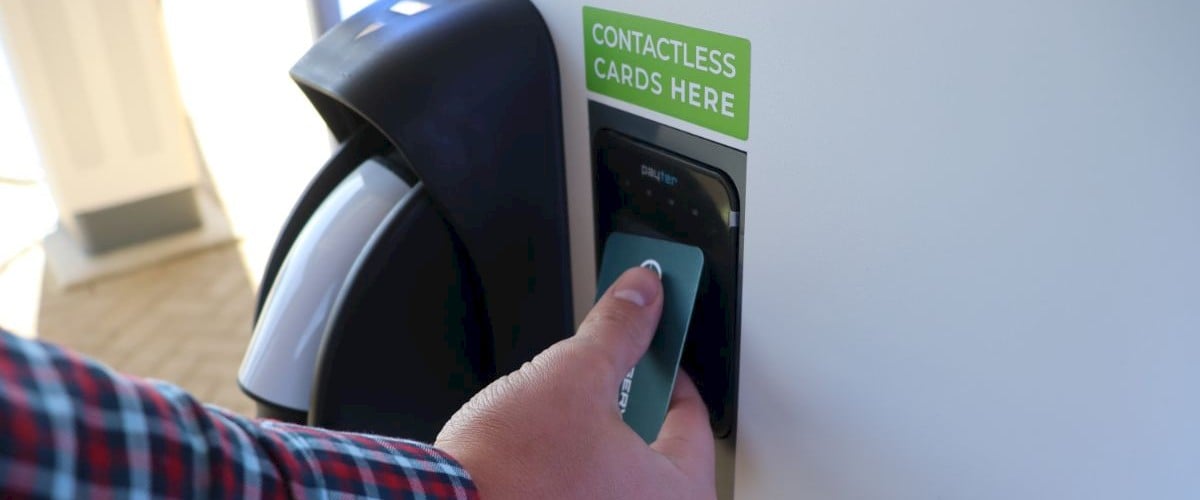 Pricing for Medium Power Chargers – typically 60kW – which are primarily located at motorway service areas (the majority of which were upgraded in 2021) is to 48p per kWh
Pricing for High Power Chargers – up to 350kW, otherwise known as ultra-rapid charging – located at GRIDSERVE's Electric Hubs (of which GRIDSERVE has 13 in construction), is 50p per kWh
At Electric Forecourts GRIDSERVE keeps pricing at 45p per kWh – even for 350kW chargers – as onsite solar generation and battery storage gives the company more control over its energy and distribution costs.
Pricing for Low Power Chargers - up to 22kW and overwise known as destination charging points, GRIDSERVE's low power chargers can be found in their electric forecourts and electric hubs and cost up to 39p per kWh.
There is a £1 holding fee for all locations for its charging points, including GRIDSERVE's Electric Forecourts. Rugby MOTO Services has a £25 holding fee.
Compare destination charging costs
Compare the charging costs of GRIDSERVE's Low Power chargers against the UK's most popular destination charging networks using our destination charging cost comparison tool,
How fast can a GRIDSERVE charge point charge my EV?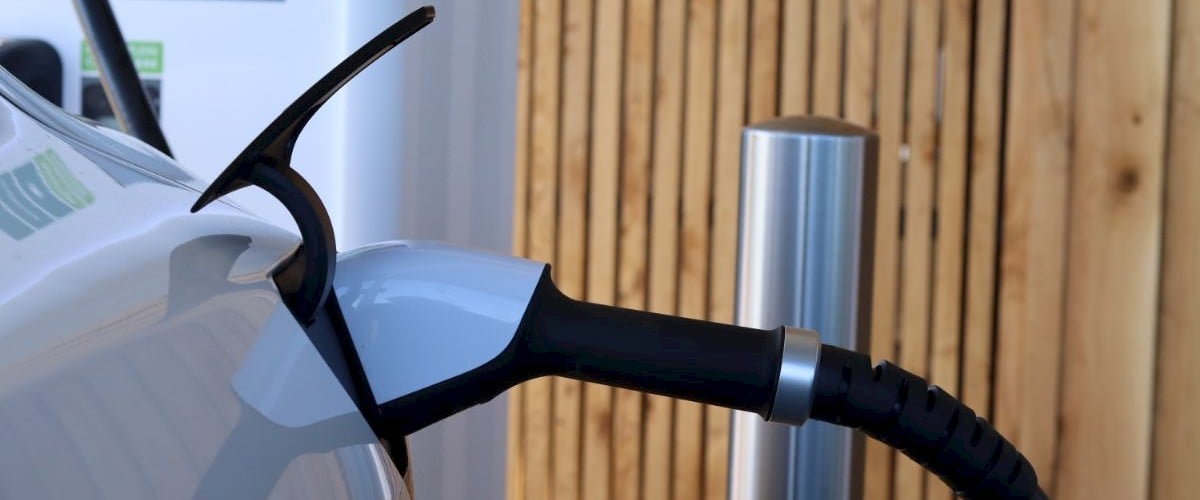 GRIDSERVE's charging stations can operate at up to 350kW, but whether your electric vehicle will have limits on how quickly it can charge. Ultra-rapid chargers are being installed on more parts of the network, and electric car batteries are becoming better at being able to cope with faster-charging speeds.