Destination Charging Network Comparison Tool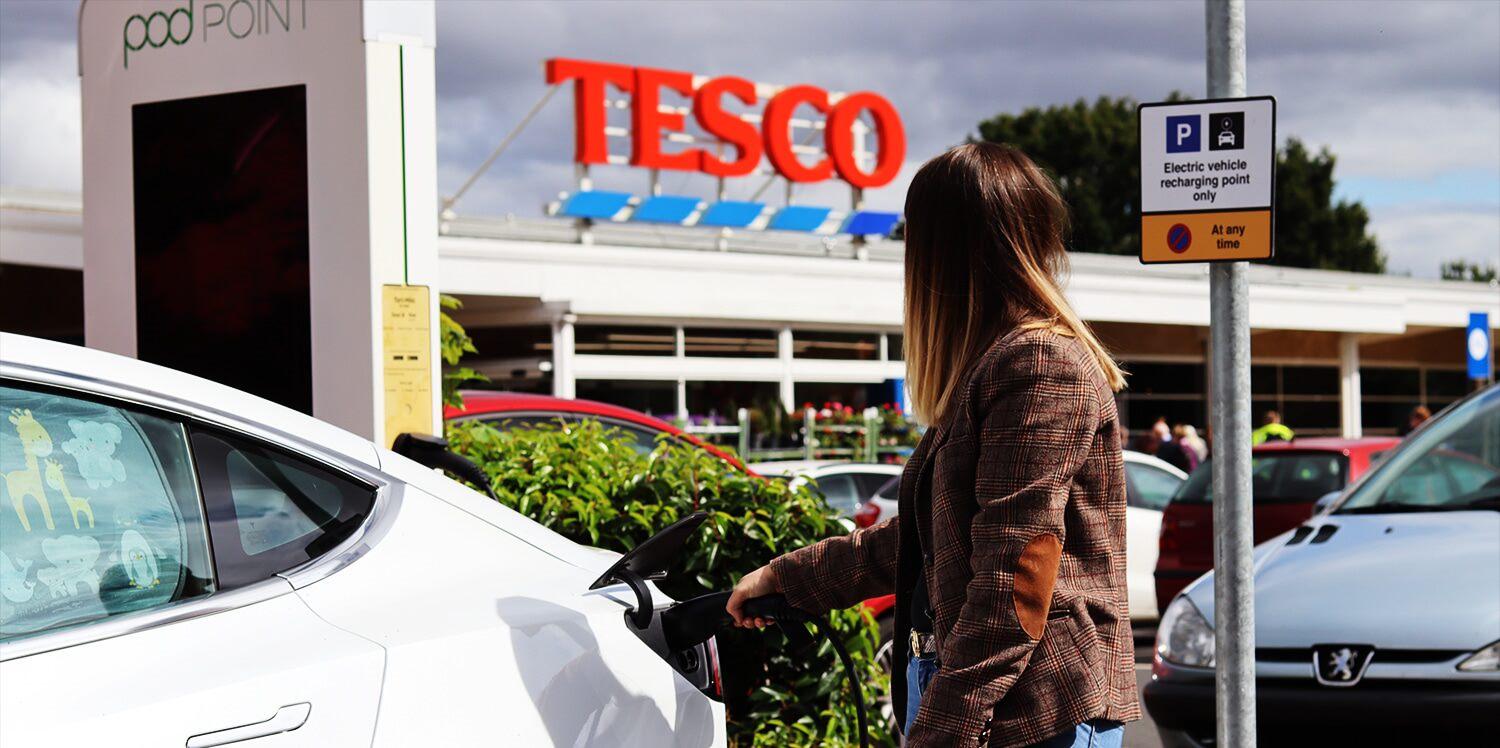 Destination charging is an excellent way to top up your electric car while you're out and about doing everyday stuff. We explain what destination charging is and break down the different providers to help reveal which EV chargers can save you the most money.
What is a destination charge point?
A destination charge point is an EV charger usually placed in a location where you do other everyday stuff, such as shopping, going to the gym or eating at a restaurant and so on. That means you can usually find EV chargers at supermarket car parks, shopping centres, council car parks, and even tourist attractions.
The idea is you can top up the charge in your electric car while you go about your day. They are handy even if you're able to charge at home (particularly because some are free!), but if you are unable to charge your EV at home then they are absolutely vital.
Many businesses use destination EV charging stations as a way to entice customers to their locations and will even offer complimentary free charging. Tesco, for example, had partnered with Pod point and offer free charging to customers while they do their food shop.
How fast are EV destination charge points?
Generally they are about as fast as the typical home, which is usually rates at between 3.6kW and 7.4kW. In normal speak, that means they will add around 6 to 30 miles of range per hour.
Some destination charge points offer faster charging than this if you can find a 22kW charger. These chargers can provide an even quicker top-up provided your vehicle can accept a 22kW AC charge - unfortunately, many EVs in the UK are limited to 7.4kW or less.
These are different to rapid charge points, which use DC (direct current), and can provide a much faster charge to your electric car using its CCS or CHAdeMO rapid charger connection. They are typically rated at 50kW and above and can even go as high as 350kW - they are designed to charge your EV battery in under an hour or much less. You can compare the prices of different rapid charging networks using our rapid charger comparison tool.
Do I need my own cable to use a destination charger?
Yes, in most cases. That is because unlike rapid charge points, destination chargers are usually untethered which means they are just a socket. That also means you will need to provide your own cable, so it is well worth keeping one in your boot - you can purchase one via the Smart Home Charge store.
Types of destination charging stations
Destination chargers differ in charge speed and can be defined into two categories which we will explain in detail below:
Slow destination chargers
Slow destination chargers are AC charge points typically placed in locations where drivers tend to park their vehicles for extended periods of time such as long stay car parks, outside hotels and holiday resorts. Slow destination chargers typically charge vehicles using a single-phase current ranging from 3.6kW to 7kW (adding around 6 to 30 miles per hour of charge depending on your vehicle).
If cheap charging is what you're after and you know that your electric vehicle is going to be parked for a long while, using a slow destination charger is a great choice as they often offer low cost or even free charging.
Fast destination Chargers
Fast destination chargers, like the name suggests, charge EVs at a faster rate than slow destination chargers, usually ranging from 7-22kW (Adding around 30 to 60 miles per hour of charge depending on your vehicle). These types of chargers are typically seen in places where users tend to leave their car at for an hour or more such as at supermarket car parks, theme parks, shopping outlets and cinemas.
The price of using a fast destination charger is sometimes included in the cost to stay at the location but they can vary in price per kW depending on the location.
What does a destination EV charge point look like?
Unlike rapid charge points, which typically look the same, destination charge points come in all shapes and sizes. Below are some common examples of destination EV charge points that you will likely come across on your travels.
Wall-mounted EV chargers
As the name suggests, wall-mounted EV chargers are chargers mounted to a vertical surface like a wall, fence or in some cases, a dedicated plinth. Because of the need to be mounted on a vertical surface, wall-mounted EV chargers are typically found in enclosed locations such as multi-story car parks.
These types of EV charging points are typically untethered with one or two charging cable ports depending on the manufacturer.
Bollard EV charge points
Bollard EV charge points are free-standing charge points that resemble roadblock posts used to stop cars from accessing certain areas hence their name. Typically found in outdoor car parks and curbsides, Bollard Charge points are untethered with two charging cable ports on each side.
Free-standing charge points
Free-standing charge points are similar to bollard charge points but are usually taller and can come tethered or untethered. These types of EV charge points are typically found in supermarket car parks with adverts advertising the business they are situated in on their screen if they have one.
Lamppost charge points
Lamppost charge points are small untethered charge points mounted on or sometimes built into curbside lampposts. Because of this, these charge points can be hard to spot to the untrained eye and will typically have a sign above them for easy identification.
Unlike other charge points on this list, Lamppost charge points can be slow (typically 2-6kW) due to it sharing power with the lamp post it's attached to. This makes them better suited to use when the car is going to be charging for a considerable number of hours.
Which public charge networks offer the best value for money?
There are plenty of public charging networks in the UK, so it's best to find the networks that are prevalent at your destination and use our network comparison tool above to compare them side by side. But if you would like to learn more about each network, we have compiled some additional information below. You can also click the "details" tab next to each network in the tool itself.
Please note: The prices below (and above) represent the typical price rate that you will be paying. It does not take into account any aditional fees that charging networks might pass onto the customer such as land rent or parking fees.
Char.gy (Pay as you go)
Unlike other charging networks on this list, Char.gy specialises in placing their charge points on roadsides and lamp posts allowing EV Drivers without a driveway to charge while parked on the roadside. While Char.gy does specialise in providing EV drivers without a driveway a place to charge their vehicle, their charge points are available to anyone.
Vehicle

Battery Size (kWh)

Range (WLTP)

Pence Per Mile

Single Charge
(empty to full)

Per 100 mile trip
Tesla
Model 3 SR+
55
254
6.89
17.49
£6.89
Nissan
Leaf 2019
40
168
7.86
13.20
£7.86
MG ZS EV
44.5
163
9.01
14.69
£9.01
Pod Point Destination Charging

Pod Point is one of the biggest players in the EV charging industry and will probably need no introduction to many EV enthusiasts.
When it comes to destination charging, Pod Point partners with many big businesses such as Tesco, Lidl, McDonald's, Center Parcs and Gatwick Airport to provide free charging at their car parks. Pod Point chargers are usually identified by their iconic circular design with a port in the middle for inserting your cable. But they have other designs such as their 'Bollard' style charger and another that resembles an advert board. The majority of Pod Point's public destination charger stations are 7kW but we advise checking the label of the chargepoint you are at, as some will offer varying charging speeds.
In most cases (except for their rapid charging services), Pod Point chargers are free to use.
Vehicle

Battery Size (kWh)

Range (WLTP)

Pence Per Mile

Single Charge
(empty to full)

Per 100 mile trip
Tesla
Model 3 SR+
55
254
N/A
N/A
N/A
Nissan
Leaf 2019
40
168
N/A
N/A
N/A
MG ZS EV
44.5
163
N/A
N/A
N/A
BP Pulse - AC Charging (Contactless or guest)
BP Pulse is one of the biggest charging networks in the UK and use a combination of destination and rapid chargers across the UK.
Currently, BP Pulse has two types of destination chargers both of which are untethered meaning that you will need to bring your own charging cable. The first one is wall mounted and has a white horizonal oval shape with two charging ports on each side. The second design is floor mounted and resembles a road 'bollard' with a black paint colour. Both designs come with a variety of charging speeds ranging from 3.6-22kW which is labelled on the charge point.
BP Pulse has three price rates divided into three categories which are: contactless or guest, free membership and subscription.
The contactless or guest (this one) is priced at 26p per kWh.
Vehicle

Battery Size (kWh)

Range (WLTP)

Pence Per Mile

Single Charge
(empty to full)

Per 100 mile trip
Tesla
Model 3 SR+
55
254
5.43p
£13.78
£5.43 per trip
Nissan
Leaf 2019
40
168
6.19p
£10.40
£6.19 per trip
MG ZS EV
44.5
163
7.10p
£11.57
£7.10 per trip
Role Destination Charging
Rolec is probably most well known for making boat and caravan electricity points but it has been steadily gaining a foothold in the EV charging.
Rolec makes a variety of charge points ranging from rapid charge points to lamp post chargers. You can usually identify a Rolec charge point by the big and bold "Rolec EV" logo written across the front.
Depending on the location, Rolec has a different price per kW rate ranging from free upwards so it's prudent to check the price rate of the charger before you arrive at your destination. A lot of its charge points charge around 30p per kW however which is the price we will be using.
Vehicle

Battery Size (kWh)

Range (WLTP)

Pence Per Mile

Single Charge
(empty to full)

Per 100 mile trip
Tesla
Model 3 SR+
55
254
6.26p
£15.90
£6.26 per trip
Nissan
Leaf 2019
40
168
7.14p
£12.00
£7.14 per trip
MG ZS EV
44.5
163
8.19p
£13.35
£8.19 per trip