EV News Round-up: October 2023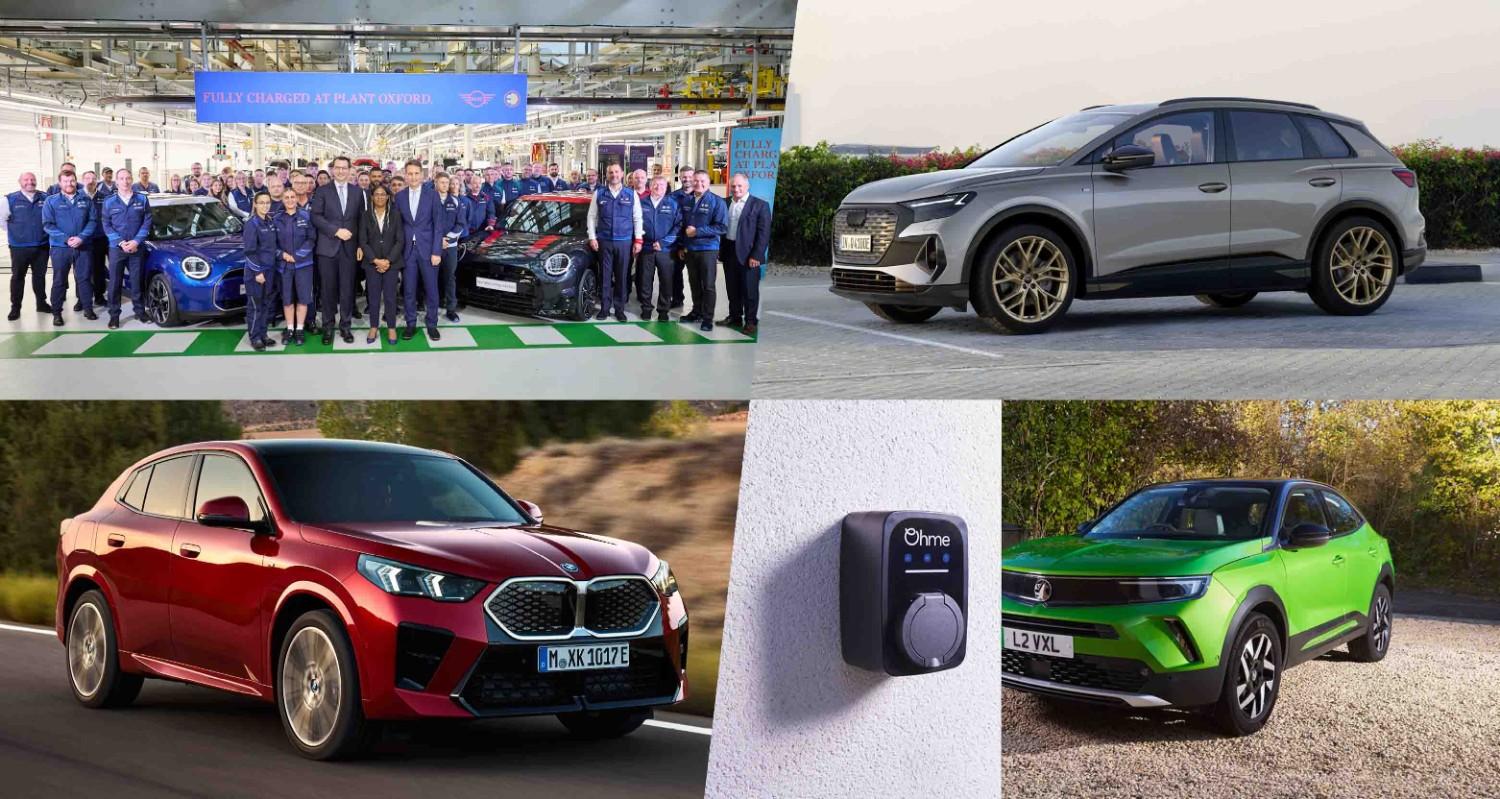 Audi gives the Audi Q4 e-tron a mid life update and EV drivers can now enjoy cheaper charging thanks to the reduction of the standard variable energy tariff.
Want to have all our latest news about electric cars alongside other exciting content sent straight to your email inbox? Then be sure to subscribe to our newsletter!
Kia introduces Plug and Charge

Kia EV9 drivers will soon be able to charge at compatible public charge points without the need for a contactless card or phone app thanks to the support of Plug and Charge.
Developed in collaboration with plug and charge service provider Hubject, Kia will begin rolling out plug and charge support for the EV9 followed by their future electric models.
This unfortunately means that Kia EV6 drivers will miss out on the technology.
Current charge point manufacturers that support plug and charge include IONITY with others soon to follow.
You can find out more about Plug and charge in our dedicated feature as well as find out how you can take advantage of Electroverse's plug and charge capabilities if you have a Volkswagen vehicle.
The only charging service with Plug and Charge
Pay for and manage charge sessions through one app with Electroverse. Best of all, if you have a VW vehicle, you can take advantage of plug and charge.
2030 ban on petrol and diesel vehicles delayed to 2035

Rishi Sunak announced on the 20th of September that the proposed ban on new petrol and diesel vehicles will be pushed back from 2030 to 2035 following a re-evaluation of the government's green policies.
The government went on to state however that the new 2035 ban will still include hybrids and plug-in hybrids having originally been given a five-year leighway period with the original 2030 date.
Many companies including Ford, Everrati and Kia have expressed frustrations with the government's decision with Ford's spokesperson stating that: "Our business needs three things from the UK government: ambition, commitment and consistency. A relaxation of 2030 would undermine all three."
Other manufacturers however including Jaguar Land Rover (JLR) and Toyota have welcomed the decision with JLR stating that the ban is pragmatic because it "brings the UK in line with other nations"
Audi Q4 e-tron gets an update

Available to order since the 26th of September, fans of the old Q4 e-tron design will be pleased to know that the new one looks indistinguishable from it's predecessor.
What has changed however is the internal specs which includes faster charging, a longer range figure and a sportier suspension.
Starting with the charging, the new Q4 e-tron features a new DC charging unit which increases the rapid charging speed from 125kW to 135kW on the rear wheel drive models and 175kW for the twin motor quattro models.
And speaking of motors, both the rear motor and twin motor Q4 e-tron varieties have been made more efficient meaning that we now have an improved range figure of up to 339 miles.
EV drivers will enjoy cheaper charging thanks to a reduction in standard variable tariffs

As of the 1st of October, EV drivers will be able to charge for less thanks to the standard variable tariff for electricity going down to 28p per kWh.
But with the help of a smart EV charger, drivers will be able to save even more money on their charging costs as well as enjoy cheaper energy for their home when they switch to an EV energy tariff.
According to Ohme, the only charging provider whose software can work natively with Intelligent Octopus and OVO Drive Anytime, drivers switching to Intelligent Octopus can reduce their annual charging costs from £476 a year to just £127.50 when compared to charging on the standard variable tariff.
All that drivers need in order to take advantage of the cheaper charging rates found on Intelligent Octopus or OVO Drive Anytime is either a compatible vehicle or an Ohme Home Pro or ePod.
Want to see how much you can save by switching to an EV energy tariff? Head over to our switch and save tool and compare the charging costs of the UKs most popular EV energy tariffs side by side.
Find out what EV tariff is right for you
We've ranked our favourite EV tariffs to help you find the right tariff fo you and your vehicle
Skoda Kodiaq gains a plug-in hybrid option

Skoda reveals the second generation Kodiaq and with it comes not only a fresh design but a plug-in hybrid option too.
Equipped with a 1.5-litre petrol engine and a 25.7kWh battery, the new Kodiaq has a system output of 204hp and can travel up to 62 miles in all-electric mode.
Once the battery is flat, drivers of the new Kodiaq will have the option to charge it via AC (home or destination chargers) or DC (rapid chargers) power with charging speeds up to 11kW on AC and up to 50kW on DC – click or tap here to find out how long it takes to charge the Kodiaq.
Moving onto the exterior, the new Kodiaq still features the signature split headlights but this time you get LED matrix lights as standard, which Skoda says output 15 per cent more light than the previous generation.
Taking a queue from its parent company VW, Skoda has also given customers the option to equip the new Kodiaq with an LED strip which runs through the grille and matches the rear brake LED strip that runs across the midsection of the back of the car.
Hop inside the Kodiaq and you will see a redesigned interior which moves the gear selector to the steering wheel and furnishes the cabin with recycled textiles and leather.
As standard, the Kodiaq now features a 13-inch free standing infotainment display, Skoda's new phone box which wirelessly charges up to two phones whilst also cooling them, four USB C ports (two in the front and two in the back) and Skoda's new smart dials which can be programmed to control various functions such as climate control and audio volume.
Buyers will also have the option to equip their new Kodiaq with a head-up display for augmented notifications and turn-by-turn navigation.
BMW gears their Oxford Mini plant up for all-electric production

BMW announces that they will be investing £600m into upgrading the Mini factory in Oxford for all-electric production.
Being in operation for over 100 years, the Oxford Mini plant builds 1000 Minis a day or one car every 67 seconds – comprising of the Mini 3-door, Mini 5-door, Mini Clubman and Mini Electric models.
By 2026 Mini plans to add the new Mini Cooper electric and upcoming Mini Aceman as the plant prepares to exclusively make electric Minis by 2030.
Business and Trade Secretary Kemi Badenoch said, "This decision is a big vote of confidence in the UK economy and the work of this Government to ensure the continued strength of our world-leading automotive sector. We are proud to be able to support BMW Group's investment, which will secure high-quality jobs, strengthen our supply chains, and boost Britain's economic growth".
BMW electrifies the X2

Following in the footsteps of the X1 and X3, the X2 is the next vehicle in BMW's SUV line-up to receive the electrification treatment.
Classed as a coupe-SUV, the iX2 features aggressive styling with sharp angular lines and BMW's signature kidney grilles which are illuminated with daytime running lights.
Inside, the iX2 comes with a 10.25-inch infotainment screen which houses BMW's latest OS9 operating software which features customisable widgets, shortcut buttons and easy-to-navigate climate controls.
Equipped with a 64.6kWh battery, the iX2 has a range figure of 266 miles and will be available exclusively in dual-motor xDrive30 form with a single-motor version likely to follow at a later date.
Charging the BMW iX2 using a 7.4kW home charging point will take around ten hours.
Customers do have the option to upgrade the iX2's onboard charger to 22kW which will bring the charging time down to around three hours - this will however require a three-phase charger and power supply to take advantage of these speeds at home.
At a rapid charging point, the iX2 can charge at speeds of up to 130kW, which will charge the car's battery from 10-80 per cent in around half an hour.
Order books are open now with deliveries expected to being in March 2024.