EV News Round-up: August 2023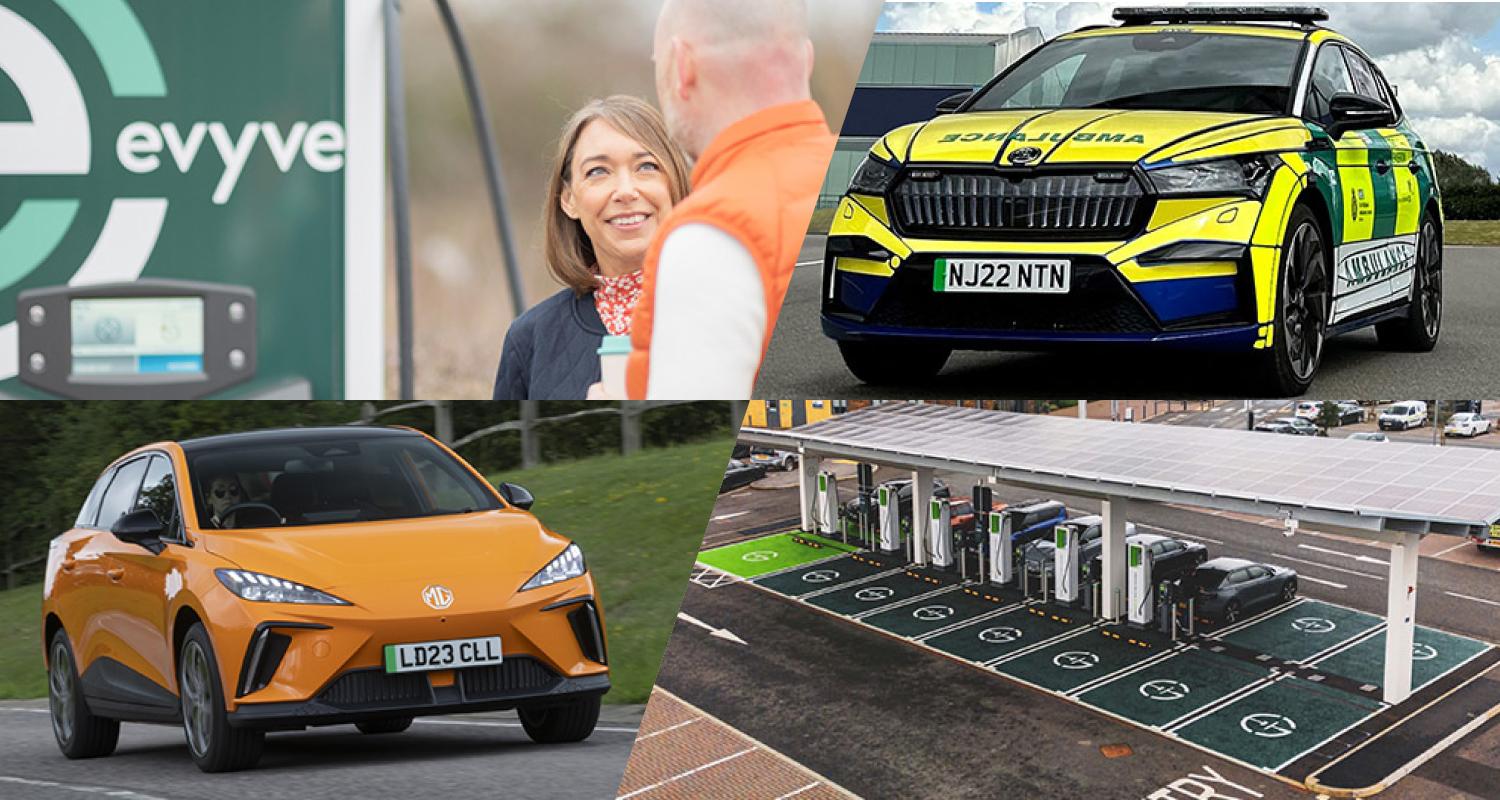 Electroverse hits the 500,000 sign-ups milestone and MG releases a version of the MG4 for those who go the extra mile!
Want to have all our latest news about electric cars alongside other exciting content sent straight to your email inbox? Then be sure to subscribe to our newsletter!
Mercedes-Benz chooses Ohme as its official home electric car charging partner

Following Audi who partnered with the charge point manufacturer earlier this year, Mercedes-Benz chooses Ohme as its official home charging partner.
Jason Allbutt, who's Mercedes head of products welcomes the new partnership stating that "Ohme's technological innovation and excellent approach towards customer service and professionalism align with the core values of Mercedes-Benz."
The partnership will have Mercedes-Benz recommend Ohme chargers to their customers as well as having the Ohme Home Pro displayed in Mercedes' showroom.
David Watson, CEO of Ohme said: "Mercedes-Benz has one of the strongest premium line-ups of electric vehicles.
This collaboration with Mercedes-Benz underlines Ohme's position as one of the UK's fastest-growing and most dynamic smart charging companies in the UK.
We're looking forward to introducing Mercedes-Benz customers to the benefits of smart charging and supporting its network of agents."
GeniePoint raises its pre-authorisation costs

GeniePoint announces that its pre-authorisation fee, which is a temporary hold of funds to make sure money is available to pay for the charge session, will increase from £8 to £25 for registered drivers and £35 for guest/contactless users on the 16th of August 2023.
According to GeniePoint, the price increase comes so as to ensure it's in line with the typical total cost of a charge session.
Compare GeniePoint's charging costs
Compare the cost to charge at Genie Point against many of its competitors using our cost to charge tool
MG unveils the MG4 Extended Range

Following the announcement of the MG4 XPower, MG unveils the MG4 EV Extended Range, its longest-range electric car yet.
Equipped with a new 77kWh battery, the MG4 EV Extended Range has a proclaimed range of 323 miles which is 43 miles more than the MG4 EV Long Range.
The car will also come with MG's latest 180kW electric motor which offers a 0-62mph time of 6.5 seconds.
Electroverse reaches 500,000 sign-ups

Octopus announced that Electroverse hit the half-a-million milestone on the 9th of August 2023 with over 20% of growth happening in this year alone.
Matt Davies, Director of Octopus Electroverse said: "Electroverse set out to revolutionise on-the-go charging and we're now doing just that.
We're delighted so many charging brands are flocking to join us and drivers are benefitting from a smoother charging experience.
It's incredibly encouraging to see the pace that charge points are being rolled out.
New locations are appearing faster than ever before, alongside record global investment in charging infrastructure.
Combined with our seamless EV charging tech, this is helping give drivers the confidence to switch to electric."
Access and pay for public EV charging sessions at many of the UK's biggest charging networks all with one account with Electroverse. Signing up is free and best of all, we will give you £5 free just for signing up.
Sign-up to Electroverse and get £5 free charging
Pay for public EV charging sessions at many of the UK's biggest charging networks all with one account with Electroverse.
Ambulance service begins to electrify its fleet

The East Midlands Ambulance Service is in the midst of electrifying its fleet and has chosen the Skoda Enyaq as its frontline service vehicle following the success of its pilot scheme.
The new Enyaq's will undergo a number of modifications before hitting the road including lower consumption LED lighting, reduced-drag light bars and lightweight interior fittings so as to increase range.
Andy Watson, Fleet Assistant General Manager at East Midlands Ambulance Service, says: "We are always looking to improve the quality of our vehicles for our patients and our staff by constantly listening to valuable feedback.
As part of this, we invited colleagues to review the three design prototype models, getting them to share their honest feedback before we proceeded with the conversion of the vehicles.
Safety, comfort and practicality are our main priorities for both staff and patients alike."
Evyve joins Zap-Pay

Evyve becomes the tenth charging network to support Zap-Pay, Zap-map's charging payment service.
Specialising primarily in rapid charging, Evyve currently operates more than 200 chargers spanning from Aberdeen to Eastbourne in predominately retail and leisure outlets, business parks and restaurants - including at Greene King pubs, which the network has a partnership with.
Alex Earl, Commercial Director at Zapmap, said:
"Not so long ago, we heard a message coming loud and clear from electric car drivers across the UK – make paying for charging simple. That was exactly why we launched Zap-Pay, and set about signing up key charging networks up and down the country.
As the tenth network to go live on Zap-Pay, I'm very pleased that evyve has now come online as a fully fledged payment partner. With usage levels of Zap-Pay continually increasing, we expect to see Zap-Pay utilisation jump still further as the summer progresses.
The addition of another nationwide charging provider will certainly be of great value for electric car drivers, whether they're undertaking longer journeys or simply topping up at their destination."
If you would like to find out more about Zap-Pay and how it compares to its competitors like Electorverse or Bonnet then be sure to check out our review!
Fisker unveils new details on the Fisker Ronin Super GT Convertible

Going head to head with likes of Tesla's upcoming Roadster is the Fisker Ronin Super GT, a five seater convertible sports saloon that has an anticipated range of up to 600 miles and a 0-60mph of approximately two seconds.
Announced at Fisker's first-ever Product Vision Day on August 3, the Ronin Super GT will be priced at $385,000 (£303,291) with just 900 being built.
Chariman and CEO, Henrik Fisker states that "The Fisker Rōnin is for people who love to drive, but who are also thrilled by automotive art and design and demand that their high-performance vehicles embrace a sustainable future.
Our goal was to create a classic grand touring car, updated for the 21st century and engineered for customers who want to drive from Los Angeles to Napa Valley on a single charge or take on the autobahn at steady high speeds without concern for battery capacity."
Features on the Ronin include electronic doors that can be remotely opened and closed, 23-inch carbon fibre wheels and an interior that's made from recycled and sustainable materials which Fisker says will make the Ronin the "world's most sustainable supercar".
Gridserve launches charging hub with a solar canopy and battery

Based in Cornwall Services, Gridserve launches their first charging hub to feature their latest innovations in batteries and solar energy to supplement the existing grid connection to deliver ten times the charging power compared to charging via grid connection alone.
Replacing the two legacy 50kW chargers which were previously on the site, the new hub features six ultra-rapid 350kW-capable chargers for dirvers who are passing though and six low powered AC chargers for guests who are staying overnight at the onsite hotel.
All of which are powered using an existing 100kW grid connection, a 1mW battery and a solar cannopy which also doubles as a shade for EVs that are using the chargers underneath them.
Toddington Harper, GRIDSERVE CEO, said: "We are delighted to deliver a UK first innovation to Cornwall Services and its customers.
We hope the innovative technology we have deployed at this location can also become a blueprint for others, where larger grid connections will be too slow to deliver to keep up with the demand that the rapid transition to electric vehicles presents.
We have also submitted plans to further increase energy capacity at the site in future with an adjacent solar farm, which will allow us to deliver up to 4 million zero carbon miles energy directly into electric vehicles every year.
"Whilst we are still in the initial stages of the project, the Electric Super Hub has already proven itself through the Easter and early May Bank holidays charging over 100 cars a day during busy periods.
We are also excited for what is still to come at Cornwall Services as we continue to refine and optimise the system over time to deliver the best possible charging experience, powered by sustainable zero-carbon energy."
Vauxhall launches new initiative to provide charging solutions to EV drivers without driveways

The new initiative comes after new findings from a Freedom of Information application revealed that 71.6% of UK councils have no published strategy for residential on-street charging.
According to Vauxhall, 40% of households in Britain don't have driveways, leaving millions of potential EV drivers without a place to charge.
In response to this finding, Vauxhall has teamed up with on-street charging networks char.gy, Connected Kerb and SureCharge to establish the 'enablement fund' which aims to help increase local authorities understanding of off-street charging.
If you would like to register your street for Vauxhall's initiative then you can do so by visiting electric streets.