Should I buy a Wi-Fi or mobile data-enabled EV charge point?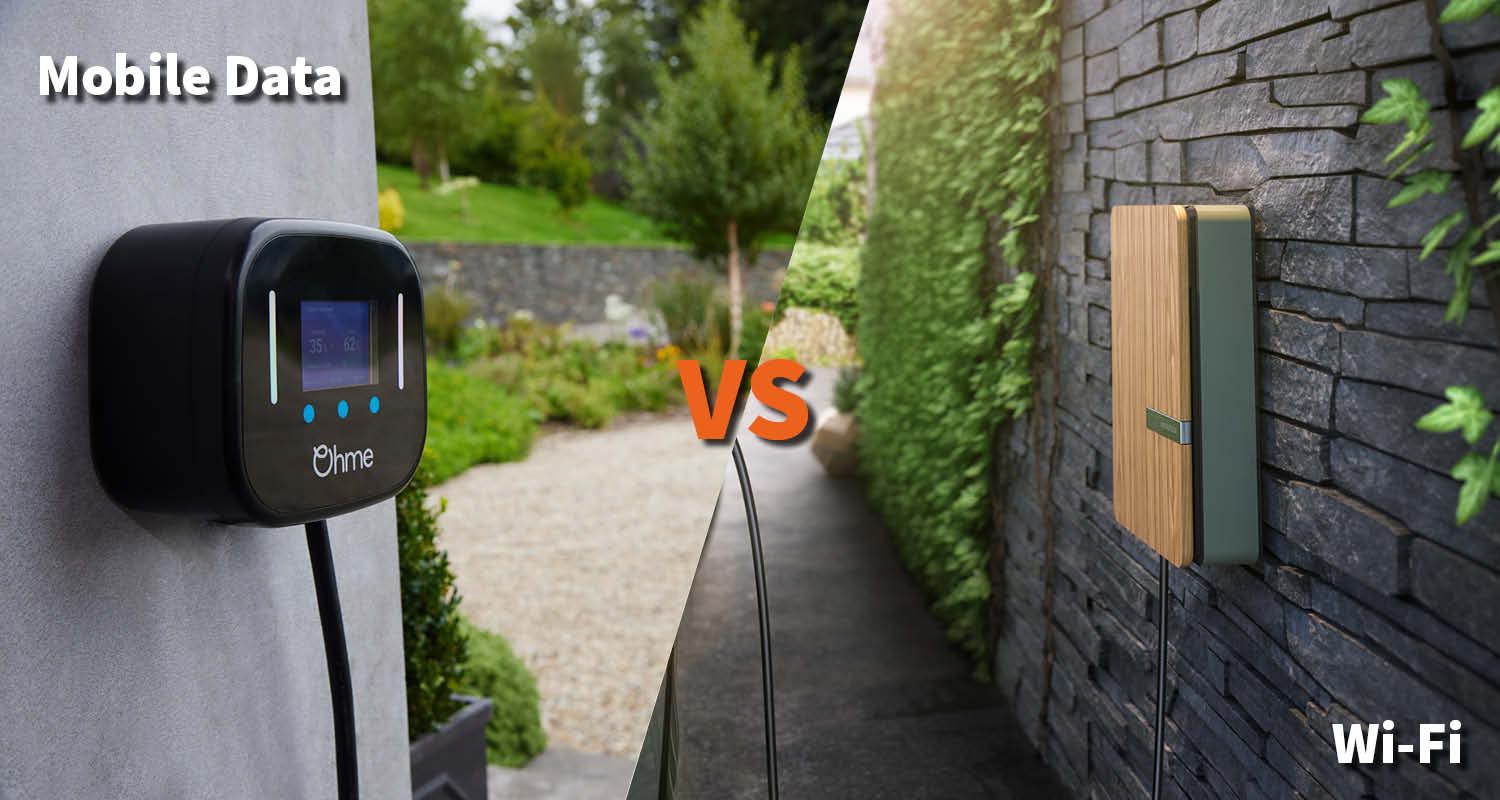 Electric vehicle charging points are getting smarter all the time as new models become available, but what are the differences between going for one that is connected through Wi-Fi or through mobile data (4G/5G)?
Why do EV Chargers need Internet?

Network-connected EV charging stations, also known as smart electric vehicle (EV) chargers, offer a variety of benefits to help make things like billing, maintenance, energy use, over-the-air updates, adding new features, charge scheduling and status updates slick and easy via the linking with a smartphone app.
Smart EV chargers benefit energy suppliers too, due to their ability to track the energy they use.
It's really important to make sure there is a strong Wi-Fi or 4G signal where you would like to position the charge point so it can interact smoothly with the charger's smartphone app.
Browse our product range
We have a range of chargers to suit most people's charging needs and budgets. Browse our range and click "request a quote" to get started.
What is smart EV charging?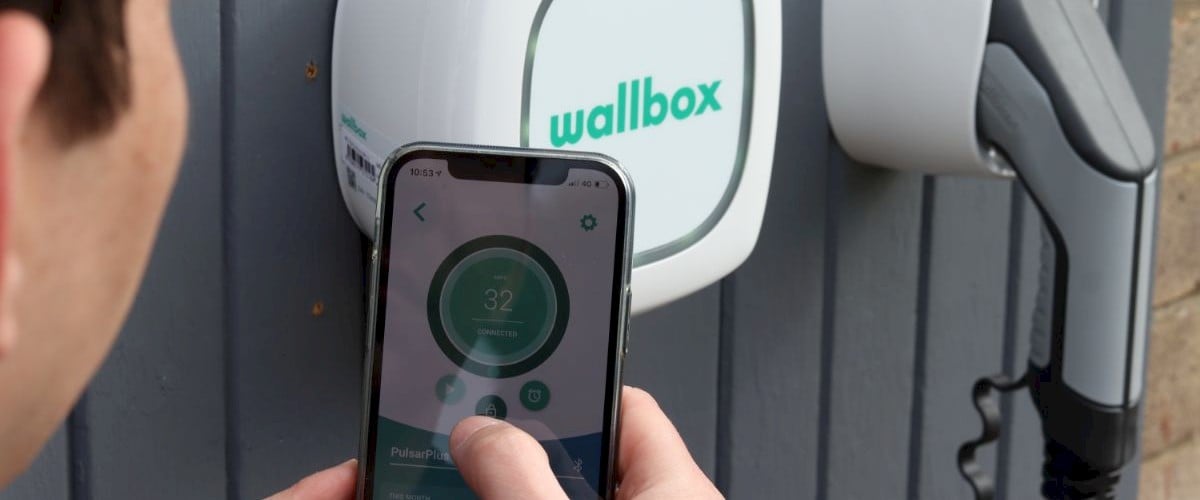 Unlike previous "dumb" charge points, smart charge points feature additional connectivity features and have built-in pre-sets that make managing energy to power electric vehicles more efficient. As the EV market grows and more people make the switch to electric vehicles, being able to monitor and manage the energy usage of EV charging stations will become more important in order to balance the demand on the grid.
All of the EV chargers we sell at Smart Home Charge are smart and come with a range of convenient features such as charge scheduling, charge monitoring and internet connectivity.
How do Smart EV chargers work?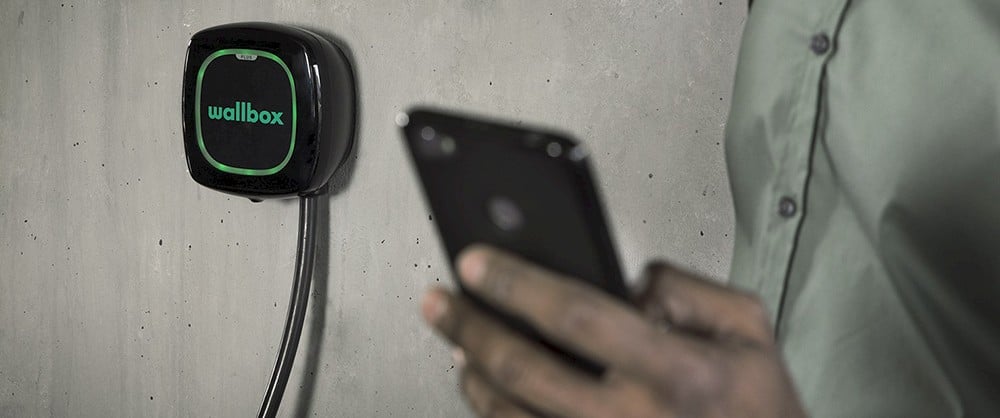 As part of new government legislature (which we will talk more about below), all new home smart EV chargers will have a network connection and the ability to record and use an energy measuring system to monitor usage.
It means the electricity supplier delivering the energy to your electric car will have better visibility of the demands on the national grid to allow them to intelligently manage capacity.
Every new charger will also provide the ability for electric vehicle owners to manage parameters remotely through a user interface via an app on their smartphone.
Do EV chargers have to be smart?

The Government enacted new rules for EV chargers starting from June 30, 2022, stating that all home charging points have to have a data or Wi-Fi connection that makes them "smart".
These Electric Vehicles (Smart Charge Points) Regulations have been put in place to make sure that as more and more people switch to electric vehicles, the demand for electricity can be managed in the right way.
The new rules also dictate that certain defaults need to be built into all new home chargers now, like pre-configured charge schedules that avoid peak hours between 8am-11am and 4pm-10pm on weekdays.
The idea is that this will lighten the load on the grid. However, EV drivers can override these pre-sets at any time if they wish.
More information on the new smart charging regulations can be found in our handy guide.
What's the difference between Wi-Fi EV charge points and mobile data (cellular connectivity) enabled EV charging points?

As would be expected, electric vehicle chargers that connects through Wi-Fi requires a home broadband internet connection, whereas cellular connectivity enabled chargers can connect to 4G mobile networks much like a smartphone.
Some EV charging stations come with the ability to use both Wi-Fi and mobile data, such as the Easee One.
There are pros and cons to each.
Wi-Fi EV charging points

Why you should buy a Wi-Fi enabled EV charging point
An EV charger with Wi-Fi connectivity piggybacks off your home internet connection, meaning that there's no additional costs involved with connecting.
Why you shouldn't buy a Wi-Fi enabled EV charging point
Wi-Fi generally has a short range of connectivity (although it is possible to extend its reach with boosters). Infrastructure can vary depending on location too. Some home areas might have patchy broadband connectivity speeds and reliability, particularly in more rural areas.
Mobile data EV charging points

Why you should buy a mobile data enabled EV charging point
In today's world, a mobile signal can generally be found anywhere making it a great alternative for anyone whose Wi-Fi doesn't reach the location they wish to install their charger.
EV charging stations with mobile data connectivity typically have sim cards pre-installed in the unit that connected to the strongest mobile carrier in the area that it is in.
Why you shouldn't buy a mobile data enabled EV charging point
Some charging points come with a data subscription which could come at a cost.
Currently, none of the chargers we install have a paid data subscription however, there have been talks from some manufacturers that this could change in the future. If you want to avoid any potential charges for data, Easee has stated that their charge points will have free mobile data for the duration of their lifespan.
What checks should I do before choosing between Wi-Fi and mobile data for my charge point?

It's important to try and determine what kind of connectivity you have in the location you're choosing for your home charging point.
We can help assist with this process with our online site survey before installation.
One really simple way to do this is to stand with your smartphone (assuming you have one!) in the location and have a look at what kind of quality connection you can get.
Does the smartphone fully connect from that location to the home Wi-Fi and are you able to easily browse the internet or stream a video? What about switching off Wi-Fi and just using the mobile data connection. Do the same test and see what offers a more stable connection.
Checks to make for Wi-Fi enabled charging stations
The distance between the broadband router at home and where your home charging point is located may make it difficult to connect to Wi-Fi. It's possible to extend the reach with boosters, but it's important to find out how stable the connection will be before choosing which home charger you go for.
How many obstacles are between your EV charge point and your wi-fi router?
Wi-Fi signals do not travel well through brick, concrete or reinforced walls. That's something to think about if the charging point is inside a garage or on an external wall on the house far from the home broadband router.
Electrical appliances can also disrupt Wi-Fi signals when close by to the router.
Checks to make for mobile data enabled charging stations
There can sometimes be a bit of a data dead zone in certain locations so it's worth checking before placing an order for a new charger.
Certain materials like metal in garage doors or metal under a roof can also block or interfere with mobile signals, so it's worth being thorough and checking what kind of impact the location of the charge point will have on connectivity.