Plugged-In David Martell of Andersen and Evios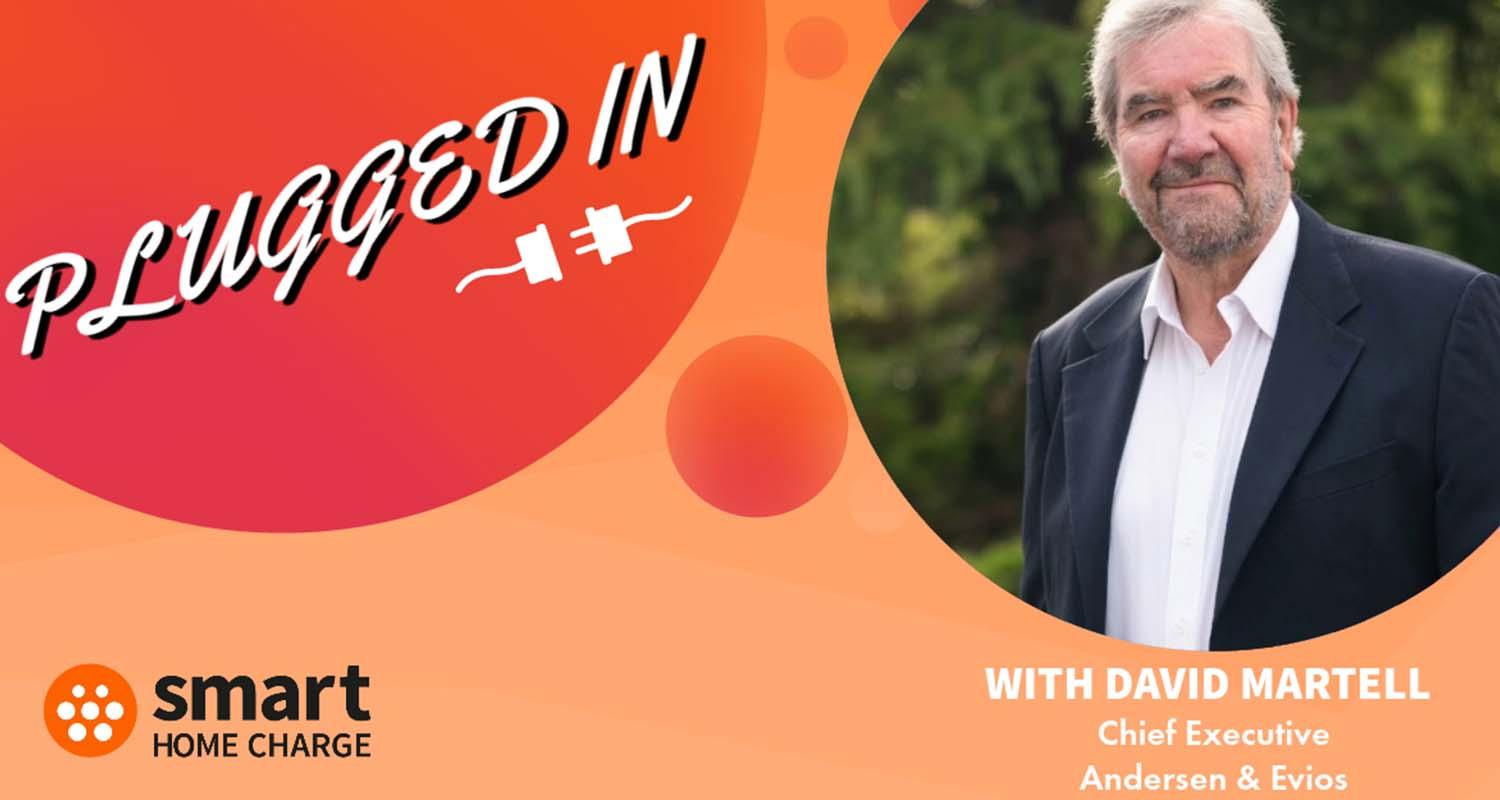 Andersen, the manufacturer of the A2 luxury smart home charge point, is investing in its production and expanding its customisable options even further as it looks to cement its position as the leading bespoke premium option for UK EV drivers.
The brand is already the preferred partner with carmakers like Jaguar Land Rover and Porsche and sees itself as a natural fit for those customers who are already investing in a premium EV and want a home charger to match.
The business was acquired by Evios in October last year and Andersen's new chief executive, David Martell, is looking to build on the brand's existing reputation in the luxury end of the market by investing in manufacturing and creating a premium luxury electronics brand for the smart home energy market, taking the inspiration for production quality from brands like Miele and Bosch.
Martell, who is well known in the industry for creating Trafficmaster and then later Chargemaster, led the buyout of Andersen alongside Jeff Solomon, the company's chief technology officer (CTO) and 20 other members of the Chargemaster team.
Chargemaster was one of the biggest and best-known electric vehicle (EV) charging businesses in the UK before its sale to BP in 2018. It led to Martell looking for an investment opportunity to grow a new business in the EV charging market.
Martell said: "Over a third of new EV sales are for premium brands like Mercedes, BMW, Jaguar Land Rover and Porsche.
"We could see a real opportunity to build a growing business to offer a premium product that blends in with your home and your car.
"The home charging space is going to grow substantially over the next five to 10 years."
Andersen A2 installed from just £21.70 a month
With over 126 different finish options to choose from, the Andersen A2 is one of the most customisable EV charger on the market.
Taking production in-house

Andersen's production was previously sub-contracted to a company based in Aylesbury, but Martell is now transitioning this to a new production facility in Bedfordshire.
It will mean each A2 will still be hand-built in the UK, but the new facilities will double Andersen's production capacity and further increase quality.
Martell said: "From the end of this month, if you order an A2 on a Thursday, you'll have it shipped by Friday.
"We've just taken over an adjoining production unit in Bedfordshire and we've been able to double our production capacity to do around 5,000 units a month.
"We're typically growing at around 10-15% a month in terms of sales volumes and we see this level of growth continuing."
The A2 is highly customisable with over 120 different options available and an integrated cable. Andersen has just introduced a new carbon fibre effect finish and Martell is planning to expand customers' options even further.
He said: "We are going to be offering more bespoke finishes in due course.
"When you buy a premium car there are always a lot of options available to you when it comes to the finish and the paint.
"We want to be able to offer that kind of process for the home charger too, even to the point where the finish and colour can be matched to a customer's car if they want."
Martell said the production process for the A2 means there is a core unit featuring all the electronics, then a fascia and side panels that are picked and packed as part of each order.
The process has been fine-tuned so that even if customers are picking bespoke options, Andersen can still have a unit built and sent out for delivery within 24 hours.
Standing out in a rapidly expanding market


Pictured: The Andersen A2 with a Cotsworld Oak front and a Stanton Green body
The A2 is almost double the price of some home charger options, but Martell said this is justified due to the level of quality, customisation and service Andersen offers.
He said the market has seen an influx of budget home charger brands entering the UK, which he described as having "dubious quality and finish".
He said: "It's obviously good to have options at different price points for customers.
"But you'll see this with any emerging market, you're always going to get budget options trying to take market share, but I don't think it's likely all these brands will survive.
"People only buy products if the quality is there. We're not in that budget area of the market and it's not somewhere we'll be operating in.
"If you're paying £50,000 to £100,000 for a new EV, you're not going to want to save a few hundred pounds on getting a cheap and cheerful charger."
Martell made the point that Andersen's chargers aren't exclusively for premium car customers, but for any EV driver that cares about the quality and design of their home charger.
VAT battle between public and home charging


Pictured: The Andersen A2 with a Jet black front and body
Martell knows how cost-effective and important it is for EV drivers to access home charging for their vehicles.
Customers can access cheaper rates of electricity with smart tariffs and they are also only charged 5% VAT, compared with the 20% VAT rate for public charging. It puts those who don't have off-street parking at a financial disadvantage when charging their EVs.
It's a hotly debated topic in the industry, but Martell doesn't see the issue changing any time soon.
Martell said: "I think the tax rate for public charging is unlikely to change.
"Tax rates change when politicians believe they need to do something about it. They won't change it through the kindness of their hearts.
"Some of the rapid charging costs are four or five times what you would pay at home."
Martell agreed that the change in VAT rates would need enough voters that have EVs and for there to be an election year for there to be any change with the rate for public charging.
The next chapter for Andersen

Andersen is launching a new version of its Konnect + app in October that will bring new enhancements so the A2 will integrate with new smart tariffs and solar energy.
The new app will be backwards compatible with all previous A2s, so existing and new owners can benefit from the app upgrades.
Charging off-peak using smart tariffs is going to become increasingly important as more and more people switch to electric vehicles.
While Martell acknowledges that Andersen has a heavy focus on aesthetics, the A2 is also technically advanced too.
He said: "The UK's energy production is moving to become increasingly renewable and if that is coming from wind power, there will be an increase of that kind of energy at night.
"It's going to create a situation where that increase in renewable energy will dovetail well with that increasing need from EV drivers that are charging their car overnight."
Andersen customers should also stay tuned for an expanded product range in 2024, with Martell hinting there is more to come early next year.
He added: "Our aim is to be the premium charging point for the UK market. We see that extending from the existing A2 unit."
Ready to buy the Andersen A2?
Get this gorgeous EV charger installed at your property starting at just £21.70 a month