A day out with the EV - Which Christmas markets offer EV charging?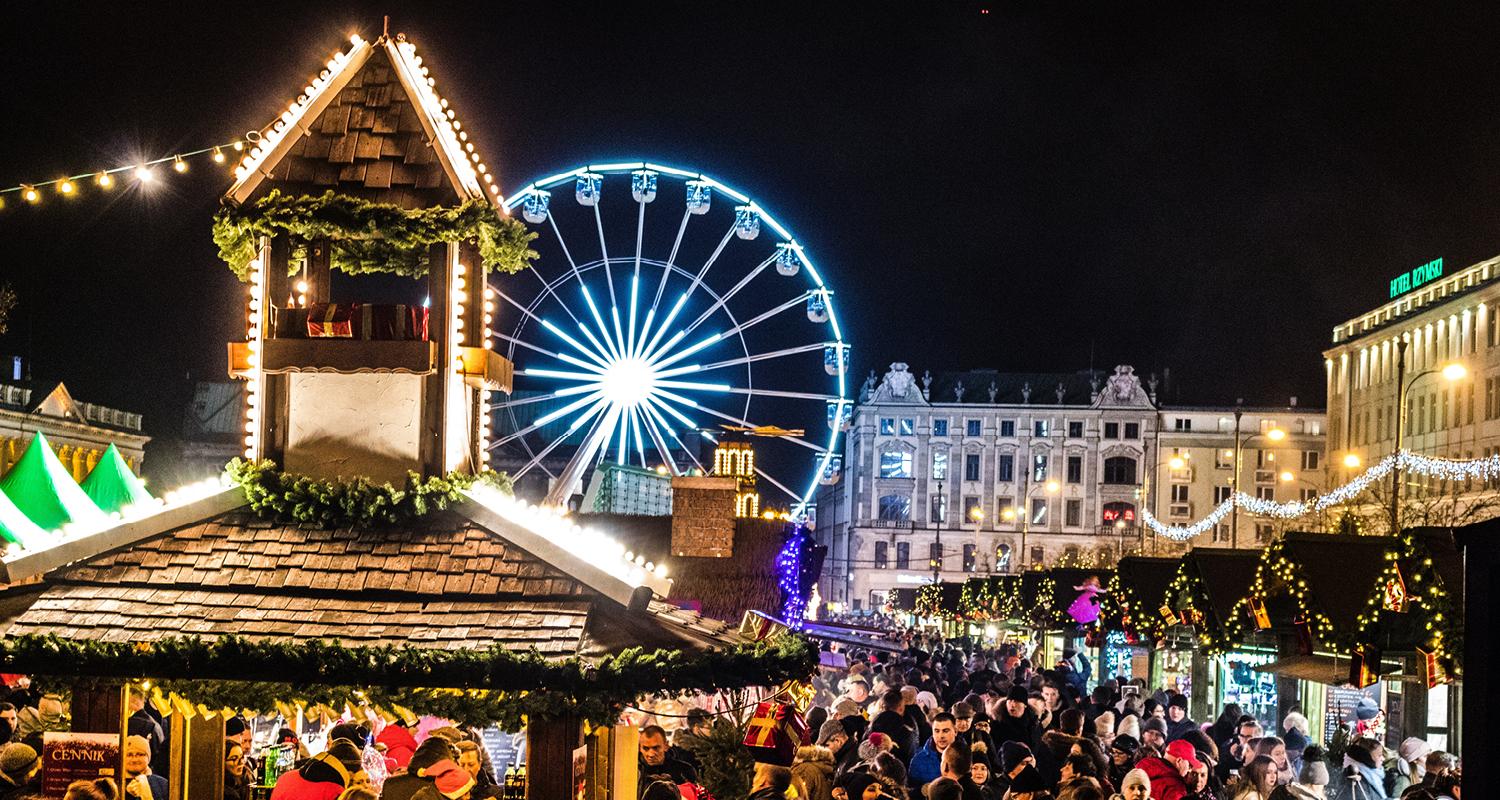 There's nothing like a traditional Christmas market – hot chocolate, festive food, Christmas shopping, a huge Christmas tree and a chance to visit Santa.
If you're looking to get to some of the UK's largest Christmas markets, it's worth investigating the EV charging point situation. Electric vehicles aren't as efficient in colder weather, so having a full charge, and knowing where to get one while you're enjoying the festive window displays and handmade gifts, is wise.
Which Christmas markets offer EV charging?
Christmas markets in themselves are unlikely to offer bespoke EV charging, but most are situated in the city centre, which means electric vehicle charger provision should be good, whether at public chargers or at hotels.
Get £5 free charging
Get £5 worth of free charging at Electric Universe supported charging networks when you sign-up using our link
Where can I charge when I am visiting...

We've pulled together some of the bigger Christmas markets that provide fun for all the family with the aid of Zap-Map.
Winter Wonderland


Source: Hyde Park Winter Wonderland
One of the best Christmas markets in London is Hyde Park Winter Wonderland, which takes place between November 18 and January 2, which gives you plenty of time to enjoy the capital's festive lights, traditional market square and a German market atmosphere. There are dozens of nearby charging locations, with several Ubitricity options on nearby streets, hotel-based offerings from the likes of Pod Point and others, while Q-Park (W2 2ET) has BP Pulse options.
Compare destination charging costs
Compare the charging costs of the UK's most popular destination charging networks using our destination charging cost comparison tool,
Manchester Christmas Markets


Source: Visit Manchester
The Manchester Christmas markets runs from November 12 to December 22, giving you plenty of time to enjoy all the street entertainment and live music, as well as the ample opportunity to pick up festive gifts. The Christmas market is largely focused on Picadilly Gardens (M1 1AF), but in 2021 certain streets offered different food stalls for a true world Christmas market, with French, Italian, Turkish and British street food on offer.
You can find charging points at the following Q-Park locations: Piccadilly Place (Whitworth Steet, M1 3BN – eight connectors), Piazza (St James Street, M1 4BP - four connectors), which are close to where the Manchester Christmas market will be taking place.
In addition, there are two BP Pulse chargers at the Doubletree Manchester (One Piccadilly Place, M1 3DG), one Pod Point at Marks & Spencer (Market Street, 1 1WT), two Be.EV chargers at Port Street (M1 1AQ), two Ba.EV chargers at Laystall Street (M1 2JZ), four Tesla Destination chargers at CitiPark Tarrif Street (M1 2FJ), six Be.EV chargers at Church Street Car Park Level 3 (M4 1LQ) and six at the Piccadilly Gardens Car Park (M1 3AY).
Why not use the park and ride service to visit Manchester Christmas market? There are 30 locations across Manchester, with several offering charging options.
Cardiff Christmas Market


Source: Visit Cardiff
One of the best Christmas markets has to be the Cardiff Christmas market. It takes place between November 10 and Christmas Eve, giving you plenty of time to enjoy the seasonal food, Christmas cheer and other festive treats. The stalls will be located in St John Street, Working Street, Trinity Street and the Hayes, creating a festive paradise in the Welsh capital.
You'll find two Osprey chargers at Windsor Place (CF10 3BZ), four chargers (including Tesla) at St Davids Shopping Centre car park, plus a further six Pod Point chargers (CF10 2EF), while there BP Pulse offers chargers at the Greyfriars Road NCP car park (CF10 3AD). Head a little further out and you'll find more chargers, largely from Swarco E Connect and BP Pulse.
Chester Christmas Market


Source: Visit Chester
If you're after a traditional German Christmas market, then bring your Christmas cheer to Chester. There will be plenty of carved wooden toys and eco-art, as well as rides and food and drink. It's the 10th anniversary Christmas market, so expect something special. It takes place between November 18 and December 21 in Town Hall Square, Northgate Street.
You'll find BP Pulse chargers at Crowne Plaza (CH1 3BD) and Aldi Chester (CH1 4NT), Pod Point chargers at Tesco (CH1 3JS), ZeroNet chargers at The Mill Hotel (CH1 3NF0), EV Charge.online chargers Chester Racecourse (CH1 2LY) and GeniePoint at Brook Street Car Park (CH1 3HU).
York Christmas Market


Source: Visit York
A list of the best Christmas markets wouldn't be complete without York – it has a Victorian Christmas market feel, with an outdoor food court, rides for the kids and plenty of festive shopping. This year marks the 30th Anniversary of St Nicholas Fair, which has been a staple in York's streets during the festive period since 1992, and the chalet line the streets of Parliament Street and St Sampson's Square. It takes place between November 17 and December 23.
You'll find charging provisions at Pure Gym (YO31 7UP, Swarco E.Connect), Nunnery Lane Car Park (York City Council, YO23 1AA), a Pod Point charge point at Lendal Tower (YO1 7DP), a ZeroNet charger at Dean Court Hotels (YO1 7EF), one LiFe charge point in the Q-Park Shambles (YO1 7PA), six charge points owned by the York Council in Bootham Row car park (YO3 7BHP), two Pod Points at Peel Street Car Park, (YO10 4UX), 12 York City Council chargers at Marygate Car Park (YO30 7DT), one GeniePoint at Morrisons (YO31 7UJ), two BP Pulse chargers at the Travelodge (YO31 7UZ), one ZeroNet at Novotel (YO10 4FD), One Pod Point at Lidl (YO31 3DQ), three Tesla destination charge points at No.1 Guesthouse (YO30 6AA), two privately owned charging points at Roomzz Apart Hotel (YO23 1JE) and one BP Pulse at IBIS (YO241BN).
Bath Christmas Market


Source: Visit Bath
Bath Christmas market has plenty to offer for this looking to get into the Christmas spirit, with plenty of festive treats, Christmas decorations and a crafts market. Oh and plenty of mulled wine, too. The festive cheer kicks off November 24 and the Christmas market comes to an end on Sunday December 11.
You can find chargers within walking distance of the Christmas market at Harington's Hotel (BA1 1HE, one charger), The Podium car park (BA1 5AL, 10 Pod Point chargers), Kingsmead Square car park (BA1 2AA, four Revive chargers), The Royal Crescent Hotel & Spa (BA1 2LS, three chargers, Tesla Destination), Charlotte Street car park (two Pod Point chargers, BA1 2NB), Platinum Toyota (BA2 3DN, two BP Pulse chargers), Hope House (BA1 5ES, two VendElectric chargers), SouthGate Bath Shopping Centre (BA1 1AQ, 12 Pod Point chargers), Claverton Street Car Park (two Revive chargers, BA2 4JP), Morrisons Bath (three GeniePoint chargers, BA1 6AE), St George's Lodge (two VendElectric chargers, BA2 3NE), Snapdragons Nurseries (two Mer chargers, BA1 2XT).
Norwich Global Village Christmas Market
If you want a wonderful insight into how other cultures celebrate the festive season, the African and Caribbean Market will be taking place at The Forum in Norwich between Thursday December 1 and Saturday December 3 between 10am and 5pm. There's an indoor market offering delicious food and traditional Christmas gifts in Norwich's city centre. An outdoor market takes place on the Saturday, meaning you can enjoy the party atmosphere with the Christmas lights as a backdrop.
There are 10 Q-Park chargers at the Chantry Place shopping centre (NR2 1RU), 12 chargers of varying types at the Castle Mall car park (NR1 3JQ) and four chargers at The Forum Trust (NR2 1AW).
Compare rapid charging costs
Compare the charging costs of the UK's most popular rapid charging networks using our rapid charging cost comparison tool,
Edinburgh Christmas Market


Source: Visit Scotland
This Christmas market offers one of the best Christmas experiences, with plenty of festive decorations and food and drink, as well as festive shopping for handmade crafts. Edinburgh Christmas market takes place between November 19 and January 3, which means the festive village continues past the New Year.
You can find Tesla Destination charges at the Radisson Blue hotel (EH1 1TH),where you'll also find two ZeroNet chargers. There's also two Tesla destination chargers at the Sheraton Grand Hotel & Spa. There are more chargers further out from the George Street based centre of activity.
What advice can you provide for planning trips to Christmas Markets in my electric vehicle?
You don't want your festive fun to be interrupted by a lack of charge, so it's worth making sure your electric vehicle has at least 20 per cent charge at all times. To help keep this battery level up during long journeys, we recommend downloading an EV route planner such as Zap-Map or Electric Universe and setting the battery level at destination setting to 20 per cent.
If you are struggling to find a public charge point, there are also community based charging services like Co Charger and JustCharge. Working a lot like AirBnb but for EV chargers, Co-Charger and JustCharge allows home ev charge point owners with a driveway to rent out their parking and charge point to anyone registered on the apps.
It's also important to keep in mind that Lithium-ion batteries do not perform as well in cold weather as they do in warmer temperatures due to the chemistry inside the battery being more sluggish. In addition, the usage of a heater and heated seats will further diminish battery life. We'll be providing a guide to winter EV driving very soon!
Right, time to find some mince pies and get into the festive spirit. Oh, and do remember to not mix spiced cider or hot mulled wine with driving. Christmas markets UK could well be better than a Frankfurt Christmas market...