Plugged In - Niall Riddell, chief executive and co-founder of Paua Tech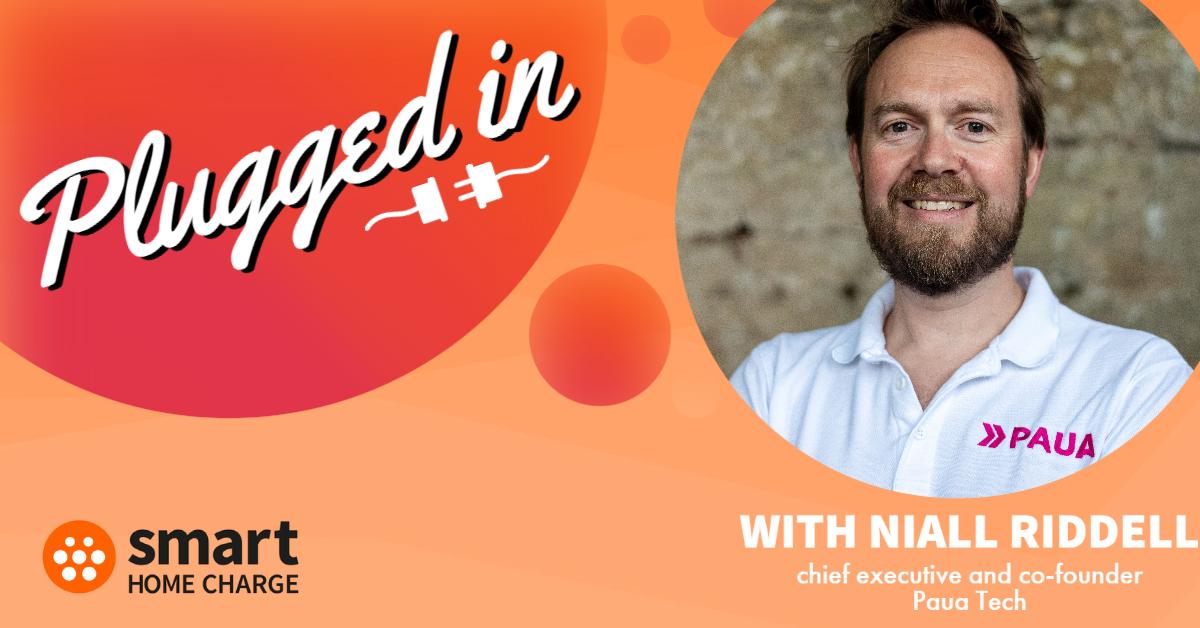 Forward-thinking businesses across the UK are leading the way with the switch to electric vehicles and new services are making it even easier for drivers to charge using public infrastructure.
Paua Tech was launched in 2021 to provide an electric vehicle fuel card (that also comes in smartphone app form) to aggregate over 20 charge point operator (CPO) networks and access to over 21,000 charge point sockets across the UK.
It means if you're driving on business you can roam across a wide network of charging points, including Mer, Osprey, Shell & Ionity, while just needing one card or app for the business to pay directly for EV miles clocked up while driving for work.
All receipts are aggregated into a single VAT invoice for businesses and Paua can send real time data and analytics to fleet managers so they have a live picture of how drivers are charging their vehicles on the road.
The business was co-founded by Niall Riddell and Andre Pinho after seeing how car and van fleets were struggling to tackle reimbursement and charging admin with their electric fleets.
Riddell, chief executive of Paua (pronounced power and inspired by Riddell's wife's New Zealand heritage and the Maori word for a type of sea shell), had spent years in the energy and electric vehicle industry before launching the business.
He started his career decommissioning nuclear power stations in Scotland and then leading a team at British Energy (which was later acquired by EDF Energy) that wrote the first set of legally binding carbon budgets for the energy sector in 2007.
This was the spark that truly set Riddell on the path to dedicating his career to renewable energy and sustainability.
Riddell is passionate about sustainability and having completed an MBA (Master of Business Administration) back in 2010, he knew he would eventually launch his own company in order to "truly understand business".
He was also inspired by another big life event, namely starting a family with three children and worrying about their future and climate change.
Riddell said: "The bit that's scary to think about is when they're young adults in 20 years when we're heading towards 2050, will we be below 1.5 degrees and keeping global emissions under control?
"What is the world going to look like then? These young adults that we are responsible for are going to be voting, thinking and changing the world. It could be a complete disaster and some days I get up and wonder if I'm doing enough."
Helping more fleets switch to EVs is one way Riddell can help cut carbon emissions from road transport in the UK.
Building a big network

Before launching Paua, Riddell and Pinho knew that company car and van drivers needed the biggest network possible to make finding, charging and paying as easy as possible.
This was the first step and even though the business launched just last year, the tipping point for growth was breaking through 15,000 charge point sockets across the UK. This led to more and more fleets signing up for the Paua card and app.
Riddell said: "The mid-scale CPOs and European-based manufacturers were the first to come on board. They were already really collaborative and particularly the European companies were already well versed in charge roaming on the continent.
"The way investment is coming into the CPO space has already really changed the mindset of the larger networks too now.
"Previous investment was looking for a quick return, but we've now seen a switch to more asset and infrastructure finance and they are much more comfortable with a smaller return over a longer period of time.
"With that comes the realisation that these charge points need to be utilised and making all chargers as accessible as possible to as many people as possible is the key.
"Those larger CPOs are being drawn in now to enable roaming. Even Tesla is thinking quite hard about collaborating."
Browse our product range
We have a range of chargers to suit most people's charging needs and budgets. Browse our range and click "request a quote" to get started.
Solving the headaches for fleets

Once the aggregated network was in place, the focus turned to helping fleets manage vehicle charging across their business.
In contrast to a private EV driver that has consciously made the decision to switch to an EV, that's not always the case with fleet drivers.
Some innovators will be excited at the chance to switch to zero emissions driving for work, but others may feel more sceptical or concerned about the transition away from petrol and diesel.
Riddell said: "Suddenly you have these drivers that didn't ask for an EV that are being given one as their next car or van and they have to figure out how they're going to charge it.
"Some employees love it and some don't. Why as a fleet driver would I pay with my own credit card and spend a lot of time trying to get the receipt back so my company can reimburse me?
"Getting a receipt from a charge point can be difficult and so we've landed in this place where receipts, data and tools are available to make it as easy as possible for fleet managers and for the drivers."
EV fuel card built from the ground up

Fuel cards have been around for over 30 years and the chances are if a fleet has vehicles doing business mileage, they're going to be using a fuel card from various legacy brands like BP, Shell or Allstar.
Riddell said the difference between Paua and legacy fuel card providers is that his business has been built from the ground up with EVs in mind.
He said: "All our integrations with CPOs, the card and the charge points have been built by us.
"The nice thing about our card is that it links with real time data and fleets can see that.
"We can look at elements like fraud management to understand who charged where and when."
Paua is looking at adding new areas of functionality to Paua's services in the future like home charging compensation and integrating with Autocharge or automated plug and charge technology.
Autocharge means there's no need to swipe cards or tap apps: drivers can plug in and the car and charging infrastructure automatically recognise each other to start a session and pay.
Riddell also wants to look at creating a more granular search ability on charging point locations to help indicate which charging bays are big enough to fit larger electric vans now coming onto the market.
One card, thousands of chargers
While Paua is exclusive to fleets, there are plenty of similar services for individual drivers. Click below to see our favourites.
Gaps in charging infrastructure strategy

One of Riddell's biggest concerns about the future of the UK's charging infrastructure is the postcode lottery of investment that is creating "charging deserts".
He said: "If you're a private bus operator in Scotland, you're going to set up in Glasgow or Edinburgh, because that's where the people are.
"If you're going to build an EV charging site, you're going to put it on a major A road and that means you're not going to build a charging hub in Stornoway. We're going to end up with rural locations with no EV infrastructure. Mid-Wales is a classic example."
Riddell wants the Government to look at grant funding to be better targeted at areas that are having trouble installing and running charging infrastructure.
There are pioneers like Oxford and Dundee that have the people, expertise and bandwidth to forge ahead with charging infrastructure.
However, not all local authorities are the same and competing for funding without the right expertise creates a vicious cycle where some areas of the UK never win grant funding.
Riddell believes local authorities that are more experienced should team up with other areas of the UK that are further behind to help with charging infrastructure strategy.
He said: "You can even see it in places like London that is admittedly in a high area of investment as a location for charging.
"You can see the edges of some of the boroughs where some councils understand charging and others don't and it means they haven't moved the dial. It then becomes a case of, do you live on the right street or area? It shouldn't be that way."
Solutions for off-street parking

Another big sticking point slowing progress of EV adoption is helping those that can't charge at home feel more comfortable with using public charging stations.
Riddell said: "There's nothing more convenient than plugging in at home and that's the dream. But that's not possible for everyone.
"This is a big problem and what's really exciting is there are so many solutions available."
This includes using charging hubs, lamppost conversions, pop-up charging poles and boom-chargers that can swing up and over the street from front gardens.
Riddell said the Netherlands is an interesting case study as it's often held up as a pioneer in terms of the number of charge points vs number of EVs.
The vast majority of Dutch infrastructure is slower destination charging and it means that wherever you stop, whether it's a cafe, restaurant, hotel, supermarket or pet shop, there will be a slow charger.
Riddell said: "You can just charge wherever you go.
"If you're the average person doing low mileage spending an hour doing your supermarket shop, the chances are the amount of charge added back on while you shop is enough.
"People get over excited about their once a year trip to France. Realistically people tootle around and cars sit around doing very little. It's different for businesses. They need reliable access to public charging, but for most people saying they can't switch to an EV because they don't have a home charging point is just an excuse."
The Hunt for EV road tax

Another change on the horizon for EVs is the Government's inevitable rethink on the way they're taxed.
The Government will lose a big chunk of road tax from vehicle excise duty (VED) (as much as £35 billion by some estimates) if EVs continue to see low rates of taxation in the future.
Something will have to change, but Riddell isn't sure introducing higher road tax for EVs is the best option.
Riddell thinks Chancellor Jeremy Hunt's potential move to claw back road tax from EVs sends the wrong message.
He said: "It's the wrong time. This is an industry that is barely moving at the moment and there are long wait times for some EVs.
"I think putting a tax onto an industry that is just getting going is not a good idea."
Riddell favours a move to a more sophisticated time-of-use road pricing as an alternative to VED.
He said: "If you're driving at 9am on the M25 in your huge diesel, you should pay more than someone driving at 11pm on a rural road in their EV. It would be priced by time, location and vehicle type.
"We don't have all the technology for that yet, but we're getting closer. I think it will be easier to implement on motorways and I can see that being introduced between 7am and 7pm at night and there's a fee for using the motorway and it can be recorded through automatic numberplate recognition, a bit like when you go over the Dartford Crossing."