Plugged In - Ian Johnston, Osprey Charging Chief Executive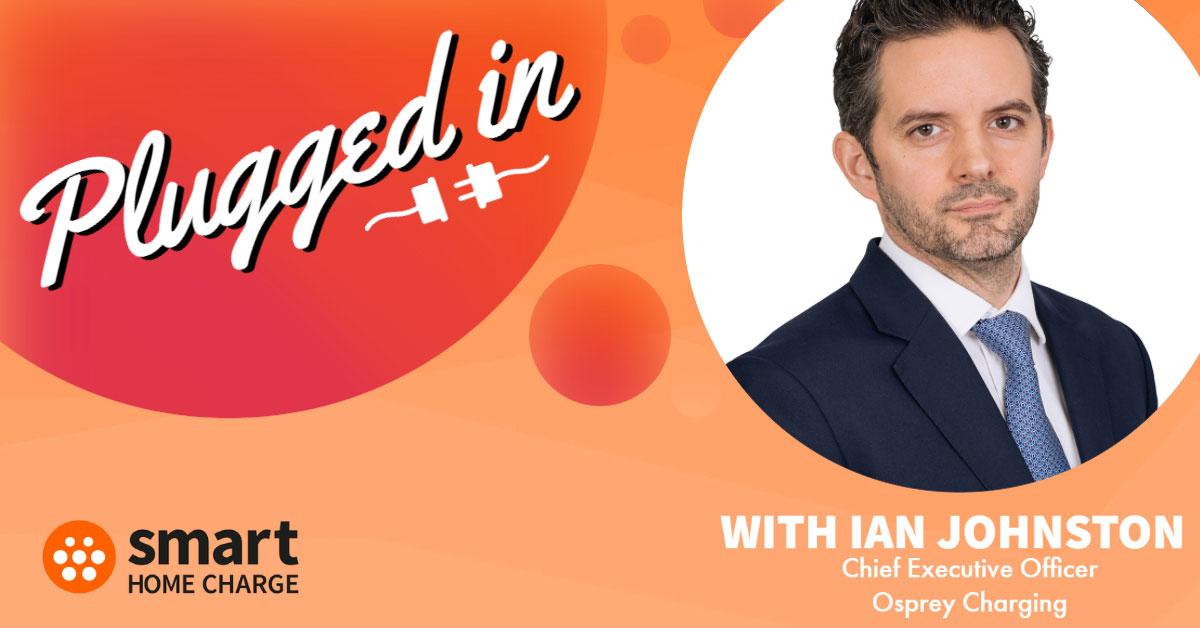 Osprey is on a mission to help tackle charging anxiety and improve the level of accessibility for those looking to top up their electric vehicle (EV) on the move.
Ian Johnston has led the business as chief executive for the last four years and has overseen a £75 million investment programme that is rolling out 150 high-power EV charging hubs by 2024.
Charging anxiety – the fear of hard-to-use, unreliable or unavailable charging infrastructure – is a major concern for EV drivers and a key barrier to greater adoption, according to EVA England, the country's trade body for the EV industry.
Osprey's multi-charger, power-optimising hubs solve this challenge by ensuring drivers can turn up and charge with greater access to a higher number of charging points.
Johnston started his career in the automotive industry with Volkswagen Group in the UK and then moved into the renewable energy sector building wind farms.
He said: "I think that's when I saw this perfect collision between automotive and renewables, and I knew that clearly, I had to be involved in helping to deploy this infrastructure."
Osprey has partnered with local authorities, commercial landlords and brands like Marston's Inns and Taverns to rapidly expand EV charging infrastructure.
The partnership with Marston's has been running for four years and there are 150 charging sites across the UK so far.
This first high-powered hub at Marston's Paisley Pear pub at Brackley, Northampton features eight ultra-rapid charge points and is the first completed of an additional seven under construction, with many more to come over the next two years.
True accessibility

ChargeSafe, the independent public EV charging endorsement body, will inspect each Osprey site as part of a UK-wide site assessment for safety and accessibility.
Osprey's Brackley site scored a pre-launch rating of 4.46/5, including the highest accessibility score seen so far by ChargeSafe on the UK network.
Johnston said: "We need to deliver large high-power charging hubs due to the levels of demand in the UK for public charging.
"From an accessibility perspective, what's so great about Brackley is that this site has been assessed by ChargeSafe and they rate it as the most successful site in the UK, which we're really proud of.
"We've put a huge amount of focus and time and money into affecting all the small elements that lead to having a truly accessible site at Brackley."
This includes more space around parking bays and around the charger. Drivers with mobility aids need enough room to get out of their vehicle to set up their aid as required but with still enough space to access the chargepoint.
Access to chargers needs to take into account curbs and steps so all people can access them easily.
Compare rapid charging costs
Compare the charging costs of the UK's most popular rapid charging networks using our rapid charging cost comparison tool,
Strong partnerships create better charging networks

Johnston said the partnerships between the charging provider and the owner of the site or land it is on can transform how good that experience is for EV drivers.
A site where a charging network is the landlord will mean there is greater control over elements to do with accessibility.
However, the majority of the UK's charging infrastructure is on a leased or tenanted arrangement where the charging network is having to work with a landlord, retailer or supermarket.
Where charging networks are reliant on the host site giving the space needed for accessibility, there can be a struggle to negotiate giving up space from extra parking bays, which can be one of a business's most valuable assets.
Johnstons said: "We're very lucky to have great relationships with Marston's and our other landlords to build a site that's as successful as Brackley.
"But it can be a real challenge to free up the space needed for commercial businesses and sites with tight car parks."
Bigger is not always better

There are also accessibility considerations that need to be taken into account on the charging hardware itself.
Osprey uses Kempower charging hardware specifically because, in Johnston's opinion, they're the most accessible available on the market.
He said: "The screen height and payment device makes it really easy to access and use.
"But the most important part is the cable management system that allows you to use this system with just one hand.
"So all of it together provides you with an accessible site. If there's one element you don't get right, then it means that not all drivers can use the facilities.
"So it's really important to put the time and the effort into getting these things right."
Get £5 free charging
Get £5 worth of free charging at Electric Universe supported charging networks when you sign-up using our link
Two minutes vs greater availability and accessibility

One of the questions Johnston is often asked is why Osprey has ultra-rapid charging output of 250 kilowatts (kW), rather than the 350kW at some other rival networks.
One of the reasons is that Johnston said 350kW systems feature cables that are so heavy it can be difficult for some drivers to get the cable into a vehicle. It also means Osprey can add a higher number of charge points at each hub location.
Johnston said: "We have eight high-power chargers that can do 150kW at Brackley.
"If we'd gone with 350kW chargers, there would only have been three and that's not a hub in my opinion.
"It's not what drivers would choose as a location. But more importantly, if you turn up in a Tesla Model 3, it only takes two minutes longer to charge here than it would on a 350kW.
"Our hardware strategy is deliberate. It's defined to allow us to have as many chargers as possible and deliver the best experience we can to drivers."
Upgrading legacy charging sites
Osprey has a deliberate strategy to be the most accessible network compared with competing networks.
Johnston says the development team looks at every bit of social media feedback to find ways to make charging sites even better.
This is where having a great relationship with a landlord is so important for charging networks.
There are some Osprey charging sites with Marston's that have just one charger.
Where possible, Osprey is looking at how upgrades can be made to add additional chargers and install its latest designs for accessibility.
Johnston said: "We have a chance to go back and reconfigure locations.
"If we don't do that, it's going to become a stranded asset. No one is going to choose to return to that site again.
"What's really in the front of our mind is what are our least successful sites today and what can we do in that location to make it better? Because if your first experience of Osprey is a less successful site, then all the effort and investment spent on sites like Brackley is in vain."
Osprey Charging Network Guide
For more information on who Osprey is and how to use their charge points, be sure to check out our Osprey Charging network guide.