Plugged In - David Simpson, Co-Founder Simpson & Partners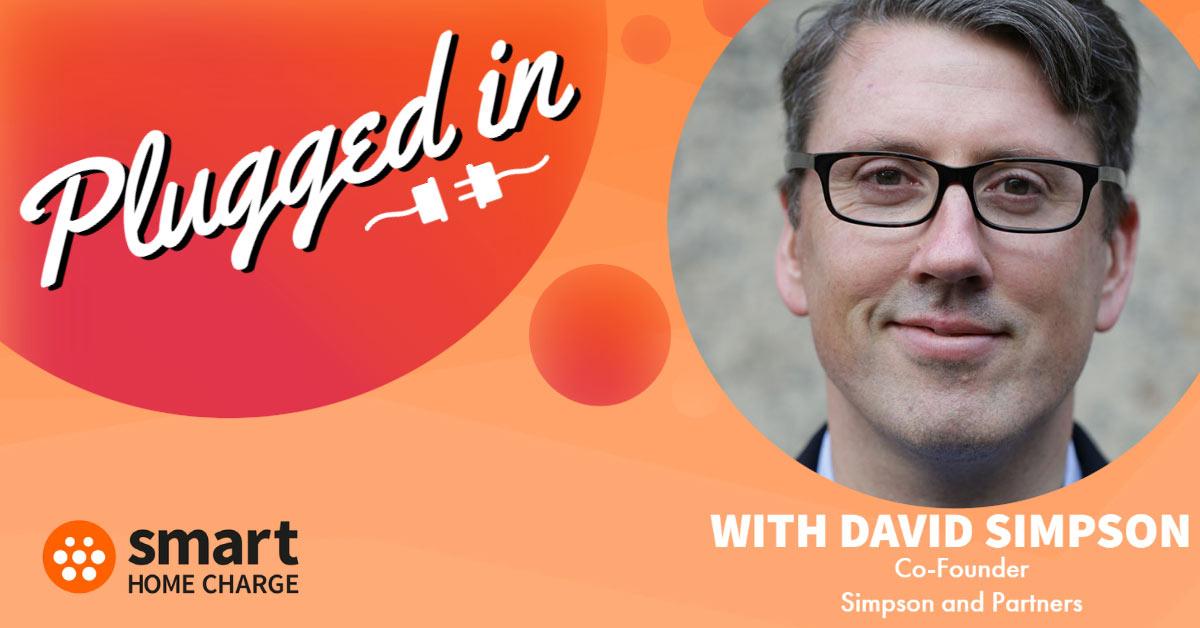 Simpson & Partners has created a boutique home charging business with a big focus on creating aesthetically pleasing products with smart software innovation from the ground up.
While the family-run company is relatively new, after launching in summer 2022, chief executive and co-founder David Simpson already had many years of experience in the home charging industry.
He helped to create Andersen EV alongside his wife Mandy Simpson back in 2017 and was also in charge of £30 million internet banking projects before that.
The Simpsons and Andersen parted ways in 2021 after the business wanted to focus further on charge point installations, whereas they wanted to focus solely on product and software innovation.
The business takes inspiration from other family businesses like Dyson and JCB that are very focussed on research and development and hold long term views on investment.
Simpson & Partners is "factory-direct" and owns and runs its own 10,000 sq ft factory in the Cotswolds. It runs its own manufacturing, paint and assembly lines and the business has plans to scale up to produce around 5,000 units a month.
Simpson sums up the company very simply: "We like making nice things that are good quality."
This includes its Home Series of chargers that are highly customisable with a mixture of metal and wood materials to offer a fully featured charger.
Simpson said: "Charge points can be perceived as being futuristic and a car accessory, but we don't see it that way.
"Home charge points are a house accessory. It's architectural furniture and we think charge points should blend in with your house."
Customisation combinations

Simpson believes competitors are limited with their customisation because many are made from plastics that are injection moulded. Simpson & Partners' Home 7 chargers are made from diecast metal on the outside and machined metal or Accoya wooden tops.
There's a palette of 13 exterior paint colours to choose from, as well as four wood colours and four metal lid covers. It means there are a total of 107 design combinations to choose from.
The Home 7 is versatile too thanks to its cable locking ability, which allows customers to use it as either a tethered and untethered unit.
There's a clear influence from Simpson & Partners' design heroes Bang and Olufsen, the Danish high-end consumer electronics company. This means the Home series chargers aren't just about design, but "celebrating nice materials" too.
Simpson said: "A lot of customers go for the greys, but everything sells really.
"The beauty about the designs are that you can go for a dark coloured front and a machined metal top and it's architectural. Or you could go for a Cotswold green and an Accoya oak top and that's a very soft look."
Simpson acknowledges that while the business is certainly focussed on offering a premium product, that doesn't necessarily mean it comes with a premium price tag.
He said: "I think we're misconstrued as being a premium charger because of the design and materials, but that's actually not the case in terms of pricing.
"We're not the cheapest but we're certainly comparable with competitors."
Customise your Simson and Partners Home 7
Head over to our Simpson and Partners Home 7 page and customise your charging unit using over 100 different colour combinations.
Smart Home Energy Systems

This focus on design also doesn't mean Simpson & Partners' chargers are simply "pigs with lipstick", as Simpson describes it.
The company has its own sub-brand called Smart Home Energy Systems that underpins the app and technology powering its Home series of chargers, as well as its solar, battery storage and energy management innovations.
Simpson said: "People don't realise that we're a technology company and this will become an even bigger part of the business in the future.
"We're a relatively small company but we have large corporate experience with our IT systems. Our co-founder is a software genius and I came from running large IT projects."
Home 7 customers have the ability to charge without disrupting the energy needed for home devices by opting for an energy manager installed alongside the charging point.
Users can easily track and monitor home energy usage with daily, monthly, and yearly reports.
Customers with solar PV arrays can also opt for the Home 7 Plus, which features the ability to divert surplus solar energy to their EV.
Wireless versions of the energy manager are also available to offer customers the same features without the need for extra cabling and installation.
This strong software foundation also meant Simpson & Partners was well positioned to launch products that already adhered to the new smart charger regulations the UK government introduced in June and December 2022.
These regulations mean all chargers need to be smart and follow minimum standards for data and security.
Simpson said: "It's not often that you can start a company like this with a clean slate. I had five years worth of learning from the previous business so we could start in the right way from day one.
"A lot of other charging manufacturers had legacy software they needed to get up to standard."
While Simpson believes there is unlikely to be significant changes to regulations around smart home chargers any time soon, he is confident the way the company's software is built will mean it can easily "flex" to accommodate any future changes.
Simplifying home energy

Simpson & Partners' big play for the future will be launching new products focussing on home energy management.
Simpson said: "I think there's a new generation of EV customers. In the last four years it's been enthusiasts, but the market is changing.
"EVs are becoming mainstream and customers expect products to be Apple-like in a way."
This means creating EV, solar and battery storage management systems that are easy to use and reliable.
Simpson said: "People just want to charge and they don't necessarily want complexity. The majority of customers don't want to worry about loads of complex functions.
"Our energy management focus will be on mainstream energy conscious users now. More people have solar and battery management and we want to help simplify that with software and technology.
"Our focus will be on how we can slim things down and make energy management easier.
"That will be software and hardware in a seamless integration that works together, without complexity and multiple apps and use interfaces."
The big challenges facing mass market EV adoption
Simpson admits that while he's an advocate for EVs as the right engineering solution for the future of transport, he's also a "realist" with the current state of the market.
He said: "If you're a 20 year old EV ownership is basically impossible. Even some of the smaller EVs are £30,000. You can't just expect everyone to go electric with the cost of living crisis right now.
"What the government needs to do is drop the VAT of EVs. They're still a rich man's toy."
Simpson also believes there are some EV customers that are being mis-sold with poor planning on what they need in terms of range, simply because public charging infrastructure isn't up to snuff yet, however many public charge point operators beg to differ.
He said: "People's range anxiety may be rational or not. The 300 mile edge case journey is still there as a fear and we have to respect that.
"Personally, I think you're brave if you're thinking about going to Cornwall this summer with your EV.
"Some of the facilities at service stations still aren't good enough."
Blame should not be heaped on the public charge point operators however, with Simpson citing the fact that there needs to be the power put in place to help with rapid charger expansion at the scale he thinks is needed.
Simpson wants to see public charging made as simple and available as filling up with petrol or diesel.
He said: "We have to get away from a situation where you're worried about whether you have enough range left to get the kids home from visiting granny and they're all screaming in the back. You don't get that with a petrol or diesel.
"The speed of charging is where it needs to be for rapid chargers, but the real success will come from availability."
Find the most cost effective rapid charging network
When planning a stop at a rapid charger, use our rapid charging cost comparison tool to find the cheapest network in that area.
Chinese EV brands could be a "massive game changer"

One thing that could help with EV affordability in the near future is new launches from Chinese car manufacturers.
BYD, Omado, Nio, Xpeng and Lynk & Co are all getting ready to launch in the UK in the next 12 months. This is in addition to MG and now Ora, which have already launched here.
Simpson said: "I think these new Chinese brands will be a massive game changer and the automobile industry is ripe for disruption.
"Kia and Hyundai were new Korean brands that rapidly expanded in the noughties in the UK and they are so successful now. MG is really nailing it and affordability is so important for the future success of EVs."
Simpson said established car brands might find it tough to compete with new Chinese brands. This is due to Chinese manufacturers being able to more tightly control the supply chain for batteries and therefore able to deliver new EVs a lot quicker than competitors.
He said: "I think the only company that could respond at scale could be Tesla. Tesla's control on batteries and in-house production will pay off. I think Tesla could simplify what they're doing even further and tackle that challenge from the Chinese manufacturers."