Customer Stories: Smart Home Charge offer complete peace of mind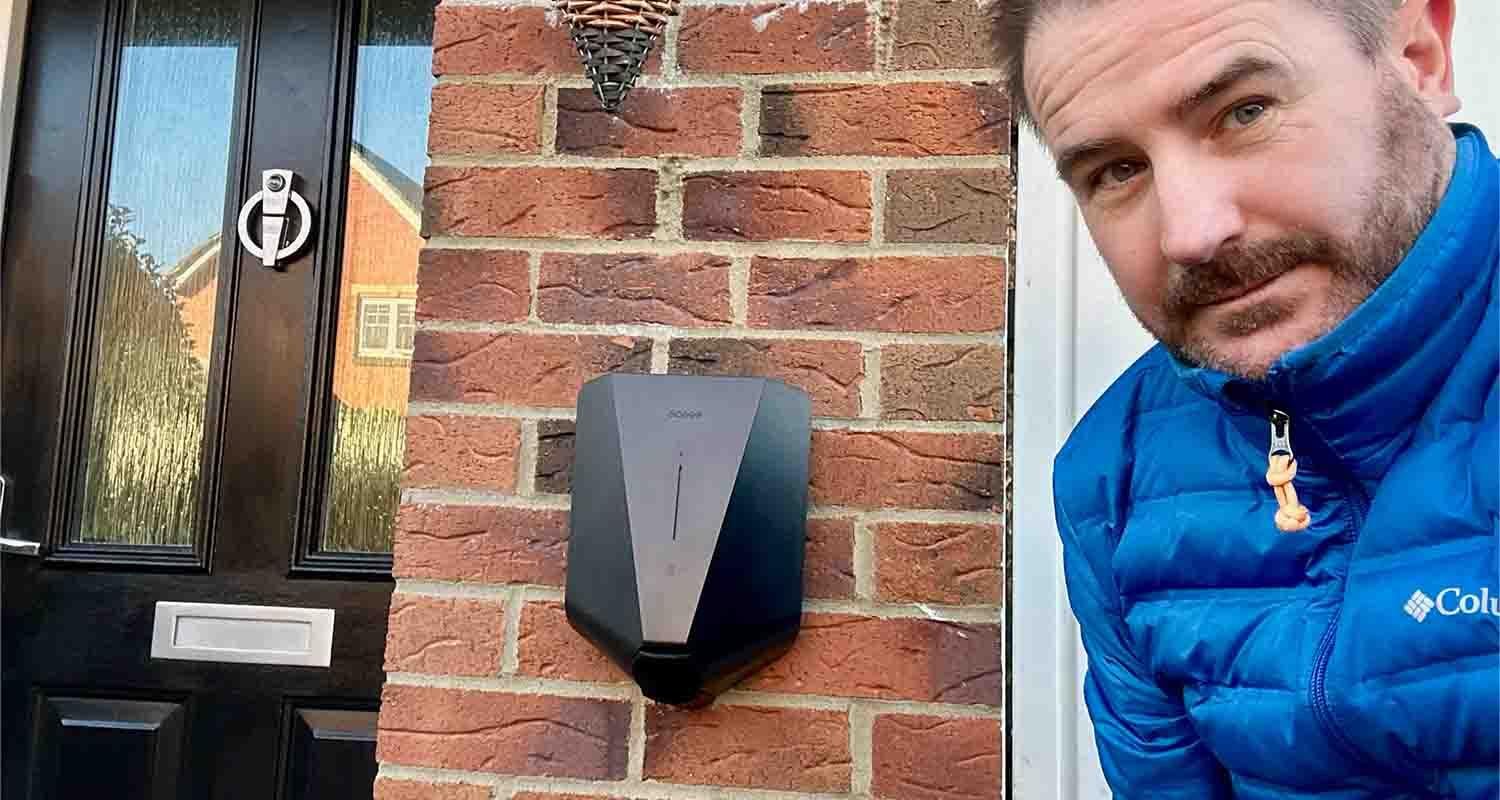 Unsatisfied with quotes provided by other installers, Chris came to Smart Home Charge to get an all-in-one quote for his Easee One installation.
What electric car do you have?


Pictured: BMW iX1
I've chosen the BMW iX1, only had it for 4 weeks - it arrived 10 minutes after the installer had finished with the charging unit!
The newer model is a fantastic looking car, incredible to drive and so quiet but yet very powerful.
It's been redesigned to look more futuristic inside to enhance the electric models but retains the same appearance of a normal suv style car on the outer which was really appealing.
Taken a bit of getting used to being fully electric.
We wanted a larger family car, but not too big for easier driving and parking.
We weren't too bothered about an extended range either, but gives us up to a realistic 240miles on a full charge for longer journeys.
I've recently switched to an off peak tariff to charge it up overnight once a week to 80%, only costing ~£3.70p.
When its eventually sunny I plan to use the Easee equaliser to only use the excess kWh energy from our solar panels so to top up the charging so using nothing from the grid.
What made you choose the Easee One?

I purchased the Easee One Charger (and the Solar Equaliser) primarily for the aesthetics, size and ease of use that the reviews and feedback had suggested.
The charger is very small and having wished to have this installed on the front of my property, did not want this to be too obtrusive, bulky or restrictive.
I did not want to have a charging cable attached permanently as I thought it would spoil the appearance of the charger and the installation on my wall but wanted an option to attach the charging cable and lock it in place to avoid this being stolen or damaged.
The Easee One allows this to be done permanently even after the cable is unlocked from the vehicle This is controllable from the app and can then easily be unlocked at will when and if needed afterwards to then store the cable away.
I explored the Easee app that was required for the charger and this looked similarly as neat and well-designed, contributing to my decision.
I also felt that if Smart Home Charge were an official installer of this product then there would be little issue in the installation and also provide lots of support if needed. I could not be any happier with the choice I made and it looks fantastic.
Easee One - Our most popular EV charger
Get your Easee One with or without solar capabilities installed for just £984 or £13.44 a month!
Did you find the world of EV charging at home confusing initially?

When I made the decision to purchase an EV for the first time I had no idea about what type of home charger I would need to purchase that would be suitable for my new vehicle.
I had not really heard about any of the different types of EV chargers available on the market, which ones were the most suitable for my property as well as the vehicle, whether a tethered vs. untethered cable would be better and how if at all, this was going to be installed into my electrical network, so was quite unsure.
I received an offer from Podpoint to provide and install an EV charger with the supplier of my vehicle but given this was going to be quite a sizeable investment I wanted to explore what was out in the market that may be better. I wasn't happy to just choose from their models, which did not look great.
Doing some research into EV chargers then in fact made this a bit more daunting as there were so many different types available at a range of different costs.
What was the difference between a unit that cost £300 to those costing in excess of £1000?
I thought about style, practicality, usability and cost.
I considered buying a charging unit on its own online and then try to find a reputable electrician to install this.
But this left me really unsure about the best decision to make, I didn't want to waste any money and end up with a poor system and set-up that I would regret.
How did you find Smart Home Charge?

I began to carry out some research online into who the best providers and installers of EV chargers were, to see how other customers had found the process and to see what the systems looked like once complete.
I began to think that a dedicated provider and installer would provide me with peace of mind and help reduce the stress and pressure of selecting, purchasing and trying to get the system installed all in one go by myself.
I work in a very busy hospital so didn't really have the time either to be able to plan this out. I found Smart Home Charge as one of these providers during a Google search for 'best home EV charger installers'.
The website initially struck me as very simple, organised and provided detailed and customer reviews about a select number of chargers that displayed the estimated cost straight away – I continued to read through the reviews that satisfied customers had provided.
What made Smart Home Charge stand out from other installers?

I guess the first impression I had when I was navigating through the website was how organised it was and how well-designed the web pages were.
I thought a rolling executive summary of a few key points about the company was good and I liked the ability to get an instant quote without completing lots of pages, not having to provide many personal details and not having to make an account which others seemed to want.
I liked the availability of the different types of chargers (not too many were actually really good – felt like a consideration had been given to only provide the best models) with an informative price straight away for each charger rather than having to enquire about each one individually.
This made me think that this was a trustworthy and honest provider/installer.
I am pleased to see that a warranty would be provided which reassured me of the product/install and that I could get this EV charger installed in as little as one week.
This was important as I had read about delays in the installation of some other providers, as my EV vehicle was arriving in a couple of weeks. I normally do a lot of due diligence when making purchases but can honestly say that I didn't need to on this occasion and felt very confident of choosing Smart Home Charge almost straight away.
How was your experience when browsing our website?

I found the experience of using the website very simple and didn't have to look far to be able to get a quotation and where the reviews could be found. What I found very useful was looking into each EV charger, there was a breakdown of the important features and specifications, that could be expanded upon and then hidden – very neat – also set up in an easy-to-read and understandable format for the novice EV charger customer.
I liked the fact that there were videos of each product and a number of images to show how the charger looked once installed.
I also looked through the editor's review and the FAQ which I found particularly useful. Felt like a lot of time and effort had been given to each charger
Did we help make things easy when it came to choosing your charger and getting it installed?

I already had an idea of what charger I wanted but was good to see other similar units described in the same way which helped me reaffirm my decision.
Also interesting to see how much the cost of the unit was by itself and including the installation cost – I could then compare this against a few quotes I had from other electricians, which were comparable if not better. Smart Home Charge made it very easy to get a quote – this arrived almost instantly.
I then decided to purchase the equaliser to accompany the charger so asked for another quote to be made and felt a bit bad about this. This also arrived straight away as well from the customer service team.
The ease with which I could then purchase the unit and the installation was simple and straightforward.
The communication and updates I received were very helpful and reassuring.
I was also pleasantly surprised that the charger was delivered so quickly which gave me a chance to have a quick look at it before the installer arrived, which was great.
I was unable to make the first installation date that was scheduled but a quick email to the customer service team with a new preferable date was accepted and re-arranged straight away and a morning slot was allocated – this really helped me fit around my work commitments which I was very appreciative of.
How did you get on with the online site survey? Did you find it easy to follow?

I hadn't initially considered that a survey would be needed so wasn't expecting to complete this, however finding out this was necessary (and why) this could be done online (and more importantly within my own time) I felt was very advantageous.
The process to follow to complete the online survey was extremely supportive and gave me lots of information on what was required.
The uploading of images and video was quick and effortless and the progress of the survey made it very clear on what I still needed to complete.
I had in fact missed a key element out after submission but the customer service team were very quick to send me an email to clarify an issue afterwards in a polite and courteous manner.
How would you rate your installer and the work they did?

The installer was excellent.
They arrived exactly on time - having the ability to track where they were was great and it meant I was able to complete a few other pressing tasks whilst also knowing how long it would be until they arrived.
They introduced themselves and explained what they were going to do and the order of the works.
I ran through what I would like to be done with the EV charger and they agreed, to carry this out as requested.
The installation/location of the Equaliser was not something that I had considered either and the installer ran through where this could be placed without causing too much disruption or looking untidy/out of place.
This was good to have options rather than being told where wires and boxes had to be placed.
I found the installer very friendly, approachable and struck up an instant rapport with them.
They kept me informed of each step during the installation, which was very helpful and estimated how long each step would take and when they would likely be finished.
I felt that they really wanted to push themselves to make the installation perfect and spent a lot of time making everything neat (and tidied up very well indeed).
I am very pleased with the installation and quality of the work that was carried out.
I have had comments from neighbours and family already about how well the set-up looks.
Did the installer go the extra mile?

The installer offered to help me with the Easee app and ensured everything was connected correctly and working before they would leave.
They offered me advice on how to use the charger and even how to charge the vehicle more efficiently, prompting me to also consider reviewing the current tariff I have and switching to an off-peak rate for Electric vehicles.
This actually will save me a significant amount of money over the year so very appreciative he discussed this. I felt confident that if anything was to have gone wrong afterwards they would be more than happy to re-attend to support me.
How else did Smart Home Charge help you?

There was nothing else that Smart Home Charge could help me with, everything was so straightforward, clear and the installation work was completed superbly.
What would you say to someone who is looking to buy a home EV charging point and is considering Smart Home Charge?
I would recommend that for anyone looking to buy and install an EV charging point, that purchasing this yourself online and trying to find an approved electrician will be difficult and fraught with uncertainties and to look at a provider that can do both and offer you support.
I would advise that they should use a provider that is both able to help you make an informed decision, as the charger and installation is going to be expensive whichever way you do this so you need to be happy with your purchase and make sure you get great value as well.
Someone who can provide real customer testimonies, view what the charger actually looks like and assist/arrange you with the entire installation process.
I would thoroughly recommend Smart Home Charge for all this as they not only offer you complete peace of mind but also take the stress out of the whole project.
They offer a fully comprehensive service that is driven by the customer and their decisions, at a pace that you choose.
Their costs for the chargers and the installation were in fact less than what I would have paid by making the unit purchase myself online and employing an electrician so I feel they offer very good value.
There is no hard sell, no pushing to make a commitment to a particular charger (the choice is yours) or within a timeframe and I feel completely relaxed.
I have already recommended Smart Home Charge to my family and friends who have been considering switching to an EV but had a similar apprehension about purchasing and installing a home charger.