Customer Installation: "They are professionals and they know what they're doing"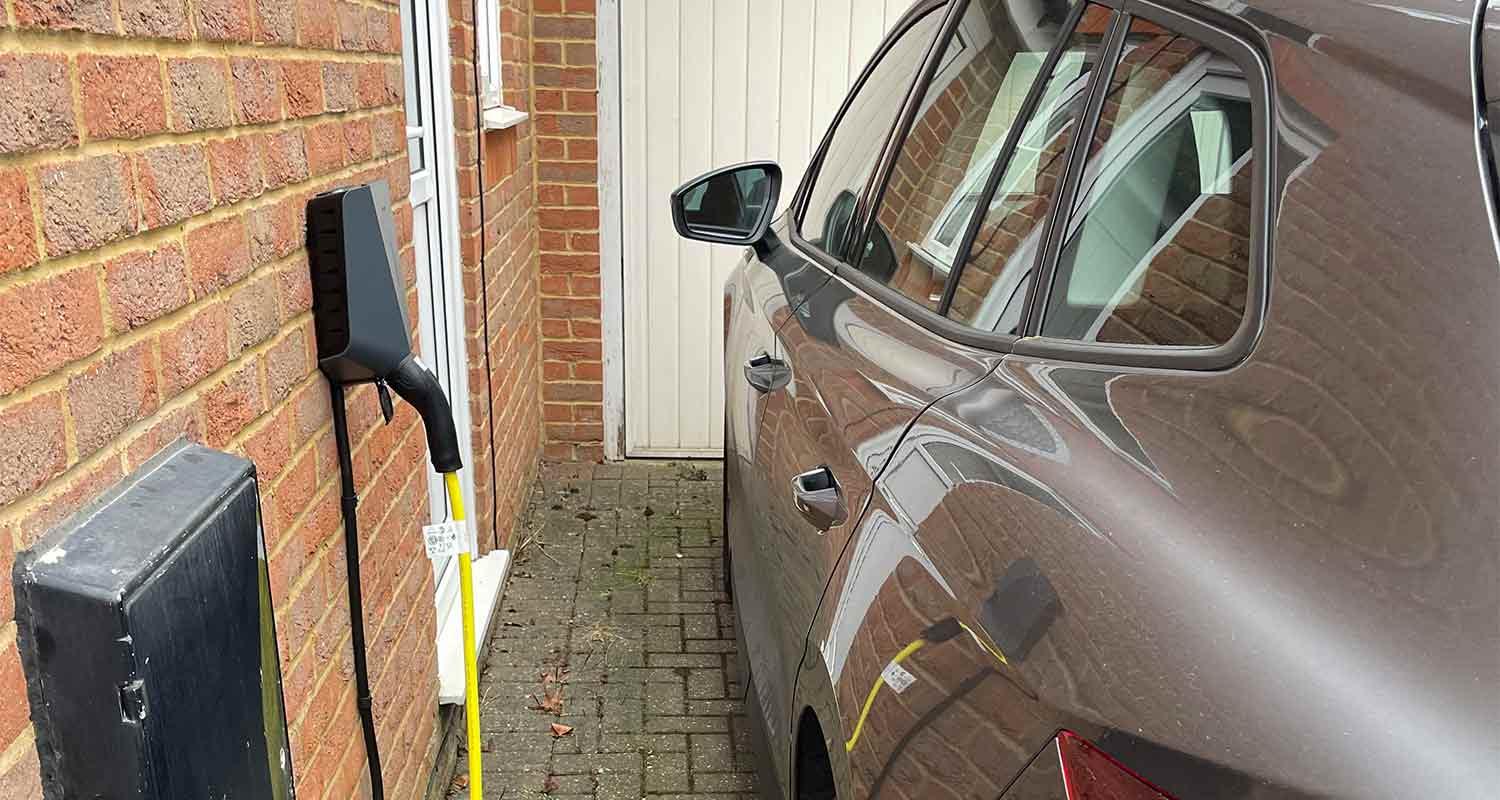 Joseph Chan bought an Easee One so that he could charge his Skoda Enyaq at home.
Head to our customer stories page to see more great stories like this one!
Why did you choose the Skoda Enyaq?

I test-drove many EVs including brands like Tesla, Hyundai and Mercedes. It got to a point where I was actually getting quite frustrated because there were so many to choose from and it was taking a little bit of time.
We landed on the Skoda Enyaq through a combination of enjoying the driving experience, it offered us the practicality we needed as a family of five with three children, but also a big factor was how quickly a model was available to deliver.
A lot of the EVs had ridiculously long lead times.
Why did you decide to get a home EV charge point installed?

We had always planned to have a home charger before we even ordered the Skoda. I work from home mostly and so it makes the most sense to charge at home.
From my perspective I feel like with the public charging networks as they are now, you don't have a choice in terms of cost and convenience but to have a home charger installed.
What made you choose the Easee One?

There were two main reasons. I roughly knew where the charger needed to be and we have a driveway that fits two cars.
I needed something that had the flexibility to be tethered or untethered and I couldn't make my mind up about that. The Easee One provides the best of both worlds.
I also felt the design and the materials on the One demonstrated that it was a high quality product.
See if the Easee One is the right charger for you
With a sleek design and handy features such as the ability to switch between tethered and untethered modes, the Easee One is a versatile EV charger.
Did you find the world of EV charging at home confusing initially?

Choosing the right charger is a little tricky. How do you know you're definitely getting the right one for you?
You want to make sure you're making the right decision before you buy and commit because it's not something you are going to change on a regular basis.
How did you find Smart Home Charge?

I was a bit surprised that the Skoda dealer didn't already have cooperation with a charge point installer to recommend someone when I bought the car.
I actually found Smart Home Charge through their YouTube content and that gave me the confidence to know that the company is professional and they really know what they're talking about.
I knew I wanted a specialist that does this kind of work day in and day out.
Did you view our other content (I.e. our charging comparison tools, features, news or guides)?

I compared different chargers on the Smart Home Charge website and also looked at video reviews too.
How did you get on with the online site survey? Did you find it easy to follow?

I actually tried out a quote with a competitor to Smart Home Charge first, but the quoting process was so complicated and painful that I just gave up in the end.
Smart Home Charge's online quotation process was a lot easier. Going through that online process meant I felt confident that I'd chosen the right charger for the job and I knew the plan for the installation was going to work.
How would you rate your installer(s) and the work they did?

They were good and did a professional job. I had no concerns whatsoever.
I was a bit worried they would have to drill through into the kitchen, but everything was outside on the wall of the driveway. It was very straightforward.
The installer definitely knew what he was doing and it was all tidy afterwards.
The installer was friendly and showed me the functionality of the charger and the app.
How have you found using the charger overall?

I like that the Easee One comes with mobile data and a WiFi connection as standard so it means I'm not going to run into any connectivity issues between the car and the charger.
I don't have an Economy 7 tariff so it's been pretty straightforward.
It worked perfectly and so I just plug the Skoda in and then it's as simple as that.
What would you say to someone who is looking to buy a home EV charging point and is considering Smart Home Charge?

I would definitely recommend Smart Home Charge. They are professionals and they know what they're doing.