Best Christmas gifts for electric car drivers 2022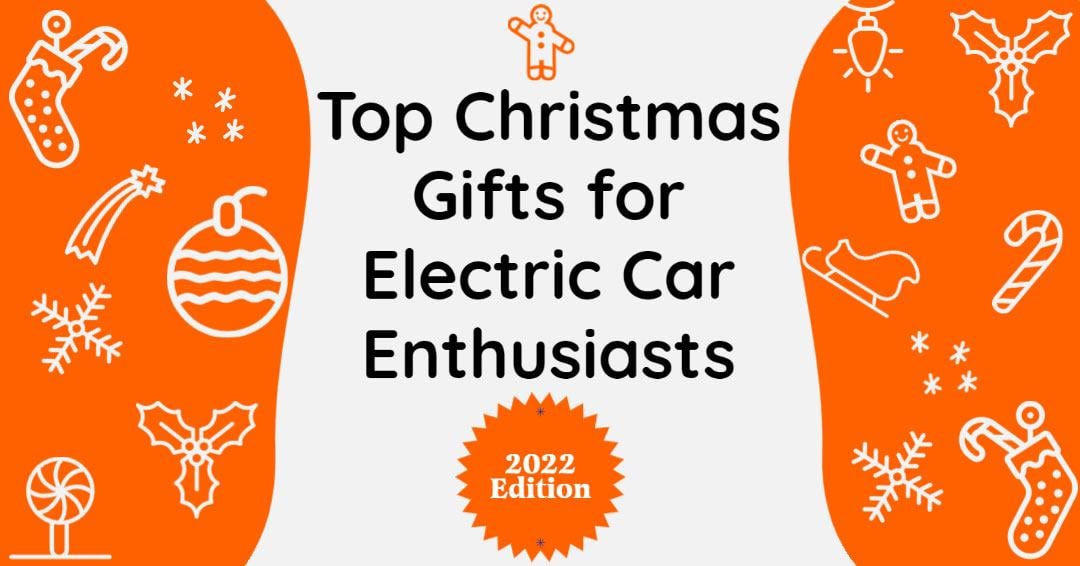 Looking for a great gift for an EV owner or - even better – an EV enthusiast?
We've pulled together the best Christmas gifts for a special someone this holiday season with electric cars on the brain.
EV Track days

Track days aren't usually what you'd expect to be top of the list for EV enthusiasts, but according to www.trackdays.co.uk the demand for electric vehicle driving experience. You (or your EV enthusiast) can experience the power thrills of the Tesla Model P90D Ludicrous mode for £99 at Bovingdon Airfield.
Tickets to EV events

There are many events catering to the electric vehicle lover, and this has to be one of the best gift ideas. Not only do electric car owners get to see the latest and greatest electric vehicles, but enthusiasts will be able to see the latest accessories and developments in the industry.
EV Ready on January 25 is the first-ever independent garage event dedicated to electric vehicle skills, equipment and technology. It's going to be held at Brighton Racecourse.
Low Emission Vehicles Expo, which takes place at the NAEC at Stoneleigh, Kenilworth, is a platform to meet suppliers and advisors from the renewables, transport, machinery, low carbon, and land management sectors the exhibition, take part in debates on the electric revolution. It takes place on February 7.
Fully Charged Live presents everything an EV owner could want, with live talks, the latest electric cars and more. It takes place on April 28 at the Farnborough International Exhibition and Conference Centre.
Between June 28 and 29, the Vehicle Electrification Expo 2023 brings together the entire supply chain involved in electric and hybrid vehicle manufacture and development showcasing the very latest technologies for this rapidly growing market. It takes place at the National Exhibition Centre, Birmingham.
On July 29, you can see the thrills and spills of the Formula E championship, with the cars zooming through the London Excel Centre – a great gift list option for EV owners.
Other events are yet to have dates given to them, but EV drivers can get a look at new cars at Simply Electric at the National Motor Museum, Beaulieu or take in the Electric Avenue at the Goodwood Festival of Speed and all the prototypes heading your way in future. Alternatively, the British Motor Museum near Warwick will be hosting The Electric Vehicle Festival.
Home charging point

You might think EV owners will have their electric car charge point needs well catered for, but EV drivers can choose from a variety of charging points with aesthetics to suit most tastes. Of course, we have a range to choose from and we can provide plenty of advice on how to find the right charger solution, whatever the budget.
Compare EV chargers
Looking for an EV charge point but are unsure which one to choose? Check out our EV charge point comparison tool and compare our chargers side-by-side.
A Dashcam

This gift might not be quite as exciting as some of the more fun gifts on this list, but this is an addition to your electric car that may prove invaluable if your car is involved in a crash. Amazon sells a wide range of dashcams including the Nextbase 22XR, which includes a rear-facing camera for £99.95 (as of 10th of November). For a more budget-friendly dashcam, there's IIWEY Dash Cam Front, which is currently on sale for £29.59 (as of 10th of November).
And if you want to go all out with your dashcam, there's the Thinkware U1000, which comes with a 4k front camera and 2k rear camera.
Amazon Echo Auto

Fitting your electric car with Amazon Echo Auto is a great gift, because it connects to the Alexa app on your phone and plays through your car's speakers via auxiliary input or your smartphone's Bluetooth connection. You can stream from Audible, Amazon Music, Apple Music, Spotify, SiriusXM, and radio stations with TuneIn and iHeartRadio. You can use your voice to play music, check the news, make calls, add to your to-do-list, set reminders and more.
A new EV cable

It's always a good idea to have a spare EV cable. EVs may come with a charging cable in most cases these days, but it's easy to forget the cable when you're standing in front of a charger, or you simply want to keep one at home and one in your electric car. We have a range of charging cables with a variety of features for all sorts of EVs – browse our range and find the right cable for you.
Browse our charging cables
We have a range of charging cables to suit most people's charging needs and budgets. Browse our range and find the right cable for you
A private Green number plate

While private plates are nothing new, the world of EV motoring presents plenty of opportunities for fun plates for your car. The price may not be as much as you may thing, with an EV-related plate costing from £250.
Quirky EV presents

If you're an enthusiast for the charging revolution, drive your browser to Etsy to see the clothing options for sale.
But if you like your car with electrical energy, the perfect gift might just be a hat, keyring, poster or more, and Etsy has plenty to offer.
Also check out manufacturer gift pages, which usually offer a range of clothing, die-cast model cars and lots more besides. Porsche, for example, has a range dedicated to the Taycan model – be careful, as you could end up with an entire room full of model EV cars. If the £101 price tag from Porsche's website puts you off however, Amazon sells a range of cheaper model cars including this Hot Wheels version.
Finally, with electric cars growing ever popular, it's come to the attention of some that drivers new to the EV world might not be aware of the correct etiquette at chargers. This pack of notice warnings is available via Etsy, and set an example of how to do things properly.
Gifts for the Tesla-heads

If you're an ardent Tesla enthusiast, check out Tesla's gift page – there are a whole host of model Teslas to choose from, plus plenty more to choose from. Hit the link to see what the company has to sell – it may surprise you!
On Amazon - there's this flocked centre console organiser to help stop your things rolling about whilst you're driving. For pet owners who don't want muddy paw prints all over the interior of their Model Y, there's this anti-slip boot mat kit.

For a truly unique Tesla related gift, there's the Tesmat - a compactable memory foam mattress that folds out to perfectly fit in the cargo area of your Model 3 or Model Y. You can even get accompanying Model 3 and Model Y comforter sets.