Accessibility and safety around EV charging - Making EV charging available to everyone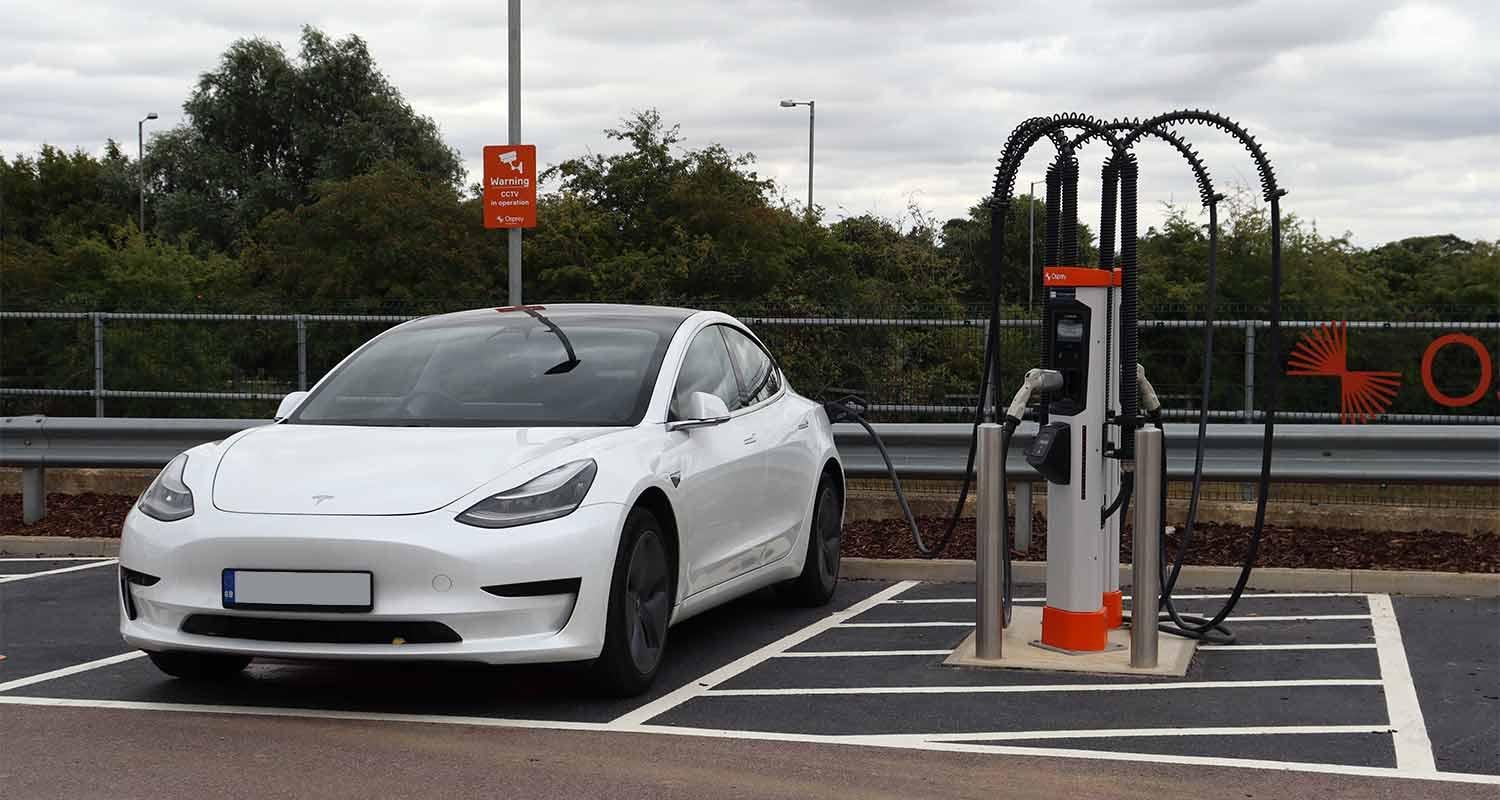 In the race to expand public electric vehicle charging, accessibility and safety has to be a priority to ensure a zero emissions future is possible for all
According to Zap-Map, the number of public charge point locations available to EV drivers reached over 21,000 in November, and that number will continue to grow over the coming years. Like many aspects of using public infrastructure however, disabled drivers face extra challenges when it comes to topping up their EV's battery.
What challenges do disabled drivers currently face when charging at a public charging point?

Currently, almost one in 10 new cars in the UK are bought on behalf of disabled people.
With the ban on the sale of new petrol or diesel cars just eight years away it is essential that the UK's charging infrastructure is accessible for all ev drivers.
Charging bays need to be well-lit, close to amenities and have enough space to allow people to use walking or mobility aids. It is also essential that the instructions, screen, and cables can be easily viewed and used from a standing and sitting position for wheelchair users.
This extra space and attention to safety and accessibility can increase costs for those responsible for the EV charge points.
Taking up more space also limits the total number of parking spaces that may be available at a retail or business location.
The rush to increase electric vehicle infrastructure and to install charging points as cost efficiently as possible means there have been some oversights in certain locations across the UK.
These need to be addressed at existing and future charging points to ensure that accessible charging for electric vehicles is safe for all as we accelerate to a zero emission future.
Compare rapid charging costs
Compare the charging costs of the UK's most popular rapid charging networks using our rapid charging cost comparison tool,
What is ChargeSafe and what are they doing to help make EV charging safer and more accessible to those who are less able?
ChargeSafe is a public EV charging endorsement body that independently inspects and rates locations across the UK.
The concept is driven by the concerns of electric vehicle drivers and its aim is to make sure personal safety and accessibility is seen as a priority to charge point operators (CPOs), landlords and local authorities.
What does ChargeSafe look for when rating charge points?
ChargeSafe has a 60+ point inspection that focusses on four key measures.
These include:
The environment the charge point is located in

Nearby facilities available to the site

The overall functionality of the chargepoints

Accessibility to the site and chargepoints
All inspections are verified by a third party, to ensure accuracy and that the assessment has been conducted without compromise and bias.
ChargeSafe's commitment is that no CPO, land owner, or location can compromise the inspection outcome.
The organisation does not accept additional income from invested parties, with the exception of a network subscription fee, whereby the detailed inspection data can be purchased for the purposes of understanding what challenges and opportunities are posed, to make improvements to specific sites.
ChargeSafe's accessibility criteria has been developed in line with the draft PAS1899 British Standards Institute (BSI) standards for accessible charge points (co-sponsored by Motability and the Office for Low Emission Vehicles).
This BSI standard covers the design and placement of charge points, including the location spacing and surrounding environment, as well as the information, signals and indicators to be provided.
The creation of ChargeSafe inspired by "abysmal" charging experience

Kate Tyrrell, ChargeSafe co-founder, was inspired to create the organisation after an "abysmal" charging experience driving her electric vehicle on a 400 mile round trip.
She said: "I got myself into a position where I had to use a charger at about 11:30pm and it was in a particularly dark corner of a car park.
"I was scared. It doesn't matter how many times you go on Twitter and tag a CPO, there was just no collective way to bring them all into one room and say - we need to do something about this."
That night involved four separate trips to charge point locations late at night. Tyrrell was too intimidated by the first location in addition to needing to download an application to be able to pay.
Tyrrell had already been driving for multiple hours and her phone battery was low.
She drove to another charging point at a supermarket but because it was late at night all the lights had been turned off in the car park to save energy.
Tyrrell said: "I was too terrified even to get out of the car. You have to get out of the car to plug in.
"But you get out of the car and you realise you've got your phone on you, your purse and your keys.
"You've had to leave your car unlocked so that you can open the charge port at the front. And you stood with your back to your vehicle whilst you're playing around with the machine in front of you, completely open to anybody potentially attacking you or trying to get away with your assets."
To top it all off, the charging unit didn't even work. With her phone battery percentage in single figures, Tyrrell had to call the charge point's customer support line where she then broke down in tears.
She said: "I felt so ashamed because I was working in the electric vehicle industry and I was constantly banging on about how amazing it is to drive electric.
"If anybody had to be subject to the experience I had that night, I'd feel really bad."
The third point was at a petrol station and the charging point was in an isolated location that was not visible from the road. Tyrrell's EV had 22 miles of range left and the fourth location, a rapid charger, was 24 miles away.
She said: "I drove slowly and carefully and managed to get to the rapid charger on zero miles. It was a shockingly terrifying experience."
In addition to safety at public EV charging network locations, the creation of ChargeSafe has included in-depth consultations with people with accessibility requirements.
These concerns for both safety and charge point accessibility go beyond just holding CPOs to account, it includes the landlord of the car park itself, the local authorities, as well as the Distribution Network Operators (DNOs) who are responsible for electricity grid infrastructure.
She said: "There's so much involved and so we've gone through a whole process to understand who is responsible for what.
"We're now rolling out the ChargeSafe service as a support mechanism for the CPOs to deliver a really inclusive charging experience for anyone who has to charge away from home."
Get £5 free charging
Get £5 worth of free charging at Electric Universe supported charging networks when you sign-up using our link
Why payment method is so important

Contactless payment for public EV charging is a hot topic in the industry. The Government is pushing the industry in this direction for ease of use, but some CPOs aren't as keen as it means there is no relationship with customers and data.
Tyrrell firmly believes that electric vehicle drivers should not be forced to download an application to enable charging.
She said: "If a CPO wants to create memberships and have people use applications that's great, but just make sure payment is accessible for everyone."
Taking the time to think about safety and accessibility
Tyrrell thinks the rush to expand the UK's charging infrastructure has created a scenario where safety and accessible electric vehicle charging haven't been thought through clearly in all instances.
She said: "What if we actually took a little but more time to put chargers in a better place?
"Could we have encouraged DNOs to allow a simpler process for grid applications?
"Could local authorities have worked better to push through planning permission on new sites and not use archaic legislation for what is a completely fresh industry?"
Tyrrell acknowledges that switching to electric vehicles was always a "chicken and egg" scenario where more considered thinking on infrastructure was going to come after adoption of electric vehicles started to surge.
She said: "The UK's charging infrastructure we have today has been a huge effort.
"We have over 33,000 charge points at over 22,000 locations in the UK.
"We know we need to increase that tenfold in the next eight years so we need to make sure we're expanding networks with best practice in mind for safety and accessibility."
How Osprey Charging plans to lead the way in making EV charging more available to everyone

Ian Johnston, Osprey Charging chief executive, operates the UK's highest-rated charge point location for accessibility at its Paisley Pear charging hub near Brackley.
The site was rated 4.6 out of 5 by ChargeSafe's independent inspection.
Johnston said: "We've put a huge amount of focus, time and money into affecting all the small elements that lead to having a truly accessible site at Brackley."
This includes more space around parking bays and around the charger. Drivers with mobility aids have the room they need to get out of their vehicle to set up their aid as required, but with still enough space to access the charging point.
Access to chargers also needs to take into account curbs and steps so all people can access them easily.
Tyrrell explained in further detail why the Paisley Pear location is so highly rated: "The site is covered by CCTV and there is lighting directly above the charge points.
"We think about the signage towards the charge point and the use of payments. We prefer universal contactless methods for payment for ease of use."
ChargeSafe's review of a site also factors in the cables and the placement of components, the width of the parking bays and whether it's road access level or there's a curb involved.
Tyrrell added: "We're constantly expanding our criteria to reflect the needs of all electric vehicle drivers.
"We're also looking at including accessibility ratings for electric bikes and electric commercial vans too.
"There's a lot to consider as the industry grows."