Weekly News Round-up 26.01.2022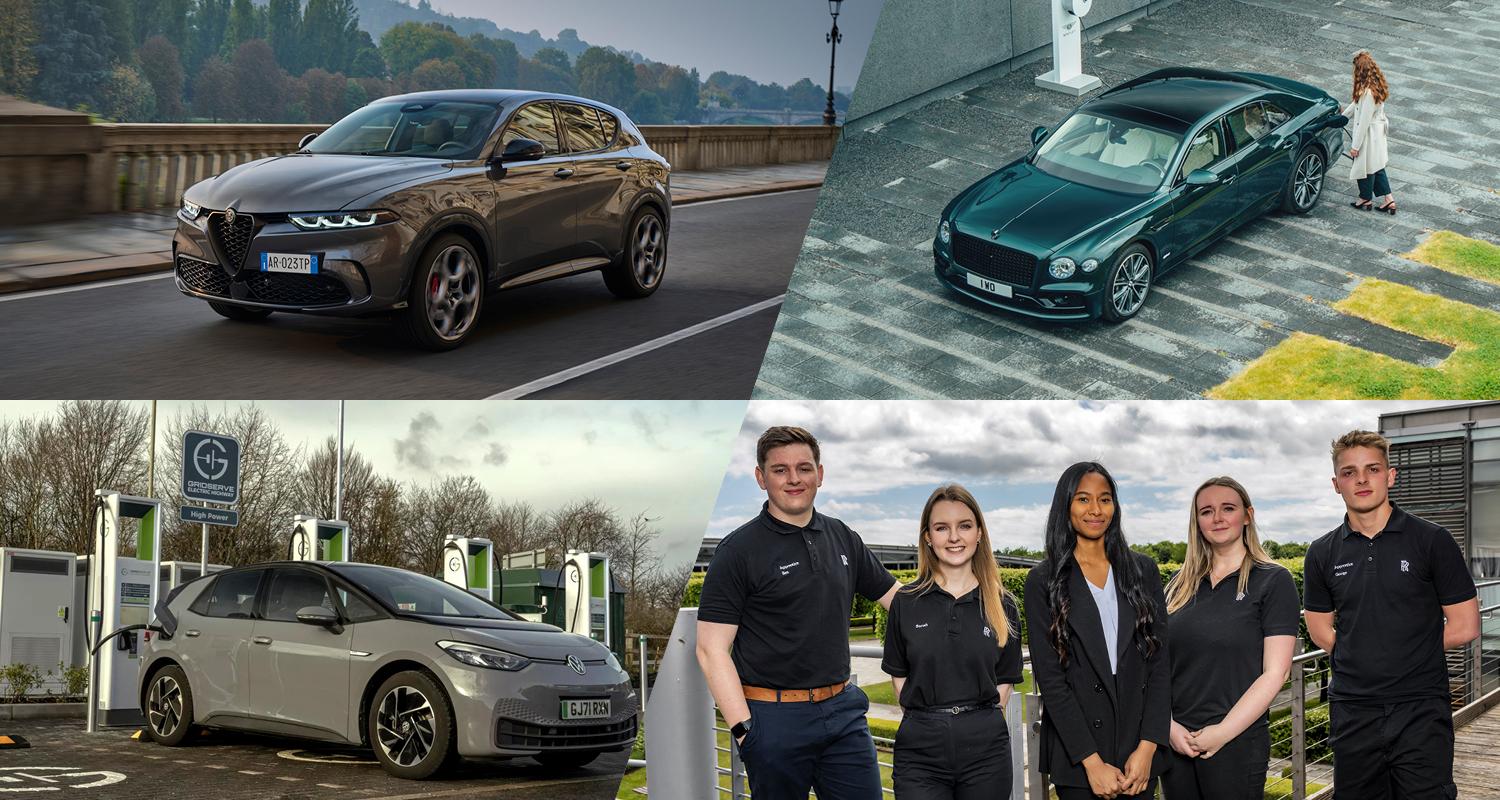 Alfa Romeo announces pricing for its upcoming Tonale PHEV and Bently steps up its EV recruitment program.
Sign up to our newsletter to get all of our latest news and updates delivered straight to your inbox every other week.
Used EV prices falling, says Auto Trader

Auto Trader's Retail Price Index, which is based on daily pricing analysis of circa 900,000 vehicles across the market, has revealed that used EV prices have fallen as stocks rise and costs grow. However, some models are outperforming the market.
"As energy prices began to surge, and the price of petrol and diesel returns closer to 'normal' levels, the proportion of used EV advert views on Auto Trader has softened, easing from a share of 6% of all used car advert views in June 2022, to 4% in January," says Auto Trader's Richard Walker. "Over the same period, used EV supply in the market has rocketed, surging from just 2% of all used cars advertised on Auto Trader in June, to over 6% in January."
This means that the current average value of a second-hand EV (£36,445) is down -0.8% year on year (YoY), and -0.9% on December, which marks five consecutive months of month on month decline. In contrast, average prices of used petrol and diesel cars are up 0.6% (£16,666) and 0.5% (£16,723) respectively.
"We can see what impact these market dynamics have had on specific models, including the Tesla Model 3, which in Q4 of 2022, saw the level of available stock on Auto Trader increase 208% YoY – over the same period, the average advertised price on the marketplace has fallen circa £5,000," Richard says. However, while the Tesla Model S and the Audi e-tron recorded a respective month on month decline of -3.1% and -2.6% between December and January, the Peugeot e-2008 and the Citroen e-C4 grew by 11% and 7.7%.
Browse our product range
Getting a used EV? Home charging is one of the easiest and cheapest ways to keep your EV topped up. Take a look at our range of chargers and find the right one for you.
Gridserve launches system to help disabled drivers

Gridserver has launched a system to help disabled drivers charge their electric vehicles. The fuelService assistance app is up and running at Gridserve's at its Electric Forecourts in Norwich and Braintree. The app works via the driver searching by fuel type and location. Drivers then select one of Gridserve's Electric Forecourts and fuelService will contact Gridserve staff and ask them if they can help.
Once help is confirmed, the driver should arrive at the charger and let the app know they have arrived. Gridserve staff will then arrive to assist the driver with charging. In addition, the forecourts have extra-wide bays prioritised for disabled drivers, alongside access ramps, accessible washrooms, lifts to access all areas and braille throughout the interior of the building.
Alfa Romeo announces Tonale hybrid pricing

Say hello to the Tonale Plug-In Hybrid Q4, which sits at the top of the range. It has offered a claimed range of more than 49 miles in full-electric in the urban cycle, 372 miles in the total cycle and emissions of 26g/km. The hybrid system consists of a 180hp, 1.3-litre turbocharged MultiAir, 4-cylinder engine marshalled by a six-speed automatic transmission.
That powers the front axle, with a 90kW electric motor capable of supplying 90kW of max peak power and 250 Nm of torque attached to the rear axle. it takes less than 2.5 hours to fully charge the battery from a 7.4 kW charger. Two trims are available, with the Speciale starting at £44,595 (£445 per month) and the Veloce starting at £48,495 (£545 per month).
Bentley charges up EV recruitment drive

Bentley Motors is looking for 200 employees to help drive its path to an all-electric future. More than half of the proposed vacancies are focused on engineering, including software, electrical systems and UX/UI development. The roles are based at Crewe but the company has adopted hybrid working.
"Within brand new engineering offices, following multi-million-pound investment, Bentley has added collaboration zones to promote interaction, and moved to hot desks or no individual offices, to both save space and encourage more impromptu discussion and greater teamwork," Bentley says. More details at www.bentleycareers.com
Rolls-Royce also looks to up staff count

Rolls-Royce is also looking for new employees, but is focusing its attention on apprenticeships. The scheme offers the ability to gain nationally recognised qualifications from Level 2 to Level 6 (Degree Apprenticeships). For sixth-form students seeking an alternative to university courses, Rolls-Royce offers Degree Apprenticeships in partnership with nearby Universities.
"For the 2023 intake, Apprenticeship places are currently available across the business, in departments and functions including Technical Assembly, Surface Finish (Paint), Interior Trim Centre, Interior Surface Centre, Quality, Sewing, Paint Maintenance, Planning, Sales, Business Quality Management, Systems and Bespoke Project Management," Rolls-Royce says. More details at www.rolls-roycemotorcars.com.
Skoda Enyaq iV vRS goes on sale

The first all-electric Skoda to wear the vRS performance badge has gone on sale in the UK. It is fitted with an 82kWh (77kWh net) battery pack that provides a range of 323 miles. The vRS is equipped with twin motors – one on either axle – that produce a combined power output of 299PS, while maximum torque is 460Nm.
The can do the 0-62mph sprint in 6.5 seconds and has a top speed of 111mph. Rapid DC charging at speeds of up to 135kW via a CCS connector means an 80% charge can be achieved is as little as 36 minutes when connected to a 150kW charger or faster. On a standard 7.2kW home charge point, a charge from empty to full will take around 13 hours. Prices start at £54,370 or £580.60 per month via PCP.
Kia teams up with &Charge for credits plan

Kia owners are now able to collect credits for free EV charging by shopping via the '&Charge' rewards programme. The app allows users to collect EV charging credits when shopping at hundreds of UK retailers, which can be redeemed via the Kia Charge* app to pay for public charging sessions, reducing the total cost of ownership.The service is available now and the app is available via the Apple app store and Google Play store.
Gridserve opens hub at Solstice Park

Gridserve has opened its newest Electric Super Hub at Solstice Park, Wiltshire. Located near a new Greggs and Taco Bell drive-through, the site can be found on
the A303, near the historic site of Stonehenge. Eight High Power chargers have been installed, which are capable of adding 100 miles in as little as five minutes. Contactless payment is accepted, and the chargers feature both CCS and CHAdeMO connectors as well as a larger bay to help with accessibility.
Compare rapid charging costs
Compare the charging costs of the UK's most popular rapid charging networks using our rapid charging cost comparison tool,
Polestar updates the 2

Polestar has updated the 2 five-door hatchback with new motors, a more refined range, rear-wheel drive for single-motor variants and quicker charging, along with a longer range.
Single-motor variants are now rear-wheel driven, powered by a newly developed permanent magnet motor and silicon carbide inverter. It has a power output of up to 220 kW (up from 170kW) and a torque figure of 490 Nm, up from 330 Nm. The 0-62mph time has been reduced by 1.2 seconds to 6.2 seconds.
The dual-motor version now has a rear-drive bias; the new rear motor is the primary drive source, supported on the front axle by a new asynchronous motor. This means a total system output of 310kW and 740 Nm (up from 300kW and 660Nm). In addition, the front motor can now be disengaged completely when not needed.
When the driver wants more power, the front motor re-engages instantly and seamlessly. Long-range versions now feature 82kWh batteries meaning charging rates of 205kW via DC, while standard-range versions retain a battery capacity of 69kWh and charging rates of 135kW for the standard-range battery. The front motor disconnect function on the long range dual motor variant maximises range up to 367 miles (592km), an increase of 65 miles (105km).
The standard range single motor version is now capable of up to 321 miles (518km), a gain of 24 miles (40km), and the long range single motor variant can manage up to 394 miles (635km), an increase of 52 miles (84km).