Weekly EV News Round-up 18.05.2023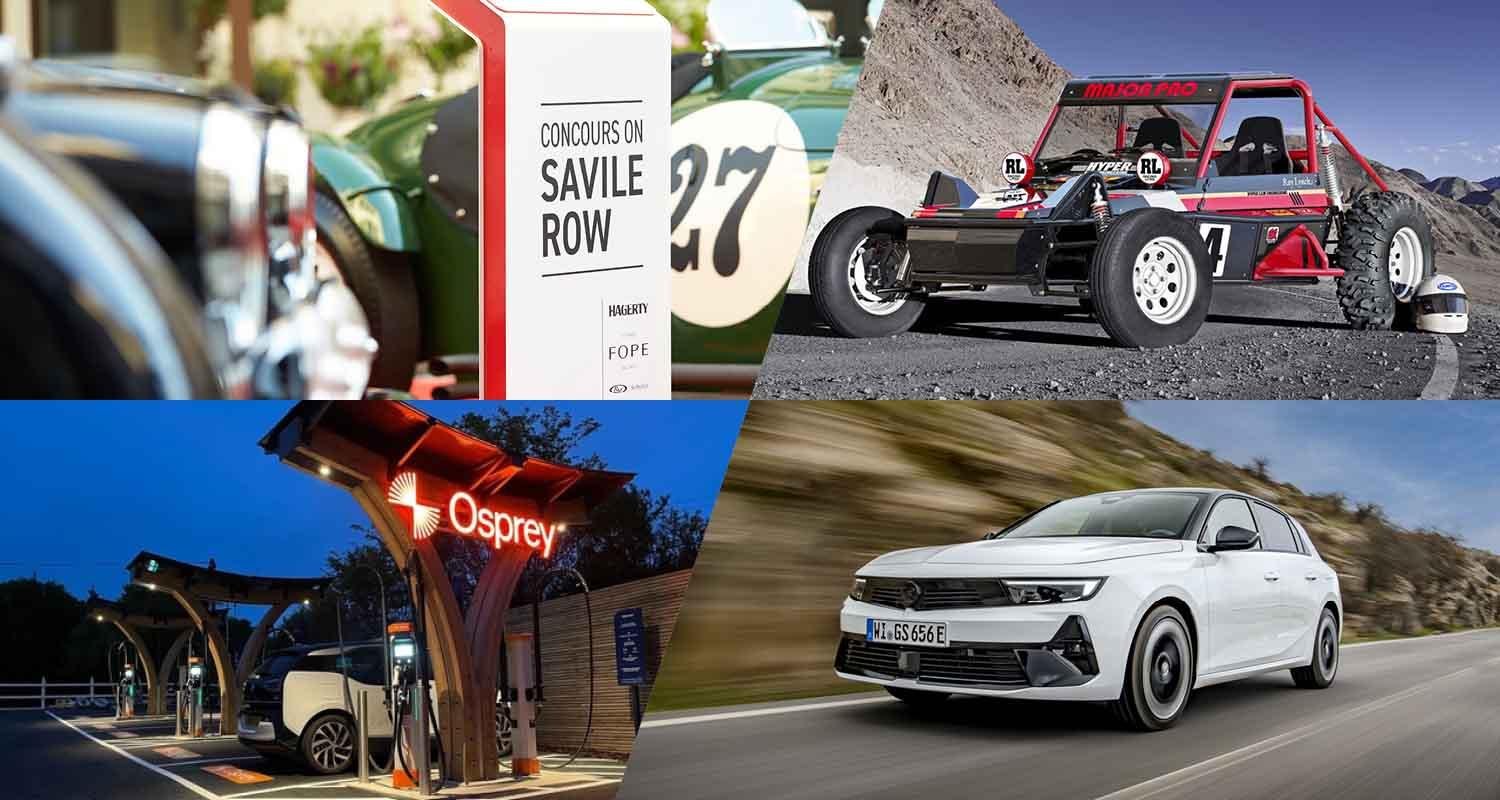 In other news, Honda announces its second electric vehicle and Osprey launches a new ultra-rapid charging hub just off the M25 in Essex
Want to get our news alongside other exciting updates emailed straight to your inbox? Then be sure to subscribe to our newsletter!
Little Car Company makes very big toy

The Little Car Company has revealed the Tamiya Wild One MAX Launch Edition, based on the iconic off-road remote control car from the 1980s.
Based on the original Tamiya Wild One (58050) radio-controlled car - first released in 1985 - the Tamiya Wild One MAX Launch Edition will be relaunched as a full-scale vehicle and limited to 100 examples before other versions are released.
The Launch Edition will be powered by eight removable battery packs, with a total capacity of 14.4kWh and a top speed of approximately 60 mph (96.5 km/h). Meanwhile, the kerb weight of the vehicle is expected to be approximately 500kg.
Existing deposit holders were asked if they would be interested in a road-legal option for the car, and 95per cent said yes.
The Little Car Company have therefore developed the Launch Edition to come with a road-legal pack in the UK and EU under L7e quadricycle regulations.
Audi SQ8 e-tron goes on sale

The Audi SQ8 e-tron is now on sale in the UK, priced from £97,500.
The S version is fitted with a unique triple electric motor setup as standard that develops 503PS and 973Nm of torque.
Both SUV and Sportback body styles of the SQ8 e-tron are available with specifications choices comprising Black Edition and Vorsprung.
Both the SQ8 e-tron and SQ8 Sportback e-tron make use of the larger 106kWh battery that delivers a fully electric range of up to 276 miles on a single charge.
Check out our vehicle guides
Learn the charging costs, speeds and times of your favourite electric or plug-in hybrid vehicles on our vehicle pages
Honda unveils all-electric e:Ny1

Honda has revealed its second fully electric vehicle, the e:Ny1. The e:Ny1 is built on Honda's newly-developed e:N Architecture F, a front-motor-driven platform.
The lightweight three-in-one integrated power drive unit, electric motor and gearbox offers a maximum output of 150kW and 310Nm of torque.
A high-capacity lithium-ion battery provides up to 412km of range and a DC rapid-charging capability that can go from 10 to 80% in 45 minutes.
Osprey launches new ultra-rapid charging hub

Osprey Charging has opened its latest ultra-rapid charging hub at The Halfway House on the A127 in Essex, just off the M25.
It features six high-powered EV chargers that can typically add 100 miles of charge in 15-20 minutes.
One of the UK's most accessible charging networks
Learn how easy and user friendly it is to charge at an Osprey charging hub in our dedicated guide.
Sustainable future talks to star at Concours on Savile Row

Concours on Savile Row, the free car show in the heart of London's tailoring district, will be hosting several talks concerning the future of mobility, whether through sustainable e-fuels or electric propulsion.
Everrati's Justin Lunny will be discussing the process of converting classics to electric propulsion at 3:20 pm, while at 5 pm Maeving co-founder Seb Inglis-Jones will take to the stage to discuss electric motorbikes.
Lunaz Design will follow, with what promises to be a lively debate about the electrification of a classic Bentley.
Renault previews all-electric flagship coupe SUV

Renault has unveiled the name of its future top-of-the-range coupe SUV.
Called the Rafale, completes the brand's line-up powered by E-Tech hybrid engines and built on the CMF-CD platform.
According to Renault: "The name is inspired by Renault's celebrated past in the air.
You have to travel back in time to the early 20th century to see the connection between Renault and aviation.
At the time, Renault was a pioneering manufacturer of combustion engines for cars, as well as for trains and planes.
In 1933, Renault took over Caudron, another manufacturer, and established Caudron-Renault.
All the planes were named after a notable wind.
Accordingly, the C460, a single-seater racing plane engineered to break records, was renamed Rafale in 1934."
Fisker partners with the Allego
Ahead of the production of the Ocean, Fisker has teamed up with the Allego system in Europe.
This means that Fisker Ocean owners can charge their cars with 100 per cent renewable energy across Europe.
Fisker's referred energy sources are solar, wind, hydro (small hydro preferred), geothermal, ocean movement, hydrogen and biomass (from renewable feedstock).
By using green charging, Fisker estimates a 40 per cent or more reduction in CO2 footprint during an EV's use phase.
Drinks Club on a charge with Mercedes-Benz

London-based premium beverage supplier The Drinks Club is one of the first firms to run one of Mercedes-Benz's all-electric trucks.
The 4x2 eActros 300 joins a fleet of 12 delivery vehicles, comprising trucks plated at 18 and 7.2 tonnes GVW, as well as 5.0- and 3.5-tonne vans, but is the operator's first battery-powered model.
The truck is based on a 4x2 eActros 300. Fitted with three battery packs, for a total installed capacity of 336kWh, it has a range of up to 205 miles (330km).
The batteries can be recharged from 20 to 80% in 75 minutes, using a 400A 160kW charger.
Compare your favourite home EV chargers
Take the faff out of choosing a home EV charger and compare their features, sizes and colour options side-by-side using our comparison tool.
Ford unleashes the E-Tourneo Courier

Ford has revealed the all-electric E-Tourneo Courier, one of ten all-electric vehicles Ford has committed to offering in Europe by 2024.
Ford describes the E-Tourneo Courier as "a five-seat multi-activity vehicle with a distinctive SUV-inspired design".
The all-electric model will arrive in 2024 for customers across Europe and will have a 100kW (136PS) e‑motor.
There are 11kW AC and 100kW DC charging options, with a typical 7kW overnight domestic charge from 10-100 per cent taking 7.8 hours.
At a DC fast charger, you can add 54 miles of range in just 10 minutes and charge from 10-80 per cent in under 35 minutes.
Carmakers demand action over trade tariffs

Ford and Jaguar Land Rover have joined Stellantis – owners of the Vauxhall, Peugeot and Citroën brands – to warn the transition to electric vehicles is hindered unless the UK and EU delay stricter "rules of origin", which are due to start next year, that could add tariffs on car exports.
Current post-Brexit rules require 40 per cent of an electric vehicle's parts by value to be sourced in the UK or EU if it is to be sold on the other side of the Channel without a 10 per cent trade tariff.
This is due to rise to 45 per cent, and because most batteries are sourced from Asia, vehicles made in the UK and EU are likely to end up with problems.
Stellantis said it may be forced to close some of its UK operations.