Weekly EV News Round-up 06.04.2023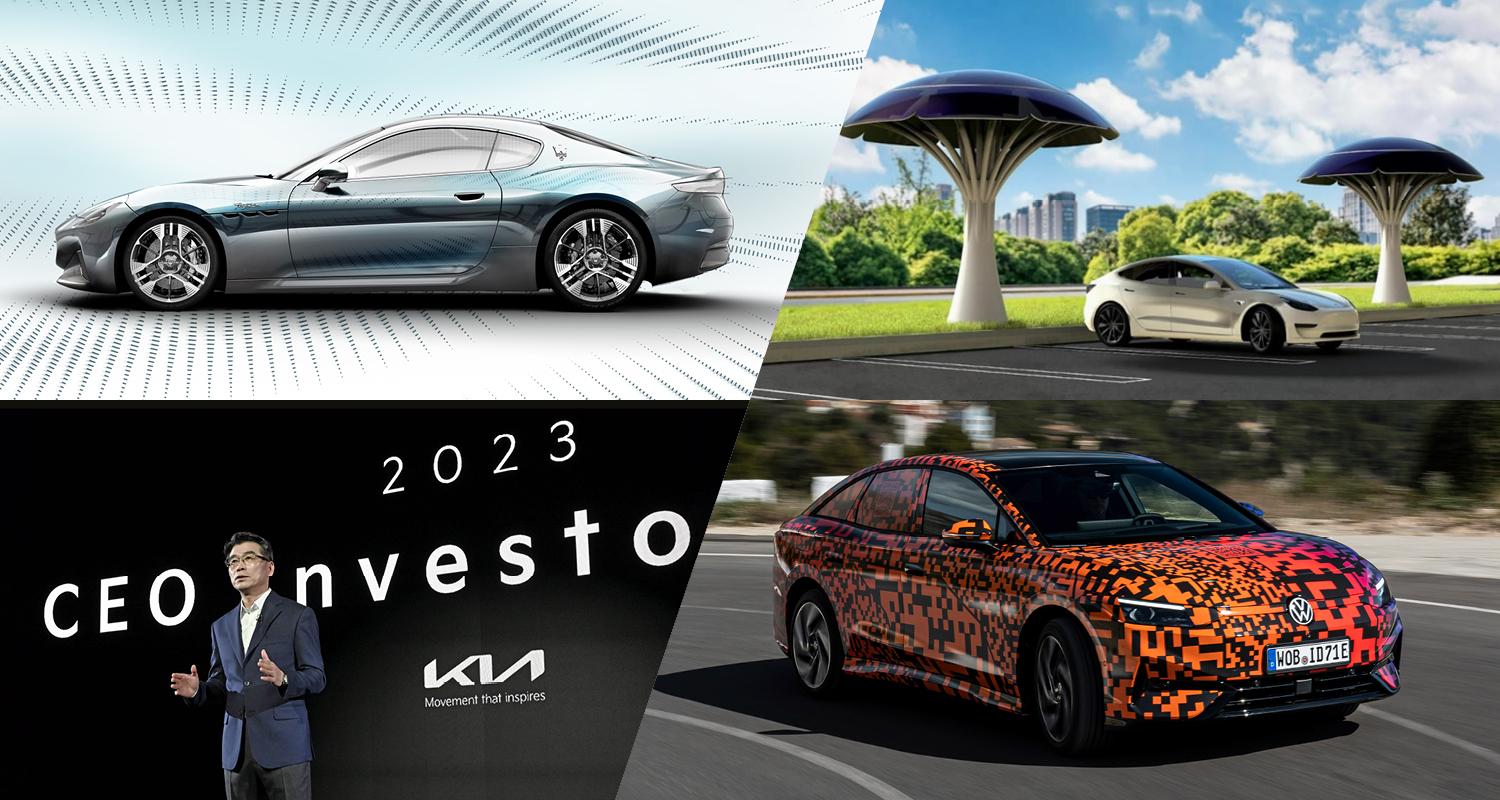 Solarbotanic's solar trees project gets selected for the company's accelerator program and Maserati is set to show off its first electric vehicle at Milan's fashion week.
Volvo improves efficiency and driving range for C40 and XC40

Volvo's C40 and XC40 have been treated to an increased driving range and greater efficiency. The revisions show increases of up to 64 miles in the distance that can be covered on a full charge – 342 miles for the C40 crossover and 334 miles for the XC40 SUV, equating to a 24% increase over the outgoing models.
Energy efficiency has also improved, with the most efficient C40 and XC40 versions now capable of up to 3.7 miles per kWh.
The improvements have come about via a switch from front to rear-wheel drive for the single-motor Recharge versions of both models and the adoption of a second-generation permanent magnet electric motor, offering 238hp, up from 231hp.
It is the first e-motor to be developed in-house at Volvo Cars. Battery performance has also been improved thanks to enhancements to cooling efficiency.
New Osprey chargers launched

The Osprey Charging Network continues to expand, with a new public charging site at the Heart of England pub and restaurant in Weedon Bec, Northampton and at the Star City amusement centre, Birmingham.
Star City has four high-powered EV chargers, while the Heart of England has two.
The chargers will add up to 100 miles of range in around 35 minutes of charge, depending on the vehicle and its battery.
Want £5 free charging?
Electroverse is the go-to charging app for paying and managing charge sessions using one service. Best of all, we'll give you £5 to get you started when you sign up below!
SolarBotanic Trees gets a boost

SolarBotanic Trees has been selected by the Central Research Laboratory (CRL) as one of seven startups to participate in its 2023 Accelerator programme.
The intensive three-month programme will see a dedicated team of product designers from CRL working on the development of the first commercial prototype of SolarBotanic's innovative solar 'tree'.
Its unique new Photovoltaic ("PV") leaf-shaped solar panel is designed to harness solar energy for charging and energy storage.
It will also encompass a sophisticated AI-driven energy storage and power management system (PMS), where trees can be linked and form part of a local grid, or feed into the main grid.
Maserati set to star at Milan Fashion Week

Maserati is bringing a special version of its all-electric GranTurismo Folgore to Milan Fashion Week. The One Off Luce is described as a statement of innovation and sustainability that literally reflects Maserati's experimentation and constant research.
"The outfit of this wonderful interpreter of the future is an original chromatic mirrored monolith, engraved with a dynamic laser-etched pattern and painted in an almost absent colour that makes the contours of the car blend into its surroundings. The interiors are a hymn to the future, made of Econyl as its only material. This regenerated nylon yarn results in a unique aesthetic metamorphosis and is combined with laser processing that expresses dynamism, the same as in the dashboard and panels."
The car will be on display at the Maserati store in Milan from April 19th onwards.
Find a local installer in your area
Home charging is one of the cheapest and easiest ways to keep your EV topped up. Find a local installer in your area below.
InstaVolt activates a record number of chargers in March

InstaVolt has announced it has activated a record number of chargers during March 2023, making it the firm's most active month to date.
This equates to 80 chargers behind activated, covering more than 10 different regions across the UK.
InstaVolt's largest charging hub, Stroud Park on the M40, and a six-charger site in Bristol, have been part of the upgrade programme.
VW ID.7 nears completion

Volkswagen has neared the end of testing for its new ID.7 saloon, its new all-electric flagship model. Its worldwide premiere is Monday 17th April, but there are just a few final test drives to be had in Spain.
The ID.7 is the first model based on the modular electric drive (MEB) platform and features the most powerful and highest-torque electric drive motor in a Volkswagen ID. model so far.
Volkswagen forecasts ranges of up to 430 miles (700km) and charging capacities of up to 200kW.
KIA targets EV growth

Kia has chosen to focus on electrification, with 2030's annual sales target of 4.3 million units comprising of 2.38 million electrified vehicles.
This is a 7.5 per cent (300,000 units) increase from the 2030 target announced in 2022, while the global sales target for electrified vehicles has increased by 15.5 per cent (320,000 units).
"In 2021, Kia went through a full-scale transformation of its corporate name, logo, product and design, as well as corporate strategy. As a result, our brand value has improved significantly, helping us to win a number of 'Car of the Year' awards in key markets," said Kia President and CEO Ho Sung Song.
"In order to become a Sustainable Mobility Solutions Provider, Kia needs to continue its efforts to strengthen Kia's brand identity and establish an innovative and customer-centric business model."
New electric van sales grow

According to the Society of Motor Manufacturers and Traders, the delivery of battery electric vans continued to grow, up by 32.7 per cent year on year.
The SMMT says an increasing choice of models makes switching to zero-emission vehicles more compelling, but that infrastructure remains the biggest barrier to uptake, with a lack of charging points that are both suitable in size and location for van use.
Ayro says yes to Saietta

Saietta has received an order for 3000 electric drive (eDrive) units from AYRO, a US-based low-speed electric vehicle (LSEV) company.
The Saietta eDrive units will power the new AYRO Vanish, a utility LSEV built to support campus mobility, last-mile delivery and micro-distribution.
It will enter production later this year.
Polestar reduces e-emissions

Polestar has announced it has reduced relative CO2 e-emissions per car sold by eight per cent compared to 2021 levels.
The company delivered nearly 51,500 cars in 2022, an increase of 80 per cent since 2021. While absolute emissions have increased as a result of the scale-up, relative emissions on a per-unit basis have reduced by 13 per cent since 2020.