Weekly EV News Round-up 04.05.2023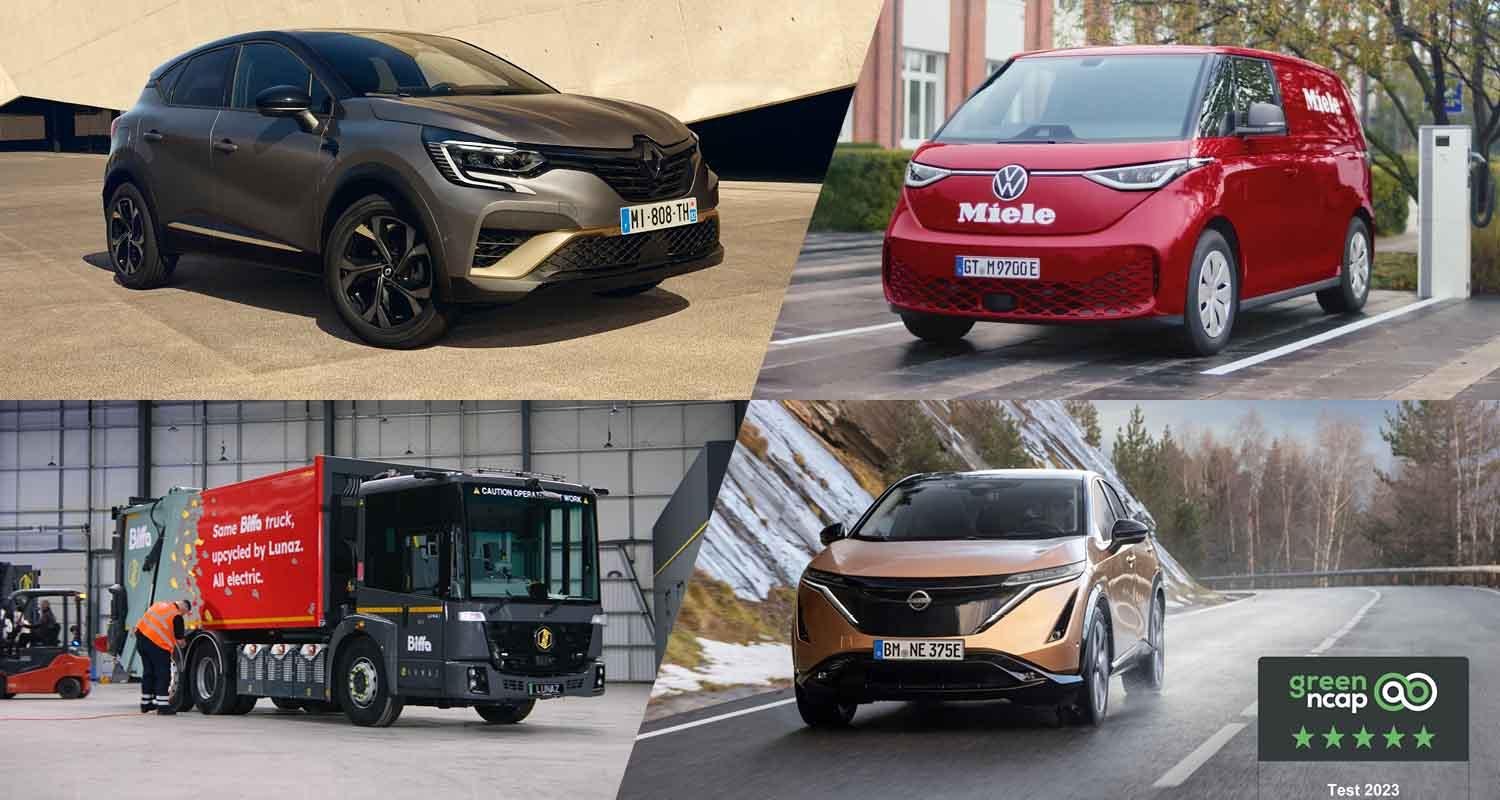 Osprey expands its charging hub portfolio to Bridgend and Hull and Nissan's Ariya gets a five-star rating at Green NCAP.
Want to get our news alongside other exciting updates emailed straight to your inbox? Then be sure to subscribe to our newsletter!
Inverted reveals electrified Range Rover Classic

Say hello to Inverted's Range Rover Classic.
This is number #0001 and is powered by a reconditioned low-mileage Tesla 80kWh battery module and Large Drive Unit.
It also features a new gearset, new oil pump and a limited-slip differential, while the original axles have been restored and uprated to reflect the significant increase in power – 450bhp and 600Nm of torque.
The brakes have been increased to Alcon items, and this particular car has been equipped with the optional road handling pack, featuring adjustable shock absorbers, anti-roll bars and 25% stiffer springs.
It has a range of 200 miles, a 6.6kW onboard charger and a CCS charger that can deliver up to 100kW charging, providing a 20% to 80% charge in around 34 minutes at a rapid charge point.
Each vehicle will be fully restored alongside the EV conversion. It costs £225,000 + VAT.
Join the Electroverse
Charge at most of the UK's biggest charging networks all under one account with Electroverse by Octopus Energy. You'll even get £5 on us to help you get started
Renault boosts fast-track delivery service
After a successful trial with the Captur full hybrid, Renault has expanded the service by adding Arkana in E-Tech engineered full hybrid 145 BOSE® Edition trim.
The service allows customers to take delivery of new Renault vehicles in just 30 days.
The Arkana was the first-ever Renault model to be designed from the ground up as a hybrid.
Osprey announces new sites in Bridgend and Hull
Osprey has announced its latest additions to its public charging network.
Three high-powered EV chargers have been installed at the Willerby Business Park in Hull, while two chargers have been installed at the Cherry Laurel pub in Bridgend.
Another Bridgend pub, the Llangewydd Arms, has received three chargers.
The 75kW rapid charge points can typically add 100 miles of range in just 35 minutes, depending on the model of the vehicle, its battery and charging rate.
Nissan Ariya gets a five-star rating at Green NCAP

The Nissan Ariya has been awarded the maximum five-star rating and a weighted overall index of 9.6 at Green NCAP.
Green NCAP is an independent initiative aiming to highlight the work of specific carmakers and models that go above and beyond minimum sustainability requirements, causing minimal harm to the environment.
The testing process analyses all aspects of a car's sustainability credential via three sections: Clean Air Tests, Energy Efficiency Tests and Greenhouse Gases Tests.
The Ariya scores 10/10 in the Clean Air Test and 9.3 and 9.5 in the Energy Efficiency Index and Greenhouse Gas Index sections of the rating respectively.
Find the perfect charger for you
Compare the feature of our chargers side-by-side and see which home chaging point is right for you using our charger comparison tool.
DriveElectric launches EV Hub system

DriveElectric has launched a new EV Hub system, which allows businesses to view the cost and carbon of electric vehicles and their charging in real-time.
The system includes CHARGE+ which automatically optimises the energy delivered to an EV, enabling businesses to charge electric vehicles with low-carbon electricity.
Businesses can monitor and manage fleet carbon usage, fleet costs and monitor charging behaviours to give a full picture of how green and efficient a fleet really is. It can also provide insights into behaviour patterns for every driver, every vehicle and every charging location.
Volta Trucks joins up with Nexyad for driver assistance system

Volta Trucks has teamed up with Nexyad to provide a real-time data analysis system to promote safer driving. The system uses vehicle information and driving conditions to provide a maximum prudent speed recommendation, taking into account the legal speed limit, road roughness, topography of the road, weather conditions and traffic. Nexyad's safety coach, SafetyNex also acts as a virtual co-pilot in the cabin while driving and provides anticipation guidance when necessary, helping to avoid emergency situations that may lead to an accident.
Miele cooks up first ID Buzz Cargo in the UK

Miele GB is the first UK company to receive five fully-customised Volkswagen ID. Buzz Cargo vans, specified to meet the company's needs. The vans have special features such as a custom shelving system designed to meet the requirements of service employees for stowing materials, replacement parts and tools. A centre console has also been installed with an integrated folding table to serve as the driver's workstation. The vehicle customisation was realised as part of a joint development process between Miele, conversion partner Würth, and Volkswagen Commercial Vehicles.
StoreDot closes in on mass production

StoreDot, which makes extreme fast charging (XFC) batteries for electric cars, has focused on localising its supply chain in the USA, Asia, and Europe, allowing it to serve its OEM customers in their own locations, reducing carbon impact, and enabling just-in-time production capabilities. XFC batteries and systems are now being tested by more than 15 automotive manufacturers, and more potential manufacturing partnerships are in the pipeline for this year.
Lunaz to upcycle and electrify Biffa bin lorry fleet

Lunaz has teamed up with Biffa to upcycle and convert its large vehicles to electric.
Each new vehicle will save 21 tonnes of embedded carbon versus replacing it with a new vehicle.
It's a multi-year production programme and is expected to see growing numbers of vehicles delivered to Biffa over the mid-term.
With an initial order of up to ten 26-tonne Upcycled Electric Vehicle (UEV) refuse trucks saving up to 210 tonnes in embedded carbon.
Secondhand EV prices continue to tumble

Despite an overall trend for increasing secondhand car values, EVs continue to contract in value.
The average value of a secondhand EV was £31,517, down 18.1 per cent year-on-year.
April marks the fourth consecutive month used EV values have fallen as the still-maturing electric market corrects itself in the wake of a huge influx of stock – supply was up by 246 per cent in April.
However, there was a 33 per cent increase in demand for electric vehicles in April, rising from 23 per cent in March.