EV News Round-up: June 2023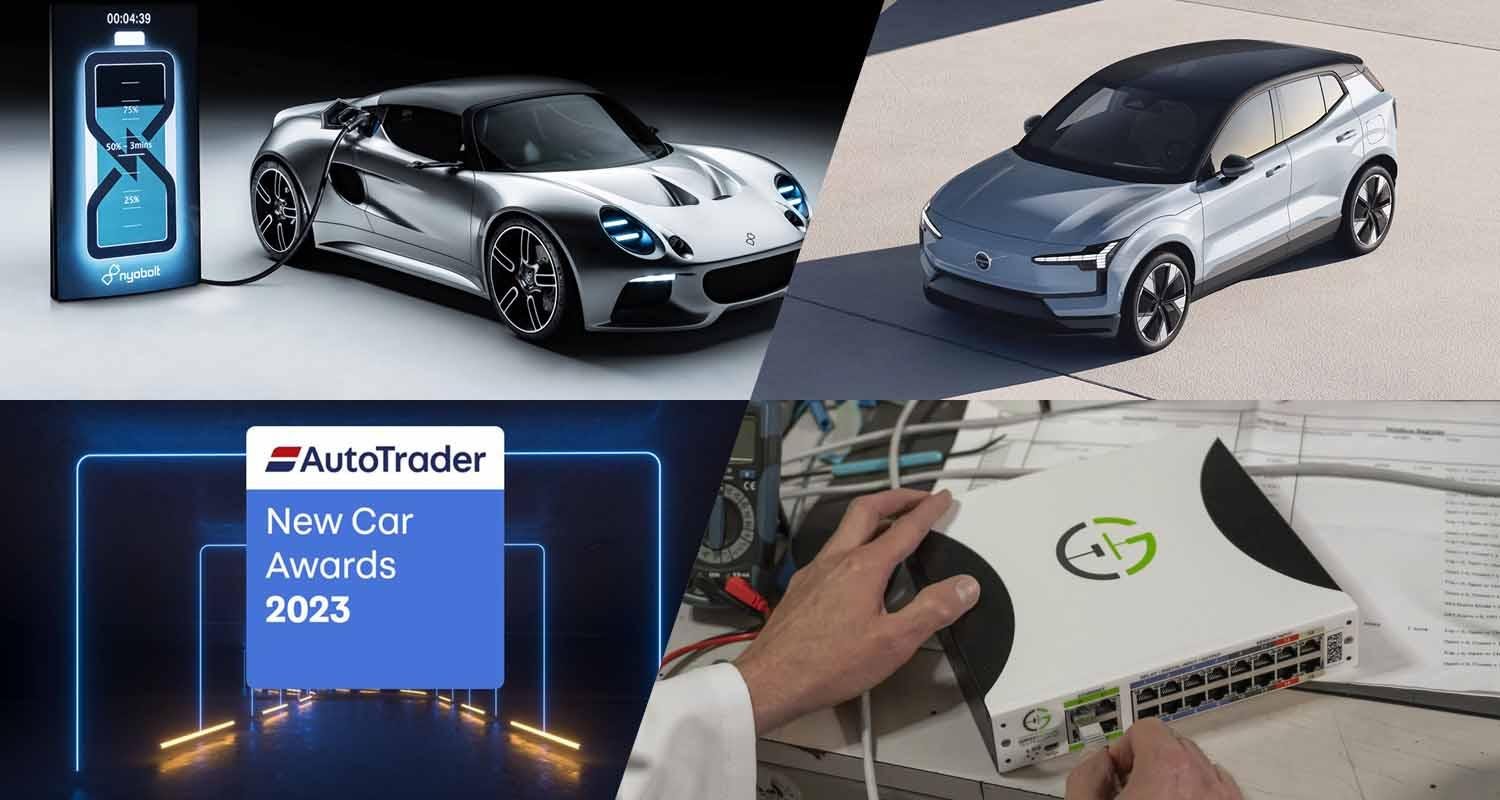 Volkswagen unveils their sizzling summer car finance offers and Nyobolt builds a car that can charge in less than 10 minutes
Want to get our news alongside other exciting updates emailed straight to your inbox? Then be sure to subscribe to our newsletter!
End of the road for RHD Tesla Model S and X

It appears the final nail in the coffin has well and truly gone in when it comes to the new Tesla Model S and X coming to the UK.
Recent reports confirmed hopeful Tesla owners were cancelling their orders for the new Model S and X, which are already out in the US and other regions as left-hand drive models.
There was still some hope, however, that the EV firm might change its mind. That hope has now been dashed as Tesla Model Owners UK confirmed it had held calls and face-to-face meetings with senior decision makers at Tesla to convince the manufacturer to make the RHD versions, but with no luck.
Low sales volume compared to the LHD market was blamed, but Tesla says UK customers can still order left-hand drive vehicles should they wish.
Drivers without access to home chargers aren't buying EVs, says Co Charger

The increasing availability and reliability of public charging is not helping to convince drivers without off-street parking to make the switch to electric vehicles (EV), according to Co Charger.
Joel Teague, the founder and chief executive of the app, which helps EV drivers in the UK share and rent out their smart home charger, believes there is a "resistance to this obvious truth" from both the UK Government and the wider charging industry.
He told Smart Home Charge: "The industry is fundamentally misunderstanding how the EV market will grow to include those drivers without access to off-street parking in the future.
Get a home charge point
Whether you plan to charge your own EV or rent it out for other drivers, there are plenty of reasons to have a home charging point installed.
Citroen plans £21,000 electric supermini

Citroen aims to launch an all-electric supermini that will drastically undercut its rivals. According to a report in AutoExpress, the new EV, which is likely to launch as a pure electric C3, is targeting a price under 25,000 Euros (£21,000) - around £10,000 less than the electric version of the Vauxhall Corsa.
CEO Thierry Koskas said: "We consider it a breakthrough in the market. We don't think that, at launch, there will be another car that offers its three main attributes – made in Europe, a proper car with all of the features that buyers expect, and under 25,000 euros."
Volvo launches the EX30, a sub £35k small electric SUV

Say hello to the EX30, Volvo's most affordable electric vehicle yet.
With a starting price of 36,000 euros (around £30,864), the EX30 comes in a choice of three powertrains.
An entry-level single motor edition, which includes a 200kW (268hp) motor and a 51kWh lithium-iron-phosphate (LFP) battery, which can power the car for up to 214 miles (WLTP).
A single motor extended range version, which includes the same engine as the entry-level vehicle but with a more powerful 64kWh MNC battery, which can power the car for up to 298 miles.
Finally, for performance enthusiasts, there's the Twin motor performance variant.
This version of the EX30 comes with a second 115kW (160hp) which pushes this car from 0-62mph in around 3.6 seconds, making it the fastest-accelerating Volvo to date.
Inside, you get a minimalist Scandinavian-styled interior which comes in a choice of four interior colours which Volvo calls "rooms", a Google integrated infotainment system and the latest version of Volvo's Park Pilot Assist feature.
Charging-wise, all models come with an 11kW onboard AC charger with the single motor extended range and performance versions having the option to upgrade their onboard charger to a 22kW version.
At a rapid charger, the entry-level EX30 charges at a rate of up to 134kW whilst the extended range and performance models charge at a rate of up to 153kW. Both rates charge their respective vehicles from 10-80 per cent in just under half an hour.
Electric cars continue to dominate Auto Trader's New Car Awards 2023

Judged by a panel of 220,000 UK motorists, the Auto Trader New Car Awards has shown that the popularity for electric cars is continuing to grow, with nine of the 23 awards being given to cars with zero-tailpipe emissions.
One manufacturer who shined particularly in the awards was Kia, claiming not only the highly sought-after New Car of the Year award with its EV6 but also the Best Value Electric Car with the electric Soul.
Other notable winners include Tesla which claimed three awards, amongst which was the Best Car for Long Distances, which to us shows that faith in the public charging network is growing.
A full list of all the winners can be viewed on Auto Trader's website.
Volkswagen turns up the heat with its summer offers

Drivers looking to get behind the wheel of an ID.4, ID.5 or ID.3 will be able to do so at an even better price thanks to VW's 0 per cent finance on personal contract plans (PCP) this summer.
The offer will reduce customers' monthly payments by up to £33 on the ID.3, £97 for the ID.4 and £101 for the ID.5.
All variants and trims of the ID.3 (excluding new models that came out after March), ID.4 and ID.5 are included in VW's offer, for which a minimum deposit of five per cent is required for a maximum term of 36 months.
The offer runs from now until the 2nd of October.
Learn more about your favourite electric vehicle
If you're still choosing an electric or plug-in hybrid vehicle, take a look at our vehicle guides to find out charging costs and more.
Nyobolt breaks the sub 10 minute charge time barrier

Cambridge-based battery charging developer Nyobolt can fully and repeatedly charge an EV battery in under six minutes.
According to Nyobolt, matching the convenience of filling up at a petrol station has been an impossible task for EVs due to how big, heavy and costly their batteries are.
As a result, EV costs can be unreachable for some buyers and some vehicles often weigh over two tonnes.
Nyobolt aims to solve this problem by developing a battery technology that is smaller, lighter and most importantly, able to fully charge in just six minutes with a range of up to 155 miles (250km).
The new battery technology is being showcased in Nyobolt's EV, which weighs closer to one tonne than two, uses a 35kWh battery and has been tested for over 2,000 charge cycles without significant performance loss.
Citroen opens the order books to UK customers for the updated e-C4 and E-C4 X

Potential buyers of the e-C4 and e-C4 x will now have the option to purchase their cars with a variety of two powertrains and three trim levels with first deliveries set to commence in July.
Offered exclusively on the E-series trim level, the e-C4 and e-C4 X can be purchased with a new powertrain that consists of a 54kWh battery (up from 50kWh on the original) and a 115kW (156hp) electric motor (up from 115kW or 156hp on the original).
Citroen says that the new powertrain can power the two car models for up to 260 miles (WLTP) on a single charge bumping up the range figure by 39 miles for the e-C4 and 37 miles for the e-C4 X.
Alongside an exclusive powertrain, the e-series trim offers a bi-tone Perla Nera Black roof, 18-inch Onyx Black 'Aeroblade' alloy wheels and a Dark Chrome Colour Pack as well as Citroen's new Hi-Fi system, advanced comfort seats that come lined with Alcantara fabric and finally, wireless phone charging.
The e-series of the e-C4 X will also come with heated front seats.
E-series models with the new powertrain will start from £37,195
Turn your Toilet roll making skills into battery-making ones

EVera Recruitment, Europe's only dedicated battery, electric vehicle and gigaplant recruitment consultancy detailed the most highly demanded transferable skills sought after by electric vehicle and gigafactory industries.
The manufacturing sectors that particularly stood out were those in toilet roll and food manufacturing due to the skills required in them being directly transferable to a battery assembly line.
Powder, paste and liquid handling skills are crucial to the Fast Moving Consumer Goods (FMCG) industries, particularly the food and pharmaceutical sectors where facilities are kept to the cleanest and most sterile of conditions to produce the very highest quality of products. According to EVera, these practices are not dissimilar to a gigafactory production line.
EVera went on to say that skills in setting up and managing reel-to-reel machines that produce toilet rolls are almost identical to those found in the production of cylindrical lithium-ion batteries where precision is critical to produce the most efficient of batteries.
EVera Founder and CEO Steve Doyle said "Somebody who understands part of the confectionary production process may have skills that are directly applicable to a specific phase of the battery manufacturing line.
They will know that running a production line can be like fine-tuning a musical instrument. There is undoubtedly an art to it."
Are you interested in working in the EV and battery industry? Head on to EVera Recruitment to see what exciting positions they have on offer.
Gridserve opens new innovation and operations centre

Based in Swindon, the GRIDSERVE Innovation and Operations Centre (GIOC) will be the home of the newly launched GRIDSERVE Technologies, a division dedicated to improving the charging network's Sun-to-Wheel ecosystem as well as improving solar energy generation, battery storage systems and electric vehicle data collection.
The opening of the CIOC and launch of GRIDSERVE Technologies follows the acquisition of IOT edge computing and energy management systems specialist Silver Power Systems (SPS).
Pete Bishop, CTO of GRIDSERVE Technologies, and founder of Silver Power Systems, said: "We're hugely excited about what we can achieve together and the opening of GIOC in Swindon.
The additional resources and investment will enable GRIDSERVE Technologies to further accelerate our unique technology development to better support GRIDSERVE's platform and our customers.
We've been welcomed with open arms and have been smoothly integrated into the GRIDSERVE team, allowing us to carry on delivering during the transition, with a renewed focus and significantly enlarged ambition."