Plugged In - Joe Fogel, Chief Executive of waEV-Charge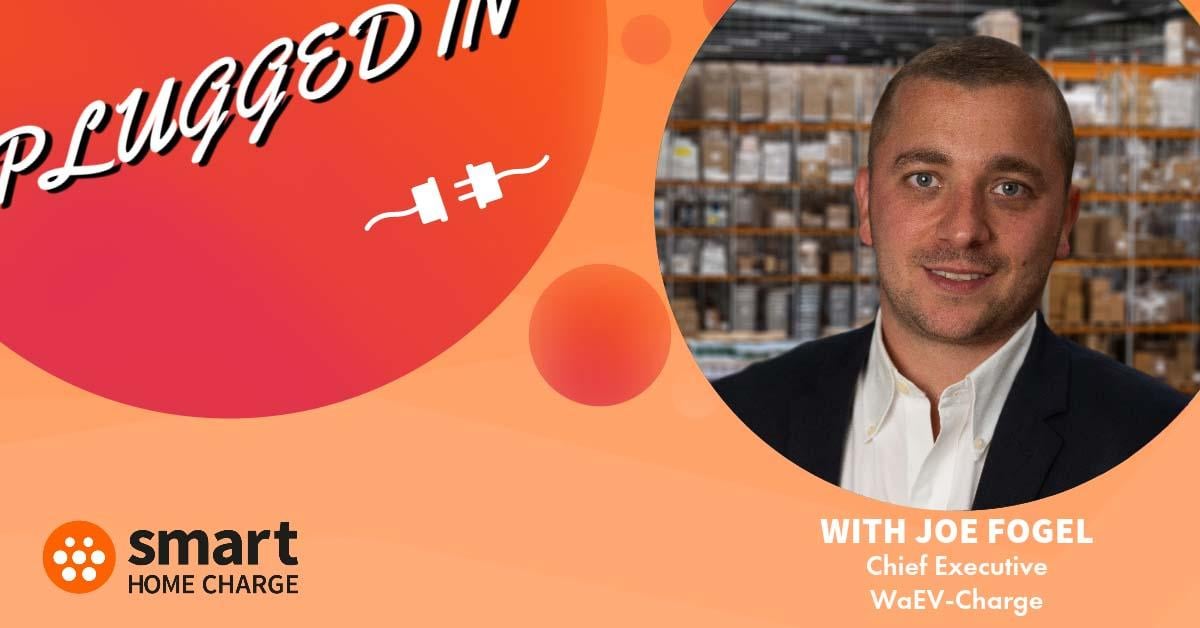 WaEV-charge was born from a desire to help house builders make sure they would be able to install smart home charge points as part of every new build development in the UK.
Joe Fogel, waEV-charge's chief executive, has a background in property and was working at parent company House Group Developments and was running into brick walls when trying to arrange for smart charge points to be installed at new build developments the business was working on.
Part S regulations, which the UK government introduced last summer to make sure new build developments have the provisions in place for electric vehicle charging, sparked the decision by House Group to establish waEV, led by Fogel.
He says: "We were reaching out to charge point manufacturers to let them know we needed a provider to put home charge points in place as part of adhering to the new regulations.
"We wanted proposals back from charge point manufacturers and we were hitting a brick wall."
This reluctance greenlit the decision by House Group to start manufacturing its own solution with its EV1 charger, powered by EV Energy, which is the lowest-priced smart home charger available through Smart Home Charge.
Fogel said he thinks the initial block on charge point manufacturers getting involved with new build property developments was a lack of clarity on detail behind the UK government's proposals, but also because they had their hands full with all the early adopters of electric vehicles that had applied for the home owner grant.
While it's taken almost a year for the regulations to bed in, Fogel confirmed that from June 2023 new build houses with off-street parking will all have a working smart home charger installed, ready to be used by homeowners that have an EV, or could even potentially rent it out through a peer-to-peer charge point sharing service.
WaEV has been working to deliver its EV1 charger to housing developments since March 2022 and also provides commercial charging solutions, but supplying chargers directly to EV drivers is becoming a fast-growing part of the business.
Fogel says: "Selling directly to consumers through Smart Home Charge has actually become the fastest growing part of the business.
"The housebuilding market has really slowed down due to high inflation, so at the moment a lot of those developments are on hold."
Check out our review of the EV1 and EV1i
Find out more about the waEV-Charge EV1 and EV1i in our written review!
The EV1 and EV1i

WaEV has two chargers, the EV1, which is its most popular model currently and the EV1i, which features a slightly different look. Both are fully up-to-date with the new smart charger regulations and are Office of Zero Emission Vehicles (OZEV) approved.
The Wifi and Bluetooth-enabled EV1 charger comes with a 5 metre tethered, Type 2 cable and is available in both 7.4kW & 22kW models.
The EV1i features an improved status light, making it easier to see from a distance and also includes an integrated socket for ease of storing the cable when not being used for a charging session.
By Fogel's own admission, when the EV1 was first launched, it came with a "pretty basic" app, but the company soon partnered with EV Energy to transform the capabilities of the charger and bring it up to date with the latest smart charge regulations.
EV Energy is a core partner with waEV and it means that every charger can be controlled with an app that is being frequently updated with new features, including solar and smart tariff integration, as well as granular detail on charging costs, carbon offsetting, smart scheduling and information on how renewable each charging session is.
A budget charger with premium features

Part of waEV's core is to be affordable due to its nature of being originally solely aimed at house builders that need a quality product that can be installed in high volumes at a good price.
It means the EV1 is technically on the budget side in terms of price, from £897 installed, but it's certainly not the lowest-priced charger on the market.
Fogel said: "In terms of price point we're a budget charger, but in terms of what we offer, you get more features and functions for around £300 less than competitors.
"There are other charge point manufacturers out there that haven't focussed on the quality of materials and componentry and when I see prices of £650 or below to have the charger and installation, I really do worry about whether those are the kind of products that are going to last.
"I think we're at a really good spot with the pricing where we're really competitive and offer a lot of great features, but we're also offering a three-year warranty and we're not compromising on quality."
Fogel fears that due to the fact the smart home charger market is becoming more crowded with those looking to capitalise on the growing EV market, there will be a "race to the bottom" on price, with consumers ultimately losing out with poor quality products.
He says: "I'd urge customers to think about what the aftercare is going to be like and what the true warranty will be if there's a fault if they're looking at considerably cheaper products when comparing chargers."
Understanding smart tariffs and a fast-moving market

Fogel believes another big challenge is the pace of development with smart energy tariffs and the lack of education and testing done with their implementation.
Fogel said: "Utility companies can be very innovative, but I think there needs to be more work done between the energy companies and the vehicle manufacturers to make sure these intelligent tariffs are working well and tested thoroughly."
WaEV has unfortunately had situations where an EV is plugged in and because it's waiting to charge at the cheapest time of the night, which could be three or four hours after the vehicle was originally plugged in, the EV itself is going into a sleep or standby mode to preserve battery power and so isn't actually able to accept power from the charging unit.
It means customers can wake up in the morning expecting the battery on their EV to be at 80% and it's still at 10%.
Fogel explains: "Customers have called us because they think the charger is faulty, but it's actually the car itself that has gone to sleep and won't accept a charging session.
"We luckily have the software and reporting to show customers what is happening and that a charge has been delivered, but not accepted."
Fogel says there has been a mixed response from vehicle manufacturers about this problem, with some accepting that software updates are needed, while others refuse to acknowledge the car causing the issue.
He says: "Smart tariffs are still very new and things are moving so quickly. The smart charging regulations have only recently come in, so these off-peak overnight sessions are still pretty new for everyone.
"The immediate response from manufacturers is usually that the cars are never the issue, but when you get high up enough in the technical and engineering teams within manufacturers, they know it's a problem."
There have been manufacturers that have sorted this though, with Fogel highlighting Polestar as an example.
The good thing too is that Fogel confirmed that if a vehicle manufacturer can understand the issue with smart tariffs, then many vehicles can be updated over the air with software updates to remedy the problem.
He adds: "This issue around smart tariffs not speaking intelligently to the EVs is still an area that needs addressing more widely, particularly as more and more people make the switch to EVs.
"That's the danger at the moment. The industry is running before it can walk. I'm really all for these innovative tariffs, but they have to work and be tested with EVs.
"Every customer that we've asked is either on an EV-specific energy tariff or they're thinking about switching to an EV smart schedule tariff.
"So this spotlight on smart tariff scheduling is only going to get brighter. I want to see these core issues focussed on and resolved."