Plugged In - with Dora Clarke of Osprey Charging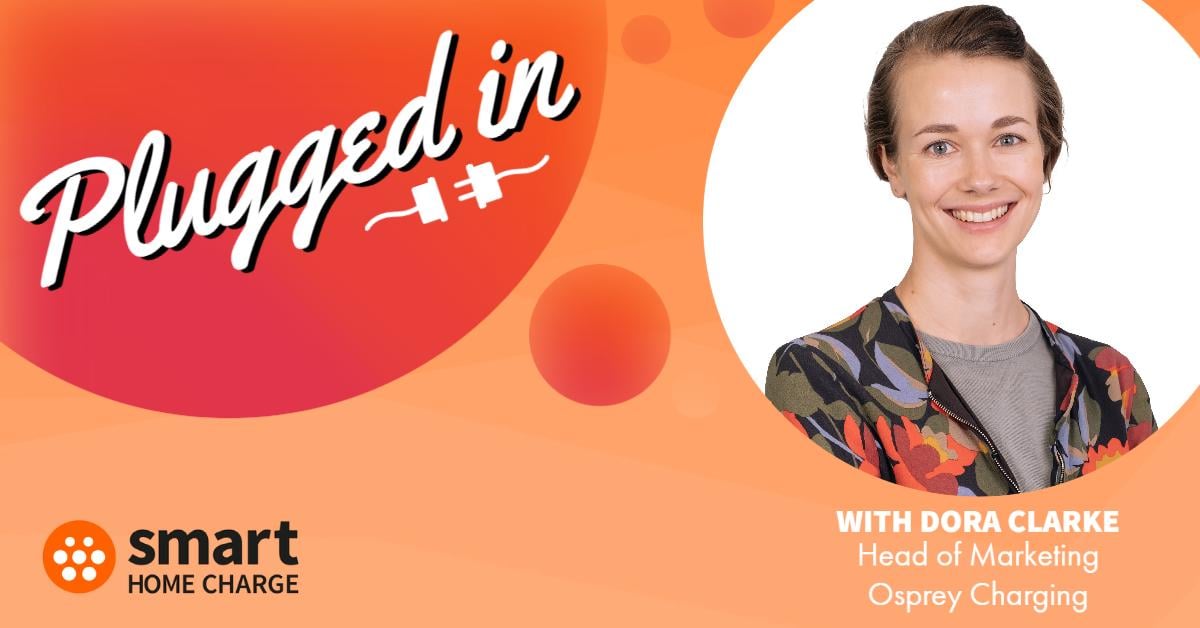 Hot on the heels of launching its new charging hub in Croydon, and an impressive showing in a customer satisfaction survey, we catch up with Osprey's Head of Marketing Dora Clarke to find out the key behind their success, what they think of Gridserve, and ask how safety concerns at charging locations can be addressed.
It's not easy to be a success in the world of public charging. Between the usual complaints of lack of infrastructure, poor reliability and substandard customer service, you could forgive marketing teams for settling with a target of "damage limitation".
Yet, Osprey has set its sights much higher than that and is set to truly take flight thanks to a multi-million investment to expand its network with the aim of having 1,500 rapid chargers across 150 rapid charging hubs by 2025.
Reliability and responsiveness
It's also a network already popular with EV drivers judging by the latest Zap Map survey which placed Osprey third when it came to customer satisfaction.
It's a result that Head of Marketing Dora Clarke is very proud of, especially given Osprey (previously Engenie) underwent a rebrand not that long ago. So, how has this rapidly growing operator kept the punters happy?
"Our growing size certainly helps. The bigger your network coverage is the more likely it is people will remember your brand. There is increasing recognition that Osprey Charging locations are associated with retail or Marston's pubs and we have built up a lot of trust that those sites will work. Ultimately, it comes down to reliability."
There is that word again. Reliability has become a key issue for EV drivers of late or at least the calls for improvements to charging hardware and customer service have become louder.
While expansion is certainly still needed, the UK has arguably reached a tipping point where the bigger question is "Will the charger I'm heading to work?" rather than "Is there a charger nearby?" at all.
Dora explains while there are a lot of technical issues that can occur between the charging hardware, the back-end operating system, and the car, customers really aren't interested in this detail.
After all, what is more frustrating than not being able to charge? Not being able to charge and not being able to contact the operator about it, that's what.
Dora says Osprey focuses a lot of time and money on solving the technical gremlins but it has also prioritised a customer service team that can offer round-the-clock support to drivers.
"We've spent a lot of time bringing in in-house expertise and building a relationship with the hardware manufacturers so we can solve those technical issues, but the key for Osprey has been to be responsive to our customers.
"We have a very quick turnaround when it comes to helping customers and we're quite open in explaining what has gone wrong and what we're going to do about it. Even if the charger can't be fixed there and then, we want to avoid frustrating the customer even further and help them get on their way. We want a consistent charging experience and a consistent customer service experience too."
You're only as good as your last charge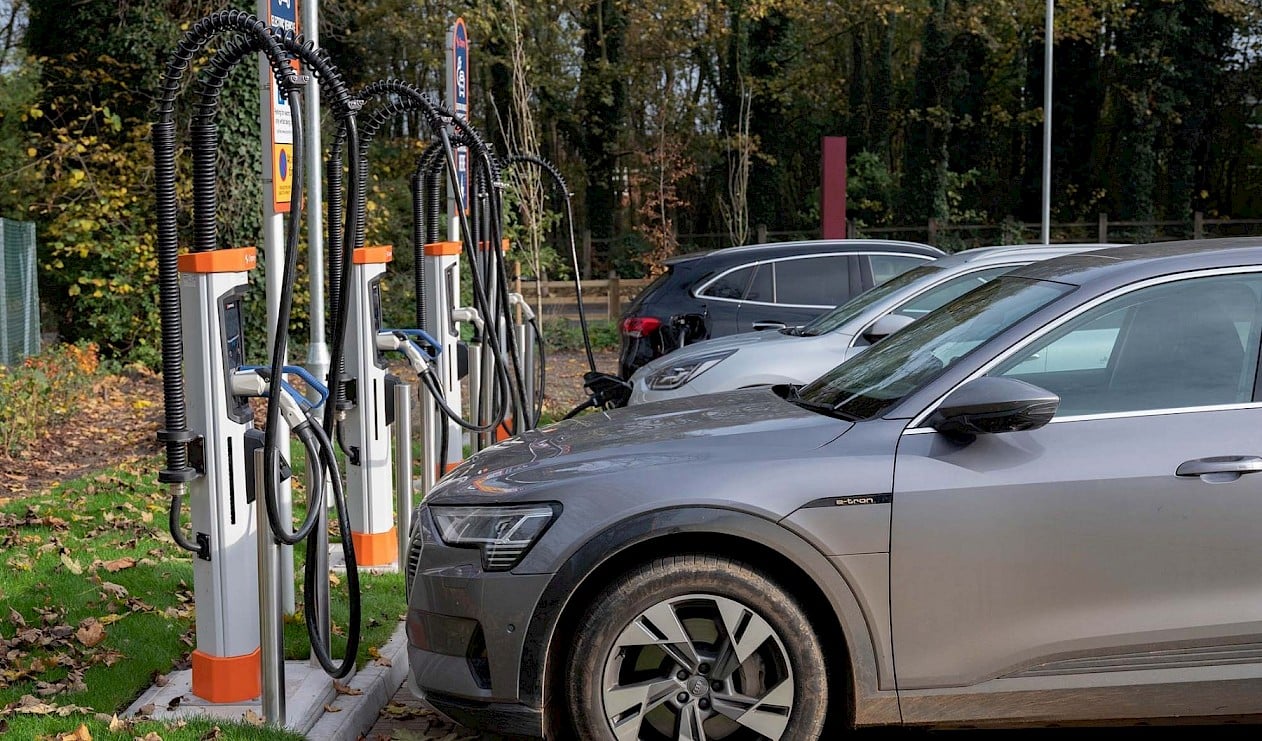 The customer experience is, of course, king and the challenge for network operators like Osprey is to provide a consistent service.
Drivers will inevitably remember their bad charging experiences so any goodwill from a previously flawless service can be dashed in an instant. That means any charging network operator can go from being lauded as a pioneer to being lambasted as a pariah in a very short timeframe indeed.
Case in point; Gridserve received rave reviews for its ambition and incredible "Electric Forecourt" at Braintree and deservedly so. This was how you did car charging and it's still held up as a beacon of EV charging light today.
But it didn't take long for the brand to take a bashing after it took on the ailing Electric Highway of service station chargers. Despite significant investment to upgrade the network, Gridserve soon felt the wrath of drivers who felt let down by what they saw as a slow rollout of the new units that were promised even though it had only bought the network from Ecotricity in the summer of 2021.
I asked Dora what she thought of Gridserve's approach to EV charging infrastructure and if she felt the criticism aimed at it over its management of the Electric Highway was unjustified.
"I've been to the Braintree electric forecourt. What they've done is incredibly good for the industry. It shows we can have a really pleasant airport-lounge type experience with huge availability and power of charging.
"The Electric Highway is an incredibly valuable network because of the service station locations so I can see why they took it on. I think the problem is Electric Highway as a brand ended up with such a poor reputation for reliability by the time they took it over. So, it was fairly inevitable there was going to be an impact on Gridserve's brand, but I think it will pay off in the long term for them and as painful as some short-term brand hit is, it's a good investment."
Better chargers. More hubs.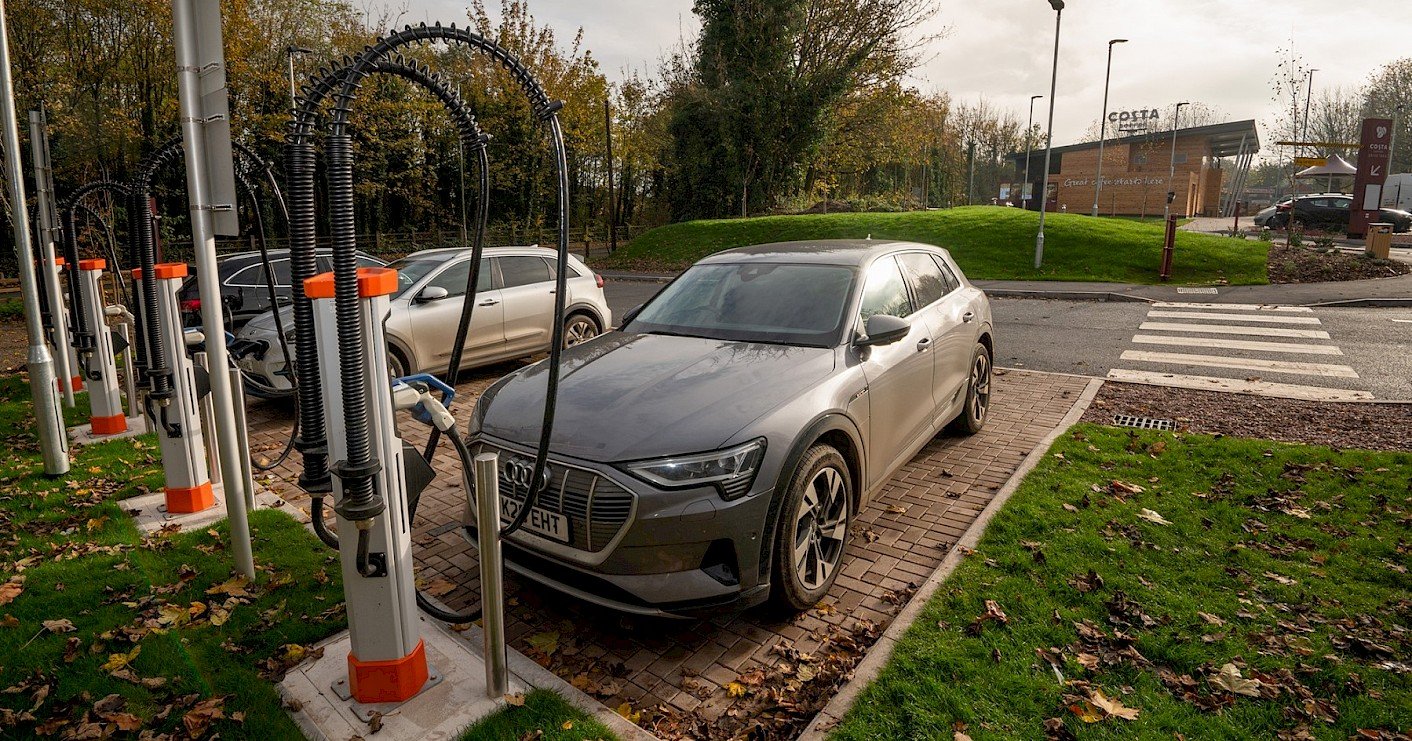 While Gridserve may have grabbed headlines with its impressive Electric Forecourt, Osprey has big plans of its own having recently unveiled its brand-new "game-changing" chargers, which promise to deliver more reliable charging speeds.
To achieve this, the Kempower-made units dish out the available power at the site more fairly. Simply put, a Nissan Leaf, for example, won't hog 100kW of available power despite only being able to max charge at 50kW. Instead, the new Osprey chargers will make that remaining 50kW available for another vehicle.
The net result is a higher throughput as more cars can be charged at their max rate, meaning charging sessions should finish sooner, and hopefully reducing queues.
It's all about providing an improved charging experience for the customer according to Dora, but that doesn't mean Osprey has taken its eye off the ball when it comes to scale.
"We're picky when it comes to location"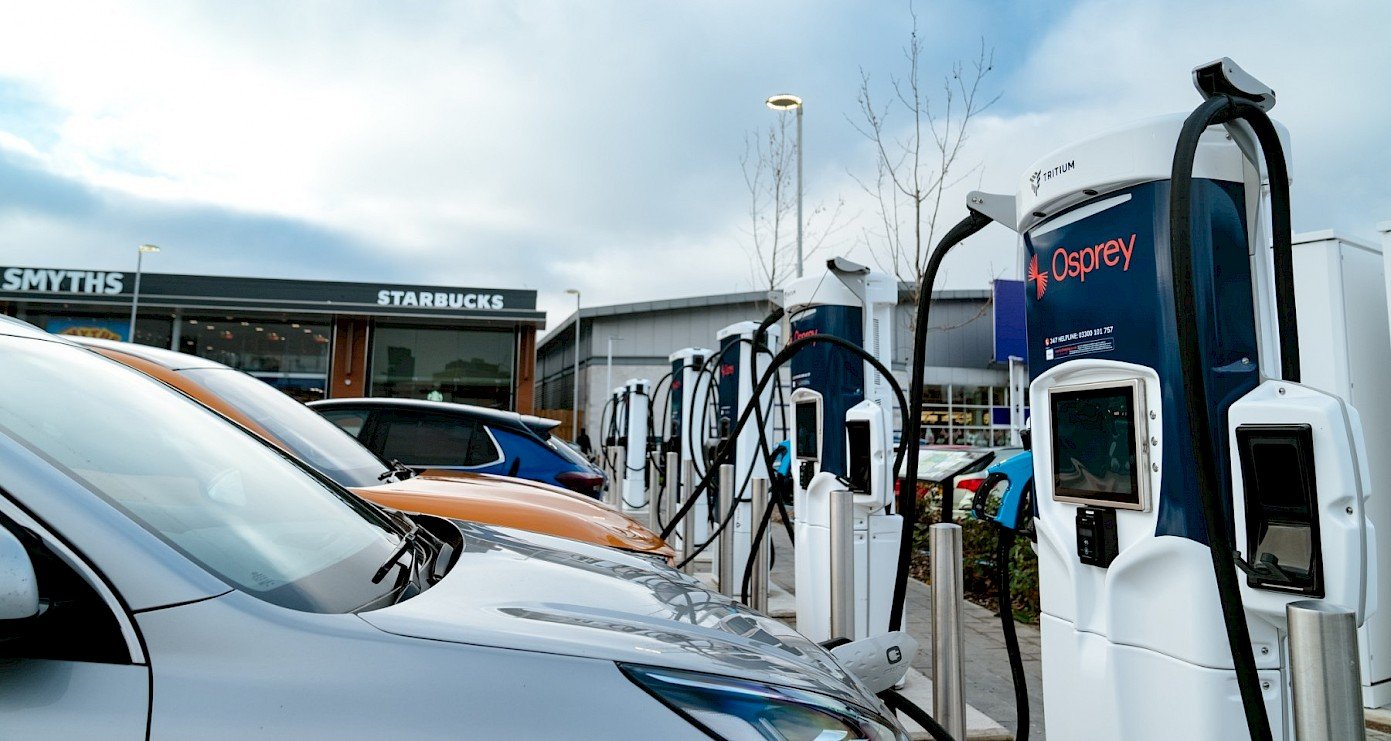 As well as improving overall charging speed, there are plans for 150 new charging hubs by 2025 thanks to a £75 million expansion programme.
This multi-million pound investment has already seen new hubs open in Wolverhampton and most recently in Croydon – its first hub in London. Dora was particularly proud of the Croydon opening.
"It's an incredibly busy site. It's a classic city road site which needed a high level of infrastructure - there's a big green substation that we had to install in order to put power into the chargers because they're 75kW and 175kW chargers, so the site needed a big grid connection. Now it has launched we've been able to demonstrate this sort of site is possible and that's what makes it so important."
Dora goes on to explain how selective Osprey is when it comes to choosing car charging sites. As well as ensuring drivers have nearby amenities, scalability is also factored in so existing sites can expand.
"We're definitely picky and we have turned down sites and portfolios in the past because we don't believe they're good enough for customers to want to spend time there because even with the latest cars and chargers, wait times can still be 20 to 40 minutes."
Safety concerns
Choosing a car charging site isn't just about whether that's a major road or coffee shop nearby, though. The locations of chargers have more recently been under the spotlight due to ongoing safety concerns for those using them.
Motoring journalist Ginny Buckley is one such voice who has highlighted a concern over poor lighting and generally dingey locations.
Although Osprey has not been singled out, I asked Dora if she had experienced this issue first hand and whether the solution was simply better lighting.
"I think the situation is improving. There's a legacy issue where rapid chargers used to be one or two-unit sites, so they could slot in relatively small spaces. For example, I've been to chargers that are around the back of a petrol forecourt or on the edge of a retail park or something like that.
"I think time of day comes into it as well, because obviously if it's daytime at a retail park, you're fine. But if everything's shut and it's a darker wintry evening, then it is a different kettle of fish."
Dora went on to explain that bigger charging hubs, like Osprey's, and the increasing popularity of EVs should mean better sites overall and more people coming and going.
"If you're building bigger hubs you're going to put in a bigger set of lights and probably signage. I think we're almost solving it, not because we're trying to solve the safety thing, but because we're responding necessarily to the demand for more chargers. More chargers, bigger sites and higher power means the site by necessity needs to be in a better, more frequented, well-lit place. As I mentioned, we're quite picky with locations anyway and safety is certainly a major factor when choosing the right site."
The future of charging – is it bright?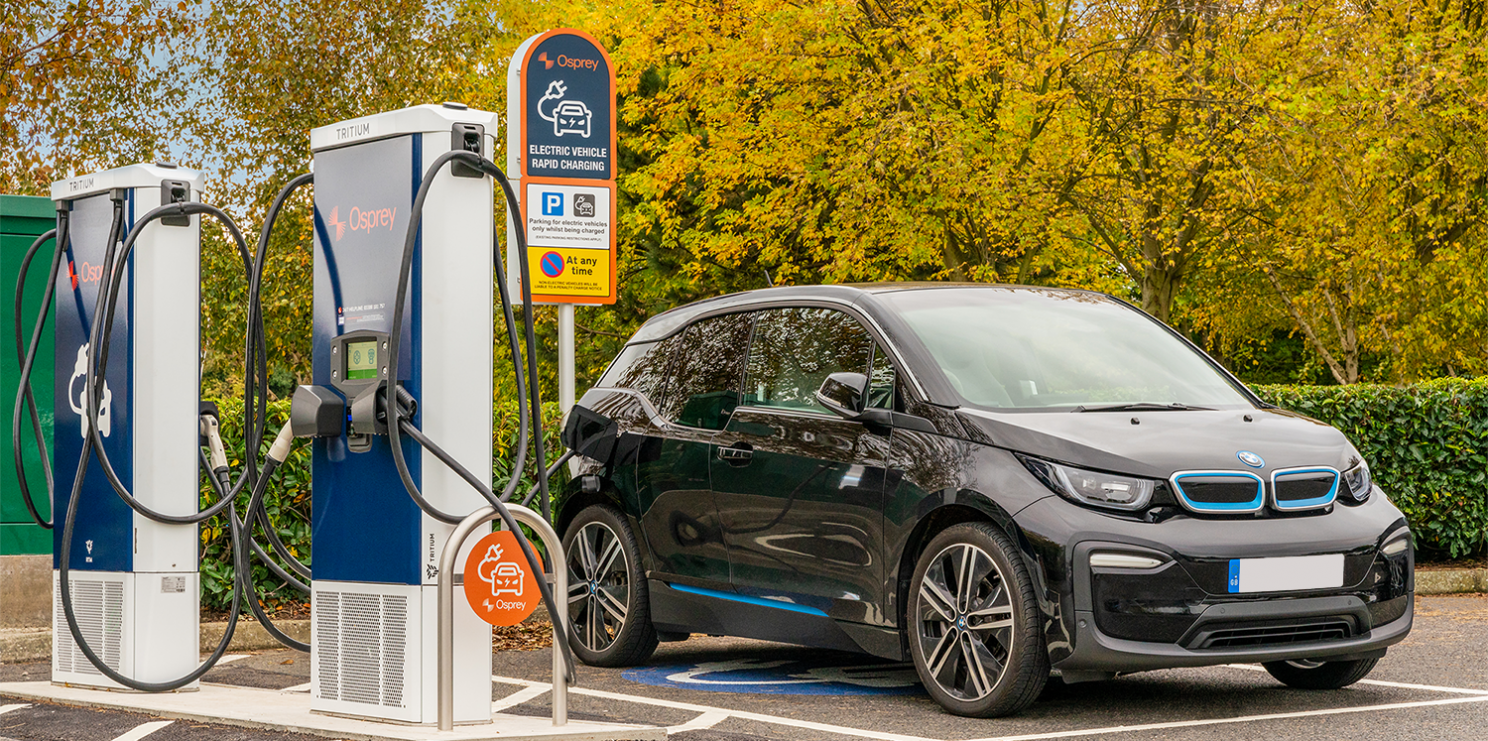 Meeting the growing demand for public charging is clearly a team effort that Osprey is a key part of. But there's a long road ahead. Is Dora optimistic for the future of UK charging?
"I often go back to the idea of a charging ecosystem, which has a number of different solutions. Some of those obviously are home or at workplaces, while others are at destination and en-route sites.
"Ospreys place within that ecosystem is providing rapid and ultra-rapid charging at places where people spend time, whether they're en-route to another location or they want to be there for another reason. That's our kind of our niche and where there's so much potential still."
Dora goes on to explain that we shouldn't rush to install lots of solutions without knowing exactly what problems we are solving, especially as driver behaviour could still shift.
"We don't necessarily have the answer for how many of each type of charger we're going to need yet. It's such a new and growing market, and a fundamental shift in the way we refuel, which makes it a hard market to predict. But I'm confident that we're flexible enough to meet the changing needs of our customers - we have some brilliant sites in the works and lots of good partnerships coming up that put us in a great position moving forward."