Electric vehicle charging etiquette - The unwritten rules of public EV charging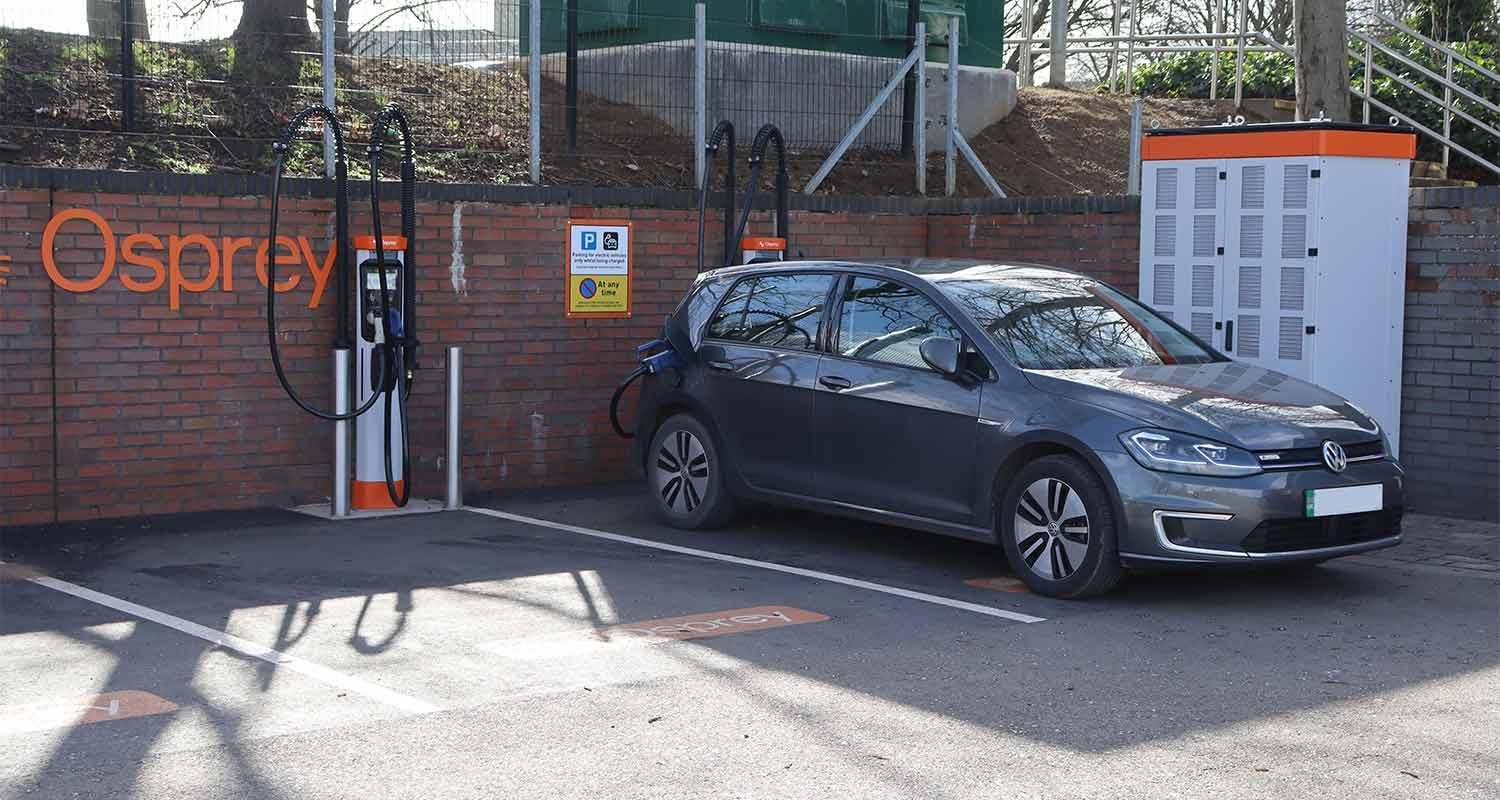 Public charging points are going to get progressively busier as more people make the switch to electric vehicles (EV), so it's worth thinking how all EV drivers can be more considerate when topping up.
Hopefully you're in a position where the majority of your EV charging can be done at home (we can help with an easy estimate if you're looking for a home charge point installation).
However, it's likely there will come a point for all EV drivers where you might have to charge at either a destination charger (somewhere that charges at a slower rate) or a rapid charger.
Charging using public infrastructure can take a little bit more planning and there are some rules to follow to make charging less stressful for all concerned.
Get £5 free charging
Start charge sessions with one app or card and combine all your charging bills into one with Electric Universe. Best of all, get £5 free charging when you sign up with our link below.
If you are not an EV driver, please don't park in an EV charging bay
One of the biggest annoyances for electric vehicle drivers is when drivers of petrol or diesel cars park in an EV charging bay. This is called ICEing as it references s petrol or diesel car with an internal combustion engine (ICE), as apposed to electric vehicles.
ICEing topped the list as the most annoying habit on Smart Home Charge's EV etiquette pet peeves survey, with 58.5% of respondents citing it as their biggest annoyance.
It's pretty obvious why. An EV charging bay is for charging, not parking and having a vehicle there that can't even charge anyway means EVs can't charge when they need to.
And if you are an EV or plug-in hybrid driver, please don't park in a charging bay when you don't intend to charge
ICEing is the worst, but some EV and plug-in hybrid drivers have been known to park in a charging bays too, even if they have no intention of charging. Some EV drivers view charging bays as dedicated parking for zero emission vehicles.
This is the second most irritating habit in Smart Home Charge's poll, taking 54.9% of the vote.
Even if you have an electric car or plug-in hybrid, if you have no intention of charging, don't park in a charge bay.
If you can, move your car once its substantially charged so that other drivers can use the charge point
One of the ways you can be more considerate as an EV driver is to move your vehicle from the charging bay to another space once your vehicle has enough range for what you need.
This may not always be possible depending on the situation, but if it's possible, moving your EV after it has enough charge frees up the charging bay for someone else to use.
Please park properly within the charging bay so as not to obstruct others from using neighbouring charge points
Over a quarter of respondents to our poll (26.1%) cited that blocking access to charging points due to bad parking is something that happens pretty regularly.
Hopefully if you're in a situation where bad parking has blocked access to a charging bay, another one will be available.
Don't jump the queue
This is one of the trickier elements to unpack with public charging.
As the UK's public charging infrastructure is ramping up to cater for the increasing number of drivers making the switch to electric, there is the possibility of queues at charging bays for those looking to charge.
There's an established queueing system at the petrol pumps. If it's busy, you line-up behind the queue at the pump and wait your turn.
However, there's not really a set queuing system for EVs at all charging bays.
It might be that all the charging bays are full and there are other EVs elsewhere in the car park waiting to drive into the space as soon as it's vacated. Who turned up first and how do you determine that without getting into an argument? Everyone wants to charge and get on their way.
The advice here is to try and be as considerate as possible. Be patient, stay calm and politely ask or chat with your fellow EV drivers and allow extra time if you know you're on a longer journey where you'll need to top-up.
Choosing a location that has a higher number of charging points is also going to potentially lessen any issues with waiting for a charge point to become available.
There are some dedicated charging hubs like Gridserve's Braintree location that have a dedicated queuing system for those waiting to charge.
The Braintree site has also just installed a new ABB 360KW charger that is capable of adding 100 miles of range in under five minutes.
Some charge point operators (CPO) have also introduced waiting lists that link to smartphone applications to help to organise what can occasionally be a bit of a chaotic scenario.
Rules to follow when at a rapid charge point

Rapid charging is great for quickly adding miles back onto your EV, but it actually creates some additional challenges.
If you're using a rapid, it's not the great etiquette, as outlined above, to leave your EV plugged in and not come back to move it.
Grabbing a coffee and a comfort break at a service station is fine, but leaving a vehicle for an extended period of time blocks the rapid charge point from being used by another driver.
Depending on the speed of the charger as outlined above, an ultra-rapid charging session could be as little as five to 40 minutes. If you've plugged in and you know how long it's going to take, factor that in when you arrive so you can move your car after it's finished its charging session.
Avoid charging to 100% at a rapid charge point
Rapid charging points are set up to quickly add range up to 80%, but the rate of charge then slows for the remaining 20% to protect the integrity of the battery.
Charging to 100% is possible, but it may affect the long term range of your EV and it also means your vehicle will be sat taking up space for another EV that needs to charge.
Topping up to 80% will most likely give enough range to for EVs to get to their next or final destination.
Compare rapid charging costs
Find out how much it costs to charge at the UK's biggest rapid charging networks.
Don't use a rapid charge point as a destination charger
This is another obvious one, but rapid chargers have been created to add a lot of miles back to your EV quickly.
Parking for an extended period of time at a rapid charger just takes the bay away from someone else that needs it. Once your EV is charged to 80%, it's time to move on.
Don't stop someone else's charge session
Believe it or not there are cases where other EV drivers are using the emergency stop function at charge points to end other drivers' charging sessions.
Some rapid charge points make you tap your contactless payment method on the reader to stop charging sessions, but some don't.
Some drivers may leave a note on their car to say it's OK to unplug, but generally speaking it's not OK to unplug someone's charging cable.
Tips for helping other EV drivers

While some of this guide has highlighted some pretty selfish and inconsiderate behaviour, not all drivers should be tarred with the same brush.
If you're stuck and not sure about what to do, try asking another EV driver for help.
Help newcomers out if they are stuck
Likewise, if you're been driving your EV and using public charging stations for a while, help others and ask if anyone needs some help if they're looking a bit perplexed.
Report an out-of-order charge point
Another way to take collective responsibility and to help the EV community is to report when a charge point isn't working.
Both Zap-Map and Bonnet have the option to report out of order charging points.
It's also worth going directly to the CPO to inform them of a faulty charge point so it can be fixed as quickly as possible, either with a remote restart or to get an engineer out for a fix.
When you're done charging at a tethered charging point, remember to put the cable back properly in the holster
Not only is keeping the cables all tidy just helpful for the next person, it's also really important for those with limited mobility or disabilities.
The design of some charging points isn't always designed in the best way for accessibility, but it's still usually more preferable to having to gather up the charging cable that's been discarded on the floor.