Customer Stories: "I was confident Smart Home Charge would do a good job"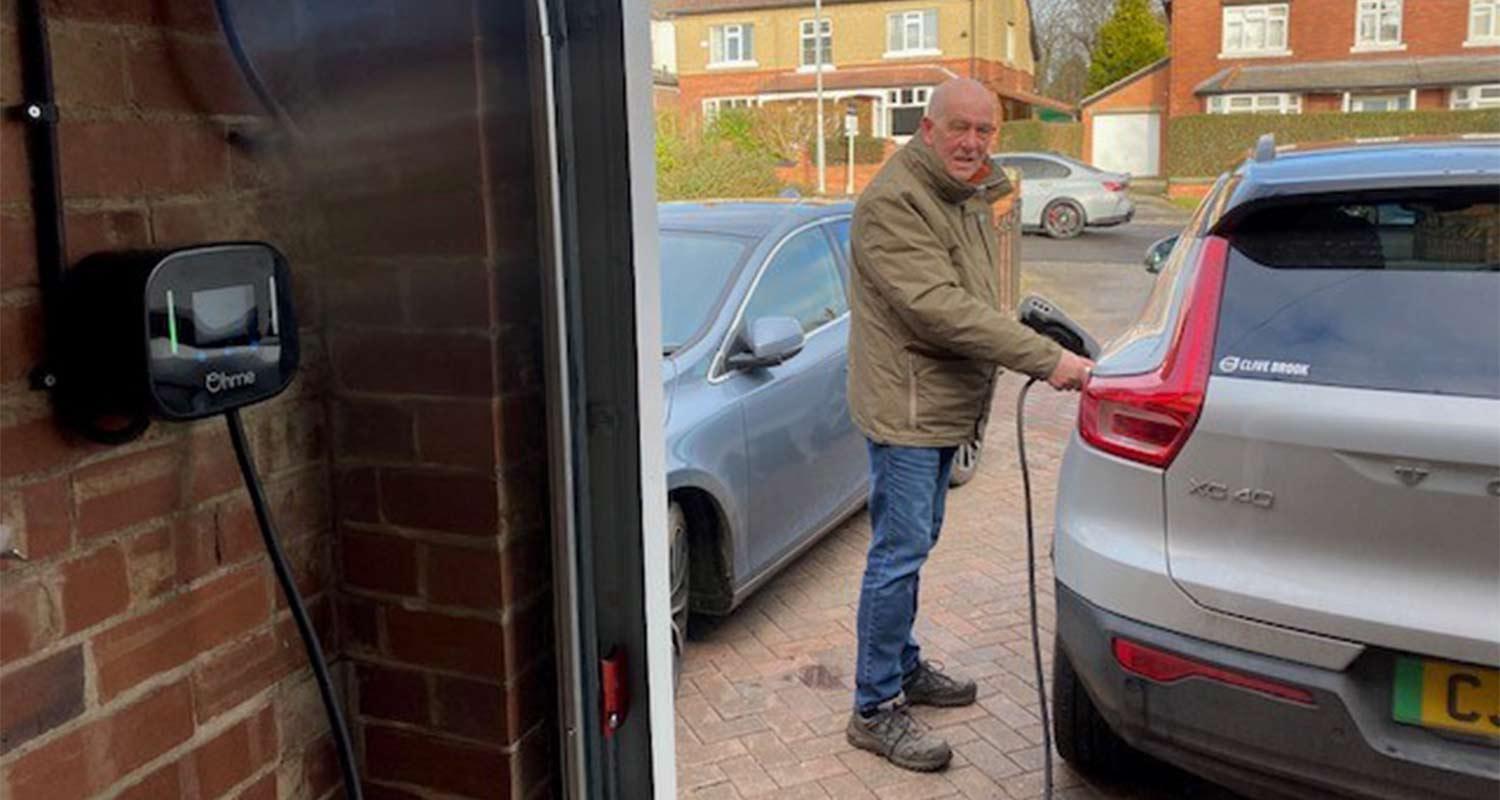 After trading his diesel-powered BMW for an all-electric Volvo XC40 recharge, Alan Green opted for an Ohme Home Pro to help keep his home charging costs low.
Head to our customer stories page to see more great stories like this one!
Why did you go electric and why did you choose your EV?

I was doing a lot of miles in my previous job before I retired.
I had a big BMW that I loved to bits, but once I stopped working I was looking for something that would be more economic.
Thinking about the environment was another aspect. My best mate Brian got a Polestar 2 and it was through talking to him that really persuaded me to try an EV.
I needed something bigger than a Polestar, so that played a factor in boiling my choice down to the Volvo XC40 Recharge. I'm way past being a boy racer, but it's surprisingly quick too with 408bhp available.
It's a lovely car to drive. Charging the battery at home is costing around £10 compared with around £100 of diesel a time with the BMW I had before.
Why did you decide to get a home EV charge point installed?


Ohme Home Pro
Confidence was the main point. There's no standard way of paying or setting yourself up for using public charging infrastructure.
A long journey still makes me a bit nervous, although the technology to find a charge point is good.
I was very confident about my local mileage and you can still go around 250 miles on a full charge in the summer. I'm probably only using public chargers once every two months or so if that.
However, I knew that the vast majority of the time I would be charging at home and it made more sense in terms of convenience and cost.
One of my more regular journeys is from Leeds to Grantham and I can do that on a single charge.
Why did you choose the Ohme Home Pro?

One of the big things for me was ease of set-up and use. I'd familiarised myself with the Ohme app and so by the time it came to start using it after installation, I was feeling confident about how it would work.
How have you found using the charger overall?
It couldn't be easier. I set the charge limit in the car and then when I get home I plug the Volvo in, lock the car and it's job done.
Unrivalled smart capabilities
Automatic charging when your tariff is at its cheapest and greenest is one of the many handy features built into the Ohme Home Pro.
Did you find the world of EV charging at home confusing initially?
Surprisingly no. I'm 71 so I'm not really of the generation that finds this technology easy, but my friend had shown me some basic stuff before I decided so I had a good grounding in terms of what to look for.
I had also done a lot of research before I made the decision.
How did you find Smart Home Charge?
My friend recommended Smart Home Charge because he's already had his charger installed through them.
There's nothing better than a recommendation from a friend, so I was confident the company would do a good job.
What made Smart Home Charge stand out from other installers?
Knowing someone that had already used Smart Home Charge and knowing they had a great experience is what solidified my choice really.
I was impressed with the website and how easy it was to use, as well as using it for research with comparisons for a wide range of chargers.
How did Smart Home Charge help with your choice of charger?
I compared the different chargers and read the reviews on the website and even though I went with the same charger as my friend (the Ohme Home Pro), I still think I would have chosen it based on the reviews and features anyway.
The website was easy to use and I was able to get everything set up to buy and choose everything I needed.
How did you get on with the online site survey? Did you find it easy to follow?
The first representative I spoke to from Smart Home Charge was absolutely brilliant.
He did a WhatsApp video call and I thought that was great.
I like to speak to people in person really and so it was a good alternative in terms of him being able to look at my garage, where I might be able to put the charger and I could then ask any questions I needed.
He set the engineer up who would be visiting in person so he knew what to expect and he reassured me that we could install in my garage, which I really wanted.
The site survey was very professional and reassuring.
How would you rate our installer(s) and the work they did?
The installer did a great job, as promised. He arrived on time and the communication was all clear and responsive.
Did our installer go the extra mile?
The installer's final check actually found that there was no earthing for the electrics to the whole of my house.
So it actually wasn't safe from whoever had done the electrical work at my 1930s home however many years prior.
He advised me to not use the charger until Northern Powergrid had been out to sort it.
Powergrid then installed the earth and then I contacted Smart Home Charge again, who very quickly came out to check that everything was set-up, safe and ready to use.
The installer was top class.
How else did Smart Home Charge help you?
The installer helped me with who to contact at Northern Powergrid to get the earthing issue sorted.
He also offered to help take me through how to work my new charger too.
What would you say to someone who is looking to buy a home EV charging point and is considering Smart Home Charge?
You don't often have a relationship with a company where there isn't a single issue. That in itself is remarkable these days. They did what they said and a little bit more, I felt.