Customer Installation: "I would absolutely recommend Smart Home Charge, 100%."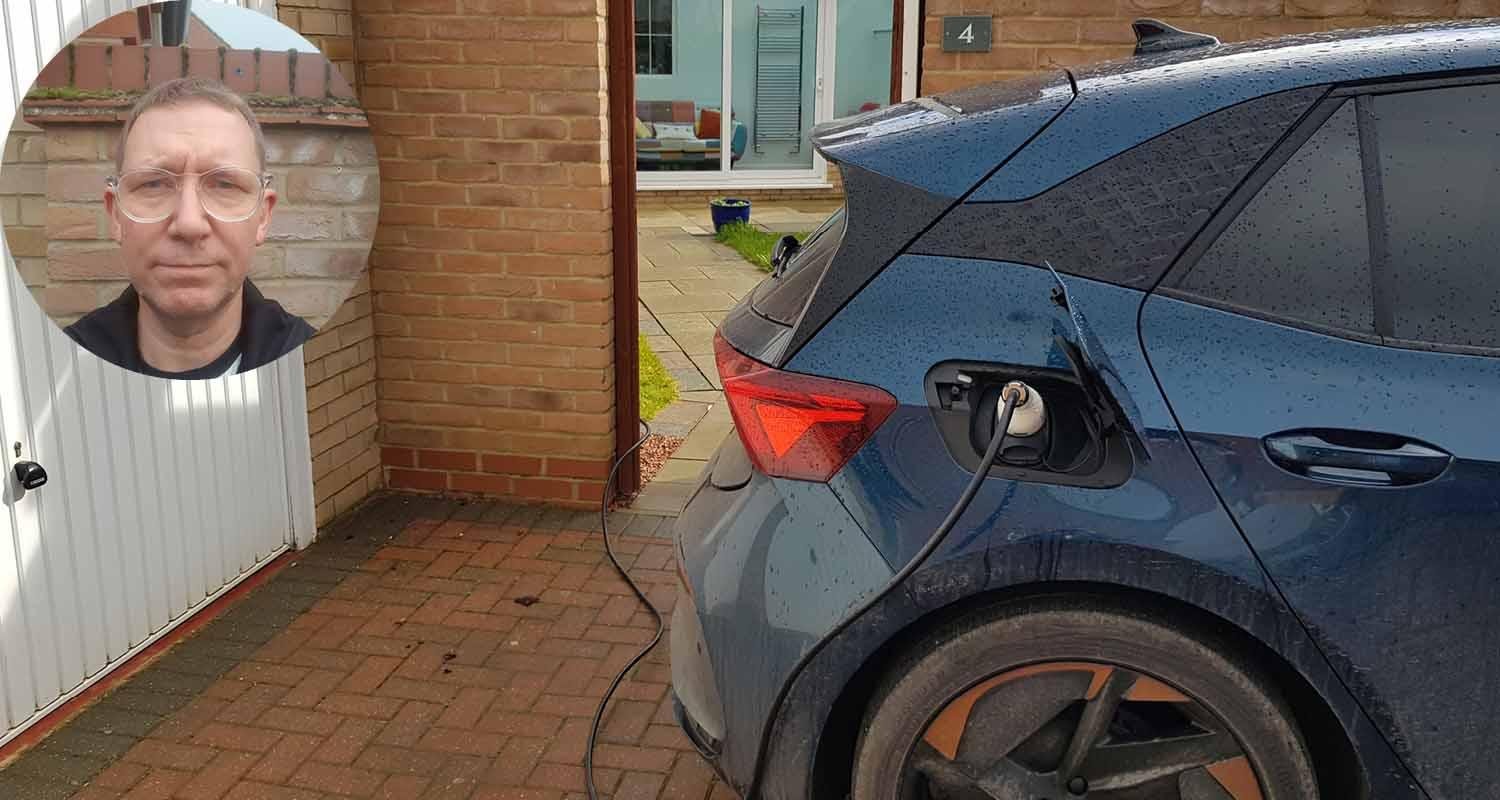 Brian Shorter had his Ohme Home Pro installed so that he could take advantage of EDF's GoElectric's off-peak rates.
Head to our customer stories page to see more great stories like this one!
What made you decide to make the switch to electric and why did you choose the Cupra Born?

I was looking for the right combination of range, design, specification and price.
I ended up settling on the Cupra Born as I felt that it had the best combination for what I was looking for.
I had a Skoda Karoq before but I felt the time was right to switch to an electric vehicle.
What made you decide to get a home EV charge point installed?

I do a 40-mile round trip into Cambridge for shift work and I needed to know that I could charge at home so there wouldn't be an issue with getting there and back without needing to rely on public charging.
I've had no issues at all doing the commute and I find driving an EV more relaxing.
I'll do my shifts and get the car down to 20% and then charge back up. I feel comfortable enough with the range to do that, rather than charging up every single time I'm at home.
Why did you choose the Ohme Home Pro?

I needed to know that my charger connection would reach as far out from the house as possible as the location is about 30 metres away.
That meant I needed a reliable 4G connection, rather than WiFi.
I also wanted to make sure I could easily schedule my charges to take advantage of the EV charging tariff I'm on with EDF.
Save £100s on charging costs with the Ohme Home Pro
Automatically charge at the cheapest times on your energy tariff as well as set exactly how many kWh you want to add to your vehicle with the Ohme Home Pro
How did Smart Home Charge help with your choice of charger?

When I was talking to Smart Home Charge about the kind of things I needed they did suggest the Ohme as being one to consider.
That helped narrow things down so I could do some more research and compare different chargers.
How have you found using the charger overall?

It's been great, there's been no problems with the Ohme or the app once we figured out the Cupra app was messing with things a bit. I manage everything through the Ohme app so I can schedule charges to take advantage of my EV tariff and make sure the car is ready at the right level of range for my commutes to work.
Did you find the world of EV charging at home confusing initially?

Until I was doing research on buying an EV I wasn't really aware of how widespread public chargers were in the UK, even at this point.
So even though I'm not really using public networks, I think public charging is probably in a better position than most people might think.
The other area I found a bit confusing was really clear explanations of the functionality for each of the different home chargers you can choose from.
I didn't find that particularly clear when looking directly at manufacturers' own websites.
Can you trickle charge? Can you lock the charger? How do you schedule charges? I didn't find that very clear from any of the manufacturers really.
I wanted to be able to compare the differences between them.
How did you find Smart Home Charge?

I just searched for specialists that could provide the charger and install it.
I ended up looking at three different companies.
The price quoted by one of them almost put me off getting a home charger at all as the price was so extortionate.
It was ridiculous!
What made Smart Home Charge stand out from other installers? i.e. why did you choose us?

The speed of response and customer service was a big stand out.
Others were either slow to respond or the level of customer service was noticeably different.
The price was a factor too.
While Smart Home Charge wasn't the cheapest of the three, it sat where I thought was reasonable and I was happy to go with them due to the level of customer service being very good and the response they had already demonstrated.
The speed of communication was impressive and that made a difference. I found other companies were dragging their heels a bit.
Ready to get a home charging point?
We have Which? Trusted Trader approved engineers across the country ready to help you get started on your home charging journey. Find out if we install in your area below.
How was your experience when browsing our website?

I wasn't sure which charger to go for so I compared chargers on Smart Home Charge's website and that helped provide better clarity on some of the things I was looking for in particular.
There were some guides around public charging that I found handy as well.
How did you get on with the online site survey?

I took some photos and then did a video call, but it was all very straightforward and they were really helpful.
Mine wasn't a standard installation due to having my parking at the bottom of my garden, rather than at the front of the house.
This meant I needed to run cabling from the front of the house to the back and it was around 30 metres.
I actually ended up changing my mind about the route for the cabling ahead of the installation, but I just rang up Smart Home Charge and it was no problem.
How would you rate your installer and the work they did? Did they arrive on time?

He actually turned up slightly early so he was ready to go immediately.
I showed the installer where the fuse box was and where I wanted the charger and then just cracked on.
He was really good and professional.
There wasn't that much mess anyway, but it was all clean and tidy from the drilling and cable cutting.
Did the installer go the extra mile? For example, did they show you how to use the charge point's app?

He explained how to change the settings for the timing of a charge, how to review what the charger is doing and how to use the app and the charger itself.
I knew I could look through the manual, but it's good to be shown in practice before you get started.
How else did Smart Home Charge help you?
There was an issue with the Cupra's app superseding what I wanted to do with managing my charges with the Ohme. That was a bit of a learning curve as I couldn't figure out why my car would only trickle charge at home.
I actually rang Smart Home Charge to let them know and they helped investigate.
They contacted Ohme and we ended up getting another charging unit out to my house to try and figure out what the issue was.
Once we realised it wasn't the charger itself, it was more likely the Cupra app, that sorted things out. But more importantly, I was impressed that the business was still helping me after the initial purchase and installation.
It wasn't like I was forgotten about.
What would you say to someone who is looking to buy a home EV charging point and is considering Smart Home Charge?

I would absolutely recommend Smart Home Charge, 100%.
I knew my installation wasn't going to be a standard one and it was all easily and professionally handled.
I'm actually moving house again so I'm getting Smart Home Charge to install there as well now!