Celebrating 1 year as a Which? Trusted Trader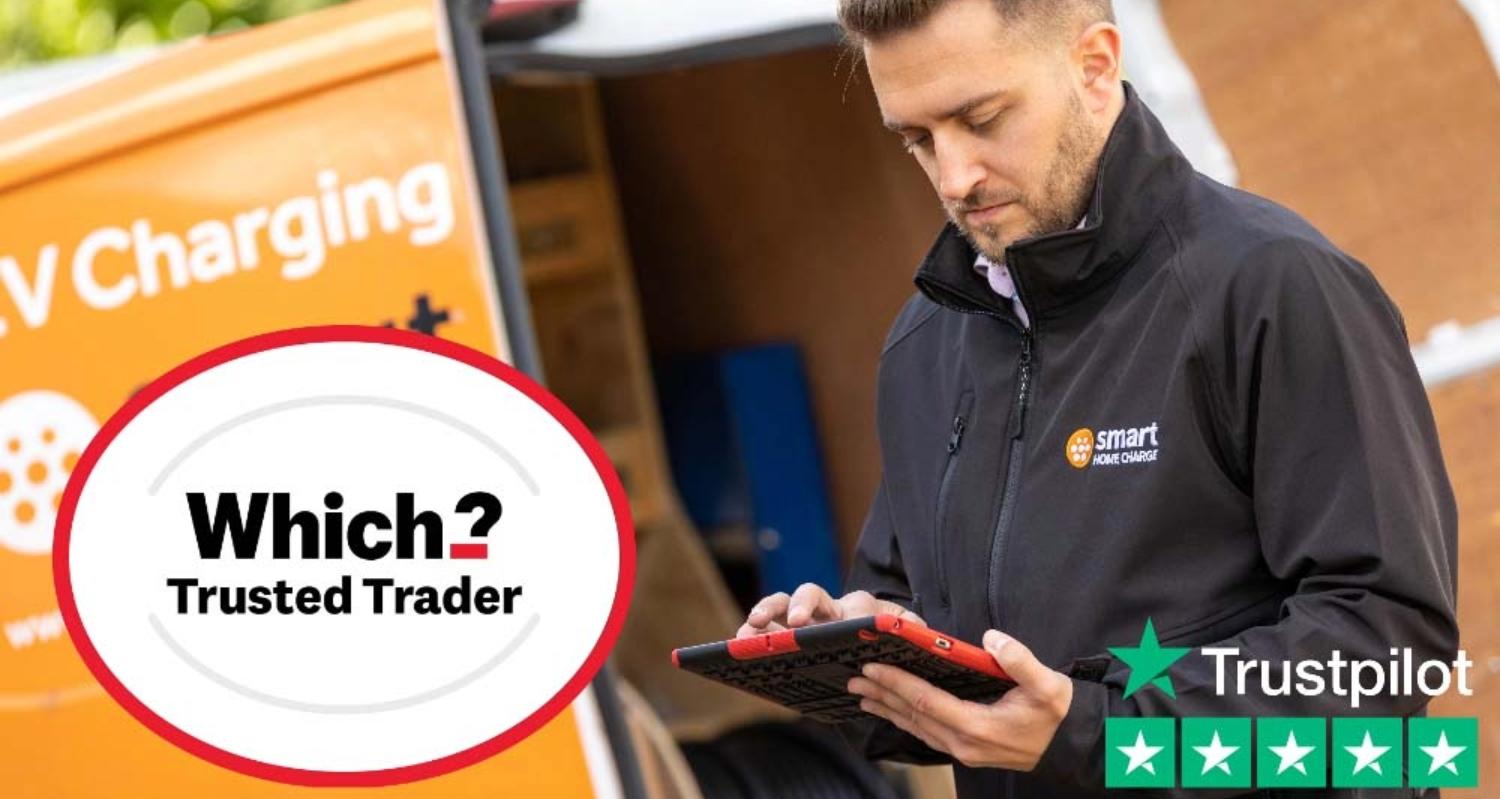 Smart Home Charge, the leading independent installer of EV charge points, is celebrating one year of being a Which? Trusted Trader.
In 2022, Smart Home Charge underwent a thorough evaluation by Which? and proudly earned the distinction of being one of the first major EV charger installers to become endorsed as a Trusted Trader.
Which? Trusted Trader: A Mark of Trust
For more than 60 years Which? has been a leading consumer rights organisation, renowned for rigorously testing products and services to see if they meet the highest standards.
You've likely seen the Which? logo on television advertisements - it's a symbol of quality and trust. But the consumer rights group goes beyond just reviewing products, as it also assesses and tests trades-based services like electricians, plumbers and builders.
This helps consumers find reliable and trustworthy tradespeople for their needs. Being commended, awarded or endorsed by Which? is an indicator or reliability and quality.

Quality our customers can trust
The path to becoming a Trusted Trader involved an evaluation of all of our practices, processes, and policies as well as a deep dive into our customer experience.
We had to prove that we weren't just another company installing EV chargers, but a business that stands out for our dedication to safety, quality and customer satisfaction.
Smart Home Charge Marketing Manager Danny Morgan said it was important to prove ourselves as a brand that can be relied upon:
"The world of EVs and EV charging is new, so there are a lot of brands and businesses that aren't household names yet, including our own. So not only do customers have the usual challenge of finding a reliable tradesperson, but also a trustworthy recommendation for home electric car charge point.
"That's why we wanted to become a Which? Trusted Trader. It's a reassuring sign to customers we are professional business with a proven record of quality work and high standards, as well as providing an annual test and review of our business practices.
"Achieving endorsement from Which? is a mark of trust and we take immense pride in celebrating one year of this recognition and retaining our Trusted Trader endorsement after being recently reassessed."
Raj Kakar-Clayton, MD at Which? Trusted Traders said, "As UK consumers start to look for more sustainable ways to travel, the demand for reliable businesses like Smart Home Charge is on the increase.
It's their mission for every friver to realise the benefits of driving an electric car and realise the benefits of "fuelling" it at home. We are proud to endorse them as a Which? Trusted Trader."