Weekly News Round-up 30.09.2022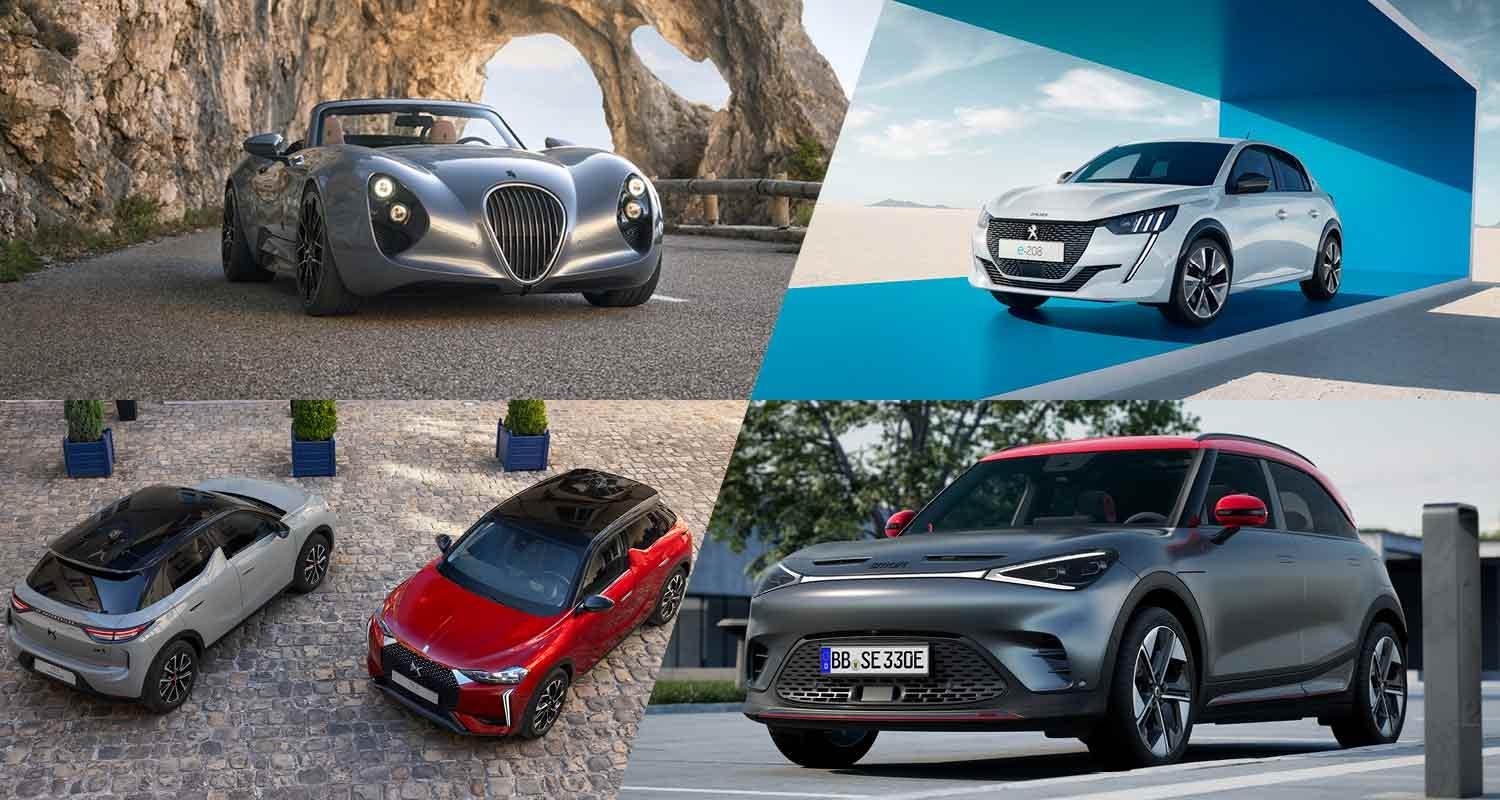 Reservations for Wiesmann's Project Thunderball open and VW shows off new ID Buzz variant concepts.
Sign up to our newsletter to get all of our latest news and updates delivered straight to your inbox every other week.
Smart reveals more details on #1

Smart has revealed more details about its all-electric city car, the #1. It's available in three trims – Pro+, Premium and BRABUS, which offer ranges of 260 miles, 273 miles and 248 miles respectively. The BRABUS model offers 315KW of power (up from the standard car's 200kW) and 543Nm of torque (up from the standard car's 343Nm) – and all in a car that's 4.27m long.
The #1 can charge at a rate of up to 150kW at a DC rapid charging point. UK pre-orders for the Launch edition begin in January, and just 100 cars will be made available. The Pro+, Premium and BRABUS models will be available to launch from Spring onwards.
Peugeot upgrades e-208

The raft of improvements already seen on Peugeot's e-308 are being brought to the e-208 in 2023. The new car sees maximum power grow by 15 per cent to 156bhp, while the range grows by 10.5 per cent to 248 miles. The new battery capacity is 48.1kWh and the car is capable of fast charging at 100kW, meaning you can go from 20 per cent to 80 per cent charge in less than 25 minutes.
Reservations for Wiesmann Project Thunderball available

Wiesmann has announced that reservations can be made for its €300,000 Project Thunderball. Dubbed "the world-first all-electric convertible roadster" it will be crafted from advanced carbon fibre and weigh little more than 1700kg. Wiesmann says this will provide a power-to-weight ratio of 2.5kg per HP. The first customer deliveries are due in 2024.
VW shows off ID Buzz concepts

Volkswagen Commercial Vehicles unveiled a range of almost production-ready ID. Buzz and ID. Buzz Cargo variant concepts at IAA Transportation 2022 last week. Dutch specialists, Snoeks, built an ID Buzz Cargo into an electric version of the Caravelle. It features an electrically adjustable and configurable three-person bench seat in the back.
Bösenberg, meanwhile, converted the ID Buzz into an ambulance with room for three people, with the cargo space designed for use as a doctor's workspace and storage for medical equipment. Veth Automotive increased the load capacity from 3.9m3 to 6.0m3 and enabled a payload of 680kg with its box body design.
Wükaro built an ID Buzz for last mile deliveries, combining electric drive with an electric cooling system. The cooling system comprises a low-profile 230V cooling unit on the roof, with a flat ceiling evaporator, four lithium-ion batteries and an inverter. The batteries are housed within the wheel arches to save space and supply up to eight hours of charge.
The final concept was a collaboration between CS/Würth and Volkswagen Commercial Vehicles and created for Miele. The cargo space has been fitted out with a shelving system for storing materials, spare parts and tools for Miele customer service personnel.
Take a look at our vehicle guides
If you're still choosing an electric or plug-in hybrid vehicle, take a look at our vehicle guides for some more information before deciding
Bentayga enters the hybrid era

Bentley has announced two hybrid versions of its Bentayga SUV. The Bentayga S Hybrid offers a combined output of 456 bhp; the 3.0-litre TFSI V6 petrol engine is matched to a 100kW electric motor. The Bentayga S Hybrid can sprint from zero to 62 miles an hour in just 5.3 seconds and hit a top speed of 158 mph. The Bentayga Azure Hybrid, however, offers an even more luxurious option.
"Its specification includes the Front Seat Comfort Specification, offering up to 22-way adjustability and a heating and ventilation function to maintain the body's optimum temperature for comfort and alertness," Bentley says. The E-motor can travel 27 miles on electric alone.
BMW puts XM on sale

The BMW XM – which its maker describes as the first high-performance car from BMW M GmbH with an electrified drive system – has gone on sale. It's powered by a newly developed plug-in hybrid system delivering 653hp and 800Nm of torque.
It combines a new 4.4-litre V8 engine with M TwinPower Turbo technology and an electric motor integrated into the eight-speed M Steptronic gearbox, and all that oomph is transmitted to the road via the M xDrive all-wheel-drive system. It offers a pure-electric driving range of 51 – 55 miles, and prices start at £144,980.
DS Automobiles upgrades DS 3

DS Automobiles has upgraded its DS 3 range, with the DS 3 E-Tense benefitting from several refinements to its all-electric drivetrain. Aside from the trim upgrades available across its ICE models, the electric version has a new 155bhp drivetrain courtesy of a new 54kWh battery.
It now has a range of 250 miles, and its 100kW rapid charging capability means you can go from 20 per cent charge to 80 per cent in 25 minutes. Order books open in October and first deliveries are due in January.
Jaguar launches EV skills programme

Jaguar Land Rover (JLR) has announced it is to train 29,000 people over the next three years to support its electrification goals.
"The Future Skills Programme will see more than 10,000 Jaguar Land Rover and franchised retailer employees in the UK, and nearly 19,000 across the rest of the world, trained in skills vital to electrification, digital and autonomous cars," JLR says, adding that around 80 per cent of nearly 1300 its retailers around the world offer electric vehicle servicing. To fill the skills gap, JLR's servicing technicians will receive electrification training this year.
As well as technicians, Jaguar Land Rover plans to retrain thousands of highly skilled automotive engineers and production employees, who previously worked on the development of internal combustion cars, to specialise in electrification, digital and autonomous cars.
Vauxhall unveils GSe models

The first fruits of Vauxhall's new performance electric brand, GSe, have been announced. The Astra and Astra Sports Tourer will be available to order later this year, with the first deliveries scheduled for early 2023. The cars will receive a bespoke suspension, revised steering and a lower ride height, as well as sporty interior and exterior trim editions. Plug-in hybrid options are available at launch, offering 225PS of power and 360NM of torque, with 256.8-235.4mpg.
Connected Kerb secures £110m of investment

Connected Kerb has lined up a £110m investment from Aviva Investors to assist the delivery of 190,000 on-street EV chargers by 2030. The deal will also allow Connected Kerb to install chargers across Aviva's pan-European locations, opening up thousands of new locations to EV charging.
Around 4000 on-street chargers are expected to be installed by the end of this year alone. Connected Kerb is also planning an expansion into the United States. It has been selected by the New York City Department of Transport and Newlab to deliver an on-street EV charging pilot project in New York for the installation of 10,000 on-street chargers by 2030.
Compare destination charging costs
Compare the charging costs of the UK's most popular destination charging networks using our destination charging cost comparison tool,