Weekly EV News Round-up 25.05.2023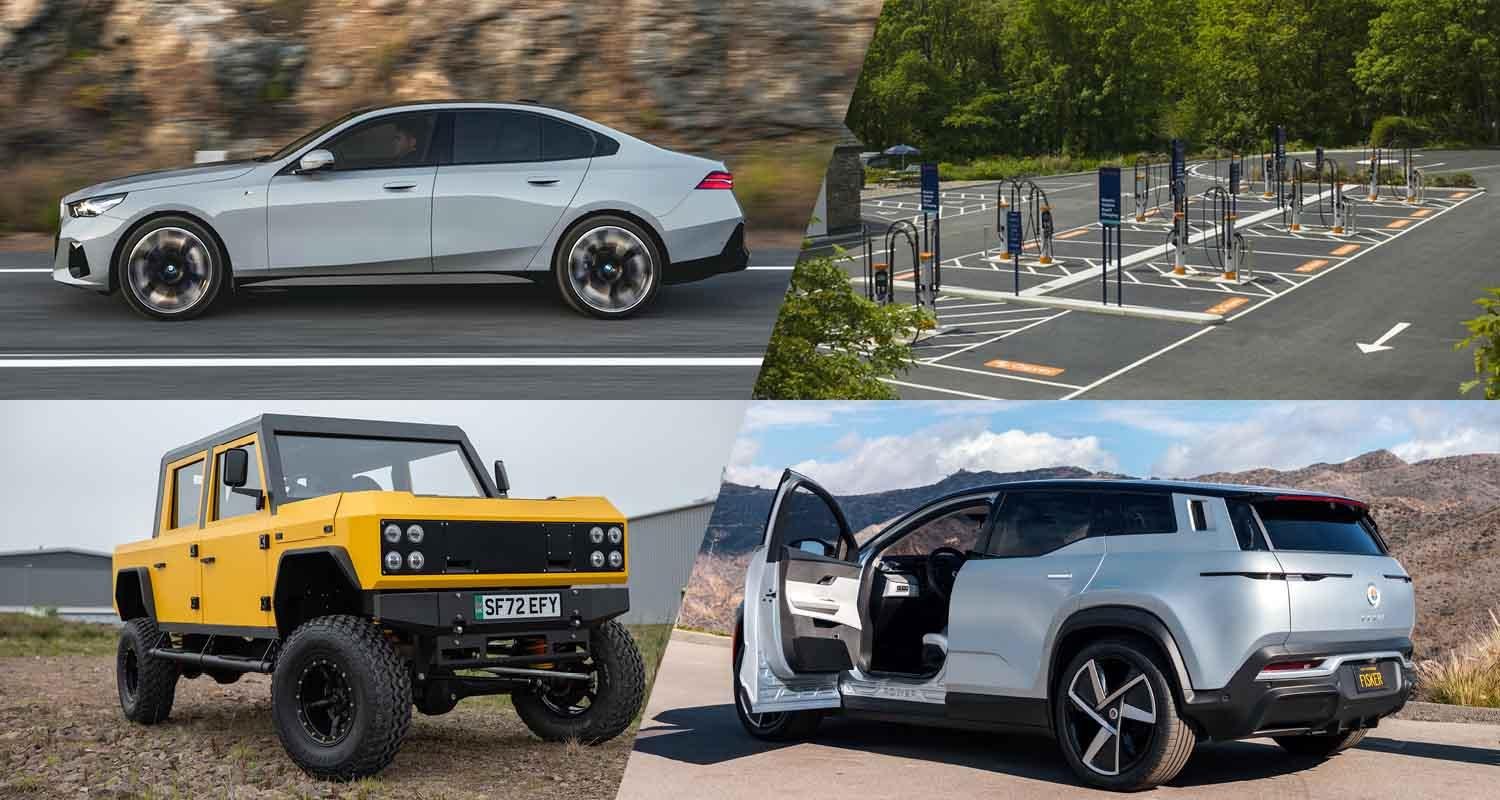 The Candela C-8 Polestar edition boat hits the waves for the first time and kit car legend Caterham announces their first Electric vehicle.
Want to get our news alongside other exciting updates emailed straight to your inbox? Then be sure to subscribe to our newsletter!
BMW announces pricing for new 5 Series

BMW has unveiled the pricing options of its electric 5 Series options.
The BMW i5 eDrive40's electric motor is located directly in the rear axle and generates 340hp and maximum torque of 400Nm or 430Nm with the Sport Boost or Launch Control function.
The 0-62mph sprint is covered in 6.0 seconds, while the maximum speed is electronically limited to 120mph.
Its combined power consumption is between 19.5 and 15.9kWh per 62 miles. It costs from £73,200.
The BMW i5 M60 xDrive has a 601hp (with M Sport Boost or M Launch Control) electric drive.
Two integrated drive units on the front and rear axles form the electric all-wheel drive system.
The rear motor generates 340hp, while the front motor produces 261hp.
The system torque generated by both motors is 795Nm or 820Nm when M Sport Boost or M Launch Control is activated.
It can accelerate to 62mph in 3.8 seconds and a top speed of 143mph.
Its combined power consumption is 20.6 to 18.2kWh per 62 miles.
Prices start at £96,840.
Find the perfect charger for your vehicle
Want to find the right charger for your vehicle? Find your vehicle on our vehicle pages and get info like charging costs, times and more.
Munro picks up the EV pickup baton

Munro has unveiled its all-electric MK_1 Pick-Up.
It has been engineered for sectors such as mining, construction, utilities, agriculture, and defence. It offers 375hp (280kW) of power and 700Nm (516ft-lb), and has a 190-mile+range.
It also has a 15-80% 36-minute battery recharge time, plus a 1050kg payload combined with a 3500kg maximum braked towing capacity.
Prices start from £49,995 exclusive of VAT.
Candela floats Polestar's boat

Say hello to Polestar and boat-maker Candela's latest collaboration – the Candela C-8 Polestar edition.
Inspired by the Polestar cars, the design cues include a new solid light grey colour, specially designed seat upholstery and hydrofoils painted in iconic Swedish gold.
Starting from 2023, all Candela C-8 boats are powered by the 69-kWh battery and charging hardware from the standard-range Polestar 2 to realise a range of up to 57 nautical miles on one charge at a cruising speed of 22 knots.
The Candela C-8 uses a 75 kW electric direct drive pod motor – the Candela C-POD – and 'flies' on computer-guided hydrofoils that lift the hull above the water at high speeds, reducing energy consumption by up to 80% compared to traditional motorboats. Pricing starts from €400,000.
Caterham releases EV concept

Say hello to Caterham's EV concept, which will test the feasibility of a lightweight electric Seven.
The car is being engineered in collaboration with Swindon Powertrain Ltd and is based on the larger Seven chassis and features a bespoke version of Swindon Powertrain's E Axle, combined with an immersion-cooled battery pack. Immersion battery cooling uses a dielectric fluid, supplied Motul.
The fluid is in direct contact with the cells enabling better thermal management during charge and discharge cycles. Caterham adds: "Any electric Seven must be useable on both the road and track.
For the latter, this means being capable of a repeatable 20-15-20 drive cycle: the ability to drive on track for 20 minutes and recharge in 15 minutes with enough energy to drive for a further 20 minutes."
Caterham says the weight increase is less than 70kg compared to the current production Seven it is based upon (meaning a total mass of just under 700kg).
Its 51kWh immersion-cooled battery is housed in the engine bay and transmission tunnel and is capable of DC rapid charging speeds of up to 152kW.
It has a usable capacity of circa 40kWh. The concept uses a bespoke version of Swindon Powertrain's E Axle based on the HPDE family.
It produces 240bhp and instantaneous peak torque of 250Nm.
This will deliver a predicted 0-60mph time of approximately 4.0 seconds.
Osprey expands Dorset provision

Osprey Charging has added 16 ultra-rapid charge points to the A38 Devon Expressway.
Located at Salmon's Leap, Buckfastleigh, it's the largest ultra-rapid EV charging hub in the South West.
Strawberry Fields farm shop opens on-site soon, offering a range of their own homemade and homegrown produce and many of their bakery items and fresh-ready meals.
Claim £5 free charging at Osprey
Charge at Osprey and many other charging networks with one account when you sign up to Electroverse. Signing up is free and best of all, we'll give you £5 free charging to get you started!
Skoda launches L&K special edition

Skoda uses the new L&K special edition to bring in upgrades to its Enyaq model.
It offers an increased output of 285 PS (210 kW), better acceleration and a longer range.
The rear-wheel-drive Enyaq L&K 85 goes from 0-62 mph in 6.7 seconds, which is almost two seconds faster than the previous rear-wheel-drive Enyaq 80.
The top speed is now 112mph, and the maximum range has risen to 354 miles.
The Enyaq L&K 85x with all-wheel drive accelerates from 0-62 mph in 6.6 seconds, and its range is up to 342 miles.
The Enyaq L&K is to be charged from 10 to 80 per cent of its capacity in less than 30 minutes.
Fisker partners with Allianz

Fisker has partnered with Allianz to provide roadside support for its vehicles in Europe.
Allianz Partners provides Fisker customers 24/7 access to a full suite of services from breakdown and tire support to managing alternative travel arrangements and more.
Allianz Partners' service portfolio will be accessible to customers in 15 European markets, starting in Fisker's launch markets of Austria, Denmark, France, Germany, Norway, Sweden, and the United Kingdom.
Upgrades for LEVC
The LEVC (London Electric Vehicle Company) has announced a battery upgrade for new TX taxis and VN5 vans.
Both vehicles are to benefit from a larger and more efficient battery.
The 34.6 kWh unit offers increased capacity (up from 31 kWh) efficiency.
Thanks to the new battery, the TX taxi now emits 14g/km of CO2 (down from 19g/km) while the VN5 emits 17g/km (down from 19g/km).
The TX's electric-only range is now 78 miles (up from 64 miles) and its total range increasing to 333 miles (up from 318 miles).
VN5's electric-only range improves to 73 miles (up from 64 miles) and 328 miles in total (up from 318 miles).
Aehra teams up with Miba Battery Systems

Aehra, the new EV company, has signed a partnership contract with Miba Battery Systems to jointly develop battery packs for AEHRA SUV and Sedan.
Battery development targets include ultra-fast charging up to 350kw, with a peak voltage of up to 925V.
Up to 120kwh battery and other efficiency gains will deliver an 800km driving range, and there are for bi-directional charging will enable customers to use electricity in-vehicle batteries to power their homes.
Volkswagen upgrades Toureg

Volkswagen has upgraded the third generation of the Touareg with revisions to the suspension, interior and exterior aesthetics.
It is the first Volkswagen model to be launched with the newly developed HD LED matrix headlights – more than 38,000 interactive LEDs project a 'light carpet' exactly onto the driving lane.
There are two plug-in hybrids available, and the Touareg R eHybrid is the top-of-the-range model.
It features a V6 petrol engine plus an electric motor with a system output of 340 kW (462 PS).
UK prices have yet to be revealed.