Weekly News Round-up 23.03.2023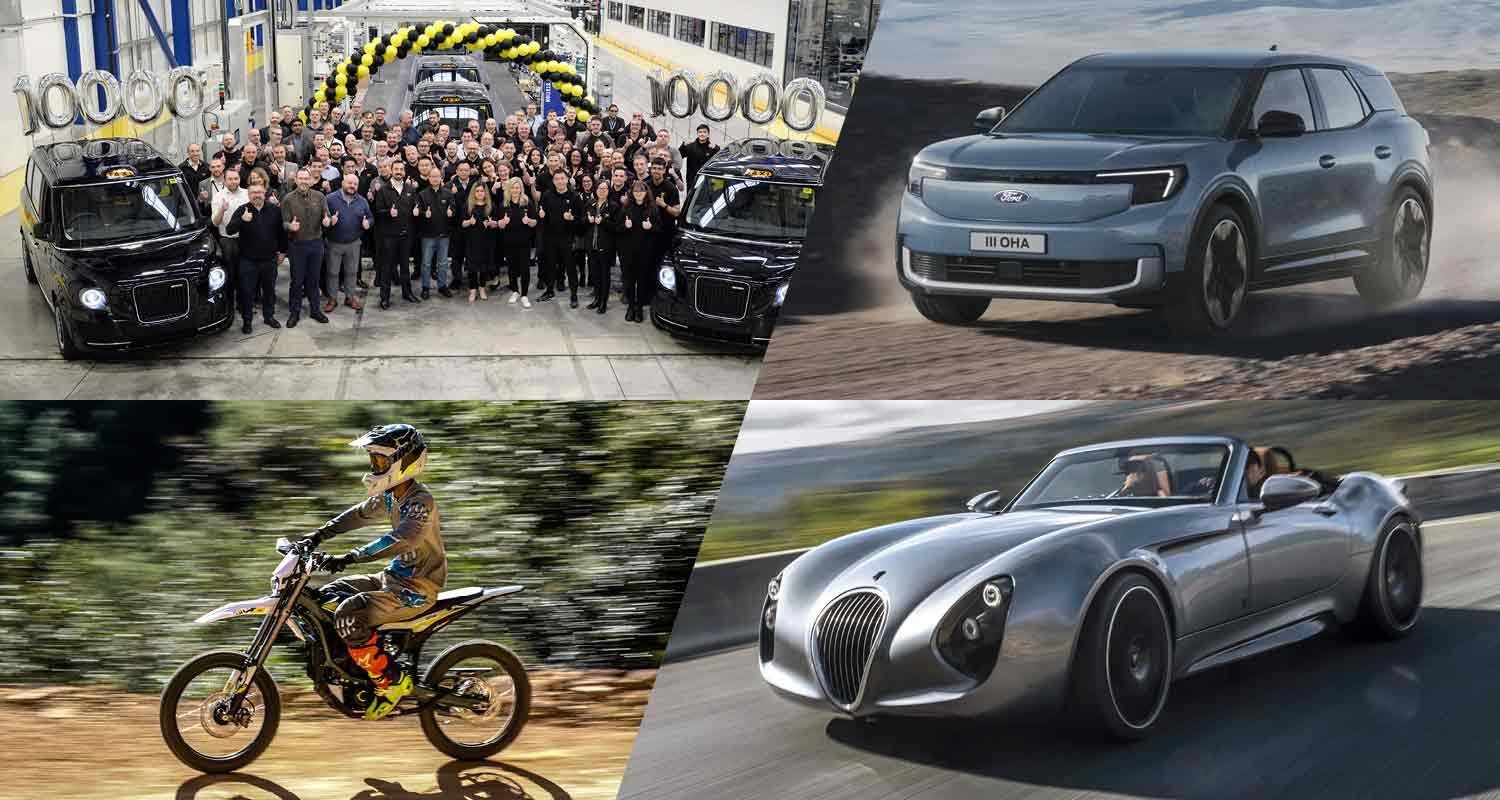 In other news, the National Motor Museum goes back to look at the future and Polestar launches a limited edition version of the 2.
Ford announces new Explorer SUV

Say hello to the new all-electric Ford Explorer, a mid-size crossover with seats for five.
Designed and built in Europe, it can fast charge from 10 to 80 per cent in just 25 minutes.
There's access to 21,000 charge points in the UK on Ford's Blue Oval Charging Network, and by 2024 there will be access to more than 500,000 charging points in 25 countries across Europe.
The 17-litre console between the driver and front-seat passenger can hold a 15-inch laptop, combined with a private locker behind the moveable touchscreen and hands-free accessible boot space.
A release date has yet to be announced.
InstaVolt expands Oxford offering

InstaVolt expands its ultra-rapid EV charging hub in Banbury, Oxfordshire, making it one of the largest charging hubs in the UK.
Alongside the 16 existing 125kW rapid charging points, Instavolt has doubled the total number to 32 by adding 16 new 120kW rapid chargers.
The site is more accessible than ever too, with twelve wider access bays and four fully accessible bays.
Get a rapid charge cost breakdown
Compare the charging costs of the UK's biggest rapid charging networks side-by-side using our rapid charging comparison tool.
National Motor Museum looks back to look forward

The National Motor Museum in Beaulieu is launching a special exhibition that will look at future visions of the motor car from the past, ideas that have become reality and future visions still to be realised.
Called Motopia? Past Future Visions, it will showcase a journey through 130 years of future thinking about mobility.
The exhibition will have four key themes; vehicle visions will look at car design concepts, propulsion asking how our vehicles are powered, architectural dreams which will include science fiction visions, and urban solutions showing how vehicles have constantly been re-imagined to suit our needs and surroundings.
It runs from 20th May 2023 to 14th April 2024.
Polestar launches 2 BST edition 230

Polestar has created a second limited edition of the Polestar called the BST edition 230.
Special parts of the package include exclusive green Nebula paintwork and MicroSuede textile for the seats and steering wheel inserts – made from partly recycled Nubuck textile.
The exterior can also be ordered in Space (black), with an optional full-length body stripe available for either body colour.
It also has a 25mm lower ride height, specially developed and unique Öhlins 2-way adjustable dampers, a front strut bar, 20% stiffer springs and unique black 21-inch alloy wheels.
It produces 476hp and 502 lb-ft of power, enough to whisk you to 62mph in 4.4 seconds. Just 230 are being built and it is available to order now.
Take a look at our vehicle guides
If you're still choosing an electric or plug-in hybrid vehicle, take a look at our vehicle guides for some more information before deciding.
EV values fall as stock levels rise, according to Auto Trader

The latest news from the Auto Trader Retail Price Index makes grim readings for current EV owners.
According to its research, EV values are down by 13 per cent year on year.
In contrast, the average price of a used petrol car is up 4.3 per cent, and diesel is up 2.4 per cent.
The current supply of both used petrol and diesel cars is down circa 20% year on year but the rate of stock growth of used EVs has rocketed, with supply up a massive 261% year on year.
However, demand for EVs on Auto Trader is up 47 per cent. According to Auto Trader: "Since August, the iconic Nissan Leaf has seen stock levels increase a massive 313%, whilst the supply of the Renault Zoe was up 235%, and the Tesla Model 3 up 148%.
This dramatic uptick is resulting in a significant softening in values - since September, one-year-old Model 3 prices have fallen around £8000 and show no sign of slowing."
London Electric Vehicle Company hits 10,000 vehicles

The London Electric Vehicle Company (LEVC) has now built 10,000 vehicles at its Ansty factory in Coventry.
It comes off the back of the firm's most successful year yet, with 2508 TX vehicles sold.
The TX has now overtaken the number of diesel-powered TX4 taxis in London – there are now more than 6000 on the capital's streets.
To date, the TX has travelled more than 534 million miles globally and prevented 162,000 tonnes of CO2 from being emitted into the atmosphere.
Hyundai brings upgraded lights to Ioniq 6


How the Intelligent Front-Lighting (IFS) works
The Ioniq 6 is the first Hyundai model to feature Intelligent Front-lighting System (IFS), which prevents dazzling effects from the high beam for other road users while securing clear visibility for the driver.
Unlike high beam assistance, once IFS detects vehicles ahead, it turns off only the parts of the high beam lights that would disrupt the other driver's vision.
Wiesmann Project Thunderball to make UK debut

Project Thunderball, the new luxury EV roadster from Wiesmann, will make its UK debut at Salon Prive London on April 20.
It has a targeted total output of 500kW (680hp) and 1100 Nm of torque to deliver a targeted 0-62mph acceleration time of 2.9 seconds.
Powering the motors is an 800-volt, 92kWh lithium-ion battery pack. This has a targeted range of 500km and super-fast charging of up to 300kW (DC).
Salon Prive London takes place at Royal Hospital Chelsea between Thursday, 20th April and Saturday, 22th April.
Sur-ron brings electric bike range to the UK

Sur-ron has brought its range of electric motorbikes to the UK.
Both its latest mid-size electric motorcycle – the Ultra Bee – and the full-size enduro Storm Bee machine class as the equivalent to 125cc motorcycles and are rideable on a CBT license (age 17+), while the smaller Light Bee model is classed as the equivalent to a 50cc moped, which can be ridden from the age of 16.
According to Sur-ron: "With a maximum range of 65 miles and the cost of mains electricity to fully charge the battery being estimated at £1.63 per charge*, and comparing this to the average petrol moped consumption of 60mpg and current petrol prices of around £1.48 per litre, the Sur-Ron Storm Bee can travel over 268 miles for the equivalent cost of a gallon of fuel."
The 50cc-equivalent Sur-Ron Light Bee costs £4995, the Ultra Bee costs £6599 and the Storm Bee (Enduro) costs £8500.
Hertz teams up with Greenfleet EV rally

Hertz is to provide electric vehicles for Greenfleet's five-day EV Rally, which runs across the five capital cities in the UK and Ireland to highlight the real-world capabilities of electric vehicles and track the progress being made with charging infrastructure in the UK.
Hertz is creating one of the largest EV rental fleets in the world and is rapidly expanding its electric fleet across the UK.
It will provide four electric vehicles to the EV Rally Team and its media crew.
The company will also enter one of its own vehicles to enable staff, media, social media influencers and others to share the experience of long-distance touring in an electric vehicle.
The five-day 2023 EV Rally sets teams on the challenge of driving to all five capital cities in the UK and Ireland, starting in Cardiff on the 3rd of July and ending the tour in Dublin on 7th of July, visiting key charging hubs, clean energy projects and landmarks along the 1000-mile journey.