Weekly EV News Round-up 20.04.2023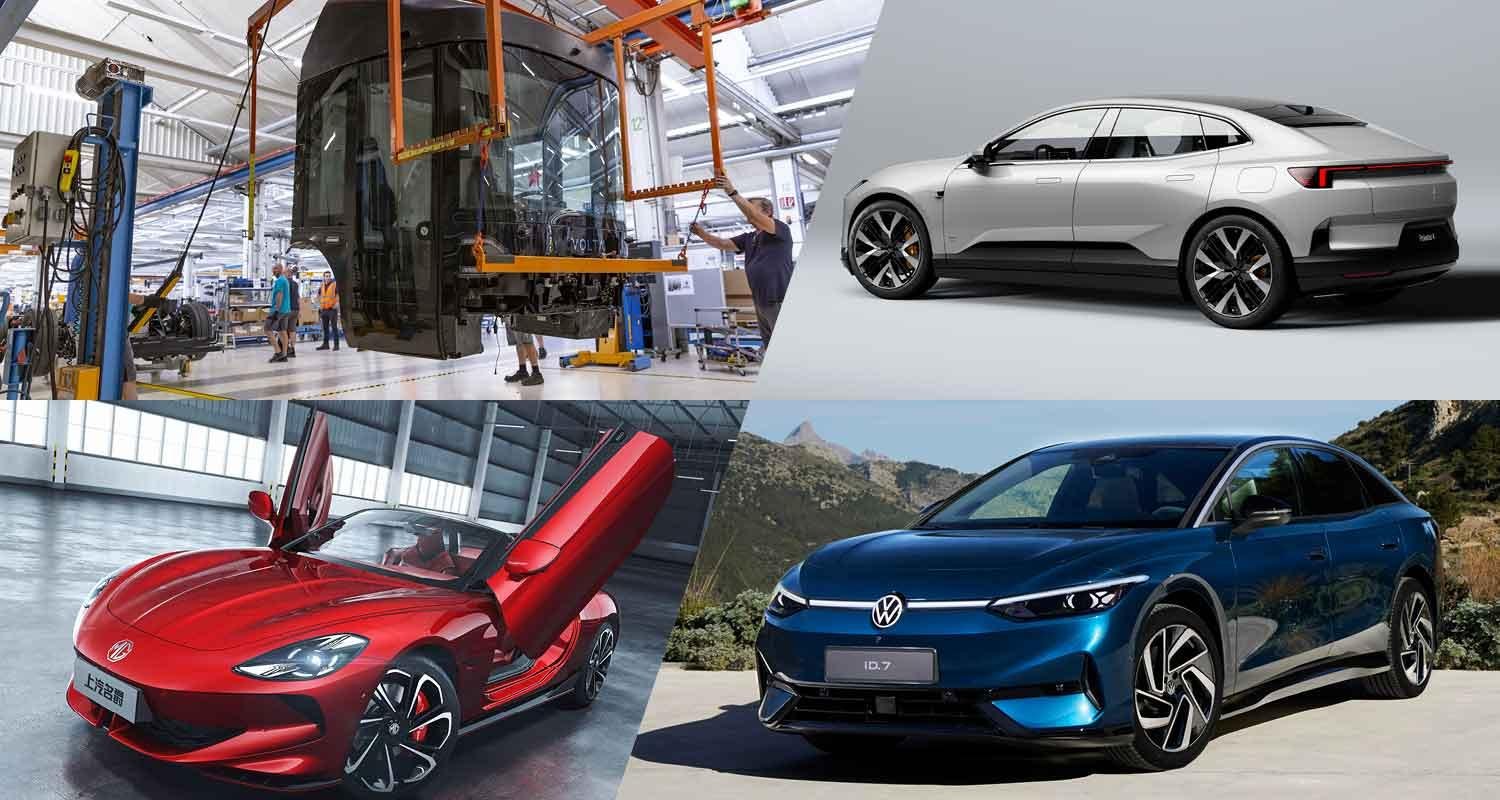 Ineos Automotive announces a new all-electric 4X4 and and Polstar launches the 4.
Want to get our news alongside other exciting updates emailed straight to your inbox? Then be sure to subscribe to our newsletter!
It's the magic number for Smart

Smart has revealed its first sports utility coupe – the #3.
Launched at the Auto Shanghai show, technical details on the car's range and performance have yet to be released but you can expect to see a 13-speaker Beats Soundsystem, CyberSparks LED headlights and a 12.8in elevated central screen.
Thinking of buying the #3 when released?
When it lands on your driveway, charging the Smart #3 at home will be the easiest and cheapest ways to keep it topped up. Check out our range of chargers below!
BMW launches the most powerful all-electric model

Say hello to the BMW i7 M70 xDrive, the most powerful all-electric BMW.
It features what BMW calls an M-specific chassis, with a motor on each axle combining to provide 485kW/660hp.
It can hit 62mph in 3.7 seconds, which makes it BMW's fastest all-electric model.
The motor powering the rear axle generates a peak output of 360kW/489hp.
The interaction with the 190 W/258hp motor at the front axle creates an electric all-wheel-drive set-up generating system torque of 1015 Nm (748 lb-ft) in Sport mode and as much as 1100 Nm (811 lb-ft) when M Launch Control or the M Sport Boost function is activated.
It has a range of 303-348 miles (488-560km) and is capable of DC charging up to 195kW. This means the range can be extended by 106 miles (170km) in ten minutes.
VW unleashes ID.7

This is Volkswagen's first all-electric car for the upper mid-size class.
It's been engineered for long-range use – it's predicted to have a range of 434 miles (700km) and charging capacities of 200kW.
With 210 kW (286 PS), it is the most powerful and highest-torque electric drive motor in a Volkswagen ID. model so far and is used in the ID.7 independently of the chosen battery size.
Inside, there's a 38-centimetre (15-inch) infotainment system screen, an augmented reality head-up display, and a new air conditioning operating concept integrated on the top level of the infotainment system as well as freely assignable favourites buttons.
You can also have a panoramic sunroof with smart glass that can be switched between opaque and transparent settings by touch control, and there's the option of adaptive seating: cooling, heating, drying and massage functions.
Ineos to launch all-electric 4x4 in 2026

Ineos Automotive has pledged to produce a new electric 4X4 vehicle in conjunction with Magna.
Ineos has worked with Magna previously on a series of engineering and development for the Grenadier station wagon and pick-up models.
It will be produced at Magna's Austrian factory in 2026.
Polestar 4 takes the floor

This is the Polestar 4, the firm's electric performance coupe and its second SUV.
It is the fastest production car the brand has ever developed; it can hit 62mph in 3.8 seconds and its maximum power output is 400kW (544hp) in its most extreme form.
It can be charged at up to 200kW DC Bi-directional charging is included, with vehicle-to-load (V2L) capability as standard.
The long-range single-motor version features a 200kW (272hp) and 343Nm motor at the rear and a range of up to 372 miles.
The long-range dual-motor version has 400kW (544hp) and a range of 350 miles.
A heat pump is fitted as standard, as is a 102kWh battery.
Join the Electroverse
Charge at many of the UK's biggest charging networks with just one account when you sign up to Electroverse. Best of all, you'll get £5 free charging on us if you use the link below!
Volta Trucks starts production of Volta Zero

Volta Trucks has commenced production of the 16-tonne all-electric Volta Zero at Steyr Automotive.
The first examples will be used in the Volta Zero Driving Experience Programme; customers will be loaned a truck for an extended period, which will allow fleet operators to become accustomed to how the truck will work in their businesses.
The first customer trucks will be delivered later this year.
China's best-selling luxury brand heads to Europe

China's best-selling luxury brand, HiPhi, has just released its new model called the Y, at the Shanghai Auto Show and has set sights on European expansion.
Munich in Germany and Oslo in Norway are to be the site of the first HiPhi hubs.
The HiPhi X Super SUV has already received European Union Individual Vehicle Approval, with the HiPhi Z Digital GT to follow shortly.
European order books are open now, though UK plans are unclear at this stage.
MG announces Cyberster Roadster

This is MG's first all-electric roadster, called the Cyberster.
Not much has been served up regarding the car's powertrain, though it is expected to arrive for sale in the UK and Europe in the summer of 2024.
According to Carl Gotham, Advanced Design Director of the company's Marylebone design studio in London "Our intention was to create a completely new roadster ready for a new generation of sportscar drivers and which opens a bold and compelling new chapter for MG."
Mercedes-Maybach EQS SUV takes a bow

This is the Mercedes-Maybach EQS 680 SUV – the top of the Mercedes-Benz passenger car food chain and the first full-EV Maybach.
Mercedes-Benz describes it as an 'exclusive lounge with a holistic comfort experience for all the senses.'
It's also the first model from Mercedes-Benz to be fitted with vegetable-tanned leather – coffee bean shells are used as tanning agents.
It has a power output of 484kW, 950Nm of torque and a 200kW DC charging capacity, which can charge the car to full in around 31 minutes.
This luxury SUV is no slouch either, with a 0-62mph in 4.4 seconds. The range of this vehicle is up to 372 miles (600km).
Zeekr outlines European expansion plans

Zeekr is aiming to bring its luxury EVs to Europe.
The ZEEKR 001 and ZEEKR X were developed with these requirements in mind from the very beginning at ZEEKR's Global Design and R&D centres in Gothenburg, Sweden.
The Zeekr 001 is described as a shooting break with a range of around 372 miles (600km), while the Zeekr X is an urban SUV.
They will debut in Sweden and the Netherlands in late 2023 with other countries and models coming soon after.