Weekly EV News Round-up 13.04.2023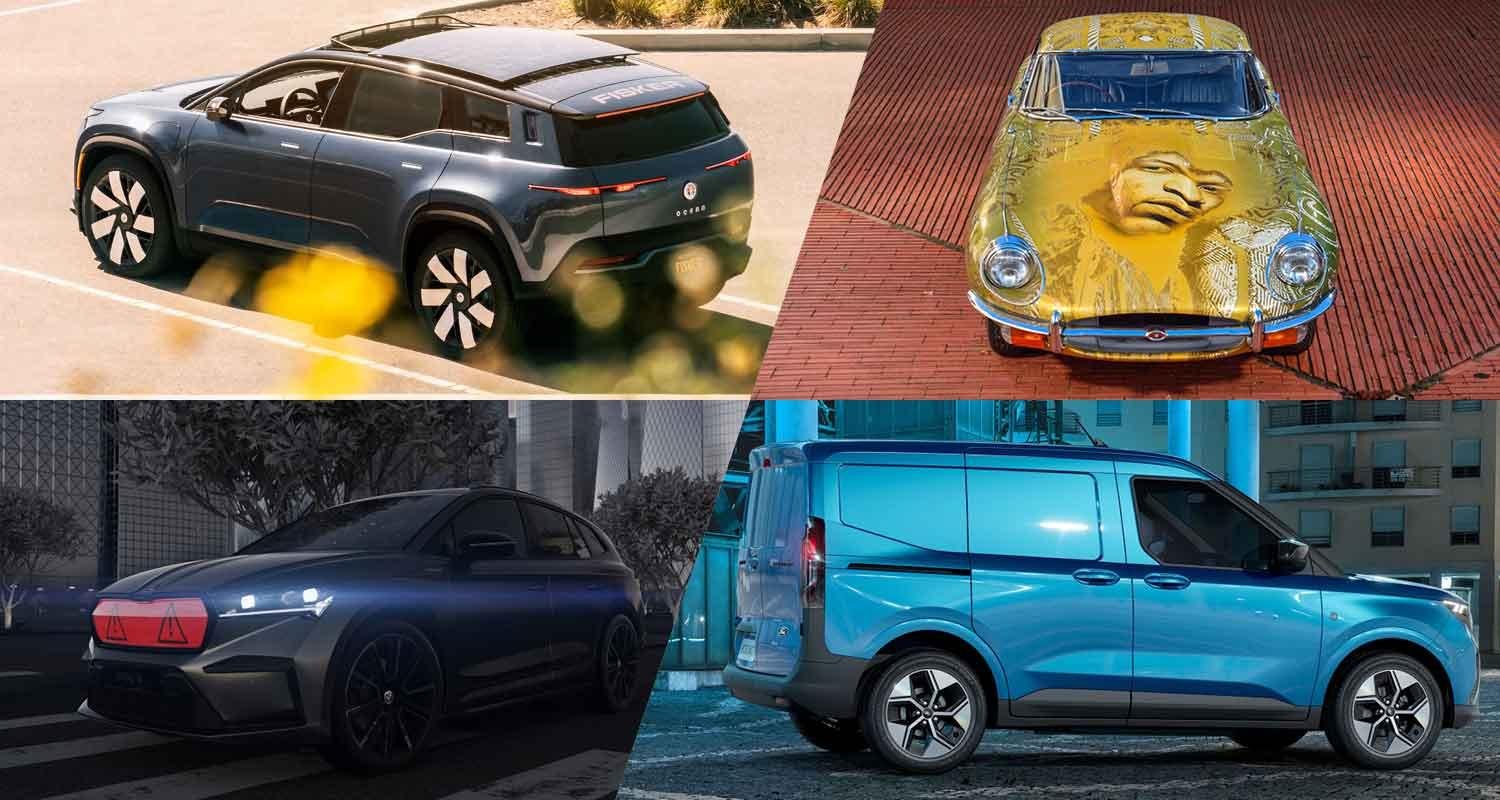 Genesis introduces plug and charge and Polestar tantalises fans with a sneak peak of the Polestar 4
Want to get our news alongside other exciting updates emailed straight to your inbox? Then be sure to subscribe to our newsletter!
Fisker hits the 436-mile mark for optioned-up Ocean

The Fisker Ocean has achieved a combined WLTP range of up to 701 km/436 miles on its optional 22in wheels and tires.
Earlier this month of 707 km/440 miles (UK) on standard 20" wheels and tires.
Both findings mean the Fisker Ocean Extreme, including the limited edition Fisker Ocean One, has one of the longest ranges of any battery electric SUV sold in Europe today.
Could EV duty fix road tax issues?

A report by automotive PR and communications agency loop shows that the Government could avoid the unpopular and politically divisive issue of road pricing by introducing a simple per kWh duty on the energy used to recharge electric vehicles.
Thanks to the Electric Vehicles (Smart Charge Points) Regulations, which require all chargers installed since July 2022 to include smart functionality, the infrastructure required to implement an 'EV duty' is already being deployed.
By analysing existing revenues, the report calculated that at 26p per kWh, electric cars, motorcycles and vans would generate the same income for HM Treasury as the current road fuel duty regime, even if the country was to achieve 100% EV adoption.
That level would also achieve price parity on a tax-per-mile basis, with both combustion engine and electric vehicles paying duty at roughly 5.6p per mile. For a typical EV travelling the national average mileage, that would add £295 to the cost of a year's motoring.
The report also shows that the Treasury could afford to replace the complex array of Vehicle Excise Duty bands for vehicles over six years old with a simple flat rate, mirroring that for new vehicles, without jeopardising current revenue levels.
Genesis launches fresh charging programme

Genesis has announced a new programme called Plug & Charge, which allows for a quick and easy in-car payment system for electric charging without the need for a payment card or smartphone app.
It's part of a bespoke set-up for Genesis customers as part of the Shell Recharge App developed in partnership with Shell Recharge and Hubject.
Smart onboard software enables the billing process to be instant and autonomous – called the PCID (Provisioning Certificate Identifier), a special digital code unique to each individual Genesis and associated with a Shell Recharge charging contract through the Genesis Charge Pass.
When plugged in to charge at a compatible Shell Recharge station, the car instantly communicates with the charger, with the charging contract being used to identify and connect the customer's Genesis Charging account, completing the authentication process and starting the charging session.
Once charging has ended, the customer's Shell Recharge account is automatically invoiced, and the customer is able to drive away.
Charge at many of the biggest networks with one card
You can even enable plug and charge through Electroverse is you own a VW ID vehicle or Cupra Born.
Polestar set to reveal new SUV Coupe

Here's a sneak peek of the Polestar 4, an electric SUV coupé that will also be the fastest Polestar production car to date.
It's due to be revealed at the Shanghai Auto Show on April 18.
Electric Lady to make public debut at Concours on Savile Row

Rock 'n' roll photographer Gered Mankowitz has created an art car from EV Jaguar E-type Roadster by Tudor Black Coachworks.
Inspired by a photo he took of Hendrix in 1967, in which Jimi was wearing a vintage Savile Row jacket, the entire car is an artistic tribute to the rock and roll star.
The E-type is the first EV model from Tudor Black Coachworks, and as part of a tie-up with tailors Norton & Sons, there'll be more artworks to savour and Q&A sessions.
The event takes place between May 24 and 25 on London's Savile Row.
Osprey full charge ahead in network rollout

The Osprey Charging network has made 142 new rapid EV charge points live in ten weeks, the same amount over the whole of 2022.
A further 50 are due to be installed by the end of April, and 1000 are expected to be live by the end of the year.
Osprey is now the fourth largest nationwide public rapid charging network, with 536 rapid chargers.
Skoda develops pedestrian warning system for grilles

Skoda is trialling technology which displays to pedestrians – via the car's grille – when it's safe to cross the road, as part of a wider trial scheme looking to make roads safer for children, senior citizens and people with disabilities.
Signals on the Enyaq iV's LED radiator grille alert pedestrians when it's safe for them to cross, as well as warn when the car is beginning to move off.
The symbols currently being tested include green arrows and a green person, plus a warning triangle or a red triangle with a cross – symbols that are widely recognisable.
Skoda says technology like this could potentially help to reduce the number of overall pedestrian injuries on the road, with more than 16,000 occurring in 2021, according to annual figures released by the Department for Transport in the UK in 2022.
Charge from the convenience of your driveway
Home charging is one of the easiest and cheapest ways to keep your EV's battery topped up. Browse our range of charging points and find the perfect charger for your home.
Ford reveals all-electric E-Transit Courier

Say hello to the new Ford E-Transit Courier, which is due to enter production in 2024.
It features a 100kW (136PS) motor and one-pedal driving capability. Full performance and range details will be confirmed closer to launch.
A domestic 7.4kW overnight home charge can be completed in seven hours, while there's DC fast charge capability up to 100kW. Charging from 10-80 per cent takes less than 35 minutes.
Purchase includes access to the BlueOval Charge Network, which is set to include 500,000 public chargers by 2024.
Volkswagen commits staff to Earth Day

To mark Earth Day, employees of the Volkswagen Group will devote one hour of their workday to climate protection.
For the third year, employees will conduct environmental and climate protection activities at many Volkswagen Group sites until April 22.
At the main plant in Wolfsburg, Production Director Christian Vollmer will lead employees on a bike tour to the plant to make the commute more sustainable.
Astrid Fontaine, Member of the Board of Management of Volkswagen Commercial Vehicles, also calls on employees to organise their commute to work in an active/sporty manner and to form carpools.
Porsche also finances the use of local public transport for employees for one day.
At Volkswagen Group Technology and many Volkswagen canteens in Germany, there are campaigns all about vegetarian and vegan nutrition.
The Bentley canteen in Crewe, England, is also focusing on a plant-based menu for the campaign period, which is flanked by general tips for a healthy and climate-positive lifestyle.
BMW XM Label Red unleashed

BMW has introduced the most potent M-car ever, the plug-in hybrid XM Label Red.
The power of the hybrid-V8 has been boosted by 95hp to 748hp compared with the standard model, and it features Toronto Red metallic accents on the exterior, unique 22-inch light-alloy wheels with red accents and a black and red interior colour scheme.
System torque is up by 200 Nm (147 lb-ft) and now peaks at 1000 Nm (737 lb-ft), with power channelled to the road via the M xDrive all-wheel-drive system.
The electric motor contributes up to 197 hp to the maximum system output. It has an electric range of between 47 and 52 miles and allows for AC charging up to 7.4kW.
The battery can go from zero to 100 per cent charge in 4.25 hours. Prices start at £170,860.