Weekly News Round-up 11.11.2022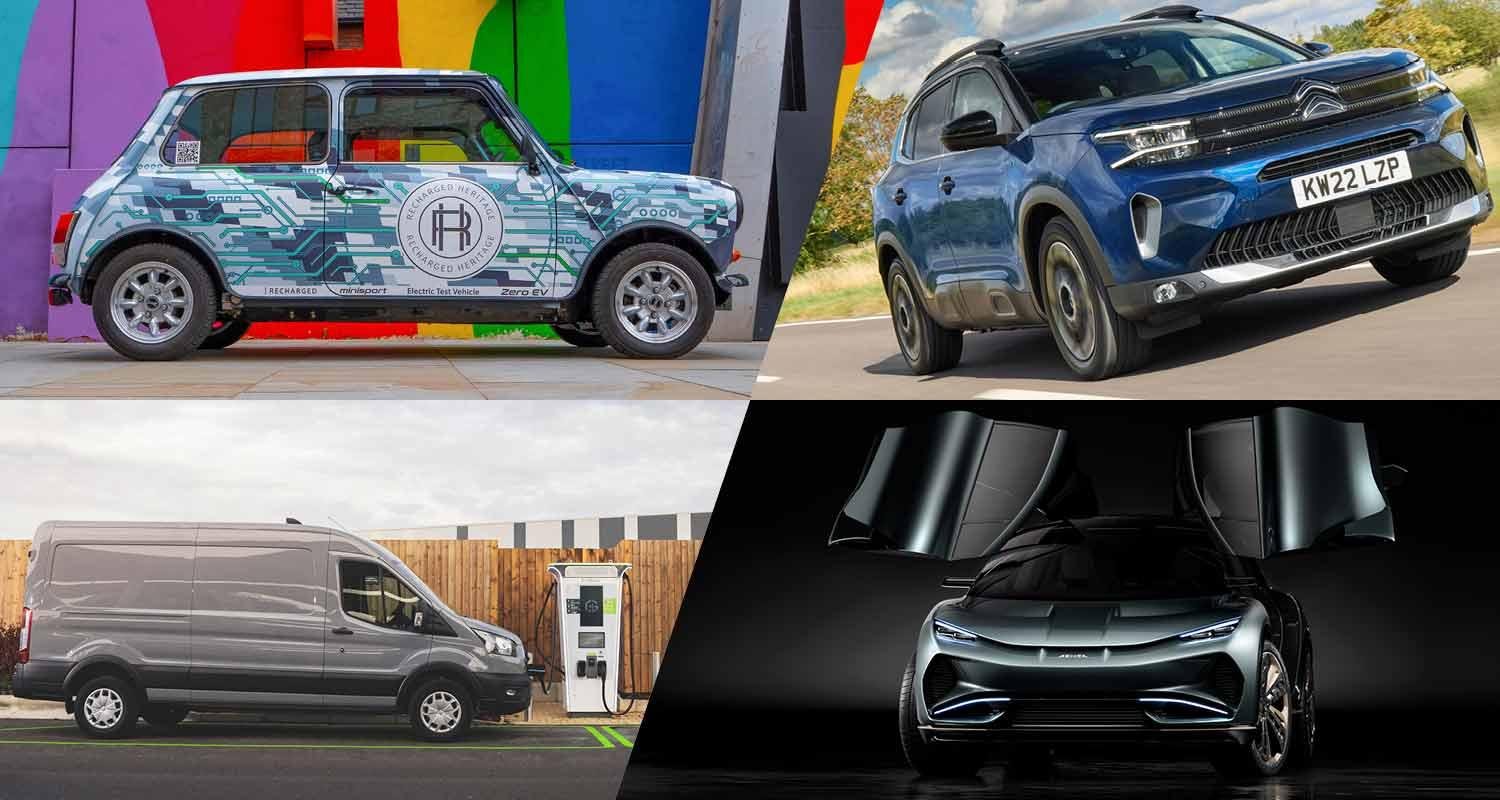 In other news - Recharged Heritage Limited offers original Mini fans the chance to electrify their favourite small car.
Sign up to our newsletter to get all of our latest news and updates delivered straight to your inbox every other week.
Gridserve to install UK's fastest public charger

Gridserve's Braintree Electric Forecourt is to host the UK's fastest public charger. The Terra 360kW charger is capable of adding 100 miles of range in less than five minutes and is suited to all EV users, including HGVs and cars towing caravans. It is fitted with two CCS connectors and equipped with longer cables, and contactless payment capabilities. If this trial run is successful, the Terra 360KW chargers may be rolled out at other Electric Forecourts.
Compare rapid charging costs
Compare the charging costs of the UK's most popular rapid charging networks using our rapid charging cost comparison tool,
Aehra debuts first car – an EV SUV

Aehra is a brand-new premium electric brand, and has entered the market with its first model, an SUV. While the details of its powertrain have yet to be released, the reveal showed off its design flourishes. It uses CFD (Computational Fluid Dynamics), "which have an accuracy equal to and, in some respects, greater than those achieved in wind tunnels," according to Aehra.
It measures three metres and uses aerodynamic management "with movable elements at the front and rear, which offer the thrill and promise of a sporty ride and at the same time improve active safety. These solutions also optimise drag coefficient and thermal management of the batteries while also increasing the range of the car."
Recharged Heritage Limited open classic EV order books

The classic Mini is now available with EV propulsion from Recharged Heritage Limited. After two editions – the MINI Recharged Paul Smith and MINI Recharged Lakwena – the conversion is now available to the general public. According to its creators: "Two modes are available from the 18-kWh lithium-ion battery with a 72kW electric motor revving up 14,000 rpm.
Customers can opt for 'Pure' mode, which accelerates from 0 to 62mph in 11.5 seconds and achieves a top speed of 78mph or 'Sport' mode, which reaches 0 to 62mph in 8.5 seconds and travels at a top speed of 92 mph. With a 6.6kW on-board charger, the battery can be charged in three hours on a 7kW wall-box or nine hours on a standard three-pin plug house connection, the MINI Recharged offers a WLTP range of 103 miles." It costs £42,500 to convert an existing Mini and £62,500 including a donor Mini.
Citroen updates C5 X and C5 Aircross

Citroen has upgraded the battery technology for the plug-in hybrid versions of its C5 X and C5 Aircross. Both cars now have 41 miles of electric range, putting the car into the 8 per cent BIK tax brand, reducing tax costs by 40 per cent per month over three years.
The updated New C5 Aircross PHEV features a new-generation battery pack, increasing power from 13.2kWh to 14.2kWh while emitting only 29g/km of CO2. "With New C5 X PHEV versions, the battery pack is unchanged at 12.4kWh, but the switch-over to the Euro 6.4 standard improves the battery's minimum charge threshold," Citroen says. PHEV versions of the C5 X start from £36,720 while PHEV versions of the C5 Aircross start at £35,935.
Take a look at our vehicle guides
If you're still choosing an electric or plug-in hybrid vehicle, take a look at our vehicle guides for some more information before deciding
Audi introduces Q8 e-tron and Q8 e-tron Sportback

Audi has added to its line of e-tron models with the Q8 e-tron and Q8 Sportback e-tron. The new additions include updated tech with a revised interior, upgraded driving characteristics and a larger 114kWh battery with a 343-mile range. Three drivetrain variants with electric all-wheel drive are available; driven by two motors, the 50 models generate 250kW (340PS) in boost mode and 664Nm of torque, with a range of up to 281 miles (SUV) and up to 290 miles (Sportback).
The 55 models are also driven by two electric motors that generate 300kW (408PS) in boost mode and 664Nm of torque. Ranges are up to 330 miles for the SUV and up to 343 miles for the Sportback. The Audi SQ8 e-tron and Audi SQ8 Sportback e-tron are driven by three motors, offering 370kW (503PS) and 973Nm of torque. The range of the S models is up to 284 miles for the SUV and up to 295 miles for the Sportback. UK pricing will be announced shortly.
SPOTiCAR starts home deliveries

SPOTiCAR, the approved used programme from Stellantis UK, is to offer home delivery for its range of vehicles. "Customers looking to buy their next car with SPOTiCAR will be given online access to an automatic quote for delivery to their home address," SPOTiCAR says. "Once delivery is confirmed, the customer will receive a bespoke service, with a delivery date and time agreed to suit them and a comprehensive vehicle handover offered to answer any questions they may have about their new vehicle." All electric cars will be delivered with a full charge.
Volvo reveals EX90

Say hello to the Volvo EX90 – the fully electric Volvo that begins a process of a new EV every year from the manufacturer. Aside from offering 600km on a single charge, Volvo says it is the safest car yet: "State-of-the-art sensors such as cameras, radars and lidar are connected to the car's high-performance core computers, where NVIDIA DRIVE runs Volvo Cars' in-house software to create a real-time, 360-degree view of the world."
It also monitors the driver too: "Special sensors and cameras, powered by our own in-house-developed algorithms, gauge eye gaze concentration. The technology allows the Volvo EX90 to understand when you're distracted, drowsy or otherwise inattentive, beyond what has been possible in a Volvo car to date. It'll alert you, first softly nudging, then more insistent. And if the unthinkable happens and you fall asleep or are taken ill while driving, the Volvo EX90 is designed to safely stop and call for help."
The EX90 launches with a twin-motor, all-wheel-drive powertrain that offers two levels of output. Twin Motor models have 402bhp and 568lb ft of torque, while Performance models provide 510bhp and 671lb ft of torque. It's due on sale in 2024 and will cost from £96,000. The battery can be charged at 250kW, with a 10 to 80 per cent charge possible in 30 minutes. It weighs a whopping 2818kg.
Hyundai achieves 0.21 drag co-efficient

Hyundai has achieved a drag coefficient of 0.21 for its new Ioniq 6, helping it to a 614km single-charge range. Hyundai has revealed some of the inspirations behind the design, such as early streamliner cars like the 1947 Stout Scarab, Phantom Corsair and Saab Ursaab. Another influence was the World War Two fighter plane, the Supermarine Spitfire.
"Designers applied a Spitfire-inspired winglet to the side of IONIQ 6's rear spoiler to absorb the airflow from the roof and reduce drag by minimising vortices at the spoiler's tip. This technology also effectively reduces the eddy currents generated from the side of the vehicle, helping to reduce drag," says Hyundai.
Nissan Leaf given lifetime achievement award

WhichEV has honoured the Nissan LEAF with a lifetime achievement award to recognise its role in helping to make electric vehicles become more popular. James Morris, Editor of WhichEV stated: "The Nissan Leaf should be commended for all it has done for EVs over its 12 years (so far). It's a true legend."
Since 2010, 605,000 Leafs have been sold, 56,000 of which in the UK, where it's built in Sunderland.