Weekly EV News Round-up 11.05.2023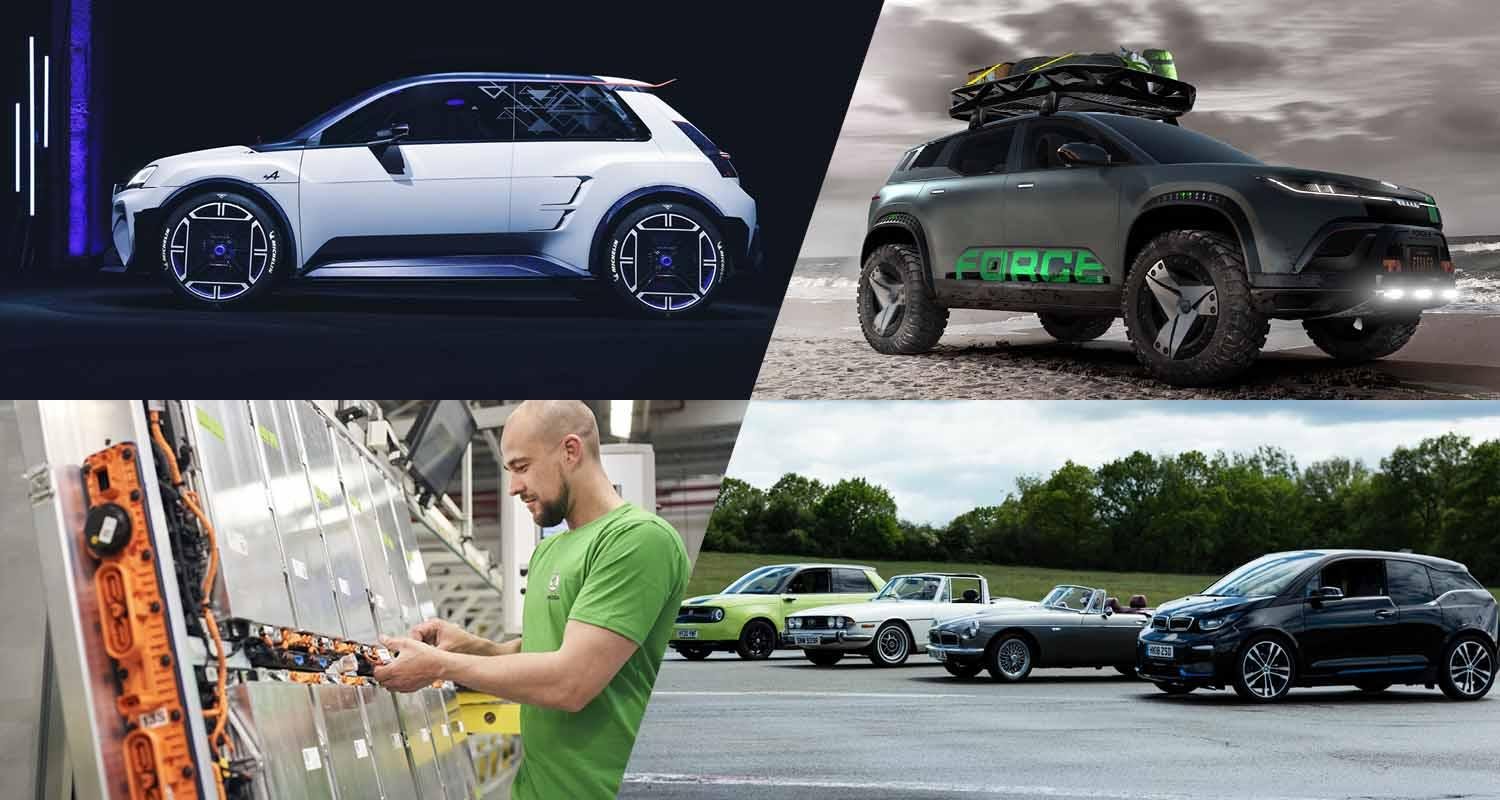 Luxuary car makers including Lotus and Audi flaunt their latest EV SUVs and Fisker ditches the road with it's special edition version of the Ocean.
Want to get our news alongside other exciting updates emailed straight to your inbox? Then be sure to subscribe to our newsletter!
Alpine reveals A290 Beta

Say hello to the Alpine A290 Beta, a preview of the compact B-segment electric sports car – or an EV hot hatch to most of us.
Due to be launched in 2024, there are three ABS positions, and three driving modes for track – Wet, Dry and Full.
According to Alpine: "On a wet track, the car responds much more gently, has more traction and is stabler.
In Dry mode, its behaviour is completely different: it glides more, and the wheels respond more aggressively. And Full mode, like the Overtake button, unleashes the electric motors' full might."
Power and performance figures haven't been released yet, but it will be front-wheel drive and have a multi-link rear suspension.
Sign up to Electroverse and get £5 free charging
Join electroverse and charge your EV at the UK's largest charging networks without the faff of downloading multiple apps or creating different accounts.
Skoda hits the half-million mark for battery systems

Skoda has manufactured 500,000 battery systems at its main plant in Mladá Boleslav for use across the wider Volkswagen Group portfolio.
The advanced MEB (Modular Electrification Toolkit) battery systems are important components fitted in MEB vehicles and models with a plug-in hybrid drivetrain across VW Group brands.
Every 86 seconds, a battery for MQB-based models with a plug-in hybrid drivetrain is completed.
When it is being unloaded from the production line the battery weighs approximately 130 kilograms, with a team of 13 fully automated robots employed to handle particularly heavy components on the production line.
EV SUVs set to shine at Concours on Savile Row
Concours on Savile Row – the free motoring event taking place at the heart of Britain's tailoring world, will provide the opportunity to see two of the fastest electric performance SUVs up close.
Lotus will be bringing its groundbreaking Eletre along, while Audi will be bringing along its E-Tron RS GT.
Other EV highlights include Everrati, a Lunaz Design Bentley Continental, the Electric Lady Jaguar E-Type and more besides.
The event takes place on May 24 and 25.
Fisker Ocean goes off-road

This is the Fisker Ocean Force E, a special off-road edition with substantial ground clearance and ramp angles, 33-inch all-terrain tires on 20-inch reinforced wheels, specialised dampers, plus an estimated 550 horsepower.
A full-length titanium underbody plate protects the Fisker Ocean's battery, and the vehicle has structurally mounted front and rear skid plates.
The package can even be retrofitted on all-wheel-drive Fisker Ocean Extremes and Fisker Ocean Ultras.
We have OZEV approved installers across the country
Have your home charge point professionally installed by one of our many expierenced engineers. Find out if we install in your area below.
Mercedes-Benz feels the freeze with eActros

Mercedes-Benz Trucks has teamed up with Solomon Commercials to launch Britain's first fridge-bodied eActros electric truck.
The 19-tonne GVW eActros is based on a 4x2 eActros 300.
Fitted with three nickel manganese cobalt battery packs, for a total installed capacity of 336kWh, it boasts a range of up to 330km (205 miles).
The batteries can be recharged from 20 to 80% in 75 minutes, using a 400A 160kW charger.
Paris to Venice sans carbon

A brand new rally event for low-carbon motoring is due to take place later this year, which sees entrants strive for the lowest carbon emissions whilst driving from Paris to Venice.
There are two categories for entrants – Adventurer and Competition.
The 'Adventurer' allows entrants to complete the 1300km route, which passes through four countries, at their own pace.
They will set off on or after November 12, crossing the finish line on November 25.
The Competition category will see entrants leave Paris a week later on November 19, taking on the additional challenge of both timed and speed sections similar to historic rally formats.
The winning teams will be those with the lowest carbon ratio emissions and as the race is to zero, concessions will be provided for range and time.
Carbon usage for food and accommodation will be recorded by each team on an honour basis.
(Eco and sustainable overnight stays are encouraged as accommodation).
Teams will also be required to offset their carbon footprint through Blue Marble's offsetting projects.
Metis launches cell guard for battery monitoring

Metis Engineering has launched Cell Guard, a new battery safety sensor for battery health monitoring for EVs and Energy Storage Systems (ESS).
Unlike current battery cell monitoring systems (BMS), which typically only offer temperature and voltage sensors, Cell Guard monitors a range of environmental parameters required to ensure that the battery continues to operate in optimum conditions, including VOCs, Pressure change, Humidity, Dew point and has an optional Accelerometer to record shock loads.
This data can be used to crosscheck with other inputs, such as cell temperatures and pressure spikes, to identify cell venting.
The sensor relays the data over a configurable CAN interface to a control unit, such as the vehicle's ECU.
This can then raise a warning to alert the driver within seconds that cell venting has occurred. The sensor can also trigger the process to cut the circuit to the battery pack, giving it an opportunity to cool down with the objective of preventing thermal runaway.
McLaren boss calls on future-proofing of supply chain

McLaren Automotive CEO Michael Leiters has warned that the UK must not loiter when it comes to investment in key areas including power-dense, high-performance battery technology.
Mr Leiters said the technology would be ready within the decade. McLaren has said that over 90% of its supercars would have some form of electrification within five years.
Mr Leiters, however, warned that investment in the supply chain of critical technologies is essential for UK high-performance car manufacturers to remain competitive on a global scale.
He continued that if McLaren was to switch powertrains to pure-electric today, the amount of British-sourced components would drop from 75 to 35 per cent.