Weekly News Round-up 07.10.2022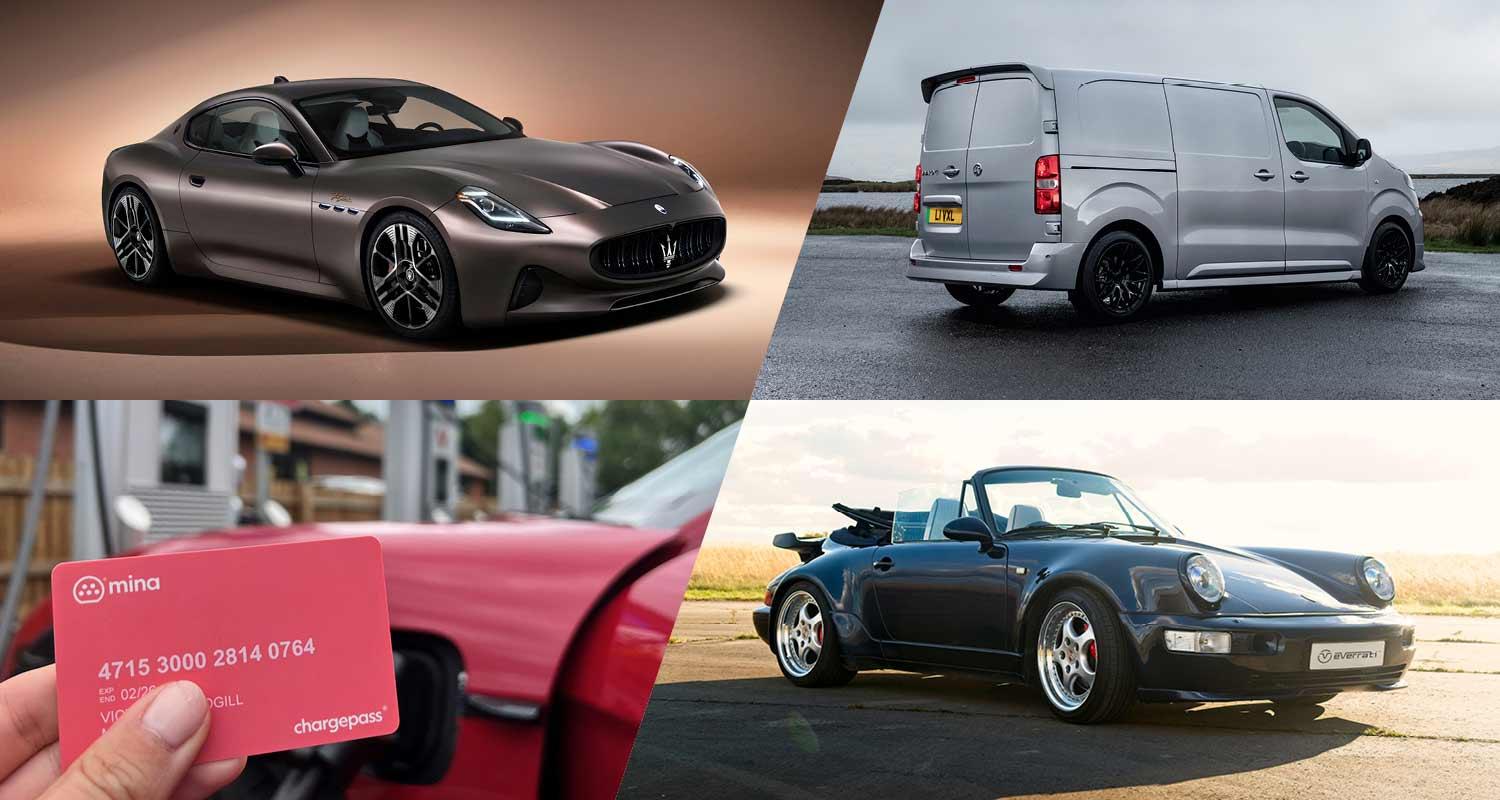 In other news, Everrati launches an Electric 964 Cabrio and the Vivario gets a sporty GSe makeover
Sign up to our newsletter to get all of our latest news and updates delivered straight to your inbox every other week.
Maserati reveals more details on EV GranTurismo

Say hello to the new Maserati GranTurismo Folgore. It's a welcome return to the two-door coupe market for Maserati, but this time there's an EV option, the Folgore. The Folgore system is based on 800-volt technology developed by Formula E.
It features three powerful 300-kW permanent magnet motors, while the battery has a nominal capacity of 92.5 kWh and a discharge capacity of 560 kW, to continuously transmit around 760hp to the wheels.
One million EVs sold

One million electric vehicles have now been sold, according to the SMMT – but the rate of purchasing has declined. "Electric vehicle uptake continued to rise, albeit at a slower rate of growth than seen earlier in the year, with the second highest monthly volume of battery electric vehicle (BEV) registrations in history, up 16.5% to 38,116 units," The SMMT said.
"Although registrations of plug-in hybrid vehicles (PHEVs) declined by -11.5% to 12,281 units, overall plug-in vehicles accounted for more than one in five new cars joining UK roads in the month. As a result, almost a quarter of a million (249,575) have now been registered in 2022 – meaning that UK drivers and fleets have now registered more than one million plug-in EVs, a quarter of which in this year alone."
Take a look at our vehicle guides
If you're still choosing an electric or plug-in hybrid vehicle, take a look at our vehicle guides for some more information before deciding
Everrati launch EV widebody 964 Cabrio

Everrati Automotive Limited has revealed its electrified Porsche 911 (964) Wide Body Cabriolet mode. It offers more than double the output of the original Porsche 911 (964) Cabriolet on which it is based on. It is available in 440bhp or 500bhp forms, and the latter can accelerate from 0-60mph in under four seconds with a total driving range of 200 miles thanks to its 62kWh battery.
Vauxhall gets sporty with its Vivaro

Vauxhall has introduced a dash of sportiness to the Vivaro Electric with the GSe trim level. At the front, there's a new lip spoiler, and along the side, there are side skirts with integrated front mudguards. It rolls on exclusive Y-spoke 18-inch black alloy wheels and high-load capacity tyres. At the rear, there's a two-piece spoiler to improve stability when the vehicle is unladen.
The GSe trim will be available on the Vivaro Electric exclusively in Panel Van configuration. The 75kWh battery means the Vivaro Electric GS has a range of up to 189 miles. It supports up to 100kW rapid charging, with an 80% charge taking just 45 minutes, as well as boasting a maximum load volume of 5.8m3 and a payload of 1000kg. Prices start at £41,000 (excluding VAT).
Mercedes-Benz unveils new A-Class

Say hello to the new Mercedes-Benz A-class, which is available in hatchback or saloon form. The power of the electric motor in the plug-in hybrid models has been increased by 5kW and now offers 80kW. With regards to charging, in addition to the 3.7kW standard, the battery can now also be charged with AC up to 11kW, instead of only 7.4kW previously. DC charging is also available up to 22kW; a DC charge from 10% to 80% takes around 25 minutes. All electric ranges span 43 (70km) to 50 miles (82km).
Mercedes-Benz also updated the B team

Mercedes-Benz has also unveiled the new B-Class, which is being described as a Sports Tourer. Like the A-Class, the plug-in hybrid option has been upgraded with an improved high-voltage battery. It now provides 80kW of power (an increase of 5kW), and a DC charge at 22kW from 10 per cent to 80 per cent takes 25 minutes. The all-electric range is 41 (67km) to 47 miles (77km).
Mina calls out the government over electricity costs

EV charging payment specialist Mina has claimed the Government is out of touch with the cost of running EVs, and as a result, drivers are having to subsidise business trips themselves. HMRC's Advisory Electricity Rate (AER), which is a flat rate for paying back business mileage, has remained the same - five pence per mile - since December 2021, despite electricity prices increasing rapidly.
Mina's survey reports that: "This summer alone, home charging costs increased 30% and public charging 19%. As a result 94% of journeys charged at home cost more than the Government's 5ppm rate, and 100% of those charged in public cost the driver more than the AER. In some cases, employees were out of pocket by as much as 17p per mile if they charged in public - equivalent to £17 over a 100-mile journey, or personally subsidising £1,700 over 10,000 miles a year."
Ashley Tate, Mina CEO and co-founder, said: "Businesses account for around two-thirds of all EVs on the road, but the Government is risking the success of the transition to electric with the outdated method of paying these hard-working drivers. Those already in EVs will want to know why they are personally subsidising their business travel, while employees about to make the switch to electric may refuse once they realise they will be losing financially on every work trip they make.
Mina Charge Pass Review
For more about Mina and how they can make managing fleet charging expenses easy, check out our review on Mina's Chargepass
Fiat ups owner benefits for E-Ducato

Fiat Professional is now offering its five-year warranty, roadside assistance and service package as standard on the E-Ducato. Essentially, there's a three-year standard warranty plus an additional complimentary two-year extension, or if the vehicle has travelled 125,000 miles, whichever happens first.
The roadside assistance is available 24 hours a day, seven days a week, and if the problem cannot be solved by the roadside, hotel and travel expenses are covered and towing and courtesy cars are available. The programme includes a free service covering the costs of parts, lubricants and labour for every 30,000 miles covered or once every two years.
Whole Kith and caboodle for BMW

BMW has teamed up with fashion house Kith to produce seven special edition versions of the BMW i4 M50. Kith's founder, Ronnie Fieg, is an avowed BMW fan and has had his 1972 BMW 1602 converted to electric propulsion. It's not the first electric 1602 – two examples of the breed were electrified for use at the 1972 Olympic Games in Munich for use as camera cars.
This is the second collaboration between Kith and BMW, and the i4 M50 by Kith features bespoke interior trim and Kith Vitality Green on the outside; "a rich, dark green that is not available on a serial BMW".