Weekly News Round-up 20.10.2022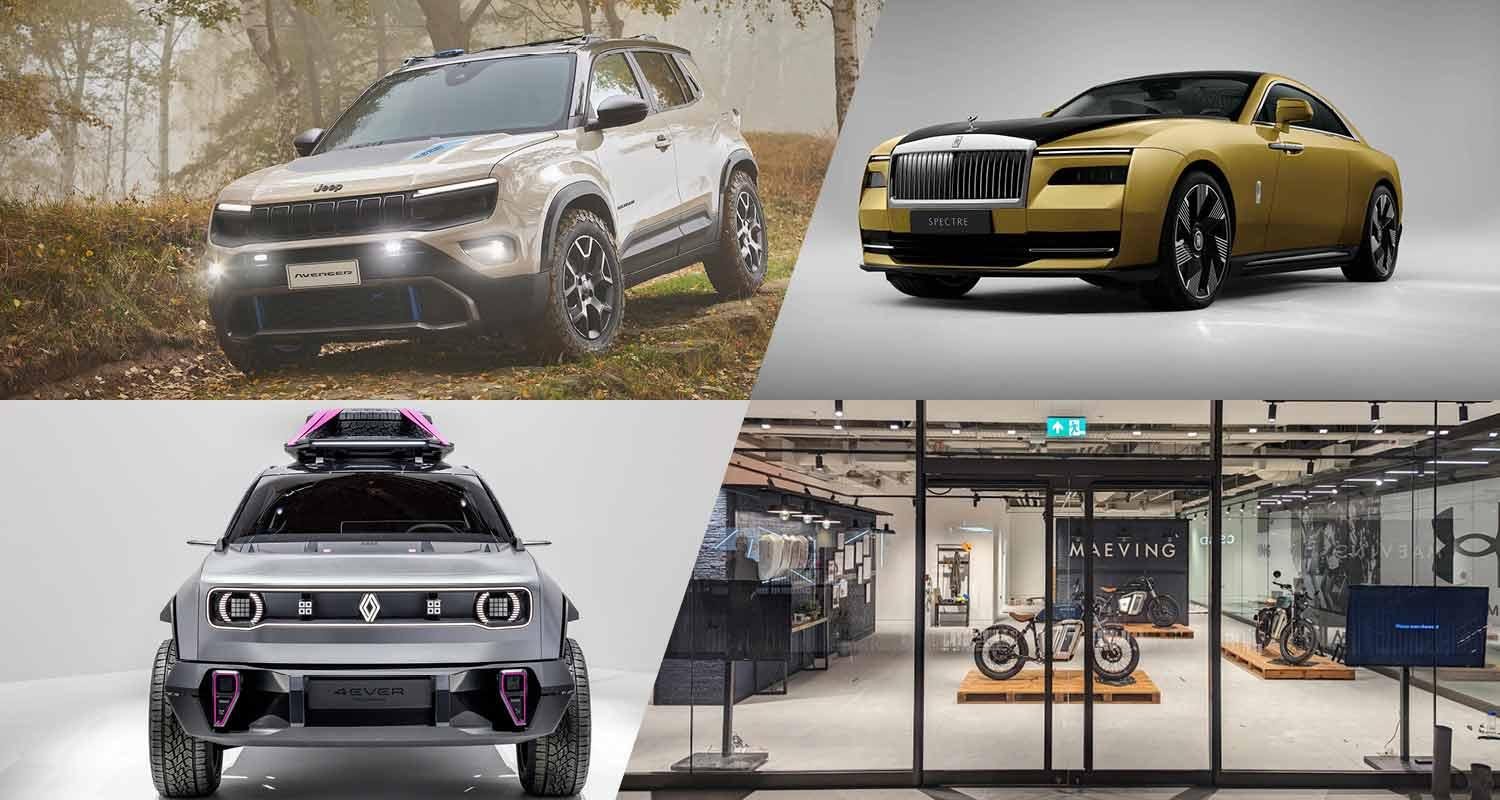 Volvo reveals more information on the upcoming EX90 electric SUV and GKN automotive helps Arial make an electric hypercar.
Sign up to our newsletter to get all of our latest news and updates delivered straight to your inbox every other week.
Rolls-Royce Spectre breaks cover

Say hello to Rolls-Royce's first all-electric car – the Sceptre. After more than 2.5million kilometres of testing, the car is ready for production. While the final power, acceleration and range figures are still being decided upon, the key figures are a range of 320 miles, 900Nm of torque from the 430kW powertrain and 0-60mph in 4.4 seconds. Not bad for something weighing 2975kg….
Take a look at our vehicle guides
If you're still choosing an electric or plug-in hybrid vehicle, take a look at our vehicle guides for some more information before deciding
Audi launches particulate filter plan

Audi is working with supplier MANN+HUMMEL to develop a particulate filter for electric cars that collects particulate matter from the surrounding area. Irrespective of a vehicle's drive system, 85% of fine dust in road traffic is caused by brake, tyre or road abrasion. The smallest dust particles, are only a few micrometres in size with a diameter of only 10 micrometres and can therefore be easily inhaled.
"In the past year, the World Health Organization (WHO) has recommended significantly lower particulate matter limits than in the past but according to experts, it would be impossible to comply with these new values in many urban areas in Germany," says Audi. The filter is integrated into the vehicle's existing airflow in front of the radiator and is controlled via the switchable cooling air inlet.
Its mechanical function is comparable to that of a vacuum cleaner – the fine dust particles remain stuck in the filter and the air can still flow through it. "While driving, it passively filters by means of the movement of the vehicle; air flows through the filter system, which captures even the smallest particles. Another possibility is filtering during stationary charging," says Audi.
"A fan that is already built into every electric vehicle conveys ambient air through the radiator – the system takes advantage of this process and can thus actively filter the air flowing through it, using the fine dust filter, ensuring the smallest particles are absorbed, even when stationary. This is ideal for use in urban environments, where the particulate matter pollution is much higher than in rural areas."
Volvo spreads EX90's insides

Volvo has revealed more about the new all-electric EX90 SUV's interior, in particular a material called Nordico. It's made from recycled material such as PET bottles, as well as bio-attributed material from responsibly managed forests in Sweden and Finland. In addition, the wood panelling is FSC-certified. If you're a fan of wool, you can specify an ethically sourced wool blend for the seats.
Volvo also says that each EX90 contains 50kg of recycled plastics and bio-based materials, while the carpets are partly made from regenerated polyamide.
GKN helps develop Ariel supercar

GKN Automotive has helped develop a 1180bhp electric powertrain for the Ariel HIPERCAR on a bespoke test rig at its Abingdon HQ. Developed with support and funding from the Advanced Propulsion Centre (APC), a non-profit organisation that facilitates funding to UK-based research and development projects developing low-carbon emission powertrain technologies, the rig is capable of fully replicating extreme on-car demands and dynamics, including simulated laps of a racetrack.
VW's EV deliveries up 25 per cent in nine months
The Volkswagen Group had seen deliveries up 25 per cent in the first nine months of 2022. The group delivered 366,400 EVs compared to 293,000 in the same time period in 2021. The electric vehicle share of total deliveries climbed to 6.0 per cent in that timeframe, up from 4.2 per cent in the same period of 2021. "By the end of September, the Volkswagen brand delivered 207,200 BEVs to customers (57 per cent of Group total).
This was followed by Audi with 77,000 vehicles (21 per cent of Group total), ŠKODA with 36,900 vehicles (10 per cent of Group total), Porsche with 25,100 vehicles (seven per cent of Group total), and SEAT/CUPRA with 17,600 vehicles (five per cent of Group total)," VW Group said.
Get £5 free charging
Get £5 worth of free charging at Electric Universe supported charging networks when you sign-up using our link
Jeep Avenger assembles in France
Jeep reveals the Avenger 4x4 Concept at the Paris Motor Show. Based on the 4x2 all-electric Avenger, the 4x4 Concept features tow hooks, wider bumpers and track, and is equipped with larger, exposed and more aggressive tyres. To further enhance the capability of the Jeep Avenger, the approach angle has been improved to 21 degrees, the departure angle to 34 degrees and the break-over angle to 20 degrees, thanks to the ground clearance which now exceeds 200mm.
Renault lays down a four-to-the-floor thriller

To celebrate the 25th anniversary of the Renault 4L Trophy, Renault has built a 4EVER Trophy show car for the Paris Motor Show. The original Renault 4 sold 8 million examples in 100 countries, and the new car "paves the way for the future all-electric B Segment SUV that will be at ease on urban and rural roads alike", according to Renault. It uses the same CMF-BEV platform for B-segment electric vehicles as the well-received Renault 5 concept.
Mercedes-Benz launches AMG EQE SUV

This is the Mercedes-AMG EQE SUV – the first all-electric performance SUV from Mercedes-AMG. It features two powerful electric motors with up to 505 kW (687 hp) total output, allied to a package with fully variable all-wheel drive, AMG air suspension, rear-axle steering and AMG-specific roll stabilisation as standard. The maximum torque ranges from 858Nm to 1000m, and it has a range of between 431km and 488km.
Maeving opens Battersea Power Station site

Electric motorcycle manufacturer Maeving has opened a pop-up shop at Battersea Power Station in London. Maeving is an all-new motorcycle manufacturer with a British-designed and built electric motorcycle called the RM1. It features removable batteries that can be charged at any standard plug socket, and can be ridden on just a CBT licence (Compulsory Basic Training). Maeving is offering a free accessory pack and a GPS tracking app worth £200 with any orders placed before November 11.
Lotus launches Evija Fittipaldi

Lotus has announced a limited edition Evija EV hypercar to celebrate 50 years since race legend Emerson Fittipaldi and Team Lotus won the F1 Drivers' and Constructors' Championships. Not only does it recall the black and gold colour scheme of Lotus Type 72 race car, but it features a rotary dial crafted from recycled original Type 72 aluminium, plus Fittipaldi signature hand-stitched on the dashboard. Eight cars are now being built, with the first customer deliveries appearing in 2023.