Weekly News Round-up 16.12.2022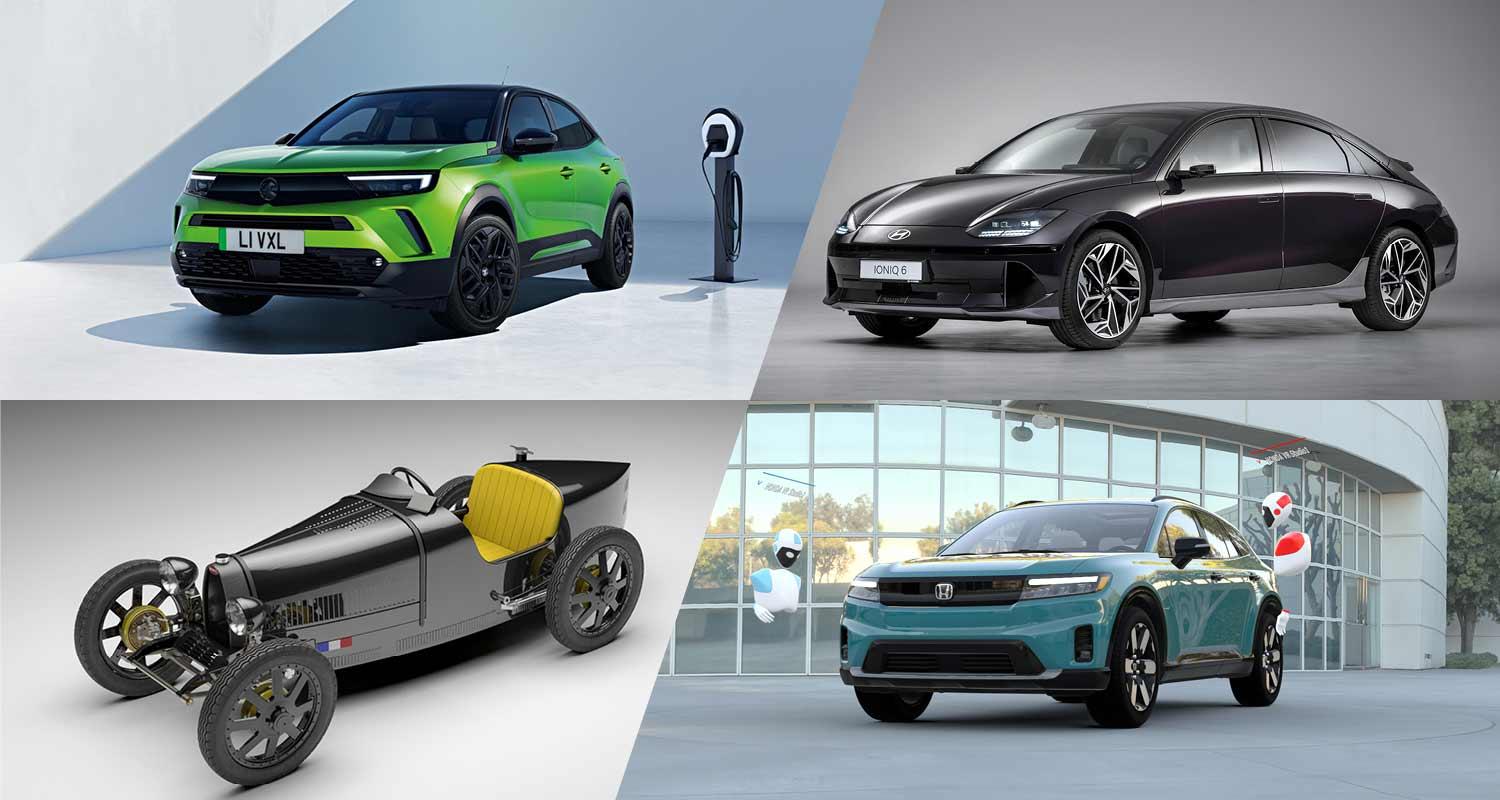 Hyundai announces pricing for the highly anticipated Ioniq 6 and Reggae Reggae Sauce founder Levi Root's teams up with Ford to light up Electric Avenue.
Sign up to our newsletter to get all of our latest news and updates delivered straight to your inbox every other week.
Mokka gets more frothy with a new battery

Vauxhall has upgraded the battery in the Mokka. A new 54kWh item replaces the current 50kWh, which means range has been increased by 20 per cent to 252 miles. The Mokka Electric produces 156hp and 260Nm of torque, and it supports 100kW rapid charging, which delivers a 10-80 per cent charge in thirty minutes. It also features an 11kW onboard charger as standard, suitable for home charging via a wall box.
Get a home charge point for the Mokka-e
Considering the Mokka-e? Home charging is one of the cheapest and easiest ways to keep its battery topped up.
New online platform to reserve Citroen LCVs

Citroën UK has introduced a new online reservation platform for its Light Commercial Vehicle (LCV) range, which includes the Berlingo Van and ë-Berlingo Van models. According to Citroen, "customers who place an initial reservation online with a fully refundable £199 reservation fee, will be contacted within one business hour to confirm all the details and add any part exchange appraisal.
Customers will then have the opportunity to pick their preferred Business Centre to supply the vehicle. A local Business Manager will then contact the customer to finalise and complete the order. Customers who progress their online reservation through to a confirmed order will benefit from priority build and the option of home or office delivery."
Hyundai announce Ioniq 6 pricing

Hyundai's quirkily styled Ioniq 6 will cost from £46,745, with rear and all-wheel drive options. The rear-wheel drive powertrain has 228PS and 350Nm while the all-wheel drive powertrain offers 325PS and 605Nm. All models feature a 77.4kWh battery, with the E-GMP platform's standard 800v charging system providing 350kW ultra-fast charger compatibility.
There's also a standard battery heating system for optimising charge times. The IONIQ 6 will also be Hyundai's first model to offer an Over-the-Air (OTA) software update feature for various vehicle systems. All models are available in a choice of 11 colours.
Compare EV energy tariffs
Find out how much you could save on your annual charging costs by switching to the right EV energy tariff
Ford lights up Brixton's Electric Avenue

As part of a long-term commitment to Electric Avenue traders, Ford Pro is making an E-Transit available for 12 months, with businesses able to test and use the electric van. The project is being spearheaded by Electric Avenue champion, Brixton local and Reggae Reggae Sauce creator, Levi Roots. He is partnering with Ford Pro on a year-long collaboration to decarbonise his business' logistics.
Ford Pro is using the opportunity to call on government and local councils to improve EV infrastructure after research found over half (51 per cent) of UK van drivers think current charging infrastructure is not ready to support the switch.
Polestar provides CAKE

Say hello to the second CAKE Makka Polestar edition, a collaboration between Swedish e-moped creator CAKE and Polestar. The new e-moped apes the sky colour used on the Polestar electric roadster concept. Besides the bespoke colour, the Polestar edition includes a slim headlight and dampers from high-end suspension company Öhlins.
The new edition in sky colour also adds a detachable rear carrier to use for improved cargo carrying, adaptable for configurations like boxes, racks, passenger seats and more. It has a top speed of 45km/h, and a retail price of £4350.
Honda turns to VR to shape future cars

Honda is using advanced virtual reality (VR) technology to develop future products, such as the fully-electric 2024 Honda Prologue. "VR has quickly become a critical tool for Honda designers in the development of future mobility products," Honda says. "During the height of the COVID-19 pandemic travel restrictions threatened the ability of Honda designers to collaborate with engineers on the design of the all-new Prologue.
The styling team in the Honda Design Studio in Los Angeles leading Prologue's design accelerated the use of VR to bridge the divide among its global design and development teams."The computer-aided design model enabled global design teams to receive immediate feedback and apply refinements to the clay modelling, colour, material and finishes related to the EV model. As a result, Prologue design development not only remained on track, the real-time global collaboration advanced the team's capabilities and the role of VR design moving forward. The Honda Prologue's availability in the UK has yet to be announced.
Eysing team up with Pininfarina for e-bike

Though more famous for its supercars, Pininfarina has now turned its hand to design an e-moped for Eysing. The PF40 "recalls the motorcycles of the '30s and, at the same time, it presents innovative elements that project it into the future creating a retro-futuristic flair," says Pininfarina. It has a range of 80km and costs €13,780.
Bugatti launches Baby II Carbon Edition

Bugatti has launched a limited-edition carbon-inspired new Bugatti Baby II, exclusively for W16 Mistral owners. Developed in partnership with The Little Car Company and hand built to each customer's specifications, the electric Baby II Carbon Edition follows the exterior and interior detailing of the W16 Mistral. Based on carbon fibre architecture, the Bugatti Baby II Carbon Edition is said to be a design and engineering tribute to the W16 Mistral, the last roadgoing Bugatti model to feature the legendary W16 engine. It's a follow-up to the 2019 limited-edition Bugatti Baby II, a 75 per cent scale version of the Bugatti Type 35. It's priced at €80,000.
Bentley gets a buzz out of bees

As part of Bentley's #GOTOZERO sustainable strategy, in May 2019 a colony of 120,000 indigenous honey bees took up residence at The Excellence Centre for Honey Production in Crewe. This year the bees have produced an estimated record 1,000 jars of honey, and the population has grown to an impressive 600,000-strong swarm across ten active bee hives.
EAV looks to expand
eCargo bike company EAV has partnered with crowdfunding company Seedrs in a bid to source £7.5m to fund the next level of expansion. The aim is to raise a minimum of £750,000 from Seedrs, with the balance coming from current shareholders, institutional investors, family offices and other high net-worth investors. Investments can start from as little as £20.