Weekly News Round-up 14.10.2022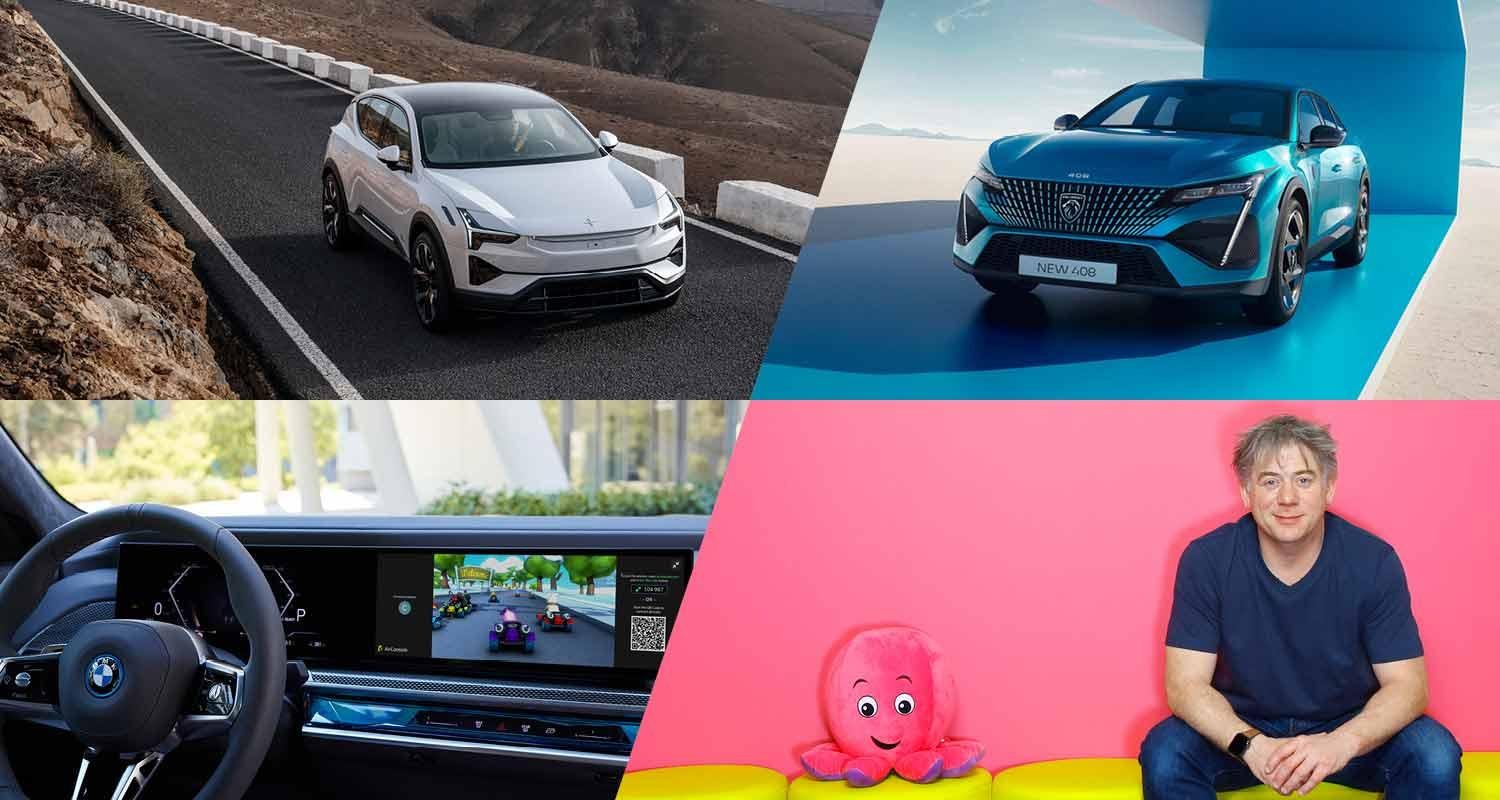 In other news, the Mazda CX-60 scoops up a 5 star eurocap safety rating and BMW brings gaming to its cars
Sign up to our newsletter to get all of our latest news and updates delivered straight to your inbox every other week.
Octopus Energy cuts to the chase

Octopus Energy has announced a new energy reduction scheme and has called to end the prospect of electricity blackouts. The scheme is called 'Saving Sessions', and will allow Octopus' 1.4 million smart meter customers and around 5000 of its business customers to reduce their usage during times of peak demand and get paid to do so.
"For every unit of energy customers save compared to their normal usage during a specific timeframe, Octopus expects to pay customers £4 on average, potentially saving customers around £100* over the course of the winter," Octopus said. The scheme will run between November 2022 and March 2023. A new flexibility service from National Grid ESO is making this happen.
It's due to be launched this winter and provide all UK energy suppliers with the option to financially reward customers who reduce their electricity usage during times of peak demand. "Instead of cutting off whole chunks of the country if we are short of gas, we can reward people for using less energy at times of peak demand," said Greg Jackson, CEO of Octopus Energy Group.
"We were the first energy supplier to offer this service to our customers, and we hope others will follow our lead. By doing so, we can make blackouts a thing of the past, and bring costs down for everyone."
Compare EV energy tariffs
Save £100s on your home charging costs by switching to the right EV energy tariff.
3 - it's Polestar's magic number

Say hello to the Polestar 3 – its take on the all-electric SUV market. It's the first car from Polestar to feature centralised computing with the NVIDIA DRIVE core computer, running software from Volvo Cars. "Serving as the AI brain, NVIDIA's high-performance automotive platform processes data from the car's multiple sensors and cameras to enable advanced driver-assistance safety features and driver monitoring," Volvo says.
It has a dual-motor configuration and a power bias towards the rear, and the standard car produces 489hp and 840 Nm of torque. Specify the optional Performance Pack and this swells to 517hp and 910 Nm. The 111kWh battery pack provides a range of 379 miles. It'll cost £79,900 (the Performance Pack is £5000 extra), and is available to order with a £1000 deposit with the first cars due by the end of the year.
Peugeot 408 available to order

The Peugeot 408 First Edition is now available to order, with just 50 coming to the UK. Each one comes with a 225hp plug-in hybrid powertrain and an enhanced version of the GT trim. This includes 20in 'Monolithe' diamond-cut alloy wheels, a 7.4kW on-board charger and a Driver & Passenger Seat Pack. It also comes with an Electric Pack, which includes a Pod Point Home WallBox, £500 Public Charging (via Octopus Energy 'Electroverse') and four years/40,000 miles service package.
It costs £43,250 and is available to order exclusively from Peugeot's Buy Online platform.
Mazda CX-60 scoops five-star Euro NCAP rating

Mazda's CX-60 has been awarded the maximum five-star rating by Euro NCAP, with 91 per cent and 88 per cent scores in its child and adult occupancy categories respectively. It also scored 89 per cent in the Vulnerable Road Users Protection section.
The CX-60 PHEV features Mazda's first plug-in hybrid technology powertrain, which blends a Skyactiv-G 2.5-litre four-cylinder petrol engine with a 129kW electric motor and a 17.8 kWh high-capacity battery. This delivers a total system output of 327ps and 500Nm of torque. Fuel consumption is 188mpg CO2 emissions are 33g/km. It also offers 39 miles of combined electric motor-powered driving with the vehicle running at 62mph or less and 42 miles of city EV range.
BMW brings gaming to its cars

BMW has partnered with AirConsole to bring casual gaming to new BMWs. Air Console is a gaming platform that will sit within the BMW Curved Display and enables games to be instantly delivered over the air and controlled using smartphones.
Millennials most image-conscious

Volkswagen Financial Services UK (VWFS) has released research data that shows people aged 25-34 are more than three times as likely (22%) to wash their car weekly than people aged 45 and over (6%). Just 24% of people saying they wash their car more regularly now compared to a decade ago. Similarly, just 10% of drivers pay for their cars to be cleaned more often now versus 2012.
"Most Brits wash their car every few months (33%) whilst some people wait every couple of years to do so (5%) and a very keen minority wash their car every single day (2%)," VWFS added.
Take a look at our vehicle guides
If you're still choosing an electric or plug-in hybrid vehicle, take a look at our vehicle guides for more information before deciding
Move to electric increases

A study for Kwik Fit has found that 42% of those planning to change their car expect their next vehicle to be either a hybrid or a fully electric vehicle. This has increased from a year ago when 37% said they planned to switch to a hybrid or EV. More than half (51%) of drivers aged 18-34 say their next car will either be a hybrid or an EV, compared to 34% of those over 55.
However, fewer women drivers (38%) say they will opt for a low-emission vehicle next compared to male motorists (45%).
Warranty worries

According to The Motor Ombudsman, more than half (51%) of UK driving licence holders who would buy an extended warranty for a used car said they would skim-read the terms and conditions, rather than reviewing them in full (42%). "Only 57% of those who said they would skim-read the small print said they were aware that a claim may not be successful in relation to wear and tear items, or if a car was repaired without authorisation from their chosen warranty provider," The Motor Ombudsman said.
Only half stated they knew that issues arising from the use of the wrong or contaminated fuel when filling up could equally invalidate a request to have repair costs covered under warranty, while just 50 per cent were also aware that claiming for the repair or replacement of parts that are not specifically listed by the policy may not result in a successful outcome.
Less than half (47%) recognised that having an incomplete service history as per the vehicle manufacturer's recommended intervals could equally see a claim rejected by the warranty provider.
Electrogenic charges up new B2B powertrain division

Electrogenic is to further develop its Powered by Electrogenic arm, which came to prominence in its 'drop in' kit for the Land Rover Defender, to offer the kit to other manufacturing businesses. Electrogenic has already performed several classic car EV conversions, on cars such as the Citroen DS, Jaguar E-type, Porsche 356, Morgan and classic Mini. These are exhaustively engineered, reversible conversions that are entirely bespoke, and tailored to fit a customer's specific needs.
The 'Powered by Electrogenic' allows the technology to be used in a broader range of applications. Steve Drummond, Electrogenic co-founder said: "Each kit will incorporate the latest technology, while also drawing upon the accumulated experience from the cars we've converted - cars that our customers, in many cases, drive every day.
The expansion of our B2B technology business means we will be able to help further accelerate the move to a low-carbon future, getting our EV conversion technology into more vehicles more quickly. It also facilitates exports and will create more jobs in the UK automotive sector."
Jaguar Land Rover announces new charging programme

Jaguar or Land Rover drivers with plug-in electric hybrid and fully electric vehicles now have access to Jaguar Charging and Land Rover Charging. This provides access to a network of more than 300,000 charging points across 27 countries and 700 separate charging point providers including Osprey, Ionity and char.gy. The network is still growing – more network operators are being added later this year.
"Existing or new owners will receive a welcome pack to the service, including a Jaguar or Land Rover charging key which simply needs to be tapped at any one of the network's points to initiate a charge," Jaguar Land Rover said. "Access can also be granted through the Jaguar Charging or Land Rover Charging app."
There is no monthly fee for the Pay-As-You-Go package – charging sessions cost the current variable rate at each charger. "The Gold Tariff – priced at £4.26 inc. VAT per month – provides fixed prices for charging, differing depending on the speed of the charger," JLR added. "The Platinum Tariff, priced at £8.50 per month including VAT, reduces the fixed rates, making it suitable for drivers that are regularly charging away from home."