Weekly News Round-up 04.11.2022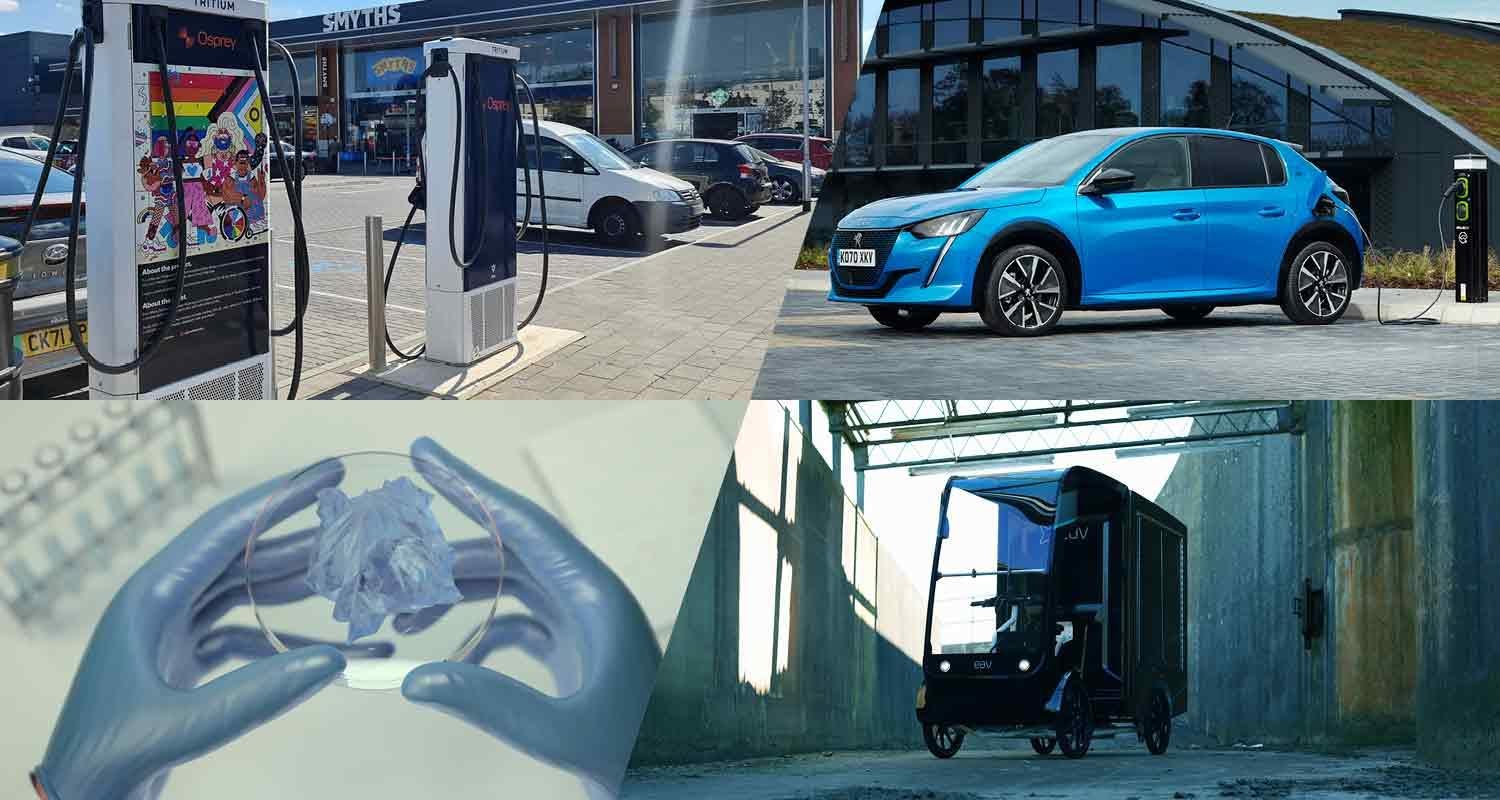 Peugeot reveals how EV drivers can tour the whole of Great Britain using only free public charging points.
Sign up to our newsletter to get all of our latest news and updates delivered straight to your inbox every other week.
Osprey cuts charges

Osprey has announced that it is reducing its prices to 79p per kilowatt hour, effective from November 1. The Government's Energy Bill Relief Scheme has made the price cut possible, in a time when wholesale electricity prices grew by up to 600 per cent.
"The price that EV drivers pay at the charger is comprised of several aspects including: the cost of electricity, the cost of installing infrastructure, the operation and maintenance of the charging network, as well as VAT at 20% for public charging," Osprey explained. "Energy suppliers also add on non-commodity costs, their own running costs and margin on top of wholesale electricity, to determine the price that businesses like Osprey pay."
Compare rapid charging costs
Compare the charging costs of Osprey Charging against some of the UK's most popular rapid charging networks using our rapid charging cost comparison tool.
Tour UK for free, according to Peugeot

Peugeot UK has released a study that reveals EV drivers can circumnavigate mainland Britain without spending money on recharging. According to Peugeot, more than a tenth of the UK's 35,000 public chargers are free to use, and the firm has plotted a 2,688-mile trip around the coast.
Starting at Land's End, the route runs along England's southern and eastern coasts, up through Scotland via John O'Groats before returning to Land's End through Wales using only free public chargers. The furthest distance between two free-charge points on the route is between Chelmsford and Sandringham at 168 miles. Driving the same route in an ICE car would cost up to 421 miles.
Bentley introduces eco-friendly SUV

Bentley has unveiled the Bentayga Odyssean Edition, which combines a hybrid powertrain with a sustainable approach to its upholstery. A 3.0 litre V6 and 18kWh battery combine to produce producing 462PS with 700Nm of torque. It has an all-electric range of 28 miles and is limited to 70 examples.
Inside it features environmentally friendly materials including tweed upholstery panels and Open Pore Koa veneers. Sales begin in November ahead of January production.
One in five EV drivers willing to share a home charger

According to a ZapMap survey of its 4300 EV drivers, 20 per cent would be willing to share their home charger with other drivers. The news comes as JustCharge, the community electric vehicle (EV) charging network from JustPark, has partnered with Zap-Map. The partnership offers Zap-Map users the ability to find and book JustCharge chargers directly through the Zap-Map app.
"With the typical home charging point not being used for 90% of the time, JustCharge hosts can bring in additional household income, helping to offset the costs of buying an electric vehicle. In addition to the Zap-Map and JustCharge customer base, charging spaces will also be visible to the tens of thousands of drivers who already use JustPark for EV parking," Zap-Map said.
EV charging prices rise by 14 per cent since June

The Zap-Map Price Index has revealed that the price EV drivers are paying to charge an electric vehicle (EV) on the public network has increased by 14% since June.
Taking into account more than 500,000 charging sessions per month, across approximately 70% of the charge points in the UK, the average weighted price of charging at a slow or fast charger was 39p/kWh in the UK, while the price for a rapid or ultra-rapid charge point, typically used for high-speed en-route charging, was 56p/kWh.
"This means that prices for slow/fast charge points were up 15% from 34p/kWh in June 2022, with prices for rapid/ultra-rapid chargers up 14% in the same period, from 49p/kWh," said Zap-Map.
Solid State EVs some years away

StoreDot, a producer of fast-charging battery technology for electric vehicles, has stated that mass-produced solid-state batteries are still at least a decade from mass production. It believes that global automotive manufacturers should consider interim technologies in the medium term, such as semi-solid batteries.
"Solid-state batteries promise cost-effective fast and safe charging batteries, with high energy densities, however they remain a work in progress, and still face significant challenges before they can be manufactured at scale," StoreDot says. "A solid-state battery uses solid electrodes instead of the liquid or polymer gel electrolytes found in current technologies such as lithium-ion or lithium polymer batteries."
Get £5 free charging
Get £5 worth of free charging at Electric Universe supported charging networks when you sign-up using our link
Jaguar Land Rover teams up with Wolfspeed

Jaguar Land Rover (JLR) has partnered with Wolfspeed to build silicon carbide semiconductor technology for its next-generation electric vehicles. The technology will be used specifically in the vehicles' inverter, managing the transfer of power from the battery to the electric motors. The first Range Rover vehicles with this advanced technology will be available from 2024.
Osprey pays tribute to Disability History Month

Osprey is to transform its chargers into spaces for artwork supporting the disabled community to mark Disability History Month. The firm is inviting artists to submit their designs for the chance to be displayed on 30 of its Tritium 75 chargers. The final artwork will be revealed on November 16 (the first day of UK Disability History Month) and the winning artist will be paid £1000 by Osprey. You have until November 13 to enter.
EAV2Cubed eCargo bike passes safety standard

The EAV2Cubed eCargo bike has been successful in passing the EU and international safety standard test EN15194. Oxfordshire-based EAV has begun production of the EAV2Cubed. It has a capacity of 2 cubic metres and can hold up to 150kg of cargo.
Trees-y does it for BMW

BMW UK and National Parks UK have teamed up for a three-year project called Recharge In Nature. The plan is to make the UK's 15 National Parks even more accessible for electric cars, as well as support nature restoration, biodiversity, sustainability and well-being projects. The partnership will see the installation of Pod Point recharging posts at key locations across 15 UK National Parks, with the Lake District National Park chosen as the first location as it is the most visited of all the parks.
"Over the next three years, BMW UK will also work with National Parks UK to support locally delivered initiatives, focussed on enabling more sustainable tourism, nature restoration, biodiversity and wellbeing through the Recharge in Nature Fund," BMW says. "These supported projects will enable the National Parks to promote more sustainable UK tourism, enhance well-being and to restore nature and biodiversity, helping the National Parks to progress faster and with greater impact in these priority areas."