Weekly News Round-up 02.02.2022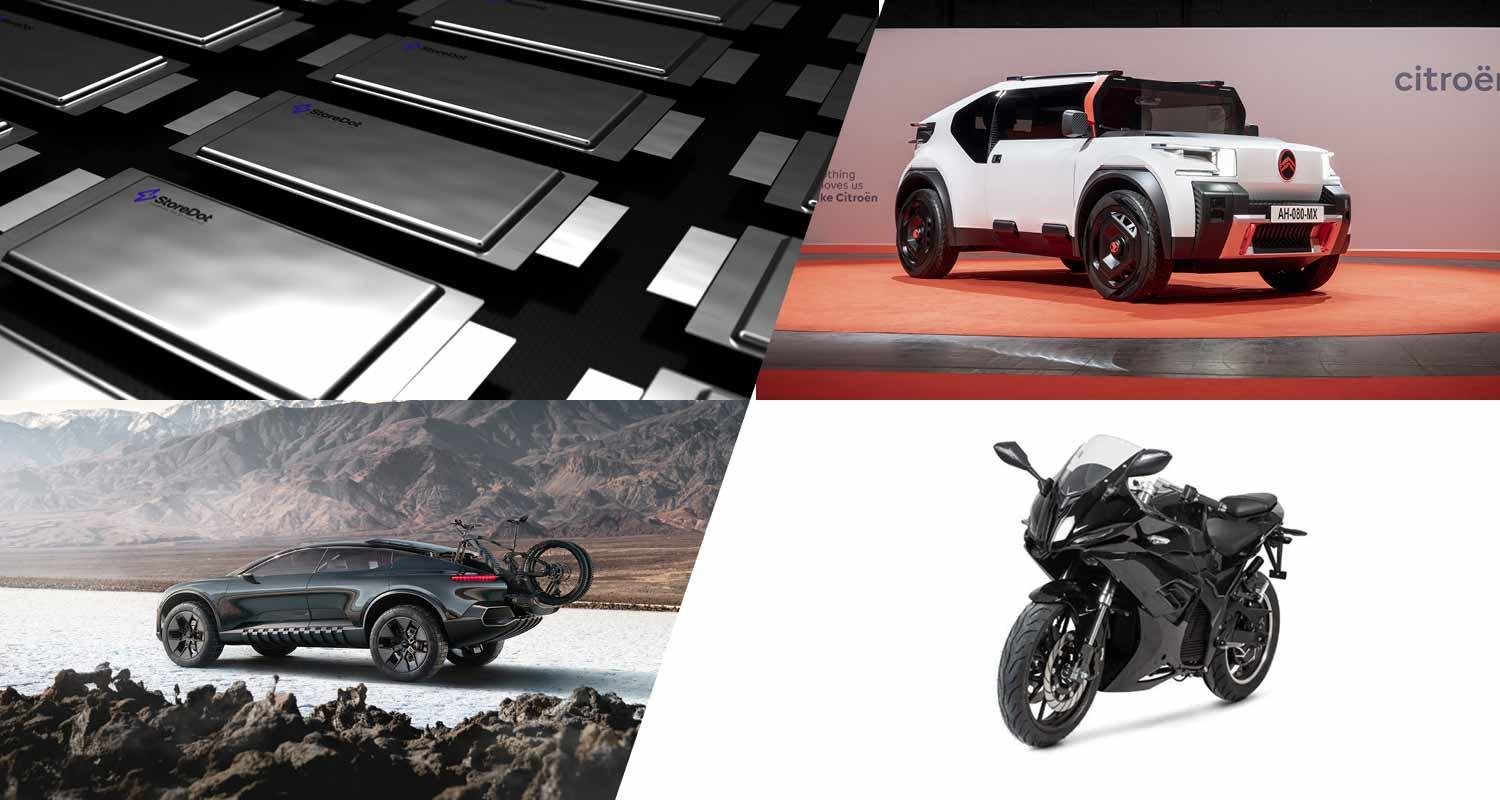 Citroen showcases the quirky Oli concept car and Mercedes electrifies its whole range by updating the GLE and GLE coupé line with PHEV offerings.
Sign up to our newsletter to get all of our latest news and updates delivered straight to your inbox every other week.
Vauxhall's Astra GSe and Grandland GSe are now available

The Astra GSe and Grandland GSe, Vauxhall's sporting EV collection, are now available to buy.
Both Astra GSe and the Astra Sports Tourer GSe feature styling upgrades, a 10mm lower profile thanks to revised suspension and damping, and 18-inch wheels.
The suspension has been upgraded with an 11 per cent stiffer spring from Koni, and the steering has been recalibrated for a nine per cent faster feel.
Both models are powered by a 180PS 1.6-litre four-cylinder petrol engine, connected to an 81.2kW (110PS) electric motor for a total power output of 225PS and maximum torque of 360Nm.
Featuring a 12.4kWh battery, Astra GSe models have 40 miles of electric range, while Astra Sports Tourers have 39 miles of range.
The Astra GSe's 25g/km CO2 and Astra Sports Tourer GSe's 26g/km CO2 mean they are eligible for a Benefit-in-Kind rate of 8% and 12%, respectively.
The Grandland GSe has 300PS and all-wheel drive due to the combination of a 200PS 1.6-litre petrol engine and two electric motors, an 81.2kW (110PS) at the front and an 83kW (113PS) at the rear axle.
The 27g/km CO2 emissions rating and a fully electric range of 41 miles thanks to the 14.2kWh onboard lithium-ion battery means it qualifies for the 8% Benefit-in-Kind tax bracket.
Prices start at £40,495 for the Astra GSE and £43,645 for the Grandland GSe. Prices and order availability for the Sports Tourer GSe will be announced later in the year.
Browse our product range
We have a range of chargers to suit most people's charging needs and budgets. Browse our range and click "request a quote" to get started.
Get a Buzz in VR
Volkswagen has launched an augmented reality experience that allows people to experience life-size models of the ID.Buzz range.
Available across Volkswagen Passenger Cars retail network and more than 60 UK van centres the tool projects a life-size 3D model of the ID.Buzz after customers scan the QR code on their devices.
Citroen's Oli says bonjour

Citoren's Oli concept car is to make its public debut at this week's Retromobile show in Paris.
Inspired by Citroën's C10 concept from 1956, Citroen describes Oli as "an embodiment of Citroën's new design direction and innovative take on the future of mobility, offering electrically powered family transport that is affordable, light, versatile and tackles society's challenges.
Incorporating recycled and recyclable materials." One of these innovations is "mesh" seat backs, which require 80% fewer parts than traditional seats.
Oli's bonnet, roof and boot floor panels are all made from extremely strong recycled honeycomb cardboard, which contributes to a weight of 1000kg, allowing it to achieve a range of 248 miles from a 40kWh battery.
Mercedes-Benz updates GLE and GLE Coupé

The bestselling GLE and GLE Coupé are now electrified throughout the range.
Mercedes-Benz has instituted a raft of trim and detail changes, but the key news for the plug-in hybrid models is that they have been updated to fourth-generation tech.
This means that they have what Mercedes-Benz describes as "a permanently excited" 100kW synchronous machine that provides a system output of up to 280kW as well as a system torque of up to 750Nm.
The range has slightly increased to 109km in electric mode.
The hybrid drive programme provides the electric driving mode for the most appropriate sections of the route, such as in urban areas, where electric driving is prioritised.
In addition, in the off-road drive programme, the plug-in hybrids can now also drive electrically in off-road terrain.
The plug-in hybrid models now have an onboard 11kW charger for charging from the domestic AC mains or a three-phase Home EV charger. In addition, an optional 60 kW DC fast charger is available.
Audi launches coupe-pickup concept

Say hello to the latest Audi concept vehicle, which combines the ethos of Quattro with electric drive.
Audi describes it as a luxury coupé that turns into a pickup, but it's rather more than that.
The concept car was conceived and designed at the Audi Design Studio in Malibu and features the electric drive and quick-charging technology from Audi's PPE modular system.
This means it has a range of more than 372 miles as well as fast charging times thanks to 800-volt technology.
BMW continues to cut C02 emissions

The BMW Group has lowered its EU fleet-wide CO2 emissions by more than nine per cent from 2021 to 2022.
This means its emissions of 105 grams per kilometre outperformed the fleet target limit set by the European Union EU27+2 (EU, Norway, Iceland) of 127 grams per kilometre by 22 grams.
The BMW Group sold a total of more than 215,000 fully-electric vehicles worldwide in 2022 – an increase of almost 108 per cent compared to the previous year.
Fully-electric vehicles accounted for nearly nine per cent of total sales last year, but BMW aims to increase this figure to 15 per cent in 2023.
Take a look at our vehicle guides
If you're still choosing an electric or plug-in hybrid vehicle, take a look at our vehicle guides for some more information before deciding
StoreDot and Circulor aim for supply chain transparency

StoreDot, which produces extremely fast charging battery technology for electric vehicles, has partnered with Circulor, a supply chain traceability solution, to track the provenance and CO2 emissions of the raw materials used in its battery cells and its manufacturing cells process in order to prove responsible, sustainable, and ethical sourcing.
StoreDot is developing cell technology capable of delivering 100 miles on a five-minute charge by 2024.
It is also concentrating its efforts on sustainable products, working with Circulor on creating transparent battery supply chains to provide full traceability for global automotive manufacturers and supports them in meeting regulatory requirements.
According to Storedot, the collaboration has already begun.
"[We] are implementing Circulor's traceability solution to follow upstream battery material production and the corresponding embedded carbon emissions," StoreDot says.
"This information will give StoreDot transparency and will enable the company to make such information available to EV OEM customers and regulators who are requiring information regarding Environmental, Social, and Governance (ESG) efforts."
GM to invest in lithium company to support EV plans

According to a CNBC report, General Motors is to invest $650m in a lithium company to underpin its drive towards electric vehicles.
The investment into Lithium Americas means that GM will get exclusive access to the first phase of lithium production and the right of first offer on the second phase of lithium production that will come out of Thacker Pass in Nevada.
GM is to produce 400,000 EVs through 2022 and the first half of 2023, but much more are planned with the rollout of its EV-only Ultium Platform.
Lithium production at Thacker Pass is due to begin in the second half of 2026.
Volkswagen holds firm on price reductions

While Tesla and Ford have decided to lower the cost of its new EVs recently, Volkswagen has chosen not to follow suit.
Tesla has offered large discounts in the USA and Europe, which prompted Ford to drop prices on its Mustang EV and increase production.
However, according to Automotive News, VW Group CEO Oliver Blume said: "We have a clear pricing strategy and are focusing on reliability.
We trust in the strength of our products and brands."
Rider launches electric sportsbike

French brand Rider has launched a new all-electric sportsbike with the equivalent of 125cc for novice riders.
Called the SR8, it has a maximum output of 11 kilowatts (14.7 bhp), while it pumps out 103.6 lb-ft of torque.
It has a top speed of 93mph. It has a 7.2 kWh battery pack with a range of 75 miles.