Weekly News Round-up 08.12.2022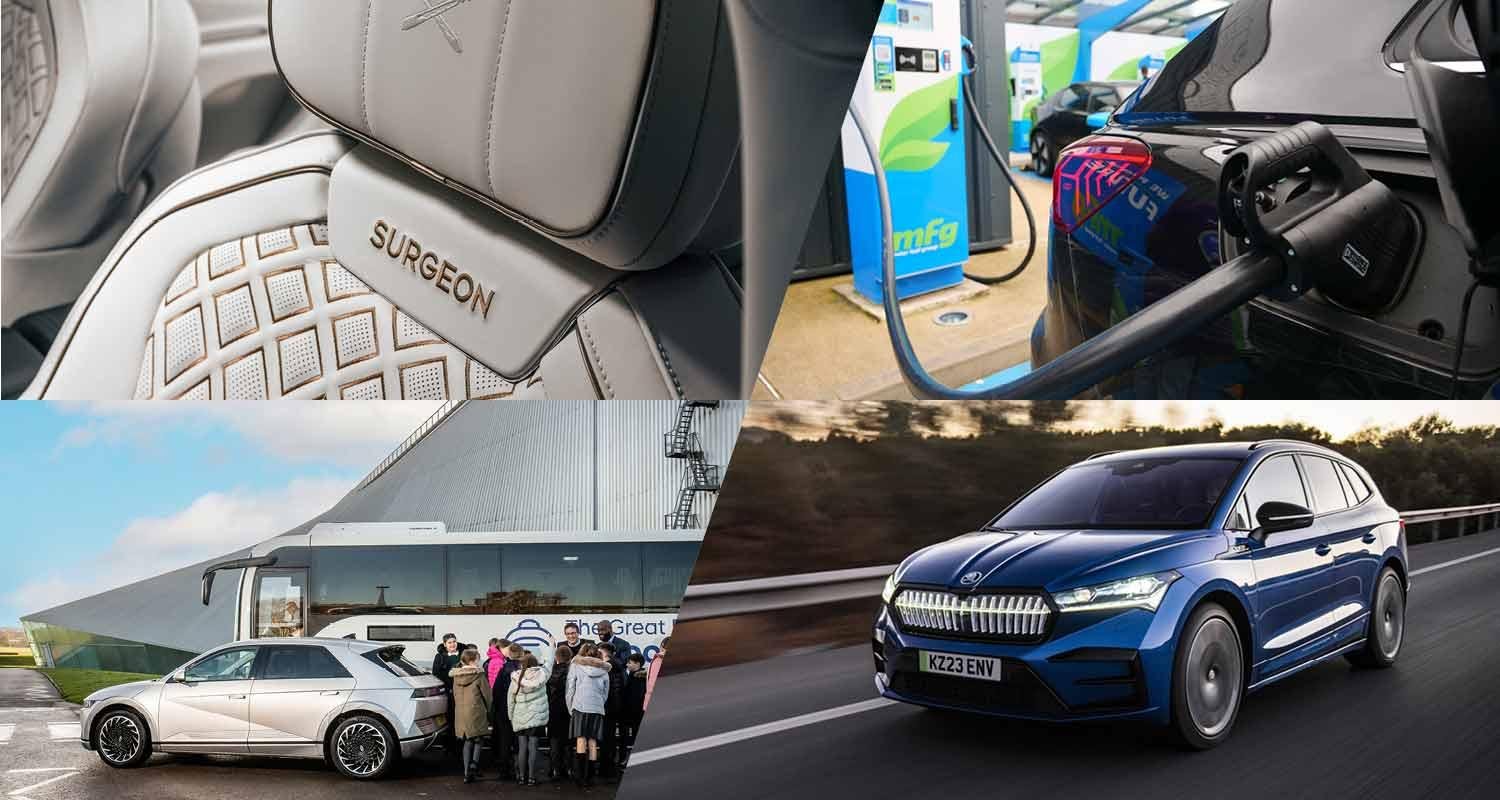 Hyundai announces plans to revive school trips after studies show they are on the decline and Bentley pulls the covers off of its limited edition variant of the Flying Spur Hybrid
Sign up to our newsletter to get all of our latest news and updates delivered straight to your inbox every other week.
Stellantis to offer EV retrofit option

Stellantis has teamed up with Qinomic to develop a system to convert light commercial vehicles from ICE to electric. According to Stellantis, the number of low emissions zones (LEZ) in Europe increased by 40% in the last three years and will continue to increase as part of the enforcement of urban vehicle access regulations.
"The electric retrofit solution aims to protect freedom of mobility with an affordable option that meets customer needs to extend the life of their vehicles and continue business activities while accessing low emissions zones in cities," Stellantis say. The programme will be developed through 2023 for a 2024 launch, beginning in 2024.
Skoda Enyaq iV vRS pricing revealed

Skoda has unveiled the pricing for its Enyaq iV vRS SUV. It features an 82kWh (77kWh net) battery pack and has a range of 321 miles, with a power output of 299PS. It has twin motors, one on each axle, that when combined offer 460Nm of torque. It has a top speed of 111mph and a 0-62mph time of 6.5 seconds. It can be rapid charged at speeds of up to 135kW and can reach 80 per cent charge in 36 minutes.
When charging using a 7kW home charging point, the Skoda Enyaq iV vRS can charge from zero to full in 13 hours. Prices start at £52,670 with first deliveries being due in June 2023.
Take a look at our vehicle guides
If you're still choosing an electric or plug-in hybrid vehicle, take a look at our vehicle guides for some more information before deciding
Hyundai starts tripping plans

A Hyundai study involving 2000 teachers and parents has revealed that school trips are on the decline with the cost of travel, parents not being able to afford to cover additional expenses, entry fees and lack of staff being listed as the key factors. Hyundai is investing £1m in a programme of school trips, kicking off in January 2023.
More than 200 venues have pledged support for the scheme, and around 25,000 pupils will be able to experience the RAF Museum Midlands, PGL, The YHA, Disney Theatrical and Nottingham Playhouse, among others.
Bentley presents The Surgeon

Bentley has teamed up with famous custom sneaker designer Dominic Ciambrone – also known as The Surgeon – to create a one-off Bentley Flying Spur Hybrid for the Art Basel Miami event. Dominic, sorry, The Surgeon, visited Bentley's Mulliner works early in 2022, which inspired a run of 10 bespoke speakers. Now Bentley has done the same, with this Surgeon-inspired hybrid Flying Spur.
According to Bentley: "The Mulliner Blackline specification replaces exterior polished chrome with all-black bright ware, while the Styling Specification includes a front splitter, side sills, rear diffuser and boot lip spoiler in carbon fibre. The Flying Spur Hybrid x The Surgeon uses an impactful exterior palette in a dramatic yet harmonious combination parallel to his own brand aesthetic."
Motor Fuel Group teams up with Zap-Map

Fleet drivers can now pay for charging on the Allstar network via Zap-Pay at MFG EV Power sites across the UK, which means that 230 ultra-rapid MFG EV Power chargers join the Allstar network that accepts digital payments on Zap-Map. Drivers can download the Zap-Map app and add their Allstar One Electric card to activate Allstar features, enabling them to pay for EV charging at participating sites such as MFG EV Power, ESB and Osprey on the Allstar network via Zap-Pay.
Compare EV energy tariffs
Save £100's on your home charging costs by switching to the right EV energy tariff
Fering Pioneer continues development

The Fering Pioneer – an electrically augmented adventure pick-up – has secured funding for the second testing phase and expansion. Following a successful initial testing phase, the first prototype will be stripped down to examine ways to improve the vehicle. Power to the axles is provided by two electric motors for a combined 800Nm of torque.
A variety of battery packs and range extenders will be available to customers, while the car is being kept as light as possible due to the use of fabric for many of its body panels. "This special material is similar to that used in hiking boots and marine sails, making it light in weight, strong and easy to repair. It also has far better insulation properties – for both noise and heat – than traditional metal or composite," the company says.
Vivaro maintains Vauxhall's king of the EV LCVs title

The Vauxhall Vivaro Electric is the UK's best-selling e-LCV so far this year, with 3750 sold to date. Just under 500 were sold in November, which means the Vivaro holds a 38.6 per cent market share. Vauxhall itself increased its overall market share to 9.8 per cent. Available with a 50kWh or a 75kWh battery, the Vivaro Electric offers a range of up to 205 miles from a charge and comes with a maximum payload of up to 1226kg.
Ford to deliver EV options for DHL

Ford Pro and Deutsche Post DHL Group are teaming up to deliver more than 2000 electric delivery vans by the end of 2023. Advanced access to Ford Pro's digital and charging operation innovations will be part and parcel of the deal, as both firms move to a post-ICE world as part of zero-emission vehicle sales and carbon neutrality across its European footprint of facilities, logistics and suppliers by 2035, and carbon neutrality globally no later than 2050.
For DHL, it is looking to stamp its authority on moving towards cleaning its logistics makeup with a €7b investment, with 60 per cent of all of its vehicles enveloping electric power by 2030.
Renault integrates Waze into Megane E-Tech

The Megane E-Tech is to be provided with the Waze navigation system directly in vehicles equipped with the OpenR screen and the OpenR Link multimedia system with integrated Google. This gives drivers real-time traffic information, favourite routes and saved destinations on the eye-level screen. The Nouvel Austral model also benefits from the upgrade.
"OpenR Link either directly from Google Play via their OpenR Link interface in their vehicle, or from the My Renault mobile app," Renault says.
Munro reveals Mk1 offroader

Say hello to the Munro Mk1. Designed and built in Britain, it offers a 1000kg payload, 3500kg towing capacity, 16-hour off-road duty cycle on a single charge and has been designed to offer 50 years of service with routing maintenance and routine refurbishment. It's capable of transporting a crew of five and its equipment across all terrains.
Its makers describe it as "the ultimate, sustainable, utilitarian, off-road workhorse. Intensely focused on off-highway performance, reliability, ease-of-repair and longevity, the Munro is engineered to provide owners and operators with decades of service." Prices start at £49,995 in five-door, five-seat, 130in form and the first deliveries are due in 2023. There is a choice of two electric motors, 220kW and 280kW, along with the option of two battery packs, 61kWh and 82kWh, affording an optimum range of up 190 miles.