Luxurious flagship Mercedes-Benz EQS EV goes on sale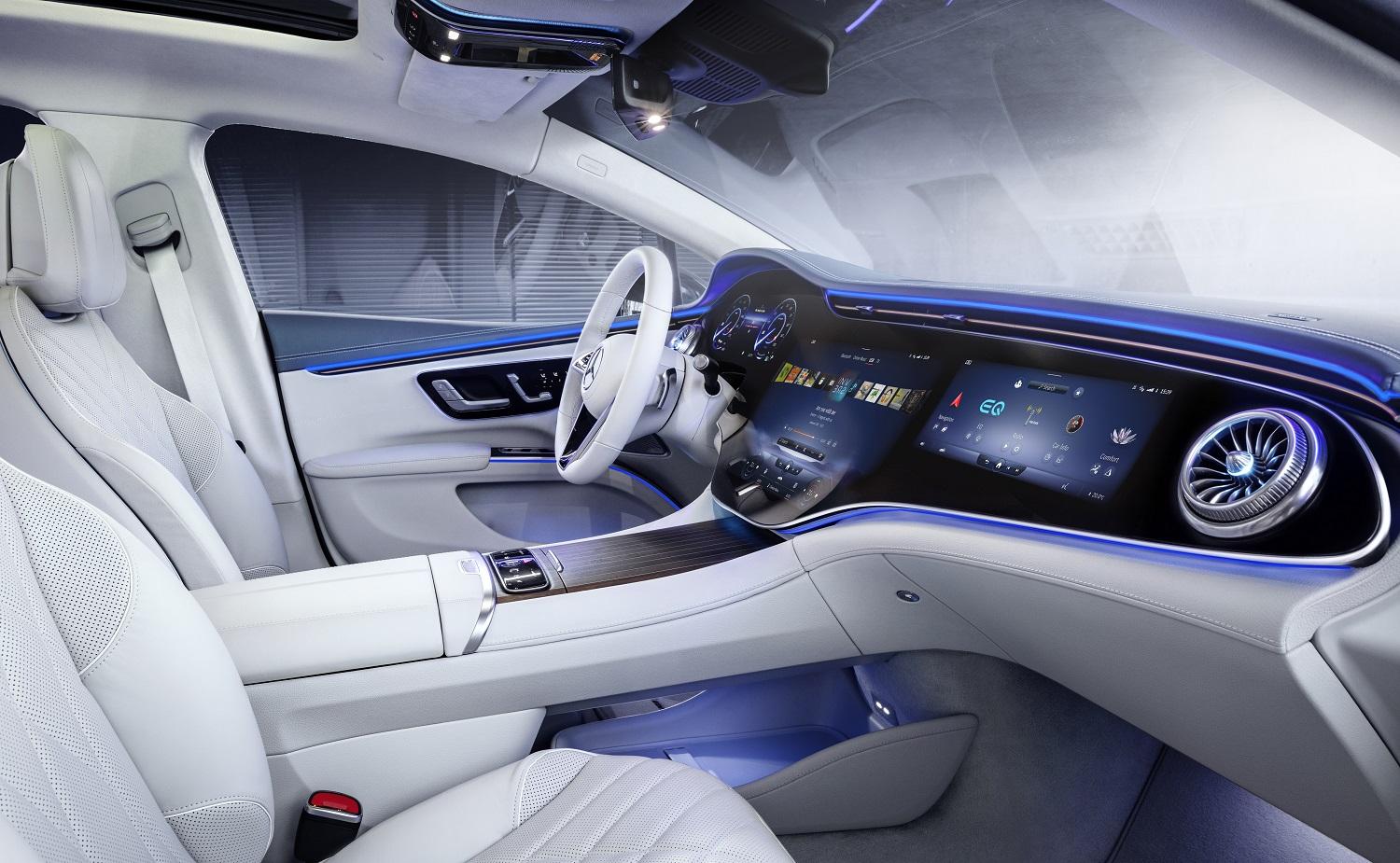 The all-electric luxury saloon is arriving in UK dealerships by the end of the year…
The arrival of the first all-electric Mercedes EQS luxury saloon into the UK is certain to raise a few eyebrows and create a stir among fans of the German brand. Its modern and luxurious design blended with innovative on-board features, will almost certainly cement a permanent smile on your face. However, emptying your wallet to the tune of nearly £100k before eventually getting behind the wheel of the EQS 450+ AMG Line, may possibly result in a few sleepless nights.
Set to be the flagship model of an impressive line-up of Mercedes-Benz battery electric vehicles (BEV), the EQS boasts a range of up to 453 miles (WLTP) from a 107.8 kWh lithium-ion battery together with 333hp. Plus, it is the first Merc to use a new modular platform architecture that has been specifically designed purely for large, luxurious executive-style EVs.
The battery is impressive and features a 200kW DC on-board charger. This means it will charge from 10% - 80% in a heartbeat…31 minutes to be precise. In other words, an extra 186 miles of range in around 15 minutes.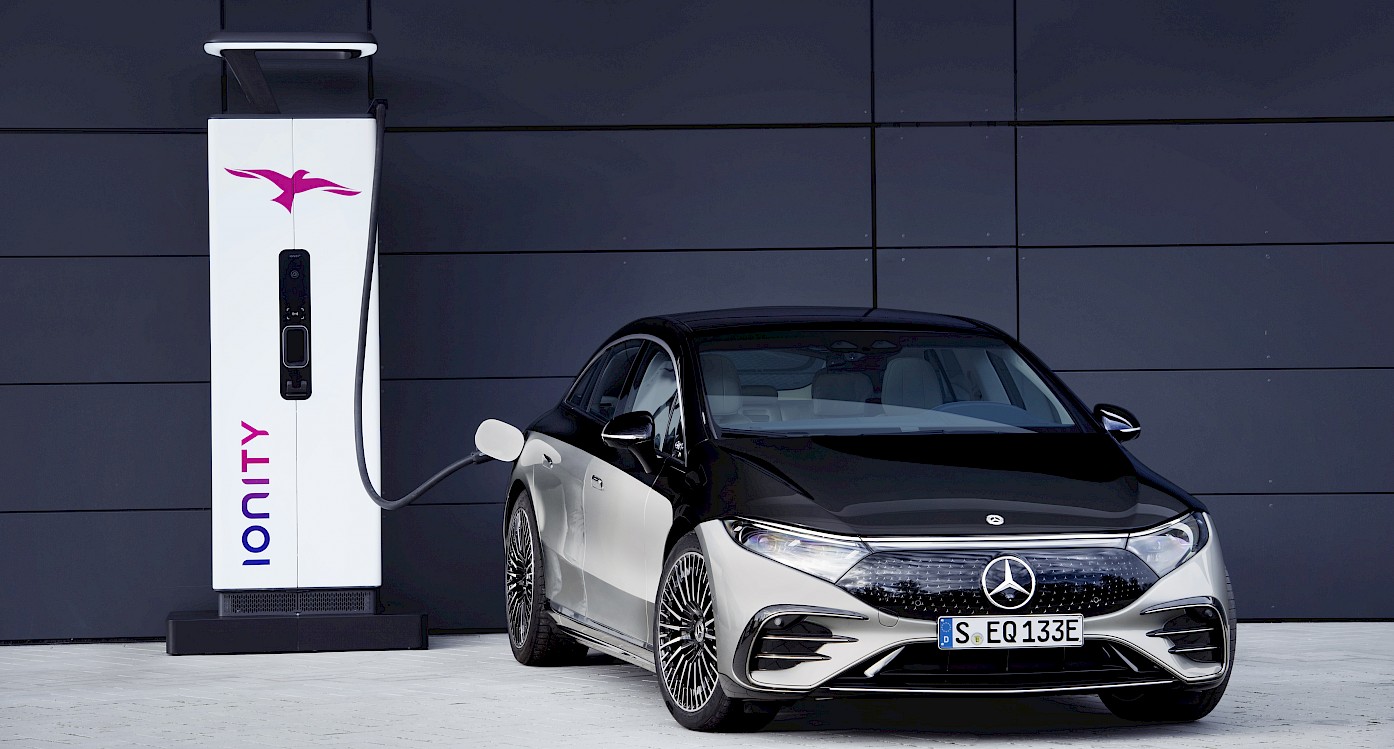 All EQS 450+ AMG Line models come with 20-inch alloy wheels as standard. Also, heated front and rear seats with full leather upholstery; 4.5-degree rear-axle steering; panoramic sunroof; 12.3-inch driver display; MBUX multimedia system featuring a 12.8-inch OLED central display; Driving Assistance Package and MBUX augmented navigation.
If that wasn't impressive enough, there's an opportunity to relish even more luxury and spec by upgrading to AMG Line Premium. For an extra seven grand you can be cruising with 21-inch AMG multi-spoke alloy wheels; acoustic privacy glass; interior active ambient lighting and a 360-degree camera.
If you're prepared to fork out another £7,000 on top, you'll be rewarded with the AMG Line Premium Plus model. Benefits include a head-up display, remote parking function, rounded off with the gesture-controlled MBUX interior assistant.
If you find yourself still not satisfied and wanting more, then you really need to go the extra mile and opt for the EQS 450+ Luxury, and yes, you've guessed it, it will cost you a further £7k! But what you receive in return is utterly fine luxury.
Feast your eyes over the Microcloud Artico upholstery with a combination of ship-deck wood. Lose yourself in the comfort seats and headrests and forget about those cold, winter mornings when you grip the heated steering wheel. Large 22-inch alloy wheels only enhance your joy.
For those of you who simply demand the very best and want even more in luxury – and have a further £7,000 – the EQS 450+ Exclusive Luxury is right up your street. That extra chunk of cash sees you enjoying multi-contour massage seats with climate control; an air balance package and Nappa leather upholstery. If you have a spare £3,995, you can take full advantage of the optional Rear Luxury Lounge package too. This includes electrically adjusted rear seats with massage functions; rear armrest; wireless smartphone and android tablet charging; climate control; Mercedes interior assistant plus additional USB ports and interior lighting.
All EQS models come with a three-year subscription to Mercedes me Charge. This provides access to green charging from many public charging providers, with just a single account. Also included is a one-year subscription to IONITY with free rapid charging.
The EQS showcases the innovative MBUX Hyperscreen with multiple displays that merge seamlessly under one piece of glass to create a curved screen measuring over 141cm wide. The MBUX Hyperscreen is available on AMG Premium models and above and costs: £7,995.
The all-electric EQS is now on sale and prices start from £99,995 on-the-road for the EQS 450+ AMG Line.