Ford outlines plans for all-electric future in Europe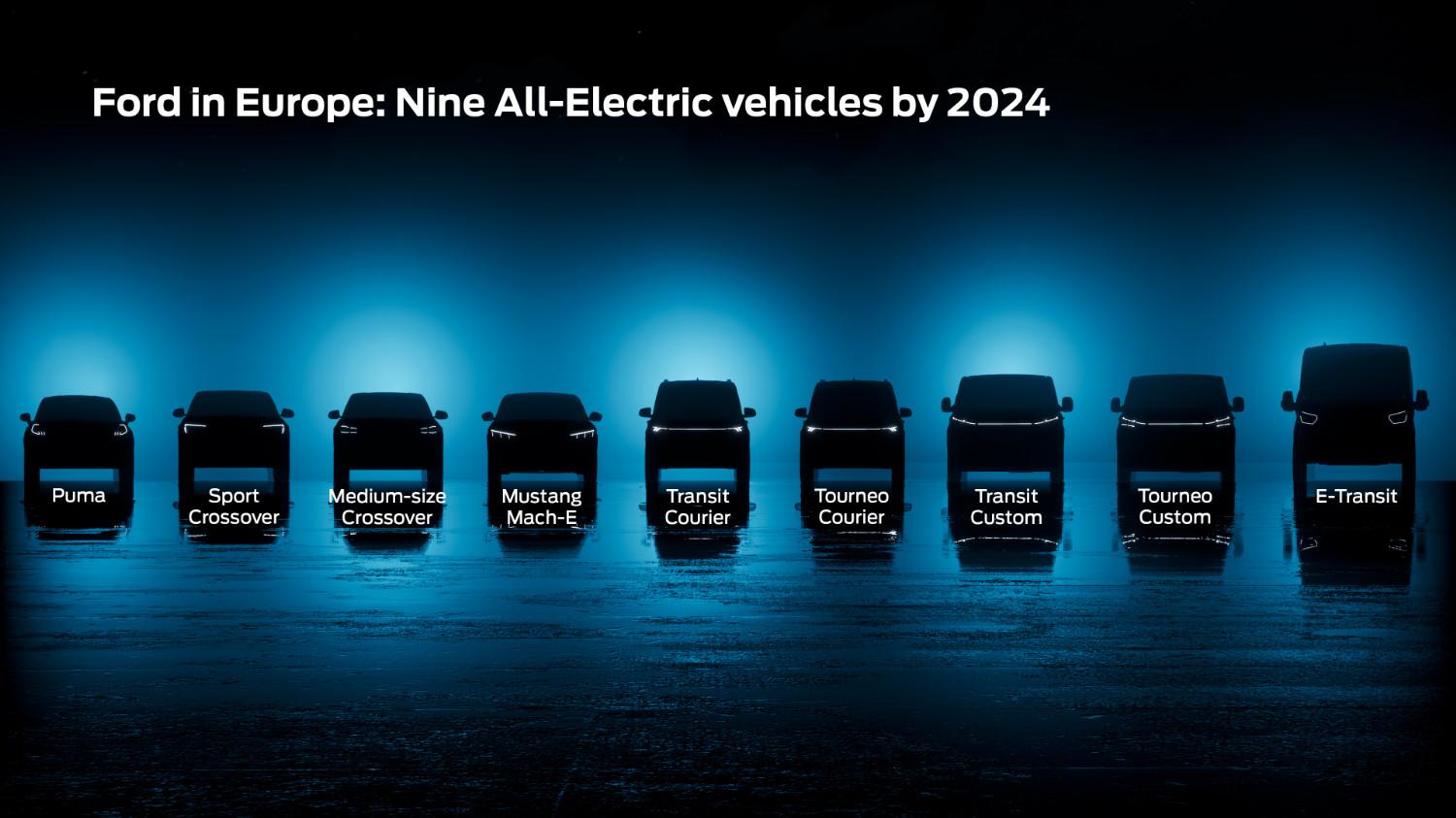 Ford has announced its plans for electrifying its European arm, accelerating plans to sell more than 2 million Evs worldwide by 2026.
Ford is pumping in $2billion into an electric vehicle plant in Cologne, which is intended to produce 1.2 million vehicles over six years. The long-term aim is for Ford to be net-carbon neutral across its facilities, logistics and suppliers – and zero emissions on its vehicle sales by 2035.
To kick this transition off, three new EV passenger cars and four new commercial vans are due to be launched by 2024. The Mach-E, Mach-E GT and the forthcoming E-Transit are the start, with 2023 seeing a medium-sized crossover EV being built in Cologne. Ford's European best-seller, the Puma, will be available as an EV from 2024 and built in Romania.
Another electric vehicle will be added to the Cologne production lines in 2024. The all-electric crossover will have a new name to be revealed later this year, but it promises a 500km (310 miles) driving range on a single charge. SUVs and crossovers account for 58% of all passenger vehicles sold by Ford last year, up by 20% over 2020. As such, the second electric car will be a sports crossover.
Four new EV commercials are planned – the Transit Custom one-tonne van and Tourneo Custom MPV in 2023, and the smaller Courier van and Courier MPV a year later.
Collaboration

Ford, SK On Co., Ltd. and Koç Holding have signed up for a joint-venture business in Turkey to create one of the largest EV battery facilities in Europe.
Located near Ankara, the factory will build high Nickel NMC cells for battery array modules; production will begin around 2025 and annual capacity will be between 30 and 45 Gigawatt hours.
Ford Otosan is also taking over the Craiova plant and manufacturing business, subject to regulatory approval and consultation. Ford Otosan, is a joint venture between Ford Motor Company and Koç Holding.
Yet more collaboration

Separately, Ford has also announced closer ties with Volkswagen. The 1.2 million vehicles mentioned earlier are to use Volkswagen's MEB EV platform. The MEB platform already provides the technology base for ten electric models from five brands and can be adapted for SUVs, compact vehicles and vans, with the VW ID series being some of the most recent vehicles to use the technology.